Why no love? 9 who deserve more ASG votes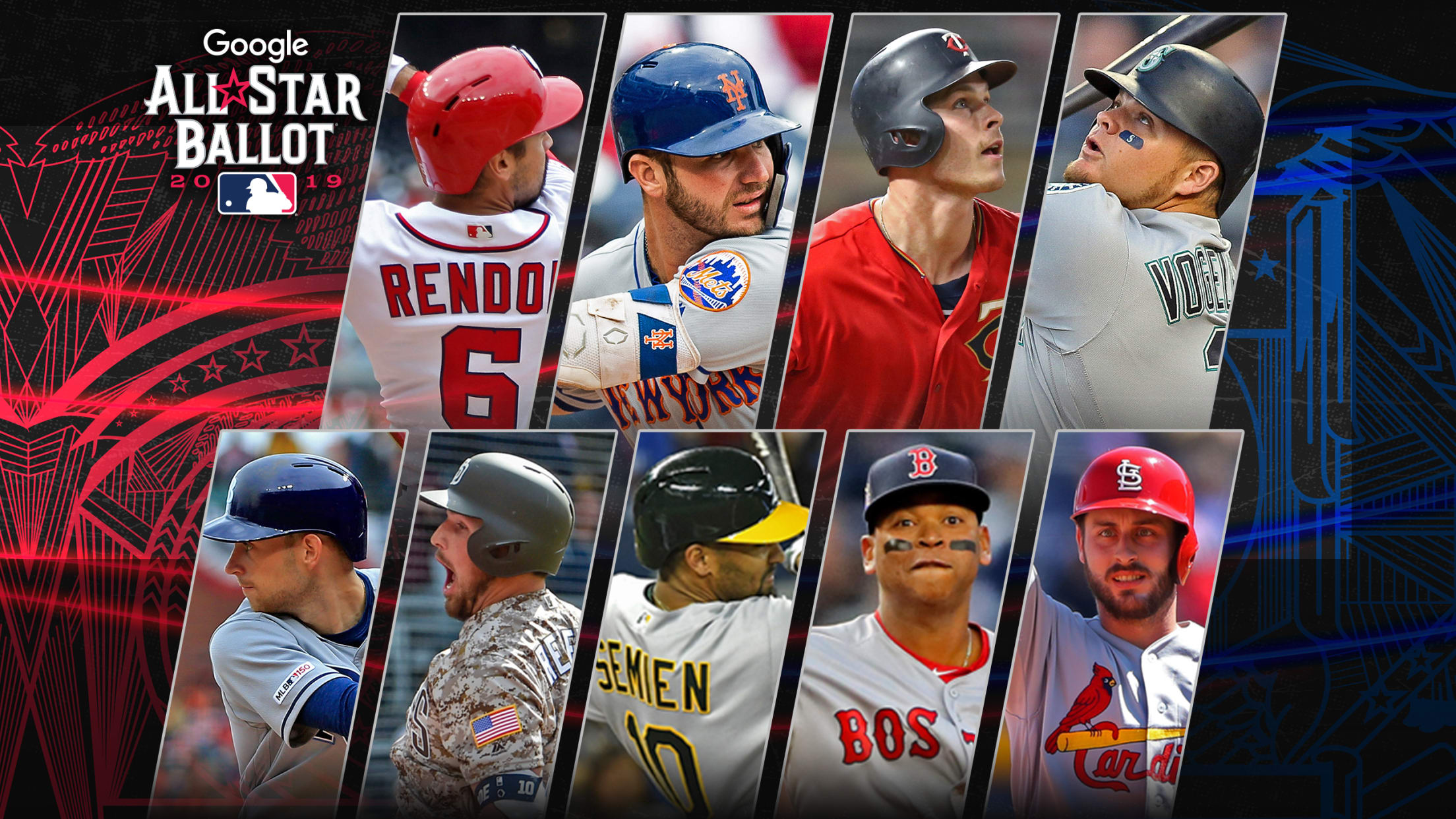 Read our FAQ on this year's revamped balloting format, which includes two phases of fan voting to determine the All-Star starters, and the ability to vote through Google Search. The people are speaking. And thus far, it's hard to disagree with much of what they have to say. Earlier this
Read our FAQ on this year's revamped balloting format, which includes two phases of fan voting to determine the All-Star starters, and the ability to vote through Google Search.
The people are speaking. And thus far, it's hard to disagree with much of what they have to say.
Earlier this week, we received the final ballot update before voting closes at 4 p.m. ET Friday for the Primary Round of the 2019 Google MLB All-Star Ballot. The top three vote-getters at each position (top nine in the outfield) will then advance to the Starters Election run-off vote during a 28-hour period starting at noon ET on June 26, with the winners of that round included in the starting lineups for next month's All-Star Game presented by MasterCard in Cleveland.
• VOTE NOW: Google MLB All-Star Ballot
Reasonable people can always disagree on who the worthy All-Stars are. But by and large, the latest ballot updates were not saturated with egregious missteps on the part of the electorate (that's you ... good work!).
Still, there are always going to be players worthy of more love than they've received. And what follows is a list of guys who -- although it might be too late to get some of them into the Starters Election -- had ample argument to be finalists. Just to be clear, because there are way more deserving candidates than there are spots, I'm limiting myself here to one guy at a given position in a given league.
1. Anthony Rendon, National League third base
This is No. 1 with a bullet, because Rendon was somehow No. 5 with a whimper at last count of the NL third base ballots. With 378,761 votes, he was a little more than 170,000 votes shy of Josh Donaldson for the third and final NL spot at third base in the Starters Election.
By rights, Rendon possibly should be starting this All-Star Game, even if he has voiced his preference to spend the break at home instead (trust us, Anthony, you'd love the gift bag they leave you in the clubhouse). As of this writing, he is fourth among all Major League qualifiers in weighted runs created plus (170), fourth in on-base percentage (.415) and third in slugging (.660), while leading all MLB third basemen in each of those categories.
2. Pete Alonso, NL first base
Josh Bell, Freddie Freeman and Anthony Rizzo held the top three spots in the last update, and all three are worthy. But could we somehow sneak a fourth guy into the Starters Election here? Because Alonso has a compelling case.
Among MLB first basemen, the Mets' rookie ranks first in Baseball Reference's Wins Above Replacement calculation (3.0). He is third (behind Bell and Freeman) in wRC+ (155), first in homers (24) and second only to Bell in RBIs (57).
3. Max Kepler, American League outfield
Kepler and his Twins teammate Byron Buxton were both just barely outside the top nine in the AL outfield. If you can only vote for one Minnesotan, I'd give the edge to Kepler, as his .928 OPS is eighth among qualified MLB outfielders and, while he's not the defensive force Buxton is, he is pretty good in right.
At last check, Kepler's 2.8 Fangraphs' WAR was seventh among Major League outfielders (and slightly above Buxton's 2.6 mark). He was just north of 75,000 votes shy of the top nine.
4. Daniel Vogelbach, AL designated hitter
I'm not going to lie. The fact that only 237,238 votes had been cast for Vogelbach -- with that lovably big body and kid-like countenance to go with the outstanding offensive numbers -- has me severely disappointed in the human race.
Vogelbach ranked ninth among DHs, and there's no saving him now. But you'll sleep better tonight if you cast a vote for the guy with the 20th-highest qualified OPS (.924) among all big leaguers (and yes, that ranks first among players listed as a DH on the ballot).
5. Brandon Lowe, AL second base
It's pretty cool to see the voters recognize an unexpectedly great start for Tommy La Stella with the Angels, as he was well out in front in the top spot ahead of a former MVP (Jose Altuve) and a Yankee (DJ LeMahieu).
But they shouldn't overlook the rookie Lowe, who ranked a distant sixth in the latest update. Lowe leads AL second basemen in Fangraphs' WAR (2.3) and all second basemen in Baseball Reference's WAR mark (2.8). He's first among AL second basemen in OPS (.885) and wRC+ (136).
6. Hunter Renfroe, NL outfield
Renfroe wasn't even among the top 20 vote-getters in the NL outfield, even though he's vying for the league home run title (in Petco Park, of all places), with the fourth-highest OPS (.948) among NL outfielders. He's also improved his defense.
7. Marcus Semien, AL shortstop
With much-improved defensive play the past two years and in the midst of his best offensive season, Semien is a pretty underrated all-around player. How underrated? He's not even among the top 10 vote-getters in the AL at shortstop.
So it's too late to get Semien into the Starters Election. But with the sixth-best wRC+ (122) among qualified Major League shortstops and the third-highest fWAR (3.1), he's a worthy candidate for the AL roster.
8. Rafael Devers, AL third base
Alex Bregman deservedly has the top spot locked up here, more than 800,000 votes ahead of the next-closest competitor. Surprise hot corner heroes Gio Urshela of the Yankees and Hunter Dozier of the Royals rounded out the top three.
Devers still had a fighting shot to get into the Starters Election, as he was 88,000 votes shy of Dozier in the No. 3 spot. He's been huge for the Red Sox this season, with a .304/.357/.502 line and a higher OPS (.859) than Urshela (.817) in more than 100 more plate appearances.
The A's Matt Chapman and the Rays' Yandy Diaz also have strong arguments to be listed in this spot, but they were nowhere near the top three.
9. Paul DeJong, NL shortstop
After a scorching start in April, DeJong went into a deep funk in May, not long before the ballot came out. So that didn't help his cause, and he was a distant eighth in the latest update.
But DeJong's heated up again lately, and his fWAR (3.3) and wRC+ (130) are the best among Senior Circuit shortstops.