VOTE NOW: All-Star primary ends today, 4 ET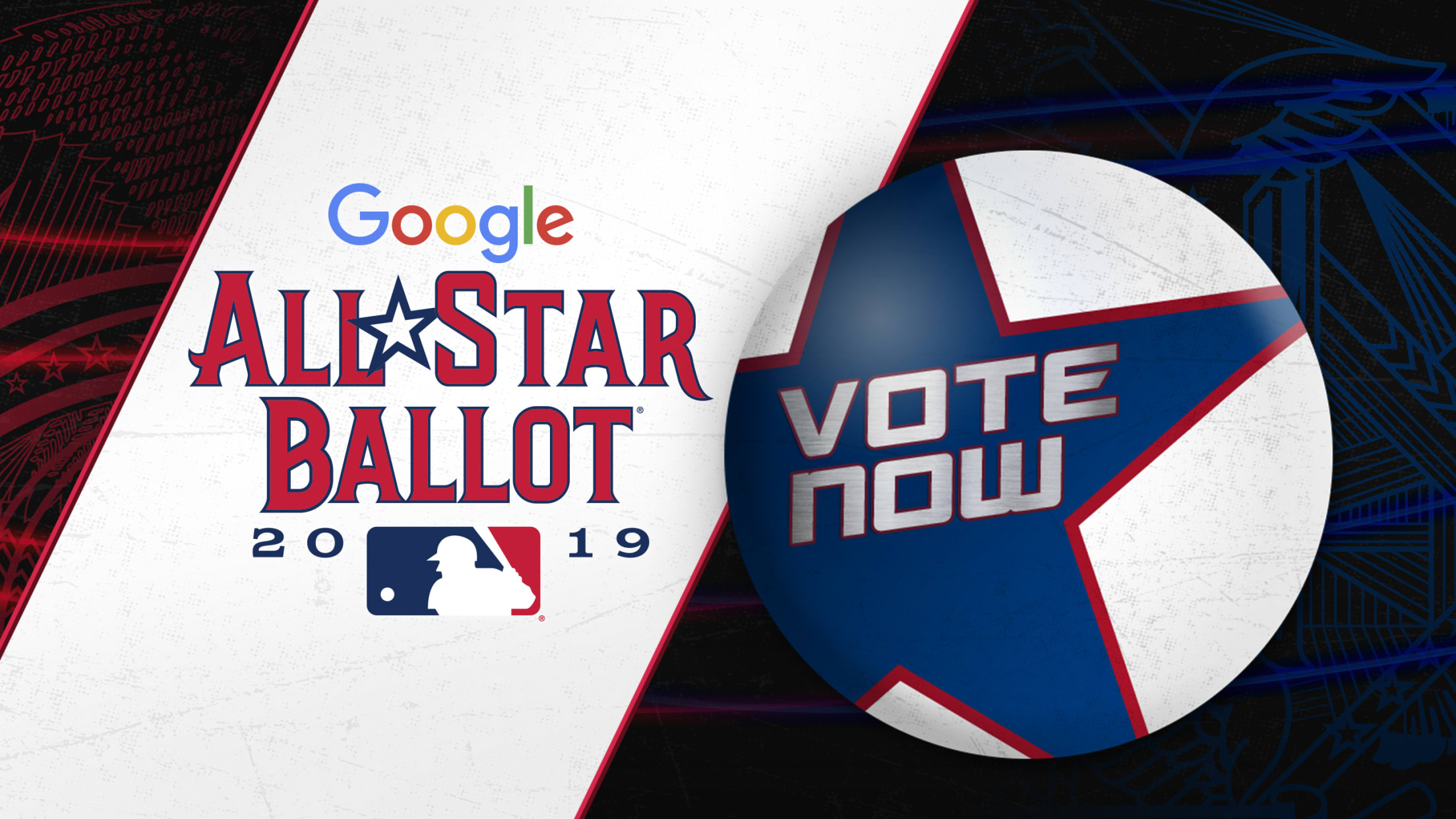 Baseball's version of the primary season is upon us, and the sport's answer to Election Day is not far behind. And in incorporating shades of the political process, the 2019 Google MLB All-Star Ballot brings major change to the selection system for All-Star Game starters. • VOTE NOW: 2019 Google
Baseball's version of the primary season is upon us, and the sport's answer to Election Day is not far behind. And in incorporating shades of the political process, the 2019 Google MLB All-Star Ballot brings major change to the selection system for All-Star Game starters.
• VOTE NOW: 2019 Google MLB All-Star Ballot
Those who take the field at the start of this year's All-Star Game presented by Mastercard on Tuesday, July 9, at Cleveland's Progressive Field will have proven victorious in an election that is sure to stoke democratic diamond drama. The traditional process of fans choosing from a ballot of club-nominated players at each position is now a 25-day event known as The Primary, which is underway now and concludes today at 4 p.m. ET.
The Primary will whittle things down to a field of finalists who will advance to The Starters Election, which will take place over a 28-hour period starting at noon ET on June 26. And thanks to a new multi-year agreement with Google, fans will have more ways to vote.
• Vote tightens across All-Star ballot leaderboards
With change come questions. So here's a handy guide to understanding this year's new All-Star selection process.
Do fans still select the All-Star starters?
Yes. The fans remain responsible for the position players in American League and National League lineups -- that's eight players in the NL and nine in the AL, including the designated hitter.
The difference is that the voting process, as we once knew it, now only constitutes one element of that selection. Where once the top vote-getter at each position during a single voting period advanced straight to the All-Star starting lineup, now the top three vote-getters at each position per league (and top nine in the outfield) will advance from that Primary round to The Starters Election.
When is the Primary Round held?
The Primary began May 28 and will continue until today at 4 p.m. The Primary will be used to determine the top three vote-getters at every position but the outfield, where the top nine vote-getters will advance to The Starters Election.
How can I vote?
There are two ways:
1) On MLB platforms, including MLB.com, all 30 club sites and the MLB At Bat and MLB Ballpark mobile apps.
2) On Google Search (in the U.S. and Canada only), fans can most efficiently vote for any player on the ballot by entering a player's name (for example, "Mike Trout"), taking you directly to that player's section of the ballot. Alternately, fans can go directly to the Google ballot or enter searches such as "MLB All-Star Ballot" or "MLB vote" or "MLB All-Star vote" in the search bar. These searches will trigger a full All-Star ballot within the search results.
The combined vote totals from these various platforms will determine the ballot winners.
When will the finalists be revealed?
During MLB Network's coverage of the Astros-Yankees game at 7 p.m. ET tonight.
When is The Starters Election held?
Voting will launch at noon ET on Wednesday, June 26, and conclude at 4 p.m. on Thursday, June 27.
Do vote totals from The Primary carry over to The Starters Election?
No. The slate will be wiped clean for the three players per position (and nine outfielders) in each league who advance to that part of the process.
How often can I vote during The Primary?
On MLB Platforms, fans can vote five times per 24-hour period. So if you cast your first vote at 9 a.m. one day, you can vote five times total between then and 9 a.m. the following day.
At Google Search, using the search "MLB Vote" or searching for player names, fans can fill out one complete ballot and vote for every position, or vote for up to 17 unique players per day. So if, say, you want to vote for multiple NL first basemen, you can do so, but each one will count against your total of 17 players.
Also, note that you can vote for a specific player only once per day via the Google ballot.
How many times can I vote during the 28-hour Starters Election?
Just once. So make it count!
When will the winners of The Starters Election be revealed?
At 7 p.m. ET on Thursday, June 27, on ESPN.
When will the rest of the All-Star Game rosters be announced?
At 5:30 p.m. ET on Sunday, June 30, on ESPN.
Has the selection process for pitchers and reserves changed at all?
Only slightly. The final roster spot in each league will no longer be determined by what was known as the Final Vote. All of the pitchers and position player reserves will be chosen through a combination of Player Ballot selections and choices made by the Commissioner's Office.
As is tradition, the two teams will be managed by last year's World Series skippers -- Alex Cora (Red Sox) in the AL and Dave Roberts (Dodgers) in the NL -- and they will make the decisions on batting orders and starting pitchers.
• All-Star FAQ: All you need to know on the rosters
Why the change to two rounds?
The Starters Election is an opportunity to improve the fan experience surrounding baseball's signature summer showcase, taking the excitement of the Final Vote and raising the stakes considerably. It could also even out the instances in which a player's April or May performance had an outsized influence on his vote totals. By having what amounts to a "runoff" round closer to the game, fans will be making more timely choices from the list of players who advance to The Starters Election.
Are there any other major changes to the All-Star Game festivities?
Yes. As part of changes jointly announced by MLB and the MLB Players Association this spring, should the Midsummer Classic go to extra innings, both clubs will start the 10th inning -- and all subsequent extra innings -- with a runner on second base. Players who have already left the game will be allowed to re-enter as runners. This is aimed at expediting the ending for a game that, since 2017, no longer has a bearing on home-field advantage in the World Series.
The 90th Midsummer Classic will be televised nationally by FOX Sports; in Canada by Rogers Sportsnet and RDS; and worldwide by partners in more than 180 countries. During the game, fans may visit MLB.com and the 30 club sites to submit their choices for the Ted Williams Most Valuable Player Award presented by Chevrolet. FOX Deportes will provide Spanish-language coverage in the United States, while ESPN Radio and ESPN Radio Deportes will provide exclusive national radio coverage. MLB Network, MLB.com and SiriusXM also will provide comprehensive All-Star Week coverage. For more information about MLB All-Star Week and to purchase tickets, please visit AllStarGame.com and follow @MLB and @AllStarGame on social media.