Tucker cautious in first post-surgery BP
Younger brother, prospect Kyle, may get to play in a Grapefruit League game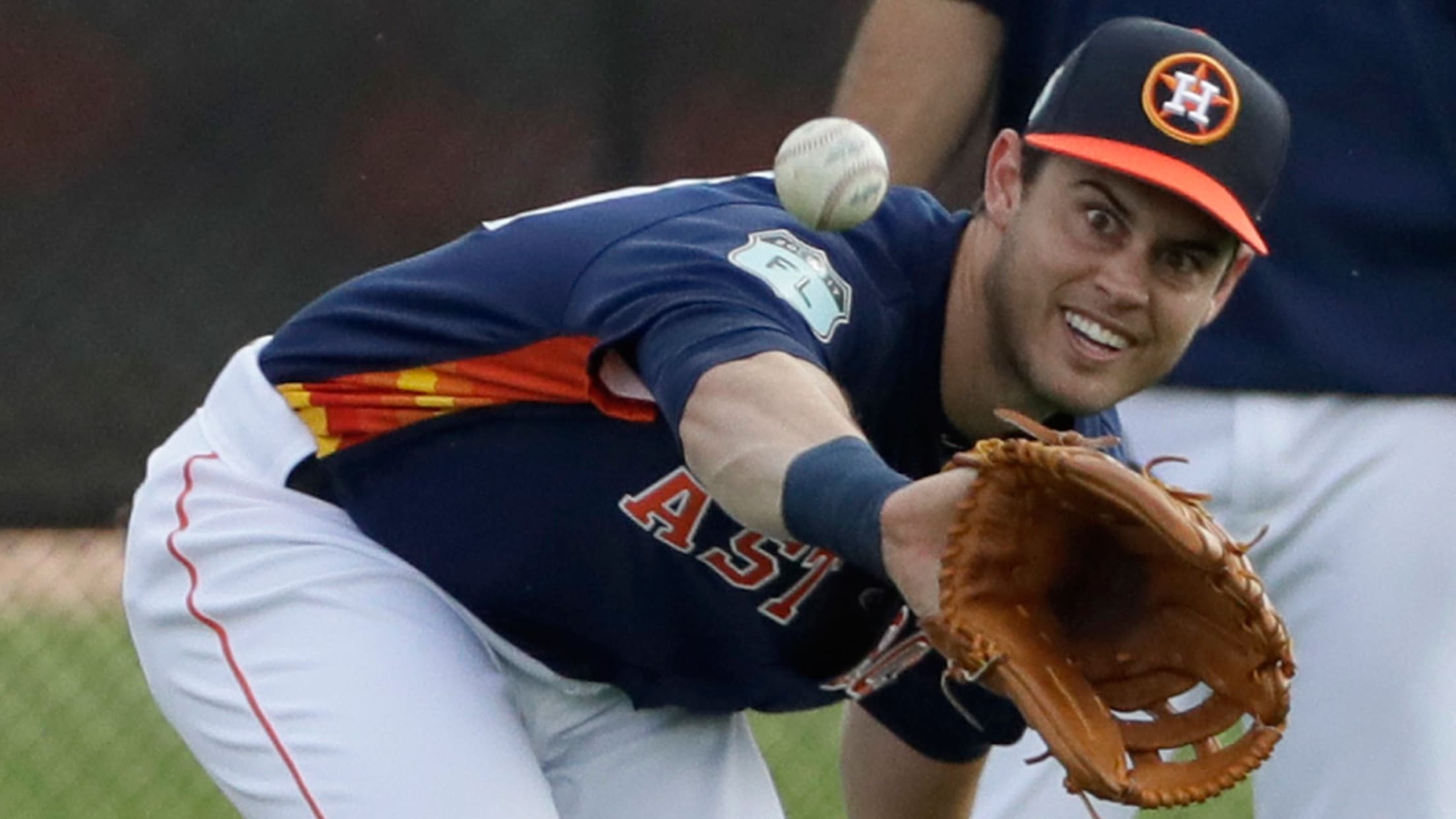 Preston Tucker took his first batting practice on Sunday since having surgery in September. (AP)
WEST PALM BEACH, Fla. -- Astros outfielder Preston Tucker, who had surgery Sept. 21 on his left shoulder, took batting practice on the field for the first time on Sunday, but he admitted on Monday there's a chance he could begin the season on the disabled list."We haven't discussed it
WEST PALM BEACH, Fla. -- Astros outfielder Preston Tucker, who had surgery Sept. 21 on his left shoulder, took batting practice on the field for the first time on Sunday, but he admitted on Monday there's a chance he could begin the season on the disabled list.
"We haven't discussed it at length with the trainers, but I think it's a possibility," Tucker said. "I really have one shot at being 100 percent healthy with this. They don't want it to regress and then have to do more stuff and be out for a longer amount of time. For right now, I feel good. That's really all I'm concerned with."
Tucker underwent the operation to repair the acromion, a bony projection on the shoulder blade. He said he has no problems with his shoulder while hitting, but he's not comfortable playing defense yet.
• Spring:Info | Tickets | Schedule | Gear
"There's just some mobility I need to worry about as a precaution, whether it's getting into games and having me go a little bit harder than I would during practice, or maybe dive for a ball," Tucker said. "That's something that's holding me back. Swinging feels perfect."
Tucker's younger brother, Kyle, the Astros' No. 2 prospect according to MLBPipeline.com, arrived in Minor League camp this week, and the two had dinner Sunday night. Astros manager A.J. Hinch said there's a chance that Kyle could be brought over later in camp to play in a big league game.
Kyle Tucker, who hit a combined .285 with nine homers and 69 RBIs between Class A Quad Cities and Class A Advanced Lancaster, was the subject of trade talk this offseason, but the Astros were unwilling to part with him to get a pitcher.
"It just kind of reinforces the fact he's a good player and teams want him," Preston said. "It kind of showed he had a strong year, and I think he can be a lot better than he is now. He's very projectable. He just turned 20. Knowing a lot [of teams] want him kind of gave him a little bit of confidence, knowing that, 'Hey, I'm a guy and I have a chance to be really good.' I think he's going to have a good year."