Devers, Smith among top prospect performers Saturday
Red Sox's No. 2 falls single short of cycle; top Mets prospect homers twice in huge game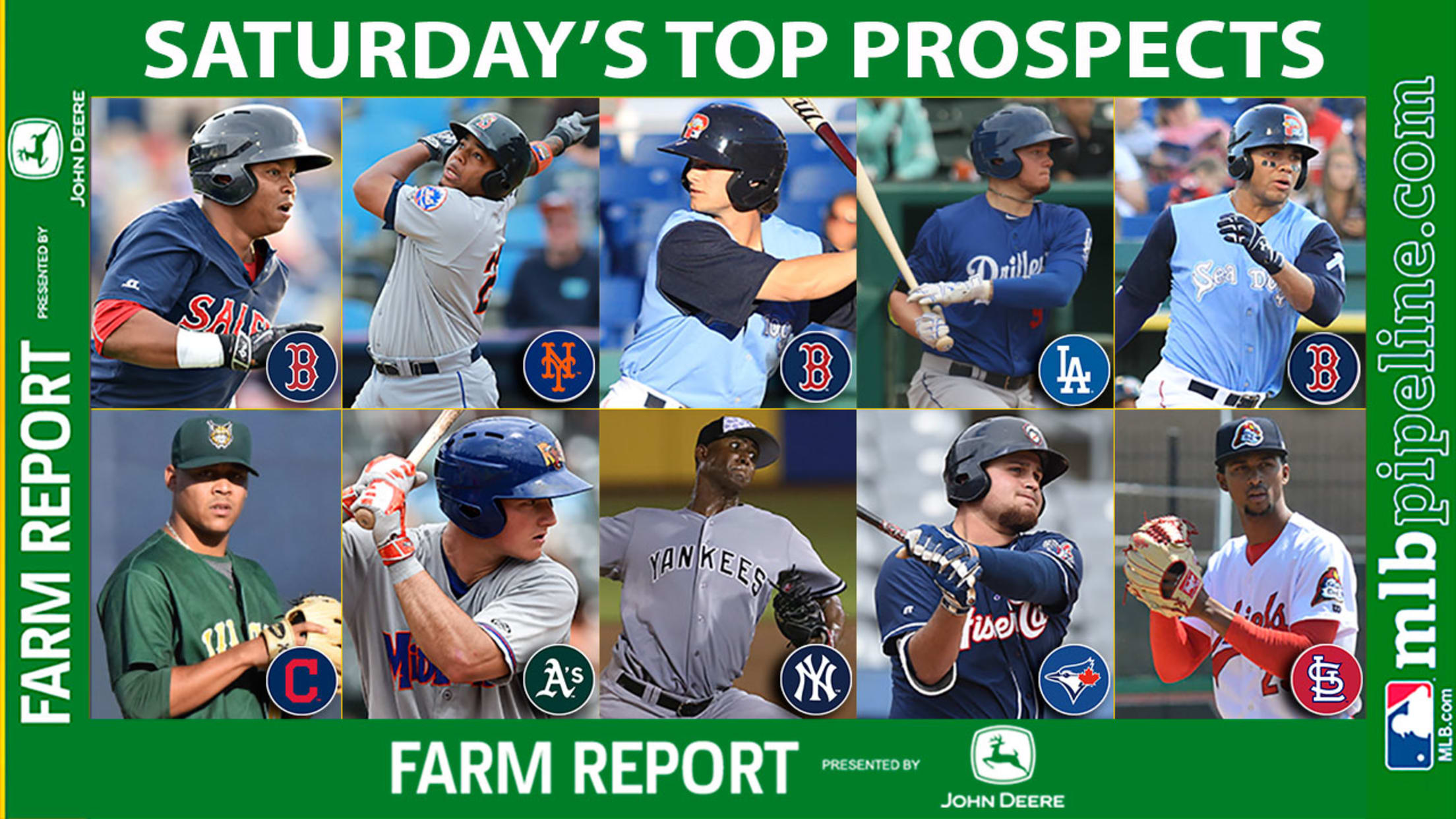 Rafael Devers may have come up a single short of hitting for the cycle, but it was still a memorable night at the plate for the young third baseman.The Red Sox's No. 2 prospect reached base in all five of his plate appearances for Class A Advanced Salem on Saturday,
Rafael Devers may have come up a single short of hitting for the cycle, but it was still a memorable night at the plate for the young third baseman.
The Red Sox's No. 2 prospect reached base in all five of his plate appearances for Class A Advanced Salem on Saturday, going 3-for-3 with a pair of walks in a 5-2 win over Frederick. He also notched two runs scored and two RBIs in the contest.
"He hit the ball good tonight," Red Sox hitting coach Nelson Paulino told MiLB.com. "He told me the pitch before [the home run] he fouled off to the other way and he was thinking, 'Wow, the pitcher thinks I'm late with my swing and I'm gonna be ready for the fastball.' He was ready for the fastball and it was up in the zone and he was on time and he smacked the ball to center field."
Devers got the tough hits out of the way early as he completed three-quarters of the feat in his first three plate appearances. The No. 14 overall prospect doubled to right field in the top of the first inning before clubbing a two-homer to center field in the third. Two innings later, Devers recorded his third triple of the season on a drive to center field.
But Devers' cycle wasn't meant to be, as he coaxed walks in his final two trips to the plate, in the seventh and ninth innings.
"When he tried to hit for the cycle, the good sign was he got two walks. He didn't try to force anything," Paulino said. "I talked to him: 'I need one single, focus and keep your approach.' He said, 'OK, don't worry I'll try to do that. But if I don't get a good pitch, I won't swing.' And guess what happened? He showed me he's got a good approach."
After a slow start to his season, Devers, 19, is hitting .344 with nine extra-base hits in 24 games since the start of June. During that stretch, he has improved his season slash line to .246/.313/.371 from .195/.273/.310.
The rest of the best performances from top prospects Saturday
• Nos. 5 and 21 overall prospects Yoan Moncada and Andrew Benintendi paced Double-A Portland's offense in a 7-1 win over Hartford. Moncada (Red Sox's No. 1) tripled and doubled as part of a 2-for-4 performance to improve his season average to .304, and he also swiped his 38th bag in the contest. Benintendi (Red Sox's No. 3) homered and tripled in yet another multi-hit performance, finishing 2-for-3 with two RBIs and two runs scored. He's gone deep five times in 41 games since being promoted from Class A Advanced Salem, where he homered once in 34 contests. He's been especially hot of late, too, with a .417 average, six extra-base hits and 10 runs scored over his last 10 games.
MILB Video - Title: More information - Url: http://www.milb.com/r/video?content_id=885389983
• No. 45 overall prospect Dominic Smith (Mets' No. 1) hit multiple home runs for the first time in his career in Game 1 of Double-A Binghamton's doubleheader versus New Hampshire. He finished the game 4-for-4 at the plate and tallied five RBIs in the B-Mets' win. After hitting just four homers over his first 67 games at the Double-A level, Smith, 21, has gone deep six times in last 11 games.
"I'm just trying to stick to my approach and never lose the ability to hit to all fields," Smith told MiLB.com. "So that's what I try to do. I try to hit to all fields, go gap to gap and go where the pitches are. [The coaching staff] knew that the power would come, they told me not to worry about it, so I just try to be patient and have good at-bats and swing at good pitches."
MILB Video - Title: More information - Url: http://www.milb.com/r/video?content_id=885377583
• No. 92 overall prospect Alex Verdugo reached base five times in his second straight three-hit game for Double-A Tulsa. The Dodgers' No. 6 prospect went 3-for-3 with two walks in the game, also scoring twice and plating two runs, to help the Drillers defeat San Antonio, 9-2.
• No. 94 overall prospect Justus Sheffield fired six innings of one-run ball and matched his career high with 10 strikeouts to lead Class A Advanced Lynchburg past Carolina, 3-1. The Indians' No. 5 prospect allowed three walks and scattered five hits, four of which went for extra bases. It was a strong showing for the 20-year-old left-hander, especially after he had allowed 14 earned runs in 15 2/3 innings across his previous four starts.
• No. 96 overall prospect Matt Chapman homered for a third straight game as Double-A Midland shut out Northwest Arkansas, 7-0. The A's No. 3 prospect connected on a three-run shot in the third inning, giving him a Texas League-best 20 home runs for the season.
MILB Video - Title: More information - Url: http://www.milb.com/r/video?content_id=885644983
• In his first start since throwing his first career shutout, Yankees No. 7 prospect Domingo Acevedo set a career high by striking out 12 hitters over six innings in a no-decision for Class A Advanced Tampa against Dunedin. The 6-foot-7 right-hander allowed two earned runs on three hits and two walks, with 63 of his 93 pitches going for strikes in the outing.
• Slugger Rowdy Tellez had himself a day for Double-A New Hampshire, going 5-for-7 with three extra-base hits and five RBIs in a doubleheader against Binghamton. The Blue Jays' No. 8 prospect went 2-for-3 with a double and an RBI in Game 1 and then tacked on four more RBIs while finishing a triple short of the cycle in the nightcap. Over his last nine games, Tellez, 21, is hitting .500 (15-for-30) with three home runs and 11 RBIs.
• For the third time in as many pro starts, Yadier Alvarez did not allow a run. This time, the Dodgers' No. 10 prospect fanned six hitters while logging a season-high five frames for the club's Arizona League affiliate. The 20-year-old righty allowed two hits, walked a pair and generated five ground-ball outs in the outing. Overall, Alvarez, whom the Dodgers landed with a $16 million bonus in July 2015, has given up four hits in first 13 1/3 pro innings, during which he's fanned 16 and walked five.
• In what was his best start of the season, Orioles No. 14 prospect Ofelky Peralta fired six innings of one-hit ball for Class A Delmarva in a win over Hagerstown. The hard-throwing right-hander struck out seven hitters in the game, giving him 67 punchouts in 70 2/3 innings (15 starts) for the season.
• Cardinals No. 19 prospect Sandy Alcantara recorded double-digit strikeouts for the fourth time in 14 starts on Saturday in a dominant performance for Class A Peoria. The 20-year-old right-hander, who features a triple-digit fastball, fanned 10 hitters over 6 1/3 innings, allowing one earned run on one hit and three walks. He's currently pacing all Midwest League hurlers with 98 strikeouts in 71 2/3 innings.
• Phillies No. 22 prospect Dylan Cozens blasted his Minor League-leading 23rd home run as Double-A Reading shut out Harrisburg, 3-0. The 22-year-old outfielder went 2-for-4 to extend his hitting streak to six games, during which he's hitting .400 with four home runs, five doubles, 12 RBIs and 10 runs scored. In addition to his 23 homers, Cozens is also leading the Eastern League in OPS (.949), runs scored (70), doubles (25) and total bases (181).
• Braves No. 29 prospect Patrick Weigel set a career high with 11 strikeouts in seven innings for Class A Rome in a loss against Lexington. He surrendered just two hits -- one a solo home run -- and walked one in the outing, throwing 62 of his 94 pitches for strikes. The 6-foot-6 right-hander has piled up the second-most strikeouts (94) in the Midwest League this season, all the while posting a 2.68 ERA in 87 1/3 innings (15 starts).
"He's one of the hardest workers we have," Rome pitching coach Dan Meyer told MiLB.com. "He's a horse and he gets stronger every game he's out there. When you have a good fastball that can hit 97 or 98 with the ability to throw his off-speed for strikes, the kid's got a great opportunity ahead of him.