Versatile Robinson turning heads at camp
Beltre remains on track to play for Dominican Republic in WBC 2017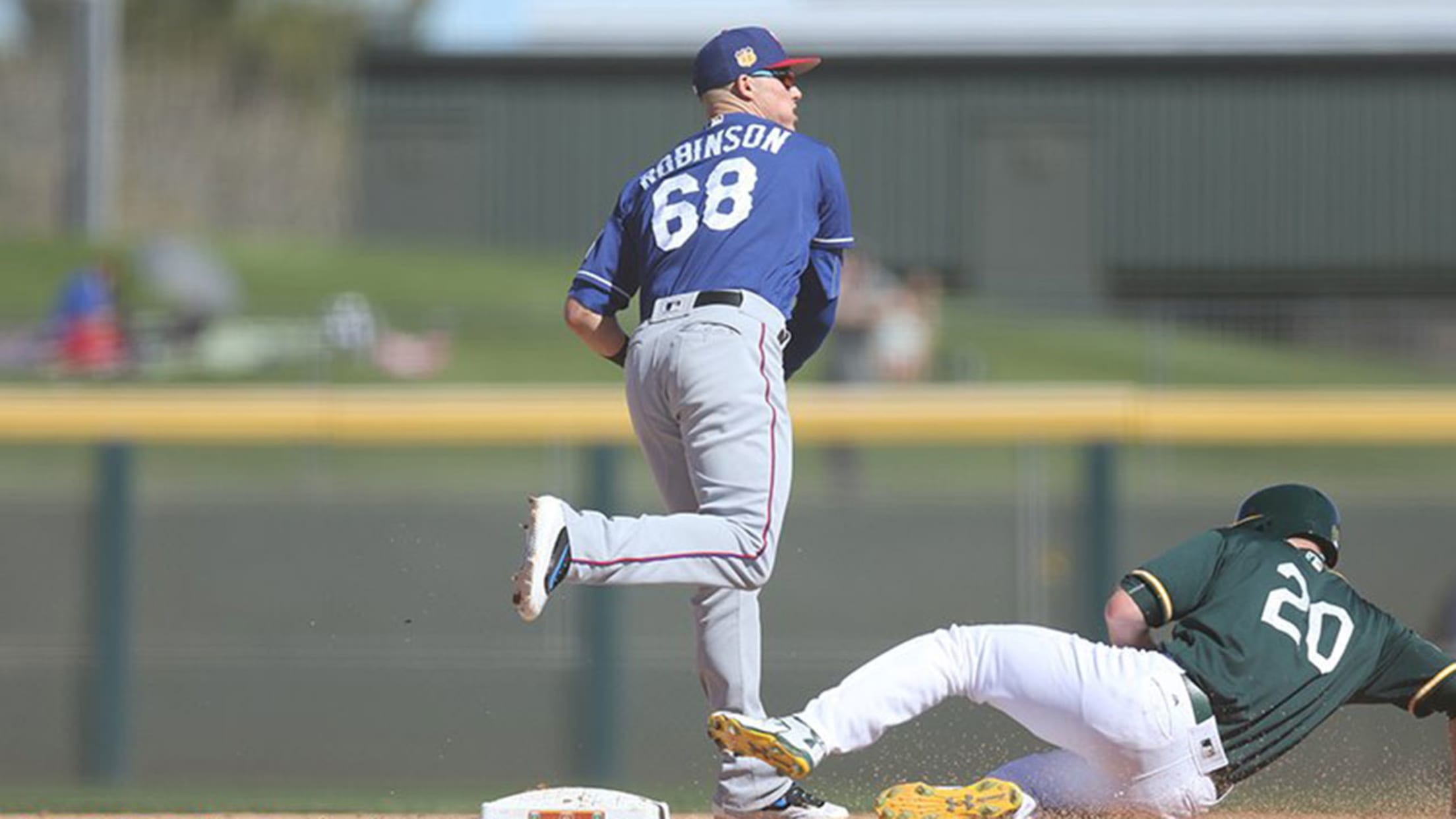 Drew Robinson is making a good impression at Rangers camp with his versatility. (Rangers)
SURPRISE, Ariz. -- Drew Robinson may be a long shot to make the Opening Day roster, but the 24-year-old is hoping to make an impression with his versatility, having already seen significant playing time in the early part of Spring Training.Robinson, the Rangers' No. 23 prospect according to MLBPipeline.com, has
SURPRISE, Ariz. -- Drew Robinson may be a long shot to make the Opening Day roster, but the 24-year-old is hoping to make an impression with his versatility, having already seen significant playing time in the early part of Spring Training.
Robinson, the Rangers' No. 23 prospect according to MLBPipeline.com, has played in seven of the Rangers' eight games, including Saturday against the Brewers, which marked his third start at second base, in addition to his four appearances and one start in center field.
"We've heard about the versatility -- all of our development staff and scouts have told us that we really need to watch this kid on a daily basis," Rangers manager Jeff Banister said. "He has shown us that. … I think every day he goes out there and shows us that he is versatile and that we can move him around, it's a big plus for him and us to have players like that."
• Rangers Spring Training: Schedule | Information | Tickets
Robinson drove in three runs on Friday with a solo homer and two-run double. He is now hitting .182 (2-for-11) with a .357 on-base percentage and .545 slugging percentage.
"Yesterday the barrel showed up for him and some of the things we've heard about him offensively, we were able to see," Banister said Saturday. "But more importantly, it's how he handles the at-bat."
Robinson's competition in camp is stiff -- Jurickson Profar and Ryan Rua both have Major League experience and can both play multiple infield positions, as well as the outfield -- but Robinson will see time at shortstop and third base this spring, too, Banister said. Robinson has played every position but pitcher and catcher during his seven-season, 702-game Minor League career. He keeps four different gloves in his locker.
"I've been a utility player my whole life. I've never really been the best player on any team I've played on," Robinson said. "So I've kind of been moving around the diamond my whole baseball career, going back to when I was little. It's something that I've just gotten used to. It's grown on me, definitely. I've always heard how much it helps me to try and break into the big leagues being able to play multiple positions.
"I'm comfortable with all of them. They've all got their own separate things, but I've gotten used to coming to the field each day not knowing where I'm going to be."
Worth noting
• Adrian Beltre remains on track to play for the Dominican Republic in the World Baseball Classic next week. A calf injury kept him out of competition until Friday, when he started at third base. Beltre started against the Brewers on Saturday at designated hitter.
"We put him through what we felt was a solid workout [Friday] and he came through it," Banister said. "More importantly, the defensive side of it for me -- he had an opportunity to complete some plays, move around and then how he came in this morning, he felt good."
Dave Sessions is a contributor to MLB.com.