Texas' clubhouse? It's a zoo, thanks to Cashner
Veteran righty dispenses animal masks to keep things light-hearted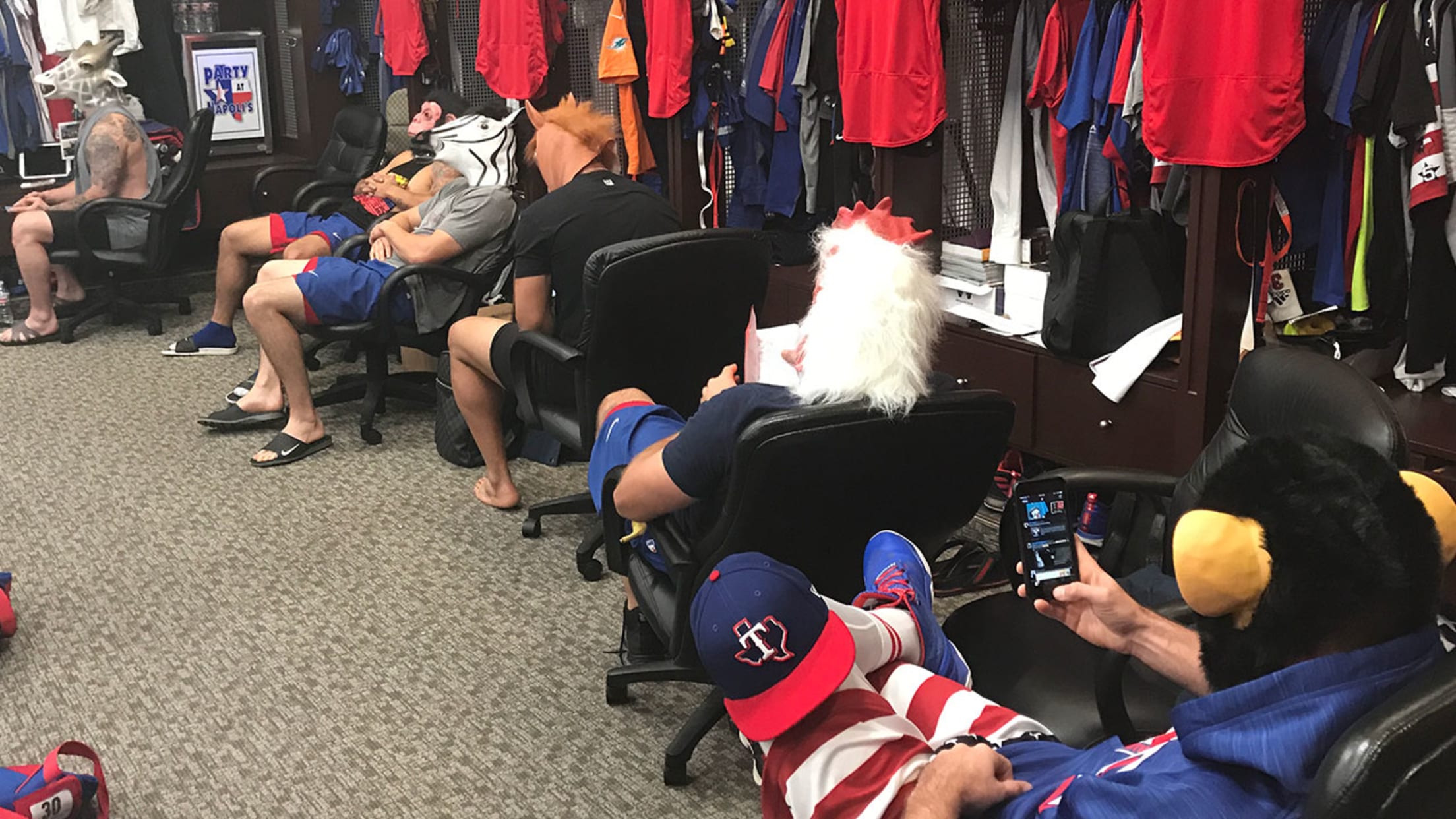 Mike Napoli was a giraffe, Joey Gallo was a rooster and Rougned Odor donned a chimpanzee mask -- all provided by Andrew Cashner. (Sam Butler/MLB.com)
ARLINGTON -- For a team in the American League Wild Card race like the Rangers are, every game in September has the atmosphere and intensity of a grueling playoff matchup. Texas needs to keep pace with each of the seven or so other teams fighting for the same goal, and
ARLINGTON -- For a team in the American League Wild Card race like the Rangers are, every game in September has the atmosphere and intensity of a grueling playoff matchup. Texas needs to keep pace with each of the seven or so other teams fighting for the same goal, and doing that every day can be exhausting.
Stress levels run high, so Andrew Cashner thought of a way to alleviate it. A few weeks ago, he ordered some rubber animal masks online. When the clubhouse doors opened on Sunday, there were members of the Rangers sporting heads from nearly every corner of the animal kingdom.
Mike Napoli, the giraffe, kicked back in his chair. Joey Gallo, the rooster, scribbled something in his notebook. Rougned Odor, the chimpanzee, tried not to laugh as everyone took pictures. Everyone remained silent until the animal personas were removed.
"Giraffes don't talk," Napoli said.
Cashner said he wore his bald eagle mask -- for America, of course -- in the hot tub. Shin-Soo Choo strolled out, clutching a disposable razor on his way to the bathrooms.
"I've got to shave," he said, pointing at the mane of his lion mask.
Just your average Sunday. pic.twitter.com/0z8nqqOX9H

— Texas Rangers (@Rangers) September 3, 2017
It's these type of activities that help remind everyone that while yes, the situation they're in as a team requires the utmost concentration and focus every day to earn a postseason spot, they need to find a way to keep things light-hearted every now and then.
"I think where we're at, we need to win every day," Cashner said. "It kind of depresses the stress and the intensity and stuff. Just trying to loosen it up a little bit."
Bringing levity to the clubhouse makes sure everyone keeps a level head while they head down the stretch run in the hopes of extending their season. Odor, in his mask, and another unidentified creature-person engaged in a round of ping pong before the masks came off for good.
The zoo was gone shortly after, with nearly every player removing their animal-head of choice and taking a deep breath. "Too hot," Carlos Gomez said.
And then it was back to work.
Sam Butler is a reporter for MLB.com based in Texas.