Calhoun works on honing all parts of his game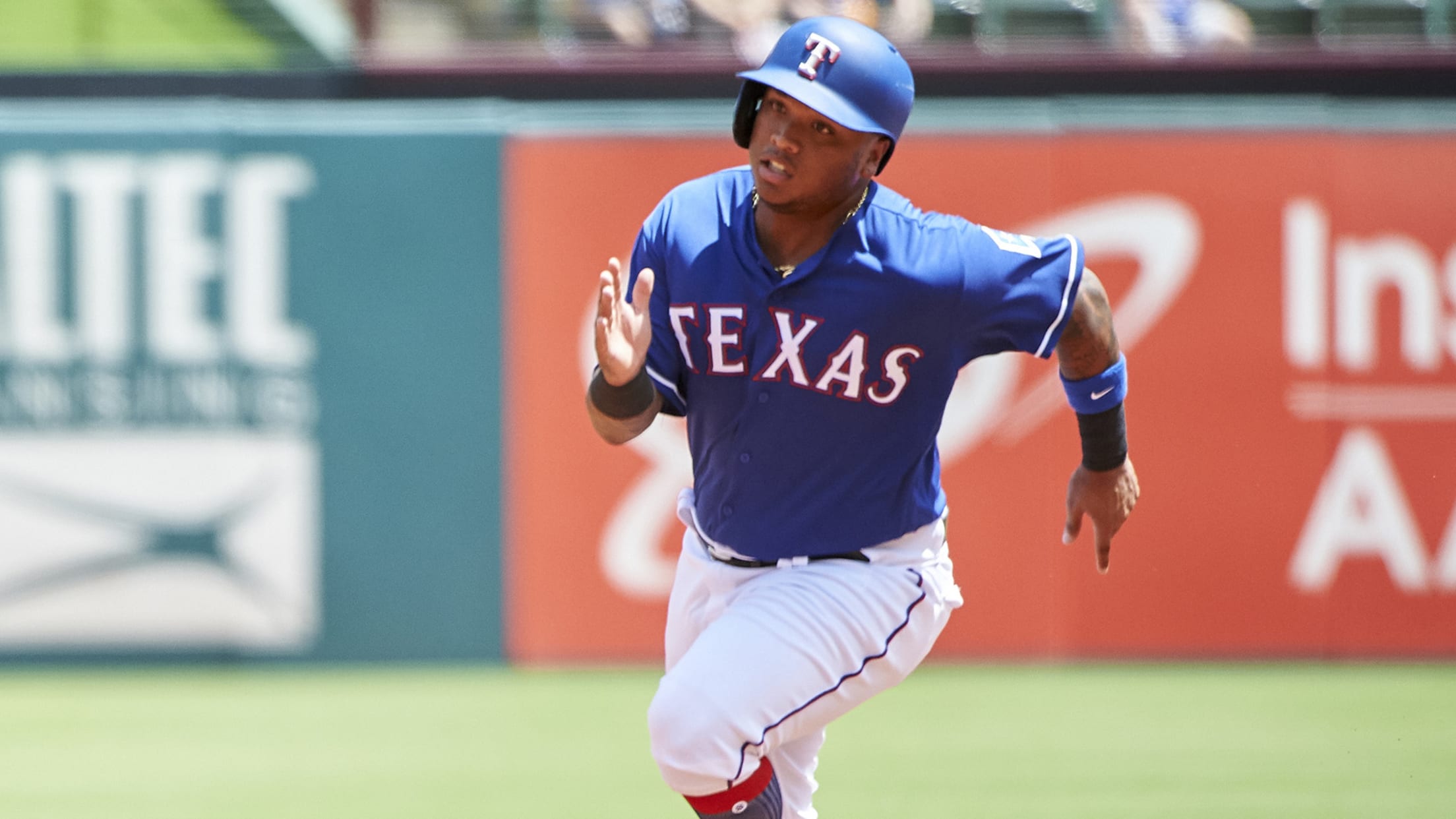 Texas Rangers' Willie Calhoun runs the bases against the Baltimore Orioles during a baseball game in Arlington, Texas, Sunday, Aug. 5, 2018. (AP Photo/Cooper Neill) (Cooper Neill/AP)
ANAHEIM -- Just because the plate appearances are not coming with any consistency does not mean Willie Calhoun is content to wait for a chance to be a difference maker.The Rangers' No. 2 overall prospect, according to MLB Pipeline, was working on his outfield play with interim manager Don Wakamatsu
ANAHEIM -- Just because the plate appearances are not coming with any consistency does not mean Willie Calhoun is content to wait for a chance to be a difference maker.
The Rangers' No. 2 overall prospect, according to MLB Pipeline, was working on his outfield play with interim manager Don Wakamatsu on Monday afternoon, well aware that his all-hit, hot-prospect status is not enough to be an everyday player in the Major Leagues.
"We were out here doing early work today," Wakamatsu said. "I think young players sometimes if they hit 30 home runs they think the rest is history. And to play at this level, you have to be good at everything. He's fully aware and he's really committed to doing a lot of work this winter and improve on that."
Calhoun hit 31 home runs at the Triple-A level last season in the Dodgers and Rangers organizations, and one more homer as a late-season call-up for the Rangers. In 2016, he hit a combined 28 home runs at Double-A and the Arizona Fall League.
But his move to the outfield this year also coincided with a drop in power. He hit just nine home runs in 108 games at Triple-A, but did hit 32 doubles, while his 47 strikeouts were far below his 2016 total of 65.
A left fielder with 30 home runs plays much better than one with nine, and Calhoun is still working on improving his defense, but he makes no apologies for how he approached his season.
"It's more on me trying to get better as a defender and be more of a complete baseball player as opposed to being a one-sided hitter," the 23-year old said. "The bat will always be there and I'm very confident. That is something I will always have."
Calhoun said he isn't too concerned whether the departure of former Rangers manager Jeff Banister will offer him a clean slate with the club. He knows that part is not under his control. Wakamatsu said the concept of a clean slate can be a real thing, but mostly it's about the player hitting the reset button on their own and taking their game to the next level.
"Our job as coaches and managers is to have an open mind and think, 'OK, what can we do to make this player [better],'" Wakamatsu said. "Sometimes it's just emotion. It's getting comfortable at the big leagues."
Wakamatsu goes back to Nelson Cruz's early days with the Rangers. It was not always pretty.
"We brought him up a couple of times and didn't know if he would ever be that guy," Wakamatsu said. "All of a sudden he gained that confidence and has been one of the more prolific power hitters in the game since."
Calhoun will gladly take his at-bats where he can get them over the final week. And he looks forward to proving himself at Spring Training. But just like his early work Monday, he won't just be sitting around waiting for his next opportunity.
"Going into the offseason I have some goals I want to accomplish so I can go into Spring Training with the same confidence I have every year," Calhoun said. "Always being an uber prospect has its perks, its pros and cons, but for me, I don't look into it much. I just play the game and try to go out there with the same attitude."
Choo and the kids
The 36-year-old Shin-Soo Choo was the Rangers' designated hitter batting leadoff on Monday against the Angels. Everybody else in the starting lineup was 25 or under. Four players were 23.
"I think most people know we have more at-bats for people 25 and under on our roster than [anybody] in a long time," Wakamatsu said. "The biggest thing for us right now is to continue to evaluate these guys and make adjustments. We talked about how we're really good early in the count and not so good with two strikes. Some of these younger guys have made good adjustments and some have to continue to do it."
Rangers beat
• The Rangers' first- and second-round draft picks this year made their professional debuts in an instructional league game Monday in Arizona. First-rounder Cole Winn gave up two runs in one inning while throwing 25 pitches, and second-rounder Owen White struck out two in a scoreless inning, making 11 pitches.
• When Adrian Beltre plays in this series it will be his 260th career game against the Angels, his most against any opponent. He also has 1,003 at-bats against the Angels with 132 runs, 275 hits, 52 doubles, 47 home runs and 167 RBIs, all his most against a single team.
• The Rangers have won just three of their last 10 series, but can make it three of their last four with a pair of victories in Anaheim this week.
Doug Padilla is a contributor to MLB.com based in Los Angeles.