Ranking every ROY from 2000s: Who's on top?
Each Rookie of the Year from 2000-19, from 1-40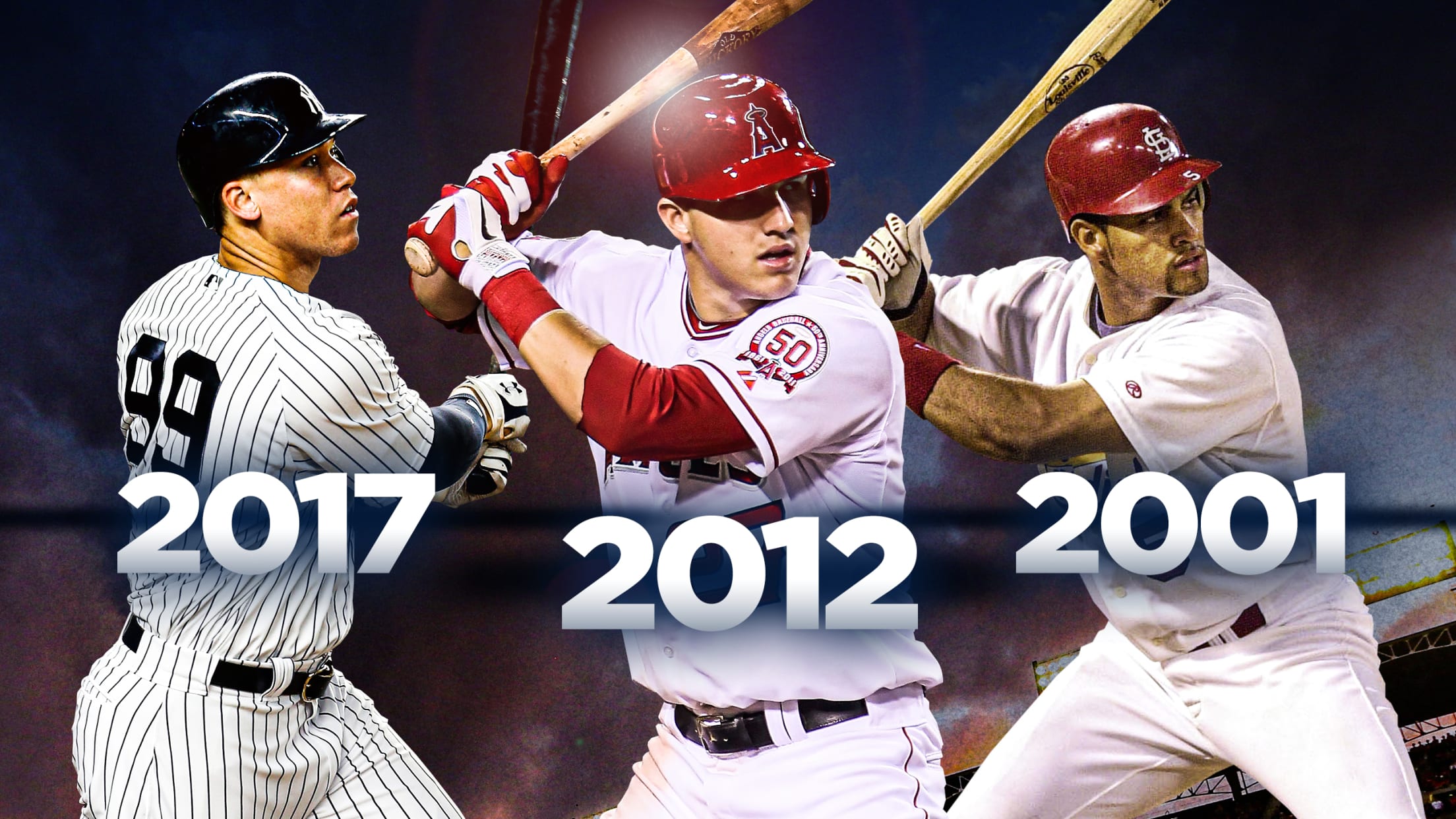 Dating back to the year 2000, we've seen 40 different players win Rookie of the Year Awards. Some of them -- many of them! -- have ascended to all-time great status, with the award being a mere stepping-stone to untold other accolades and achievements. Some of them, shall we say,
Dating back to the year 2000, we've seen 40 different players win Rookie of the Year Awards. Some of them -- many of them! -- have ascended to all-time great status, with the award being a mere stepping-stone to untold other accolades and achievements. Some of them, shall we say, have not.
That's a fun place to start, so MLB.com's Will Leitch and Mike Petriello decided to sit down and draft each winner, from 1 through 40.
This is, in a lot of ways, simultaneously more fun and more frustrating than when we drafted World Series champions, Most Valuable Players, etc., because by definition, everyone in those drafts achieved greatness. It's not like you can back into a Rookie of the Year Award, of course; it's still very impressive. But as you'll see, the end of this list gets ... well, let's just say, for several of these guys, the award was the clear highlight of their career.
(Unless noted otherwise, all Wins Above Replacement figures are from FanGraphs.)
1. Mike Trout (2012)
.326/.399/.564, 30 HR, 49 SB, 168 OPS+, 10.1 WAR
Petriello: Well, this was easy. Trout's 10.1 WAR debut was one of the greatest years by any player of any age at any time, full stop, and so it's not difficult to say this was the greatest rookie season in Major League history. Trout, that year, hit .326/.399/.564 and was one stolen base shy of going 30/50, which has only ever been done twice. He was 20 years old for most of the year, which also made it -- totally surprisingly! -- the greatest age-20 season of all time. This was also the year he was probably the best defensive center fielder in the American League (do take a moment to watch him rob J.J. Hardy) and while he's settled into more good-than-great defensively ever since, that first year was the real, full total package.
Trout didn't come up until April 28, making his near 30-50 season (and 10.5 WAR) all the more incredible. Trout burst onto the scene in a way almost no one has ever done, and then, miraculously, continued to live up to it. Every single year; it's almost like the consistency is more impressive than the greatness. He somehow didn't win the MVP this year. I will never get over this.
2. Aaron Judge (2017)
.284/.422/.627, 52 HR, 171 OPS+, 8.3 WAR
Leitch: Speaking of players who didn't win the MVP but probably should have, you may have heard a wee bit of consternation this offseason about José Altuve winning the MVP in 2017 rather than Judge. There's a little bit of revisionist history there -- Altuve was anything but a controversial pick at the time -- but boy, it's tough to look at Judge's season and make the argument for Altuve. The 52 homers is obviously the eye-popping number, but how about the fact that a rookie led the American League in walks? This remains Judge's only fully healthy season, and it's a reminder of how much we've lost with him injured. It's also a reminder of how old he is for a guy who was so recently a rookie: His 28th birthday is this month, you know. He's actually less than two years younger than Altuve, as it turns out.
3. Albert Pujols (2001)
.329/.403/.610, 37 HR, 157 OPS+, 7.2 WAR
Petriello: Sorry, Will. I'm pretty sure you were going to want this one. I don't really need to tell you, or anyone, how much Pujols mashed this year -- 37 dingers and a .329/.403/.610 line and a unanimous win over some very good competition in Roy Oswalt, Jimmy Rollins and Adam Dunn ought to tell you that -- but what I've always enjoyed, looking back on this one, is how different of a player the young Pujols once was. That is, we've been looking at him as a slow-footed first base/DH/but-really-should-just-be-a-DH for like a decade now. But way back then, in 2001, he made at least 39 starts at first, third, left, and right. If you look at the Baseball-Reference page for the '01 Cardinals, he's listed as "UT," which is to say, utility man. Utility man! Forget Ben Zobrist. The rookie version of Pujols was the best multi-positional player in history.
4. Ichiro Suzuki (2001)
.350/.381/.457, 8 HR, 56 SB, 126 OPS+, 6.0 WAR
Leitch: What Ichiro represented went beyond just being a great baseball player, not just as the first high-profile Japanese position player import but also as the guy who spurred that Mariners team into that absolutely insane 116-win season. He hit .350! He had 242 hits! He never walked, but who wants to watch Ichiro walk anyway? Heck, he even had eight homers, which is more than I realized. (He once hit 15 in a season, which I absolutely do not remember.) He won the MVP, which even though teammate Bret Boone may have actually been better that year is still totally justified. He's Ichiro! He's the forever example of what the addition of one player can mean for a baseball team.
5. Corey Seager (2016)
.308/.365/.512, 26 HR, 134 OPS+, 6.9 WAR
Petriello: Good lord, was 2001 some kind of a year for rookies. Look, if we're drafting careers, I took this one too high, because Seager has become more "pretty good" and less "great" over the ensuing years, while I've left some future Hall of Famers on the board. But if we're drafting seasons -- and we are, aren't we? We probably should have discussed this! -- then Seager's first one, the year a 22-year-old spent [most of the] year hitting second for a 91-win team, while playing a quality defensive shortstop, is well deserved at this spot. I know that after another good 2017 he was injured for most of '18 and was solid-if-hardly-spectacular in '19. But at the time, it sure looked like this was the start of the next great Dodger career. He's still only 25 for a few more days. Maybe it really was.
6. José Fernández (2013)
172 2/3 IP, 2.19 ERA, 2.73 FIP, 9.7 K/9, 3.0 BB/9, 4.2 WAR
Leitch: Obviously, it's sad just typing this. You know he'd still only be 27 years old right now? That's younger than Gerrit Cole. That's younger than John Means, the guy who finished second in the AL Rookie of the Year Award voting last year. We lost so much when we lost Fernández. And his rookie season seems even more absurd seven years later, when nobody just shows up being dominant at the age of 20. He threw 172 2/3 innings that year, at 20, his rookie year, and had a 2.19 ERA. He was just instantly brilliant. And he never stopped being brilliant. His K-rate rose nearly every year. His walk rate dropped almost every year. He was going to be a Hall of Famer. I'm honestly too sad right now to write any more of this paragraph.
7. Shohei Ohtani (2018)
Batting: .285/.361/.564, 22 HR, 10 SB, 151 OPS+, 2.8 WAR
Pitching: 51 2/3 IP, 3.31 ERA, 3.57 FIP, 11.0 K/9, 3.8 BB/9, 1.0 WAR
Petriello: If there were ever a year where a player's case transcends numbers -- like, say, "incredibly hyped two-way player wants to come to the Majors so badly that he costs himself many millions of dollars to do so as soon as possible, promises he can hit and pitch, and then very much backs it up" -- this would be it. Oh, and the numbers? They were pretty great too. In 2018, Ohtani was a Top 10 hitter, if you relax the plate appearance minimums, meaning he hit like Judge or Justin Turner. Ohtani's strikeout rate was basically the same as Wade Davis or Jack Flaherty, and he showed pretty top-end running speed, too. But again, this one isn't just about the numbers. It's about how he did something no one else could do, and what it meant.
Yankees fans really, really wanted Miguel Andújar to win this one. He was never going to, despite a fine debut. Ohtani's two-way brilliance was impossible to match.
8. Kris Bryant (2015)
.275/.369/.488, 26 HR, 13 SB, 135 OPS+, 6.1 WAR
Leitch: The Cubs were building for a while, but it wasn't until 2015 that they became a force with which to be reckoned. That coincides, obviously, with Bryant's arrival. He might have gotten here too late, and suffered too many injuries, to be on a Hall of Fame track; remember, he's actually older than Bryce Harper, his old teammate and buddy. But the Cubs before him were, well, the Cubs. We've all seen what they turned into once he got there.
9. José Abreu (2014)
.317/.383/.581, 36 HR, 173 OPS+, 5.3 WAR
Petriello: I think this is going to be an unpopular pick this high. Abreu was on the older side for a rookie (27), he'd been a veteran of the Cuban professional leagues, and he was -- and is -- a righty/righty first base/DH type without a great deal of defensive value. Over the last five years, he's settled into a solid "28-ish homers per year with a bat that's about 25 to 30% above average," so says that 128 OPS+ since 2015. Which is fine. That's fine. But in that first year, when he won the ROY unanimously over Masahiro Tanaka, Dellin Betances and others, Abreu was straight-up spectacular. He finished in a four-way tie for "the best hitter in baseball that year," and, were it not for Dick Allen's 1972, this would have been the best non-Frank Thomas hitting year in White Sox history. I know he hasn't exactly done that again. But we're not drafting careers here, are we?
10. Pete Alonso (2019)
.260/.358/.583, 53 HR, 148 OPS+, 4.8 WAR
Leitch: First off, let's not overly complicate this: He hit 53 homers! That's the most ever by a rookie, and while he did that during what we might charitably call a "spike" in home runs, man, 53 homers is 53 homers. Ain't nobody else hit 53 homers last year. I also can't help but make the case for Alonso in that he always seemed legitimately cheerful and grateful to be a Met, during an age in which the Mets have had their share of missteps. That can only help this franchise, one that has a little bit more young talent than it is given credit for. The Mets have a face now. Who doesn't want to cheer for this guy?
11. Yordan Álvarez (2019)
.313/.412/.655, 27 HR, 173 OPS+, 3.8 WAR
Petriello: Yeah, I know. A pure DH who played in only 87 games, in a year where everyone alive hit 25 homers. If you're screaming your face off for Bryce Harper or Justin Verlander here, I get it. And yet! In those 87 games, Álvarez was so ridiculously, disgustingly good that of the four months he played in, his worst one -- the worst! -- was in September, when the slacker posted a mere .999 OPS. I worry a little about how well this one is going to hold up, because he's likely never going to be a competent defender at any position, and it's not a great sign when a 22-year-old already has recurring knee issues, which might have cost him some early-season time had 2020 kicked off as scheduled. But whatever happens in his future, his '19 was the real deal. Just what the Astros needed, of course: Another talented young hitter.
12. Evan Longoria (2008)
.272/.343/.531, 27 HR, 127 OPS+, 5.6 WAR
Leitch: The Rays were pretty sure they had a future Hall of Famer on their hands in Longoria, and you didn't have to squint that hard to see it. Longoria seemed to show up fully formed in St. Petersburg, Fla., an immediate avatar for the break from the old, tired Devil Rays to the new galaxy brain Rays. Not only did Longoria's arrival auger the Rays' first postseason appearance, it got them to the World Series, for crying out loud. It turned out that Longoria's rookie year was not a launching pad to a Hall of Fame career. It was simply another year of what he was: A terrific, if not transcendent, baseball player. But in 2008, you wondered if the Rays had their Cal Ripken Jr.
13. Cody Bellinger (2017)
.267/.352/.581, 39 HR, 10 SB, 143 OPS+, 4.0 WAR
Petriello: I think I remembered this year as being better than it was? Don't get me wrong: 39 homers from a 21-year-old who didn't even get called up until April 25 is massively impressive. That "10 home runs in 10 games" run he went on in June was massively impressive. I think I just thought in my head this was going to be a Trout-ian monster year, but it wasn't, really, coming in at 3.7 WAR, in part due to a high strikeout rate and only-OK defensive metrics. That's still good! It's so good. But what this really did was set the stage for the MVP season we saw in 2019, when he cut the whiffs and upped his power and improved his defense. If we look back on this one now and say "oh, that was fine, cool," what it's really doing is just saying a lot about how great he's become.
14. Bryce Harper (2012)
.270/.340/.477, 22 HR, 18 SB, 118 OPS+, 4.4 WAR
Leitch: I understand why people made an argument for Wade Miley this season. Harper had come in as the most hyped prospect in memory, and he was … good. He was very good! But he wasn't a baseball revolution, and, more to the point, he wasn't Mike Trout, the prospect he'd been judged alongside for so long and the prospect who was tearing up the American League at the time. But this is still a solid, ROY-worthy year, made all the more impressive because he was only 19 when he put it together.
15. Craig Kimbrel (2011)
77 IP, 2.10 ERA, 1.52 FIP, 14.8 K/9, 3.7 BB/9, 2.8 WAR
Petriello: I should probably know better than to take a one-inning reliever when there's still some excellent starters and hitters on the board. Check that: I do know better. But I'm doing it anyway, because after some hilarious numbers in a partial debut in 2010 -- 17.4 strikeouts per nine! But also 7 walks per nine! -- Kimbrel's first full season was basically the guy he'd be for the next half-decade. This might actually have been his worst season of the next four years, and yet from essentially day one, he was the best reliever in baseball.
16. Ryan Braun (2007)
.324/.370/.634, 34 HR, 154 OPS+, 2.5 WAR
Leitch: I mentioned this when we did our MVP rankings but when Braun arrived in 2007, Brewers fans had every reason to believe they had their next Robin Yount. The defense was wobbly from the get-go -- this was the lone year they let him attempt to play third base, which he very much could not handle -- which is why that WAR total is so low, but Braun had that lovely long swing locked into place from his first at-bat. Braun showing up was a transition into a grand new era for the Brewers; they hadn't made the playoffs in 25 years when he got there, and they've been there four times since.
17. Buster Posey (2010)
.305/.357/.505, 18 HR, 133 OPS+, 4.0 WAR
Petriello: Sometimes I think that when we think about great players who have accomplished a great deal -- like, in Posey's case, living up to being the fifth overall pick in the Draft by winning three rings, an NL Most Valuable Player Award, and making six All-Star teams, likely on a Cooperstown trajectory, all around suffering an injury so infamous that it literally spawned a rule change that it informally bears his name -- we sort of overlook how impressive it is that the success was there from almost literally day one. In Posey's case, that came in 2010, when he was immediately one of the five best catchers in baseball, then caught every single postseason inning of San Francisco's march to the World Series. It's weird now to remember that he was ever the fresh young face there, but he was. And he was great.
18. Carlos Correa (2015)
.279/.345/.512, 22 HR, 135 OPS+, 3.4 WAR
Leitch: If you would have told me five years ago that there would be an all-around superstar who had come up from Houston's system, someone who made the All-Star Game every year, finished in the top five of MVP voting annually and would win a World Series MVP, I would have just assumed you were talking about Correa rather than that Alex Bregman guy. Injuries have messed with his last few seasons, but the guy is still only 25 years old.
19. Ronald Acuña Jr. (2018)
.293/.366/.552, 26 HR, 16 SB, 143 OPS+, 3.7 WAR
Petriello: OK, I think we've let this one fall far enough. It is funny, looking back, that after Acuña was left off the Opening Day roster, he hit a mere .211/.297/.267 in 101 plate appearances at Triple-A in April. This turned out to be definitely predictive of his future, because he then joined the Braves and collected 13 hits in his first eight games, including a pair of home runs. Also, don't forget: despite the fact that in 2019 he put up a massive 41/37 HR/SB season, he was actually a better hitter (143 OPS+) as a rookie than he was as a sophomore (122 OPS+). You will not be surprised to learn that this was one of the best age-20-or-younger hitting seasons ever -- and everyone ahead of him is either in the Hall of Fame or ought to be.
20. Hanley Ramírez (2006)
.292/.353/.480, 17 HR, 51 SB, 116 OPS+, 4.4 WAR
Leitch: We've been watching Ramírez in all his permutations for so long that I forgot about what he was in his first one: Super fast! He stole 51 bases in his rookie year in Florida, and the general consensus was that eventually he'd grow into himself and start hitting for power. (Yep!) He stopped stealing bases as he got older (and he was still playing last year and trying to catch on this year), but he became an even better hitter. I will say this might be my favorite thing about Ramírez: Raw, trying to figure out the game still … but so freakishly talented that he was still great without entirely knowing what he was doing yet.
21. Jacob deGrom (2014)
140 1/3 IP, 2.69 ERA, 2.67 FIP, 9.2 K/9, 2.8 BB/9, 3.6 WAR
Petriello: The thing that will always, always be funny about this year -- about deGrom's entire career, really -- is that when the Mets needed a starter reinforcement in May 2014 after Jenrry Mejia lost his rotation spot, they turned to a highly-regarded Triple-A pitching prospect. It wasn't deGrom, who had just been recalled to take a bullpen spot. It was actually Rafael Montero, universally thought of as the best Mets Minor League pitcher. deGrom was the second choice, asked to start only when Dillon Gee injured his lat, and then he held the Yankees to one run over seven innings in his debut on May 15. That late start kept his innings down, and a mere 9-6 record probably shifted some first-place votes to Billy Hamilton, but even if deGrom wasn't quite the arguably-best-pitcher-in-baseball as he is right now, nor was this really a slow burn, either. He's been good, when healthy, every single year of his career. It started literally the first time he took the mound.
Montero, meanwhile, never really put it together with the Mets, though he did resurface in 2019 as a surprisingly effective reliever for Texas.
22. Dontrelle Willis (2003)
160 2/3 IP, 3.30 ERA, 3.45 FIP, 8.0 K/9, 3.2 BB/9, 3.4 WAR
Leitch: If you were to ask me, pop-quiz-style, to Name A Marlin, I think I'd still say Dontrelle first? He was better in 2005, but he'll never be more Dontrelle than he was his rookie year, with that wild windup, that irrepressible charisma, that impossible youth. He also had the best strikeout rate of his career that year, and, oh yes, he pitched in a World Series (and didn't give up a single run) that his team won.
23. Wil Myers (2013)
.293/.354/.478, 13 HR, 131 OPS+, 2.3 WAR
Petriello: My, how smart we all were. When the Royals traded Myers (along with Jake Odorizzi and others) to the Rays for Wade Davis and James Shields following the 2012 season, the reaction was clear. The foolish Royals, not ready to win, had traded a top outfield prospect for pitchers while still keeping Jeff Francouer in right field. The brilliant Rays had done it again! For a while, it seemed like the initial narrative had held true, especially when the '13 Royals finished third while Davis posted a 5.32 ERA as a starter -- and when Myers came up and mashed for a half-season. It was a good first impression. It promised more. It … didn't. Myers was awful in '14, traded for '15, and has been just-OK for the Padres ever since. The Royals won back-to-back pennants. This was the biggest trade of the decade, just not for the reasons we would have expected. For at least a few months though, Myers looked like he'd make it all worth it.
24. Justin Verlander (2006)
186 IP, 3.63 ERA, 4.35 FIP, 6.0 K/9, 2.9 BB/9, 2.8 WAR
Leitch: It seems strange to look back now at Verlander's first few years in the Majors and how excited everyone was about him, considering … he wasn't nearly as good then as he would become. Verlander was not an arm that just showed up and took over. It's wild to think that his strikeout rate his rookie year was literally half what it was in 2019, when he was 36 years old. Maybe it was just that Detroit had been so miserable before he got there, then found itself in the World Series in that rookie year.
25. Ryan Howard (2005)
.288/.356/.567, 22 HR, 133 OPS+, 2.2 WAR
Petriello: This one is partially because of what Howard did that year -- 22 homers in half a season, and, after a lousy cameo in May, a .949 OPS from his July 2 recall through the end of the season -- and partially because of what it meant. Howard wasn't just good that year, he was fantastic; over the last four months of the season, he was immediately one of the 20 best hitters in the game. Not bad for a rookie. He was so good -- in only a partial season, to be fair -- that it motivated the Phillies to trade Jim Thome, who had mashed 89 homers in 2003 and '04 before an injury-plagued '05, to the White Sox to make room. Howard would win the NL MVP Award the next season.
26. Rafael Furcal (2000)
.295/.394/.382, 4 HR, 40 SB, 98 OPS+, 3.3 WAR
Leitch: Furcal was the primary addition for a Braves team that won eight games fewer than it did the year before, but he couldn't help but be warmed by that team's glow. Furcal seemed to be exactly what they had been looking for; they'd been getting by with Walt Weisses and Jeff Blausers up to then. Furcal wasn't quite the star he looked like he might be that rookie year -- he'd never come close to a .394 OBP again -- but, again, we're not grading careers here, we're grading rookie seasons. Furcal ended up being a useful piece for the next decade, but in 2000, he looked like a budding star.
27. Eric Hinske (2002)
.279/.365/.481, 24 HR, 13 SB, 119 OPS+, 4.8 WAR
Petriello: I would like to say I have a strong recollection of this year, but I don't, and … wow, a dozen picks left to go? Really? Anyway, Hinske was on his third organization by the time he'd joined the Jays in 2002 -- partially because, despite a strong year in the Minors for the A's in '01, he was never going to unseat Eric Chávez -- and he was immediately a Top-5 third baseman that year. It remains one of the best years by any Toronto third baseman. Things got weird after that; he was lousy the next two seasons, and only ever played a handful of games at third after age 26, but he did manage to carve out a strong second act as a 1B/PH "good luck charm" type who, from 2007-10, made it to the playoffs four straight years on four different teams. If "never received 500 plate appearances after age 27" isn't exactly the career path you would have hoped for, well, you could do worse than 12 seasons in the bigs and three trips to the World Series," and that '02 season was legitimately very good. He won World Series rings with the Red Sox ('07) and Yankees ('09).
28. Michael Fulmer (2016)
159 IP, 3.06 ERA, 3.76 FIP, 7.5 K/9, 2.4 BB/9, 3.1 WAR
Leitch: Now this one just makes me sad. Fulmer -- acquired for Yoenis Céspedes at the 2015 Trade Deadline -- put up this fantastic year in 2016, looking, yeah, a little bit like a young Verlander as he teamed with him 1-2 atop the Tigers rotation. Fulmer was good again in '17 -- he made his lone All-Star team that year -- but he got Tommy John'd after that. (It's good for Tommy John that his name is on a surgery, but maybe bad that you can now use his name as a verb.) The hope is that he could conceivably return in September of this year, which would be a full two years since he last threw a pitch in the Majors.
29. Dustin Pedroia (2007)
.317/.380/.442, 8 HR, 112 OPS+, 3.7 WAR
Petriello: I see we are squarely into the "famous guys who had very good careers but were actually only decent when winning the Rookie of the Year Award," because Pedroia's first year was … fine. It was fine. What I vividly remember about that season was that after failing to impress in a late season cameo in 2006 (.191/.258/.303 in 31 games), Pedroia was expected to replace '06 All-Star Mark Loretta, yet his line was all of .172/.294/.224 at the end of the day on May 1, 2007 -- leading to fans to call for him to be replaced by his future manager, Alex Cora. That didn't happen, obviously; he sat out on May 2, then he returned the next day and hit .335/.392/.470 for the rest of the season as the Sox won their second World Series of the century. That bad first month really did hurt his full-season stats, though. Bonus: The second-place finisher was … Delmon Young!
30. Geovany Soto (2008)
.285/.364/.504, 23 HR, 119 OPS+, 3.0 WAR
Leitch: First off, it feels like cheating a little bit for Soto to be considered a rookie in 2008, which was actually the fourth year he was up with the Cubs. He played one game in 2005, 11 in 2006 and 18 in 2007 -- he even homered in the 2007 NLDS -- but '08 was the year he finally grabbed the starting job at the age of 25. He was good! This was a first-place Cubs team, and Soto more than did his part. He looked like he'd be a fixture of the team for the next decade, but he'd never hit near this many homers again and it was an easy choice to ship him out when the next rebuild started. He was still rattling around as recently as 2017. Backup catchers are a trip, man.
31. Ángel Berroa (2003)
.287/.338/.451, 17 HR, 21 SB, 101 OPS+, 2.7 WAR
Petriello: Berroa was fine in 2003 -- league average offense and a near 20/20 season from a shortstop is a nice thing to have, regardless of how his career went after -- but I mostly made this choice because I feel like there's an ever-present narrative among Yankees fans that Hideki Matsui was "robbed" this year, and … well, that's just not true, is it? Berroa (101 OPS+) was only slightly less of a hitter than Matsui (109 OPS+) was, except he stole 21 bases and was a shortstop, not a bad defensive outfielder. It's true that two voters foolishly left Matsui off entirely -- the argument that players with Japanese experience shouldn't qualify was a poor one even before Ichiro and Hideo Nomo won -- but it's also true that two voters left Berroa off, as well. (Jody Gerut should have won, regardless.)
Anyway! This was a perfectly fine and inoffensive year … and Berroa would never come close to repeating it again.
32. Neftalí Feliz (2010)
69 1/3 IP, 2.73 ERA, 2.96 FIP, 9.2 K/9, 2.3 BB/9, 2.0 WAR
Leitch: Time for a run on closers? This Cardinals fan who was absolutely terrified of Feliz coming into the ninth inning of Game 6 of the 2011 World Series can tell you how great Feliz was at his peak. It felt near impossible to get a hit off him. He always walked too many guys -- that's what eventually would drive him out of the game -- but he had that under control early in his career. Those two World Series years (2010-11) for the Rangers were as good as he would get, though.
33. Chris Coghlan (2009)
.321/.390/.460, 9 HR, 122 OPS+, 2.7 WAR
Petriello: This is one of the more notorious ballots in recent history, and one I had in my head as "Coghlan beats out Andrew McCutchen." I was going to approach this with "if you look only at the 2009 season and not that Coghlan's BABIP-y season was the best he ever had as he became a role player while McCutchen looked like he was headed to Cooperstown for a while," you could have made an argument for Coghlan's win being the right call. But then I looked at the actual balloting, and would you believe McCutchen actually finished fourth behind J.A. Happ and Tommy Hanson? Or that Casey McGehee actually got a first-place vote? Now I'm angry all over again. Coghlan, for what it's worth, resurfaced as a valuable piece on the 2014-15 Cubs and was actually the starting right fielder in Game 1 of the '16 World Series.
He also did this:
34. Jason Bay (2004)
.282/.358/.550, 26 HR, 132 OPS+, 1.8 WAR
Leitch: For the first few years of his career, Bay was one of the most underrated, unappreciated players in baseball. That is, until he had a great year in Boston, when everyone started over rating him, particularly the Mets, who signed him to the next in a series of disastrous contracts. We have bad thoughts still when Bay's name comes up, but from 2004-09, he was statheads' little secret. Even if no one would admit it now.
35. Andrew Bailey (2009)
83 1/3 IP, 1.84 ERA, 2.56 FIP, 9.8 K/9, 2.6 BB/9, 2.3 WAR
Petriello: Don't get sucked by the 1.84 ERA, don't get sucked in by the 1.84 ERA. Looks around ...
Ah. You know, I'd forgotten what a great start Bailey got off to. In 132 1/3 innings over his first two years with Oakland, he allowed 25 earned runs, or a 1.70 ERA. He was a big part of the deal that brought Josh Reddick to the A's, and Bailey promptly posted a 7.04 ERA for the 2012 Red Sox. Relievers, man. In '09, though, even if you look past the shiny ERA, he was pretty good, striking out more than a man per inning back when that still meant something, and he even repped the A's at the All-Star Game. In retrospect, this wasn't the strongest class, because Elvis Andrus and Rick Porcello were just OK. Bailey didn't last long, especially compared to those two, but he was good enough to win this one.
36. Huston Street (2005)
78 1/3 IP, 1.72 ERA, 2.75 FIP, 8.3 K/9, 3.0 BB/9, 1.7 WAR
Leitch: Remember a few years back, when Street refused to have any other spot in the bullpen other than closer? We all mocked him for it, but why wouldn't he feel that way? He was a dominant closer at the University of Texas, closing out the 2002 College World Series, and then was installed as Oakland's closer midway through his first season, and it was a job he never lost until, you know, he was out of baseball. Street was the one guy the A's stuck with until they did their "build up a guy's value at closer and then trade him" strategy, back when that strategy was something you can pull off. Street was a bit of a relic for the most vanguard team in baseball, which is not necessarily the worst thing to be. You can make a decade career out of only being a closer out of it, apparently.
37. Jeremy Hellickson (2011)
189 IP, 2.95 ERA, 4.44 FIP, 5.6 K/9, 3.4 BB/9, 2.0 WAR
Petriello: So here's the good news: 189 innings of 2.95 ERA. If you're a rookie pitcher, you are absolutely thrilled with that. You stayed healthy all year and you prevented runs from scoring. Actually, forget rookies. If you're any pitcher outside of deGrom or Max Scherzer, you're probably thrilled with that. Now, here's the other side of it: Hellickson struck out fewer than average (15%, compared to the 19% MLB average) and walked more than average (9% of hitters, compared to 8%). His FIP, or Fielding Independent Pitching, which outputs an ERA estimate based on strikeouts, walks and home runs, was 4.44. Hilariously, an ESPN headline from that year after the award announcement read "Hellickson a questionable ROY choice," and suggested that "it's very likely we look back on the Hellickson selection in 10 years and think, "Really?"
I won't go that far, because it was kind of a weak class -- five players got first-place votes, and neither second-place Mark Trumbo or third-place Eric Hosmer were that stellar -- but the sneaky good choice here would have been Michael Pineda, who walked fewer and struck out more than Hellickson did.
38. Kazuhiro Sasaki (2000)
62.2 IP, 3.16 ERA, 4.30 FIP, 11.2 K/9, 4.5 BB/9, 0.6 WAR
Leitch: Sasaki was this wonderful little gift that dropped in from Japan for four years of joy. Along with Jeff Nelson and Arthur Rhodes, he was quietly vital for those excellent Mariners teams of the time, with a nasty split-sinker that kept the ball in the ballpark during a boom time for home runs. He only played four years in Seattle, putting up a 3.14 ERA over 223 1/3 innings, and then he left, a year still left on his contract, ostensibly because he was tired of being away from his family in Japan. (There were other, more cynical theories.) He became a figure of much gossip in Japan and while he was a good pitcher while he was here, his presence near the very bottom of this list is indicative of just how much of a mark and memory he left here.
39. Bobby Crosby (2004)
.239/.319/.426, 22 HR, 93 OPS+, 2.6 WAR
Petriello: Crosby received all but one of the first-place votes this year. You will never, ever, ever guess who received the final one. (It was White Sox reliever Shingo Takatsu.) I suppose it's impressive in some sense that 16 years ago, an overwhelming number of voters were willing to overlook a .239 average to reward a shortstop who hit 22 homers, but even so, he was a below-average hitter who played just-OK defense. On the other hand, the competition was incredibly weak; Baltimore's Daniel Cabrera finished third, and he did that with a 5.00 ERA! Minnesota's Lew Ford probably looks the best now, and he didn't get a single vote. Crosby was good again in 2005, but he never had another productive full season again, and he was out of baseball after turnin 30.
40. Jason Jennings (2002)
185 1/3 IP, 4.52 ERA, 4.68 FIP, 6.2 K/9, 3.4 BB/9, 2.1 WAR
Leitch: OK! Jason Jennings! Let's see … [checks Baseball Reference] … oh, he was a Colorado pitcher! This was in the era where a Rockies pitcher having an ERA under five (4.52 in Jennings' case) made him look like an ace, particularly when he won 16 games for a Rockies team that went 73-89. Jennings' peripherals weren't all that good, and he fell off in the next few years, though that wasn't enough to drop him from the Rockies' rotation. When he eventually left Colorado after six years, he was actually worse in Houston and in Texas, and he was out of baseball by 2010. This thoroughly mediocre six-year stretch in Colorado notches him sixth all time in team history in strikeouts, fourth in wins, fourth in innings pitched and first, as it happens, in shutouts. In case you needed another reminder how hard it is to pitch in Colorado.
Shoot, maybe he did deserve the NL Rookie of the Year Award.
If you're wondering how he won the award, here are the second-through-seventh finishers: Brad Wilkerson, Austin Kearns, Kazuhisa Ishii, Damian Moss, Ryan Jensen and Josh Fogg. So that's how.