Ranking the top 50 players in October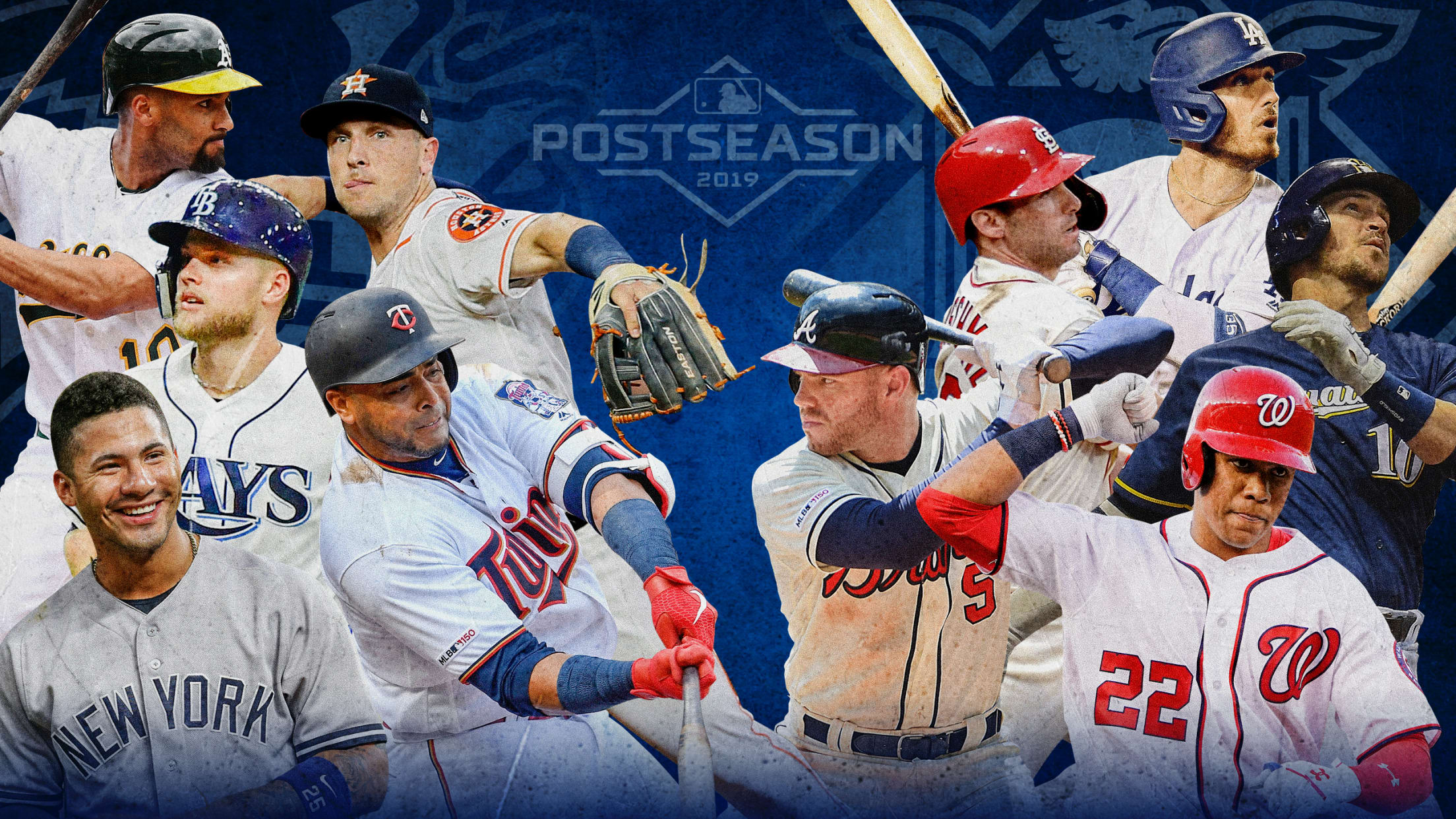 October is always the most thrilling month for Major League Baseball. The drama, the intensity of every pitch, the late nights that leave you giddily staggered the whole next day. This is baseball's month to strut its stuff. The game is at its absolute best. It's a chance for stars
October is always the most thrilling month for Major League Baseball. The drama, the intensity of every pitch, the late nights that leave you giddily staggered the whole next day. This is baseball's month to strut its stuff. The game is at its absolute best.
It's a chance for stars to truly shine. Baseball's greatest players have had their most indelible moments in October, from Reggie Jackson's (and Albert Pujols') three World Series homers to Madison Bumgarner's dominance to Derek Jeter's clutch heroics. This is the month when you want to see the best baseball has to offer.
Thus, as the postseason kicks off, we rank the top 50 players competing in this year's tournament. Some of these players have been great for years; some have emerged in recent weeks. But all of them are absolutely pivotal for their team's success. These guys are as good as it gets. If you were picking a team based on trying to win in October, these are the guys you'd pick.
1) Cody Bellinger, OF, Dodgers: With the Angels always missing the postseason, you want to make sure to have at least one MVP in October, and Bellinger is likely to be the guy who fits the bill this year. He's the rare player who is truly great at everything. He hits for power and average, he gets on base, he's a fantastic fielder, he cut down his strikeouts this year and he even stole 15 bases. He's the ideal baseball player, and he's riveting to watch. This could be his superhero postseason.
Note: If Brewers outfielder Christian Yelich -- the reigning NL MVP -- was healthy, I would slot him in at No. 2 and everyone else would move down a peg. As you were …
2) Justin Verlander, RHP, Astros: Verlander might have had a better year in 2019 than he did in his MVP season in 2011, a truly remarkable achievement for a pitcher who many were worried might be nearing the end of his career not that long ago. He finally got the World Series ring his Hall of Fame career had been missing two years ago. He seems primed to get another.
3) Gerrit Cole, RHP, Astros: We all knew he was a star likely to bust out once he arrived in Houston, but did we really see this coming? He's had a historic strikeout season and has the good fortune of pitching for the one team in baseball for which he's not the No. 1 starter. And every pitch he throws this postseason makes him a little bit richer once it's over.
4) Alex Bregman, 3B, Astros: What a place for the Astros to be in to have three of the top four players in the postseason. Bregman is the rare player who has actually improved every year he's been in the Majors, which is particularly remarkable because he was already fantastic in the first place. And he's a great baseball character, one set up to be a breakout personality this October.
5) Anthony Rendon, 3B, Nationals: Baseball people have always known how great he is, but this year has made it clear what we always suspected: Being on the same team as Bryce Harper obscured his brilliance. With that obstruction in Philadelphia this year, the world knows who Rendon is now … and he'll be richly awarded for it when he hits free agency this offseason.
6) Max Scherzer, RHP, Nationals: Scherzer's intense stare from the mound elevates every game he pitches, and it's a glare particularly suited for October. He's the reason the Brewers and Cardinals were desperately trying to avoid Tuesday's NL Wild Card game, because this three-time Cy Young winner is set to take the hill.
7) Ronald Acuña Jr., OF, Braves: Only a late-season injury kept him from going after a 40-40 season, and the occasional defensive lapses only remind you that he's doing all this at an absurdly young age (he turns 22 in December). His grand slam in last year's NLDS was the Braves' lone memorable postseason moment. There are many more coming.
8) Matt Chapman, 3B, A's: The forgotten superstar, a player who was once known as a defensive specialist, has now evolved into much, much more. If he played in New York, he'd already be a legend. In Oakland, he already is one.
9) Jack Flaherty, RHP, Cardinals: Baseball's best pitcher in the second half of the season, Flaherty has been what Jake Arrieta was to the 2015 Cubs, a bulldog who has dominated everyone in his path and elevated his team to new heights. He could have a postseason not dissimilar to the one his mentor Chris Carpenter had in 2011.
10) Aaron Judge, RF, Yankees: Baseball's most popular player, he missed much of this season with injuries, but was his usually monstrous self when healthy. He's fully healthy now. Look out.
11) Clayton Kershaw, LHP, Dodgers: He's not dominant in the way he used to be … which is not the same as saying he's not dominant. He still had a 3.05 ERA this year in 177 1/3 innings, and he's had the best career of any active player who hasn't won a World Series yet. It's one of these years you feel like he's just going to go out and win one on his own.
12) Stephen Strasburg, RHP, Nationals: In what might be the final year of his contract (he has had such a good year, he might opt out), Strasburg has become his best self, the pitcher we were all so excited about when he burst onto the scene earlier this decade. Now, the Nationals have to win the Wild Card game so he gets a chance to start in October again.
13) Freddie Freeman, 1B, Braves: Freeman has been the heart and soul of all the Braves teams he has been on, and this might be the best one yet. He's quietly putting together a stealthy Hall of Fame case: Winning a World Series would surely help him make that case.
14) Nelson Cruz, DH, Twins: The ageless wonder, Cruz just keeps hitting homer after homer, something we all presume he'll be doing when he's 55.
15) Zack Greinke, RHP, Astros: Only in Houston would Zack Greinke be a third starter. The Astros will be the fourth team he has pitched for in the postseason, and while his teams have made it to October six times now, he has never reached the World Series. That might change this year.
16) Josh Hader, LHP, Brewers: The Brewers probably overused Hader early in the year out of necessity, but once they started giving him more breaks, he returned to his 2018 form. You might question having a reliever this high, but we've seen in recent years the outsized impact relievers can have in October thanks to the extra days off.
17) Josh Donaldson, 3B, Braves: Donaldson has brought much rain this year, approaching his MVP form in one season with the team he grew up rooting for. He was nine years old when the Braves won their one World Series in Atlanta. He'd love nothing more than to get them another.
18) Juan Soto, LF, Nationals: Soto is a young player with a veteran's batting eye and plate discipline, and it absolutely transferred over after his remarkable rookie season. He is off to one of the best starts to a career, at his age, in baseball history.
19) Hyun-Jin Ryu, LHP, Dodgers: He cooled down enough to no longer threaten Bob Gibson's storied ERA record, but he's still an elite pitcher.
20) Jorge Polanco, SS, Twins: Maybe the most underappreciated superstar in the league this year, Polanco rewarded the Twins for their decision to extend him this offseason and then some.
21) Liam Hendriks, RHP, A's: Remember when Blake Treinen was the reliever so dominant he elevated an entire A's team? This year, it's Hendriks, who will be deployed whenever necessary, for as long as necessary.
22) Walker Buehler, RHP, Dodgers: He continued his success from last year without necessarily building on it, and he's the dazzling young pitcher the Dodgers haven't had since ... well, Kershaw. He'll likely be the Game 1 starter -- don't forget the two-hit, seven-inning scoreless gem he put up in the Dodgers' one World Series win last year.
23) DJ LeMahieu, INF, Yankees: It's crazy to think that at the beginning of the year, LeMahieu was thought of as a luxury item who didn't even have a position to play for the Yankees. He ended up having the best season of his career and is probably the MVP of a 100-plus-win team.
24) Corey Seager, SS, Dodgers: The 2018 Dodgers thought they were lost when Seager went down. They were their true selves with him this year -- he also led the NL in doubles -- and you know he has a huge postseason moment just waiting for him.
25) José Altuve, 2B, Astros: He can almost get lost among all the Astros superstars, but he's still the heart of this team, the guy who was there from the very beginning. He also hit 30 homers for the first time this year and looked like his MVP self in the second half.
26) Gleyber Torres, SS/2B, Yankees: The Yankees had so many contributors this year that you almost forget about Torres, who's a 22-year-old middle infielder who hit 38 homers.
27) Marcus Semien, SS, A's: If you went strictly by FanGraphs' WAR, where Semien ranks fifth among position players this year, he'd rank higher here. He has always been an underappreciated A's player -- really, like all A's players -- but this year, his bat finally came around. He hit more homers than in his previous two seasons combined.
28) Mike Soroka, RHP, Braves: Soroka is the first of the vaunted crop of young Braves pitchers to arrive, and he might already have established himself as the best one. Any other year, he'd be a shoo-in for NL Rookie of the Year. (Unfortunately for him, Pete Alonso exists.)
29) Charlie Morton, RHP, Rays: What do you do next when you've closed out a World Series? Be even better the next season, and then even better after you've signed a deal with a team that seems specifically built for you to succeed. He's so different from the pitcher he was when he came into the league that it makes you question reality a little bit. He'll start the AL Wild Card Game for Tampa Bay on Wednesday.
30) George Springer, OF, Astros: The only former World Series MVP on this list, he just went out and had the best year of his career.
31) Yordan Alvarez, DH, Astros: It seems almost unfair that the Astros have a guy like this just hanging around their farm system, on top of everything else they have.
32) Matt Olson, 1B, A's: He had more than 100 fewer plate appearances than he did last season … and hit seven more homers anyway. And that swing is just beautiful.
33) Michael Brantley, Astros. He's the final Astros player on this list, we promise. Like so many others, he's a veteran who has become the best version of himself in Houston.
34) Patrick Corbin, LHP, Nationals: Corbin was the big offseason free-agent pitching prize, and he's been worth every penny. He'd be the No. 1 starter on a lot of other teams; here, you just hope he gets a chance to pitch after the Wild Card game.
35) Aroldis Chapman, LHP, Yankees: He might not be the hardest thrower in baseball anymore, but he's still just about the last guy you want to face on a cold night in October in the late innings of an elimination game.
36) Paul Goldschmidt, 1B, Cardinals: He might have had the worst offensive season of his career in his debut year in St. Louis … but he was still a terrific player both at the plate and in the field, and he has instantly become a leader in the clubhouse. The Cardinals traded for (and signed) Goldschmidt to help get them back to the postseason. He has done just that.
37) Ozzie Albies, 2B, Braves: He'll always be a little overlooked with the titanic Acuña around, but as the NL leader in hits, he absolutely shouldn't be.
38) Tommy Pham, Rays. Ever since Pham got the full-time call to The Show in 2016, he has been one of the best players in the league without anyone ever noticing. He's also a vibrant personality and a blast to watch. Baseball is better because Tommy Pham is in it.
39) Austin Meadows, Rays. Do not remind Pirates fans of how Meadows made the All-Star team and helped lead Tampa Bay back to the playoffs this year. (Sorry, I think I just did.) Did you realize he hit .291/.364/.558 this year? He's good.
40) Kolten Wong, 2B, Cardinals: He's still mending a late-season injury, but he became the impact player the Cardinals have always thought he would be this year. His improvement is indicative of why this Cards team has been so different than the versions from the last few years.
41) Mike Moustakas, 2B/3B, Brewers: It turns out the Brewers were able to find a spot in the field for a guy who hits 30-plus homers every year. One of the primary reasons the Brewers made it this far … and remember, he already has plenty of postseason experience.
42) Max Muncy, 2B/1B/3B, Dodgers: The guy who came out of nowhere has turned out to have staying power. And we know he can hit big October homers … particularly ones that end otherwise endless games.
43) Yadier Molina, C, Cardinals: He has been nails for the Cardinals down the stretch and is back in the postseason for the first time in four years. October has always been his time.
44) Brett Gardner, OF, Yankees: The longest-tenured Yankee -- he has survived so many different eras at this point -- is somehow better than ever, slugging above .500 for the first time in his career. He's always doing something to help you win.
45) Ramón Laureano, CF, A's: He makes the highlight-reel plays, but he's incredibly gifted in all aspects of the game, with sneaky power (.521 slugging).
46) Justin Turner, 3B, Dodgers: He's been there so many times at this point that, eventually, you have to think this lovable leader is going to get the World Series ring he has come so close to. If not for an ankle injury that sidelined him for much of September, he'd rank higher.
47) Gary Sánchez, C, Yankees: It wasn't that long ago that Yankees fans were fed up with him. Now, he's as much of a constant as this constantly changing team has.
48) Max Kepler, CF, Twins: The great German hope has raised every level of his game, smashing 36 homers and switching to center field to fill in for the injured Byron Buxton. Now let's make sure that shoulder's OK.
49) Giovanny Gallegos, RHP, Cardinals: The young right-hander -- whom the Cardinals got in the Luke Voit trade -- has been the best reliever in a terrific Cardinals bullpen this year.
50) Yasmani Grandal, C, Brewers: Another smart offseason buy for the Brewers, he's an adept pitch-framer, an on-base machine and a pain for any opposing pitcher.