Rays' catchers to sport info-loaded wristbands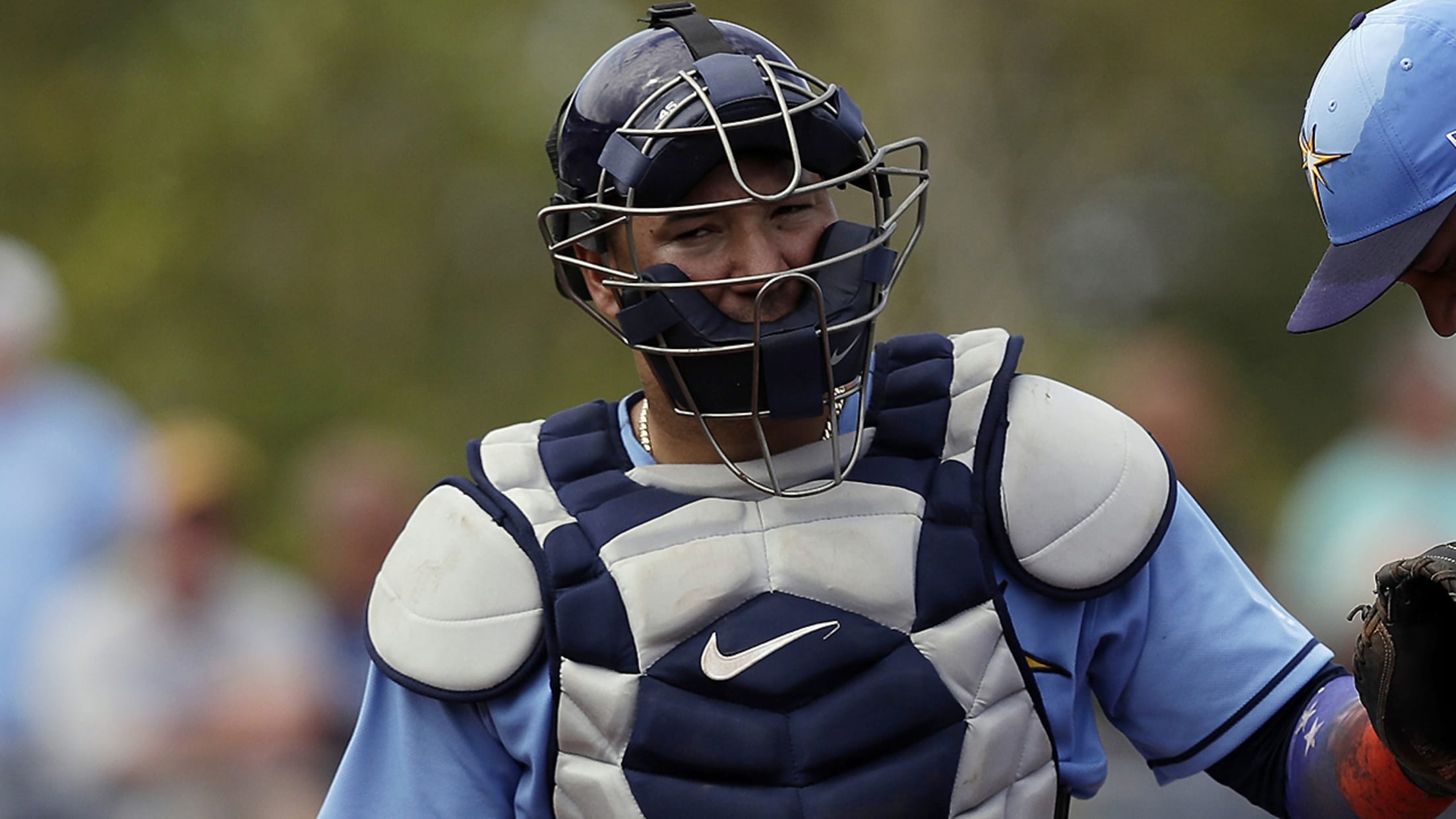 Tampa Bay Rays catcher Jesus Sucre, left, pats pitcher Yonny Chirinos on the chest as Chirinos struggles during the fifth inning of a spring training baseball game against the Baltimore Orioles, Wednesday, March 7, 2018, in Port Charlotte, Fla. (AP Photo/Chris O'Meara) (Chris O'Meara/AP)
TAMPA, Fla. -- Rays catchers will wear large wristbands packed with detailed information this season. The plan is for the wristbands to contain critical data on Rays pitchers that will act as reminders while calling the game.When asked about the wristbands, Rays manager Kevin Cash -- a former Major League
TAMPA, Fla. -- Rays catchers will wear large wristbands packed with detailed information this season. The plan is for the wristbands to contain critical data on Rays pitchers that will act as reminders while calling the game.
When asked about the wristbands, Rays manager Kevin Cash -- a former Major League catcher -- first allowed that "there's a lot of pride that catchers take in their game-calling abilities."
"And we're not looking to take that away from our two guys [Wilson Ramos and Jesus Sucre]," Cash said. "We feel they both do a good job of retaining information before a series. But nice little quick reminders don't hurt anybody, as much as we're going to be utilizing that bullpen day, right-left, going back and forth.
"I think it's going to be beneficial to have what our pitchers' best strengths are when they're attacking hitters. A quick little reminder for them to look at. You've seen a lot of teams go to it. I'm kind of disappointed that we haven't got there. But I'm happy we're there now."
• Spring info | Tickets | Schedule
Although the information will serve to augment the catcher's information, Cash doesn't think game-calling will change too much.
:: Spring Training coverage presented by Camping World ::
"The whole goal of game-calling is getting the most out of the pitcher," he said. "Putting what he's capable of doing ahead of maybe the hitter's weakness."
The information will pertain to any number of things, ranging from how to pitch to a certain hitter to what a certain pitcher is throwing.
"I never tried this kind of thing before," Sucre said. "I believe it's going to help us a lot with the new rule, six visits to the mound."
Worth noting
Despite the plans for a changed role for the bullpen this season -- which includes having the 'pen act as the fifth starter -- Cash said the Rays will not expand the staff. They'll have four starters and eight relievers.
"Look, every team has to add a bullpen [day] and go short every once in a while, depending on the state of the previous night's game, the workload, the injuries," said Cash when asked about the prospect of having a nine-member bullpen. "But no, our thought process remains as a 12-man pitching staff as much as possible."
When asked about Blake Snell, Cash said Snell's demeanor has impressed him the most this spring.
"He's really grown up from maybe some of his struggles last year," Cash said. "But he's come in with a new and different mindset. Very focused. Very committed. You can watch his tempo on the mound when he's pitched, and it's translated into positive results.
Snell started against the Yankees on Monday night and allowed one run on three hits and three walks while striking out nine.
Camp battles
Veteran left-hander Jonny Venters, who is hoping to earn a spot in the bullpen, has had an impressive spring. In six outings covering 6 1/3 innings, he has allowed no runs on three hits.
"We keep talking about what a great story it is," said Cash, referring to Venters' three Tommy John surgeries. "But besides that, he's had a really solid spring for us. He's putting pressure on us to make some decisions, because he's bounced back and checked every box. He's passed every test thus far."
But will that be enough for him to be in St. Petersburg at the start of the season?
"I don't know about that," Cash said. "We've still got 10 days away. In fairness, he's probably on the outside looking in in that situation."
Injury update
Brad Miller (injured toe) played first base on Monday night for the second time in the Rays' last three games and went 0-for-2 with a walk. Miller continues to feel well and told reporters that after taking Tuesday off, he will play again on Wednesday.
Though Miller figures to play some second base this season, Cash doesn't believe he will be at second for the remainder of spring.
"Probably not," Cash said. "We know what Brad is capable of doing at second. I think with the injury, it certainly hasn't helped. And we have to get him as many at-bats as possible. But I think right now we're going to look at him as a lot of DH and first-base at-bats."
Mallex Smith (tight right hamstring) will play in a Minor League game on Tuesday. The outfield hopeful still feels he'll be ready for Opening Day.
Minor Leaguer David Rodriguez hit a three-run homer off Adam Warren in the top of the ninth to spark Monday night's win over the Yankees.
Up next
The Rays travel to Sarasota on Tuesday night to meet the Orioles in a 6:05 ET contest. Nathan Eovaldi will start, and Ryan Yarbrough and Daniel Hudson are also expected to see action.
Bill Chastain has covered the Rays for MLB.com since 2005.