Rays close up netting area; fan in stable condition
Woman was struck by foul ball off bat of Souza during Friday's game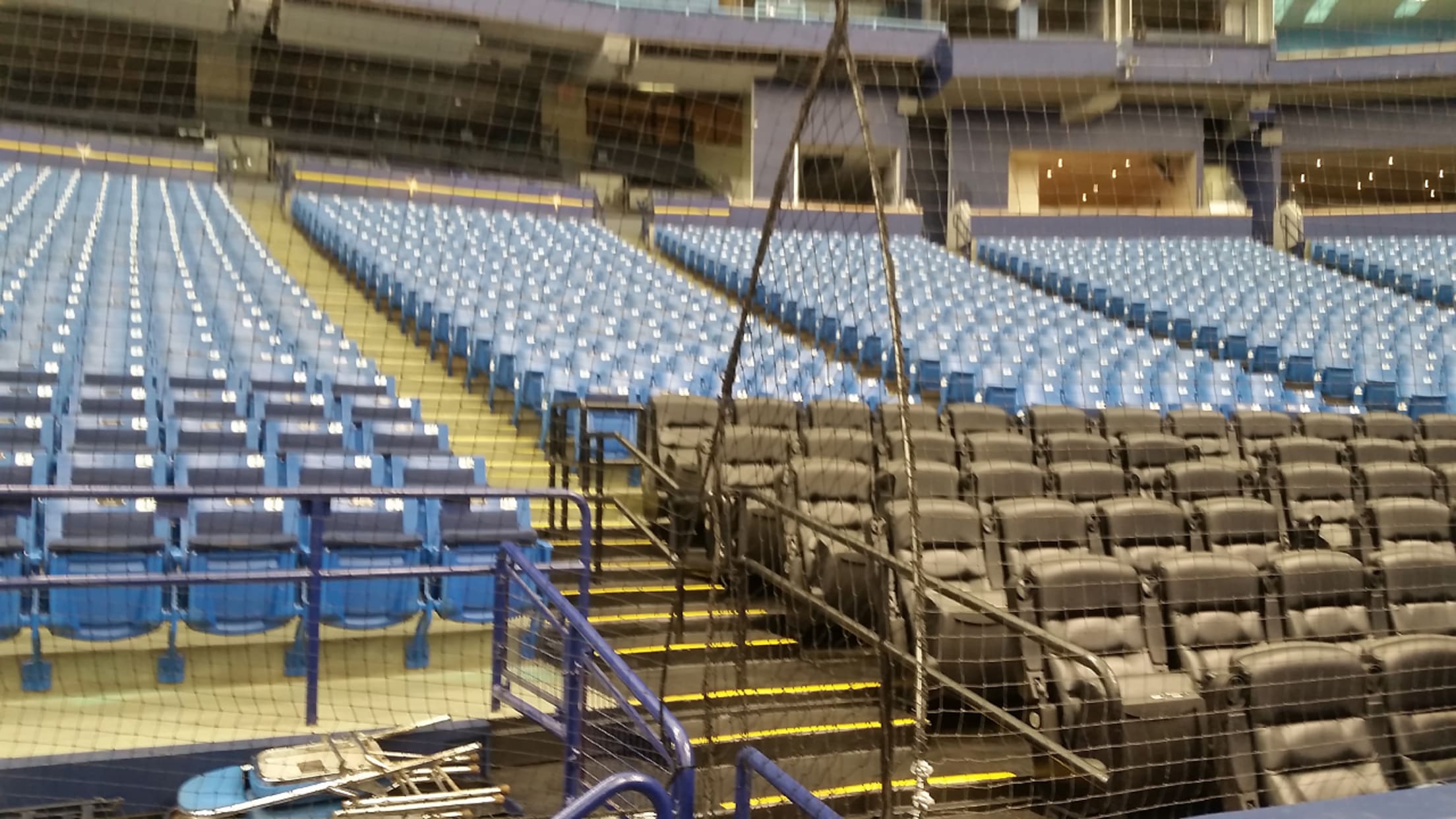 The Rays added netting to an open triangle area near their dugout. (Mike Nabors)
ST. PETERSBURG -- A scary moment inside Tropicana Field on Friday night has all parties still trying to sort through things a day later.In the seventh inning of Friday's game against the White Sox, a 63-year-old female was hit by a foul ball off the bat of Rays outfielder Steven
ST. PETERSBURG -- A scary moment inside Tropicana Field on Friday night has all parties still trying to sort through things a day later.
In the seventh inning of Friday's game against the White Sox, a 63-year-old female was hit by a foul ball off the bat of Rays outfielder Steven Souza Jr. She was subsequently carried off on a stretcher and the game was delayed 12 minutes. She spent the night at St. Petersburg's Bayfront Medical Center, where her condition remains stable.
The team has made adjustments by closing the netting on the once open triangle area, which is positioned to the left of the Rays' dugout in front of the lower box seats. A foul ball finding its way through that opening was a long shot, but it did on Friday.
• Fan struck by foul ball at Tropicana Field
"The chance of that happening last night [was rare]," Souza said.
Souza said getting encouragement from Rays fans helped lift his spirits, and he understands the importance of closing the area where the ball struck the fan.
"Having that hole covered will be a little peace of mind for the fans," said Souza, who, through the team's public-relations staff, had a chance to communicate his sympathies with the fan's husband.
"He's been positive," Souza said. "Obviously, he's been very concerned for his wife. He's been very kind to us and very helpful."
Rays manager Kevin Cash is glad the team made adjustments to protect the fans with the hopes of making Tropicana Field safer.
"You don't want to see anybody get hit ever with a foul ball," Cash said. "I know that was something freak that happened. Anywhere in this stadium, you are worried about people getting hit."
Mike Nabors is a contributor to MLB.com.