Prospect Goetzman gets spotlight in homecoming
Minor Leaguer starts versus Pirates as mom watches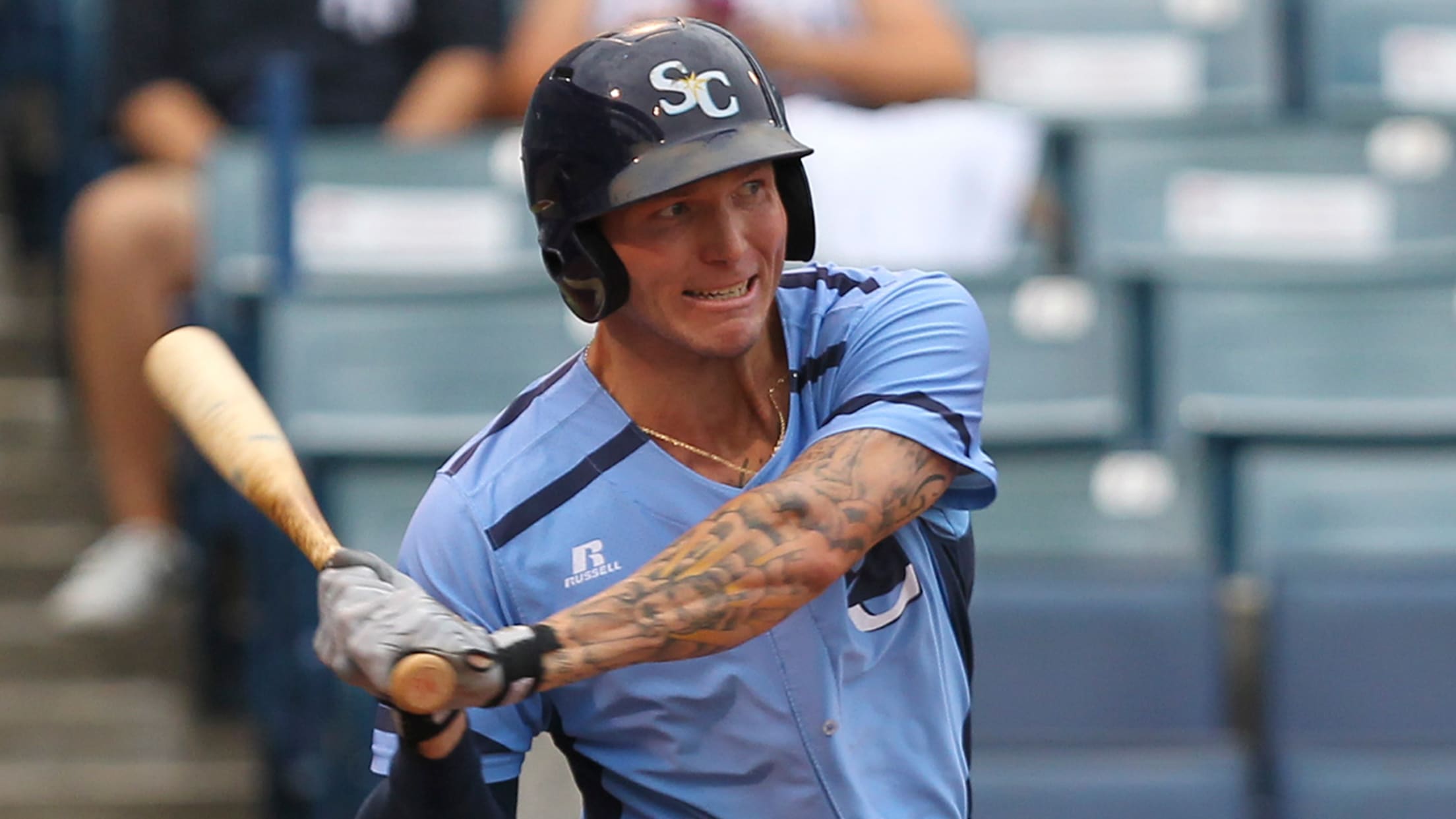 Granden Goetzman, who played last year with the Class A Advanced Charlotte Stone Crabs, got a Major League start Saturday. (MiLB.com)
BRADENTON, Fla. -- Rays outfield prospect Granden Goetzman had the time of his young life on Saturday.Not only was the Minor Leaguer getting exposure by participating in a big league game, the 23-year-old also started against the Pirates in left field -- and had the privilege of doing so in
BRADENTON, Fla. -- Rays outfield prospect Granden Goetzman had the time of his young life on Saturday.
Not only was the Minor Leaguer getting exposure by participating in a big league game, the 23-year-old also started against the Pirates in left field -- and had the privilege of doing so in front of friends and family in his team's 3-1 win.
• Rays Spring Training info
"Usually when they tell you you're coming to the big league game, it's that you'll get in the eighth inning or something," Goetzman, a native of Palmetto, Fla., said before going 1-for-4 with a run. "My mom is going to see me out there in the beginning instead of in the eighth inning."
Rays manager Kevin Cash said it was an easy decision to put Goetzman in a starting role. Goetzman had actually played in five earlier spring games, but earned just three at-bats.
"We kind of caught wind that he was from the Palmetto area, so hopefully it's cool for him," Cash said. "Sometimes those guys come over and it's exciting and everybody says, 'You're at the game and should be having fun.' But sitting for nine innings and not being able to play, that's rough. So if we have an opportunity to get a guy in like that in front of his family or hometown friends, let's do it."
Goetzman grew up about 10 minutes from McKechnie Field, the site of Saturday's game against the Pirates. He played for Palmetto High School, and the Rays drafted him in the second round in the 2011 MLB Draft.
Last season, Goetzman played with Class A Advanced Charlotte and won a Florida State League championship, so he was already plenty familiar with McKechnie. But playing as a member of the Rays instead of the Stone Crabs was special.
"It's a lot better on this side, I can tell you that," said Goetzman -- who's likely to start this season at Double-A Montgomery. "This place is home, so to speak. It's pretty cool. I wish I had my name on my jersey, but I'll take it."
While he appreciates the playing time he's seen, he's even happier about what he's learned from the big leaguers around him.
"They fail -- that's what I like to see," Goetzman said. "I don't like to see them fail, but that's what happens."
*Greg Zeck is a contributor to MLB.com.