Red Sox FAQ: Details on the upcoming season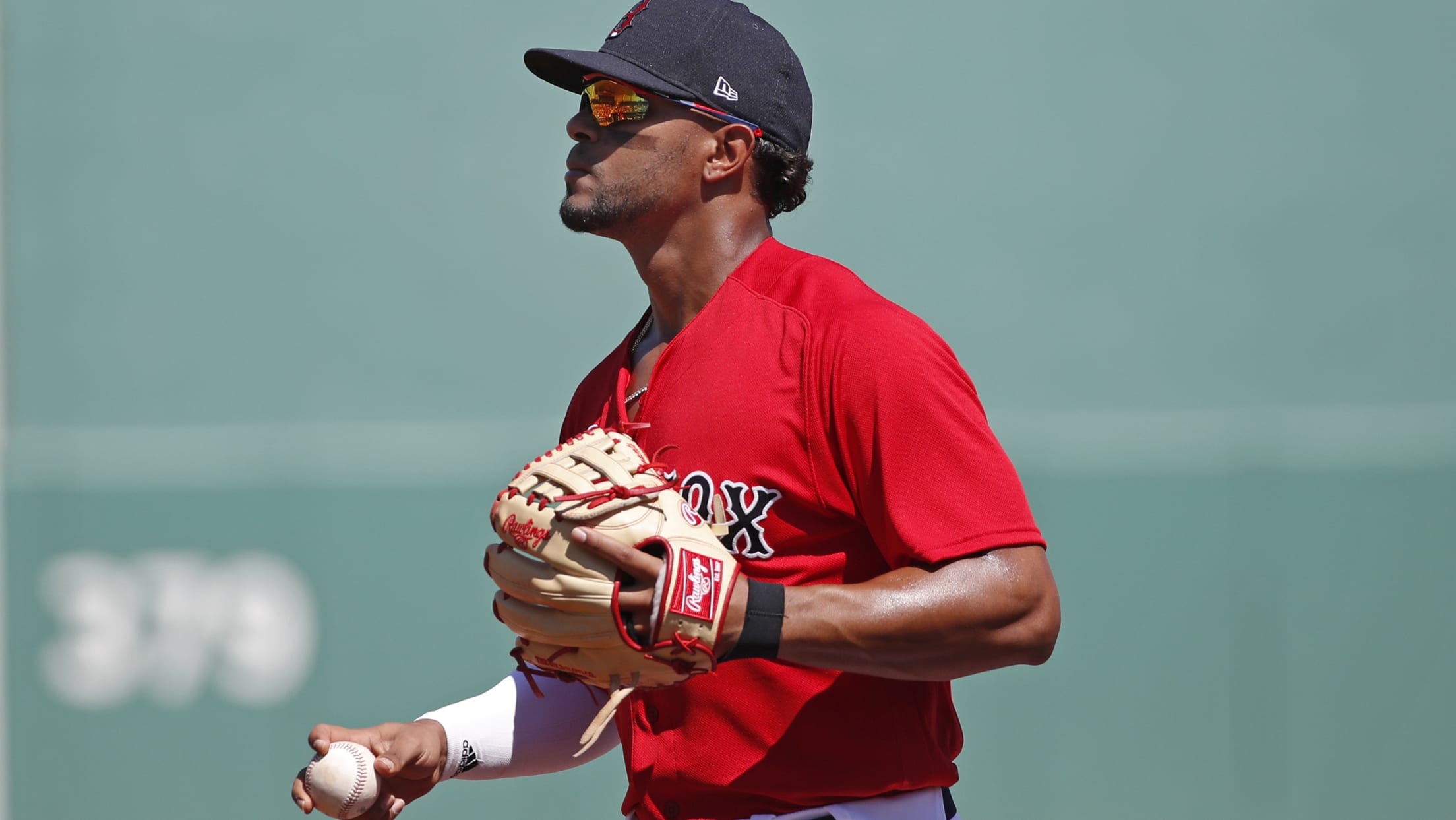 BOSTON -- There was a great deal of curiosity surrounding the Red Sox when Spring Training was halted on March 12 due to the coronavirus pandemic. How successful would they be in trying to win without Mookie Betts? How capable would the rotation be without Chris Sale and David Price?
BOSTON -- There was a great deal of curiosity surrounding the Red Sox when Spring Training was halted on March 12 due to the coronavirus pandemic.
How successful would they be in trying to win without Mookie Betts? How capable would the rotation be without Chris Sale and David Price?
• MLB announces 2020 regular season
We are finally close to getting some answers. MLB is ready to come back, with the resumption of camp on July 1, and Opening Day of a 60-game regular season scheduled for July 23 or 24.
"My feeling is baseball is exactly the right thing for the country right now to help us get us back to some sense of normalcy. We need baseball in this country," said Red Sox president/CEO Sam Kennedy. "It's the greatest game ever invented and I couldn't imagine a summertime without baseball, and specifically baseball at Fenway Park, and hopefully it can provide some small sense of distraction and joy and fun and relief for people who have been locked into their homes and dealing with this really difficult situation."
Red Sox fans are starved for baseball, and they are finally about to get their fix in the form of a season that will indeed be a sprint and not a marathon.
To get back to the playoffs, the Red Sox will likely have to do better than their 31-29 start through 60 games last year. At that time, they were 7 1/2 games back in the American League East and tied for the second AL Wild Card spot.
• FAQ: All you need to know about 2020 season
One of the most frustrating things for Boston last year was the inability to go on prolonged hot streaks. The club's best 60-game stretch last season was 36-24, a mark the Red Sox hit on 10 occasions.
With a fascinating season on tap, here are the answers to questions many of you likely have.
When will camp start, and where?
Red Sox pitchers and catchers will report to Fenway Park on July 1 for the continuation of a camp that was suspended back on March 12. Position players are expected a few days later. The Red Sox are also in discussions with Boston College about using their facilities for part of camp, but Kennedy emphasized that Fenway Park will be the central location for Spring Training 2.
It certainly will be unique to see the Sox train in Massachusetts for the first time since 1943, when World War II led to Boston training at Tufts University in Medford, Mass.
When is Opening Day?
Commissioner Rob Manfred announced on Tuesday night that the regular season will begin on July 23 or 24. MLB has sent a proposed 60-game regular-season schedule to the MLB Players Association for review. The location and opponent for the Red Sox's first game has yet to be released, but the full schedule is expected in the next week to 10 days.
Interestingly, under the original 162-game schedule, the Red Sox were supposed to be at Yankee Stadium for a three-game set from July 24-26. It would be riveting to see 2020 open with a rivalry matchup.
Which teams will be on the schedule?
To limit travel and exposure to the virus, MLB is having teams stay as close to their geographical regions as possible. That means the Red Sox will only play opponents in the AL East and the National League East. Boston will play 10 games each against its division foes -- the Yankees, Rays, Blue Jays and Orioles -- and the remaining 20 games vs. the Nationals, Mets, Phillies, Braves and Marlins.
How are the injured players doing?
If there is a silver lining for the delay with the Red Sox, it's that outfielder Alex Verdugo is fully recovered from the stress fracture he suffered in his back last season with the Dodgers. If the season had gone off as originally planned, Verdugo likely would have been out for roughly four to six weeks. Now Boston will get to see the main player it got for Betts as soon as Opening Day.
"As for Alex, everything [is a go] with the caveat we are going to be ramping people up in a fairly short period of time and we want to make sure we do not take any shortcuts with him," said Red Sox chief baseball officer Chaim Bloom. "He should be all systems go. The only limitation on him at this point has been what we've been able to do just by virtue of the fact we've been shut down."
Righty Collin McHugh, acquired in early March, could also be ready to go after missing time to a flexor tendon strain in his right elbow last season.
"Yeah, Colin is doing well, I don't want to put a timetable on it, but I think it's a possibility [he'll be ready]," said Bloom. "He is doing well and he's working through basically a mound progression. He's off the mound now and basically progressing towards games. He has tolerated everything really well. We've tried to build him up really responsibly. Don't know yet an exact timetable but he is progressing really well."
Sale, as most of you remember, won't pitch at all in 2020 due to Tommy John surgery. But at least the star lefty is only missing a 60-game season rather than a 162-game season.
In March, a Red Sox Minor Leaguer tested positive for COVID-19. Since that point, have any players on the 40-man roster tested positive?
"We did have, a couple weeks ago, we had a player who in his hometown was exposed," said Bloom. "He went and got tested. It turned out positive, but he's been asymptomatic and that's been resolved. We've been fortunate that that's been the only other positive test we've had."
What were the most impressive 60-game stretches for Red Sox hitters last year?
Imagine if Rafael Devers posts a 60-game season to match the 60-game stretch he had from June 12 to Aug. 23? All Devers did during that magnificent run was slash .370/.407/.708 with 18 homers and 61 RBIs.
If at all possible, the Red Sox would love for J.D. Martinez to start like he finished last year. In his final 60 games of 2019, Martinez had a line of .332/.416/.624 with 17 homers and 56 RBIs.
Shortstop Xander Bogaerts has always loved playing in hot weather, so this season's schedule should suit him. From May 22 through Aug. 1, Bogaerts sizzled to the clip of .346/.413/.654 with 17 homers and 53 RBIs.
What was the best roughly two-month stretch for ace Eduardo Rodriguez last season?
A 60-game season will equally roughly 12 or 13 starts for Rodriguez, who was Boston's best pitcher last year and needs to be again this season. Rodriguez was one of the best pitchers in the AL last year from July 12 to Sept. 19, when he went 9-2 with a 2.33 ERA.
What are some competitions to watch when camp resumes?
Manager Ron Roenicke will have to decide how to divvy up the playing time at first and second base. There could be a left-right platoon with Mitch Moreland and Michael Chavis at first, unless Chavis proves that he's ready for more opportunities. José Peraza was acquired as a free agent to play second base, but this is also a spot you could see Chavis at times.
There was a time when the battle for backup catcher between Kevin Plawecki and Jonathan Lucroy was among the fiercest in camp. But with rosters expanded to 30 for the first two weeks of the season, it wouldn't be a surprise to see the Sox carry three catchers.
The first three spots in the rotation are set with Rodriguez, Nathan Eovaldi and Martín Pérez. Ryan Weber was close to locking down the fourth spot when camp was halted. Roenicke was contemplating an opener for the fifth spot, but McHugh could emerge as well.
How will rosters be different? How will those changes affect my team?
Teams can carry 30 players for the first two weeks of the season, then go to 28 on the 15th day and finally down to 26 two weeks after that. Each team will have a pool of 60 players they can draw from.
For the Red Sox, having the four extra spots early will allow them to see how Plawecki and Lucroy can co-exist behind starting catcher Christian Vazquez. It will also allow some time for Roenicke to gain clarity on who is best suited for the final spots in the bullpen.
In addition to the standard 40-man roster, teams will be allowed to carry an additional 20 players. Teams will also be allowed a "taxi squad" of three players from that 60-man pool who will join the team on road trips in case of injury, with the players subject to change each trip. Being on the taxi squad will not affect a player's service time.
The regular injured list will be for 10 days for both position players and pitchers, as in 2019. MLB is also instituting a special COVID-19-related injured list for players who test positive, have confirmed exposure or are exhibiting symptoms. There would not be a minimum or maximum number of days players can spend on this list.
Players optioned or outrighted off the roster must remain that way for a minimum of 10 days before they can be recalled.
What are they saying?
"If you think about a 60-game season and the importance placed on every single game, it's going to be unlike anything we've ever seen," said Kennedy. "We're really looking forward to that moment. We're glad that the negotiations and discussions are over, looking forward to putting all that behind us, and getting going here."
How can I watch and listen to the games?
The usual places. Nearly every game will be televised on NESN. Dave O'Brien will handle play-by-play. Jerry Remy and Dennis Eckersley will rotate as analysts and sometimes work in tandem as part of a three-man crew. Select national games will be available exclusively on FOX or ESPN.
The WEEI Red Sox radio network will have Joe Castiglione calling games for a 38th season. Will Fleming will be a frequent voice partnering with Castiglione. Veteran Sean McDonough will also return at times after earning rave reviews in his return to the Boston booth last season.
Out-of-market fans always have the option of watching the Red Sox on MLB.TV or listening on MLB Audio.