Family affair: Sox take Lovullo again in Draft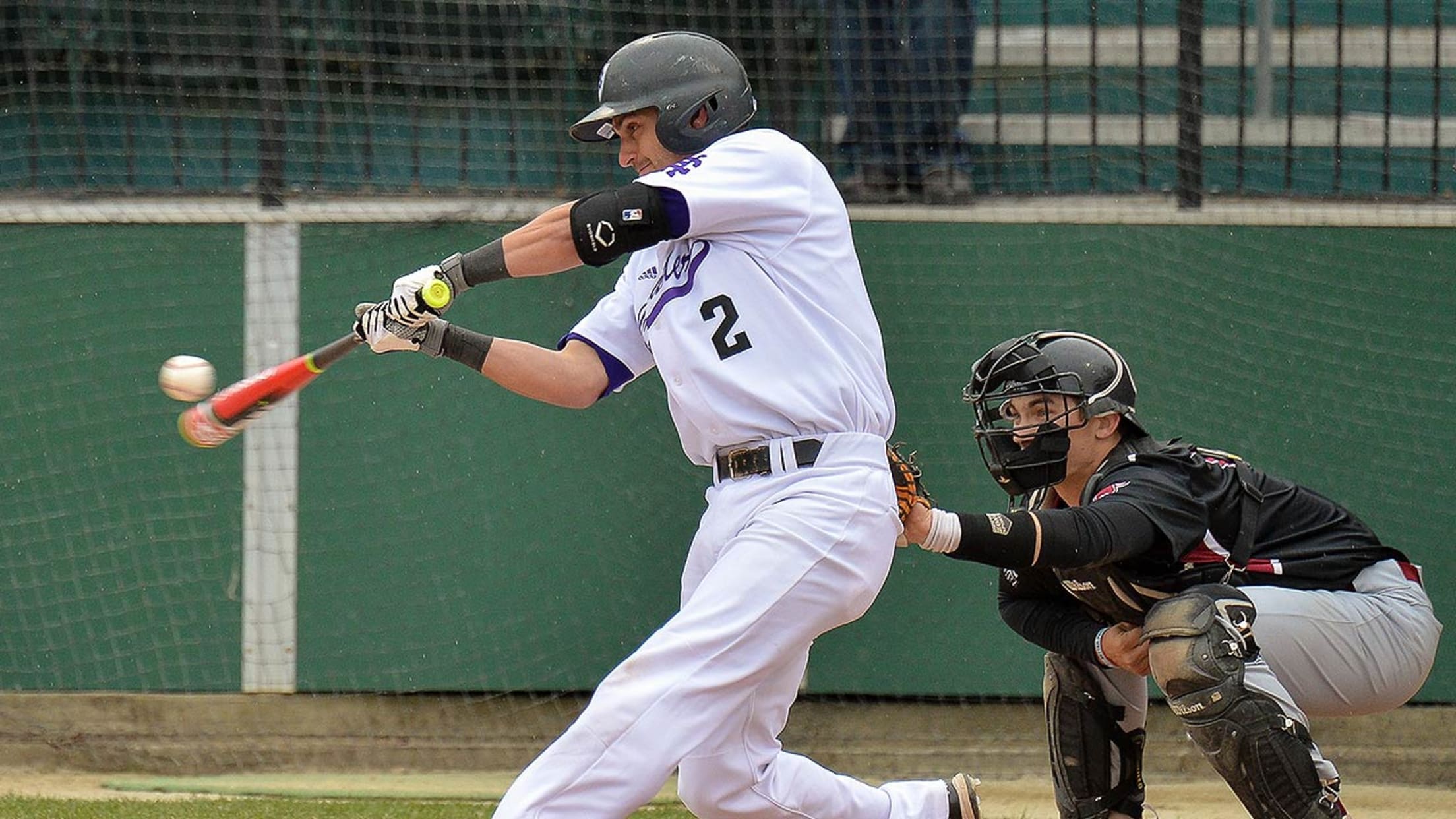 Nick Lovullo hit .225 with a .363 on-base percentage this season. (Holy Cross Photo)
BOSTON -- From Target Field, where Red Sox bench coach Torey Lovullo was getting ready for Saturday's game against the Twins, he reached out to his son, Nick, and made sure he was keeping tabs on Day 3 of the Draft.The Red Sox had just tipped off their bench coach
BOSTON -- From Target Field, where Red Sox bench coach Torey Lovullo was getting ready for Saturday's game against the Twins, he reached out to his son, Nick, and made sure he was keeping tabs on Day 3 of the Draft.
The Red Sox had just tipped off their bench coach that they were about to draft his son for the second straight year.
And this time, instead of the conflicted emotions he felt last year, there was pure joy for Nick Lovullo, a graduating senior shortstop from Holy Cross, as he listened to audio of the Draft on MLB.com and heard his name called.
:: Complete 2016 Draft coverage ::
"Last year was a different story, because I wanted him to go to school and finish school," Torey Lovullo said after the Red Sox beat the Twins, 15-4. "But I know what his aspirations are. I know what he wants to do. I know what he's aiming to get to. We're going to enjoy the moment today. I'm going to call him as soon as I get out of here."
Nick Lovullo will play professional baseball with the organization his dad has worked with for the past four seasons.
"Last year, I could go back to school and there were a lot of options to weigh," said Nick Lovullo. "That's why this year with no more school, I could be fully invested in the Draft, and that was my ultimate goal. To hear my name today and to get a couple of phone calls from people working there, it was like a dream come true. I'm beyond blessed and lucky to be able to play for the best organization in baseball."
Ray Fagnant, the area scout who kept tabs on Lovullo, was first to call on behalf of the Red Sox. Next came the call from general manager Mike Hazen.
• Call to arms: Sox load up on pitchers in Draft
"I was hoping it would be the Red Sox," said Nick Lovullo. "I had a good feeling. It was all realized once I heard the announcement."
Meanwhile, in Minneapolis, Torey Lovullo was also overcome with emotion.
"I couldn't be more proud of him," Torey Lovullo said. "It's one of those moments where you sit back as a father and you appreciate all the hard work that he's put in, and all the sacrifices that he's made over the years. It comes full circle when you hear his name called."
At Holy Cross this season, Nick hit .225 with a .363 on-base percentage. Those numbers were down from the .278/.410 mark the previous year.
Holy Cross head coach Greg DiCenzo suggests that you look beyond the numbers when it comes to Nick Lovullo.
"He belongs at that level and we'll see how far he can take it, to be honest with you," said DiCenzo. "He's a baseball player. I don't think he's off the charts in any one category or any one tool, but he's a solid, solid baseball player.
"He's the type of kid you might just see climb the ladder, because he's a baseball player. He grew up around the batting cages. He knows the game really well. He has a great internal clock as an infielder and he's pretty diverse defensively."
Nick Lovullo knows how instrumental his father was in helping him get to this point.
"He's been a great mentor and a great coach," Nick Lovullo said. "He's been helping me with my baseball skills, from hitting and fielding, from the physical part of the game to the mental part of the game. As far as my baseball career, I owe a lot to my dad and the work he's put in."
After a strong showing in the Cape Cod League last summer, Nick Lovullo gained the confidence that he has what it takes to play professional baseball. And before long, he will be pursuing that dream in earnest.
"I've seen it kind of from the outside looking in," said Nick Lovullo. "Now I get to be in it and experience that, and that's what I've been looking forward to my whole life -- playing professional baseball and hopefully working my way up the ladder to the Major Leagues. I know the Red Sox have a great Minor League system with great coaches and I'm looking forward to getting out there as soon as possible."
No matter how things turn out for Nick Lovullo, his father can't wait to see where the journey takes him.
"He wants to play pro ball and just go as hard as he can for as long as he can, and see where it takes him," Torey Lovullo said. "I know he has interest in maybe working in baseball. I know he has a lot of thoughts. He wants to go to law school. He wants to be a politician. But for right now, I know baseball is a priority and he wants to go as hard as he can for as long as he can."