Red Sox send 6 to Minors as roster takes shape
Owens, Travis among those sent out; final rotation spot down to Wright, Elias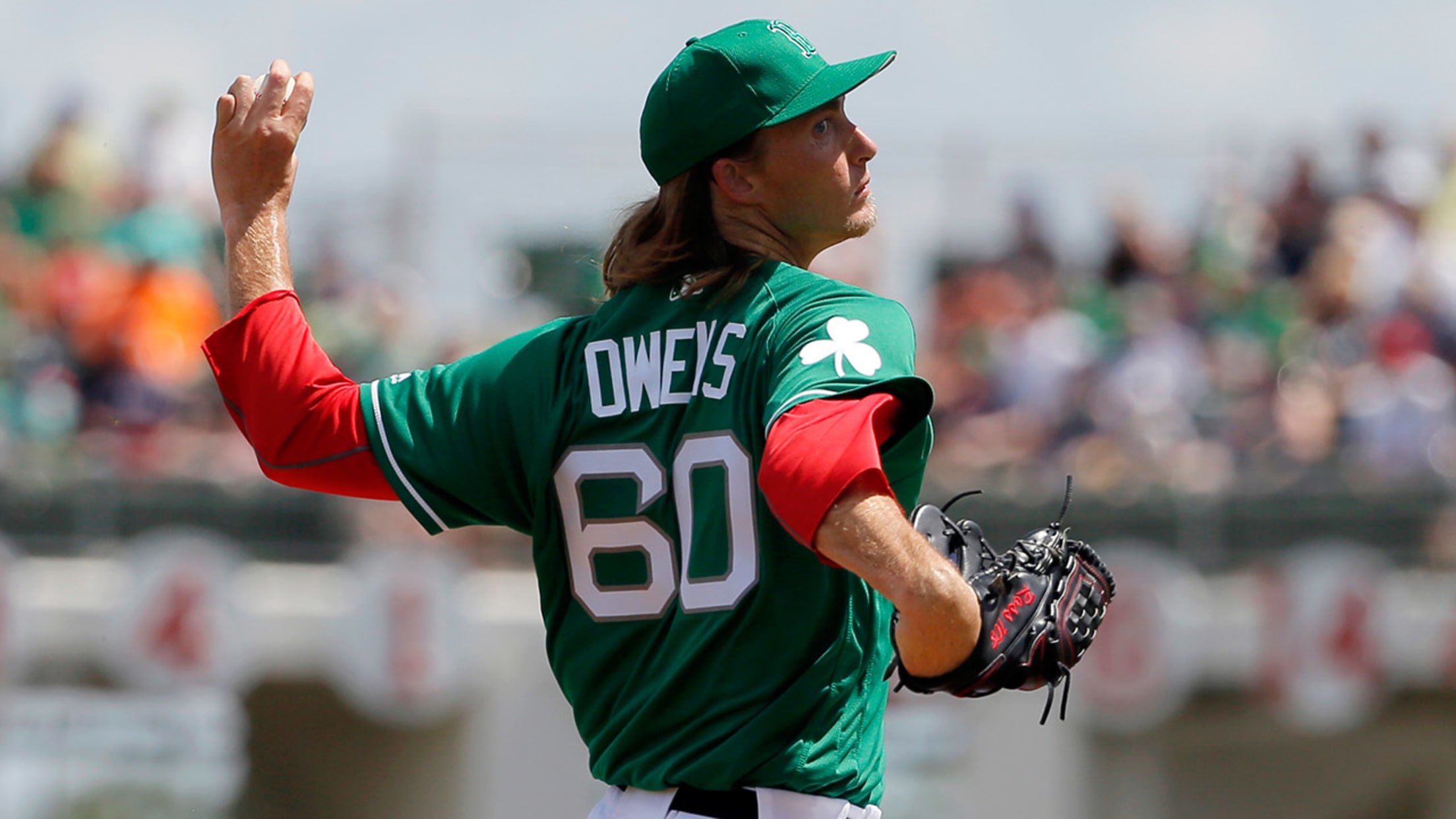 Henry Owens went 4-4 with a 4.57 ERA in 11 starts with the Red Sox as a rookie in 2015. (AP)
FORT MYERS, Fla. -- With the latest paring down of the roster on Thursday, roles are becoming easier to define for the Red Sox.Lefty Henry Owens was optioned to Triple-A Pawtucket, officially making the race for the fifth starter a two-man duel between Steven Wright and Roenis Elias."We're not ready
FORT MYERS, Fla. -- With the latest paring down of the roster on Thursday, roles are becoming easier to define for the Red Sox.
Lefty Henry Owens was optioned to Triple-A Pawtucket, officially making the race for the fifth starter a two-man duel between Steven Wright and Roenis Elias.
"We're not ready to announce who that fifth starter would be. We're going to take a look at Roenis out of the bullpen today for a couple of innings," said Red Sox manager John Farrell. "That would be a different role than he's pitched at the big league level. That's one scenario that we're looking at."
Elias tossed a scoreless ninth inning, striking out two while earning a save, in a 4-1 victory over the Mets on Thursday.
• Spring:Tickets | Ballpark | 40-man roster | NRIs
The knuckleballer Wright, who is out of Minor League options, will make the team. The same is likely true of Elias. Whichever of the two is not in the rotation probably will break camp as the long man.
"The one thing you look at is who can give you multiple innings -- and potentially up to four innings -- particularly early in the year," said Farrell. "That's where Steven was so valuable to us at the beginning of last year. We feel like there's two very good options to provide that."
Of the 51 career appearances by Elias, 49 have come as a starter. But the Red Sox think his variety of arm angles could make him valuable as a reliever.
"If it ends up being Roenis [as the long man], he's got the ability to get a good left-handed hitter out as well," said Farrell.
With Carson Smith set to start the season on the disabled list with a flexor strain in his right elbow, the battle for the final spot in the bullpen is between hard-throwing Matt Barnes and side-winding Noe Ramirez. Both right-handers spent time with the Red Sox last year.
"We've got the remainder of camp to iron that out," said Farrell.
"Carson has a unique arm angle. Noe provides something similar -- granted it's not the strong year Carson is coming off of. You look at who might be most difficult against right-handed hitters. That factors into the construction and the composition of the entire relief group."
Lefty starter Brian Johnson and righty reliever Heath Hembree were also optioned to Pawtucket.
First baseman Sam Travis, who is ranked by MLBPipeline.com as Boston's No. 7 prospect, was reassigned to Minor League camp. The right-handed hitter had an outstanding camp, hitting .536 with two home runs and 13 RBIs in 17 games. He has soared through the farm system after being selected in the second round of the 2014 Draft.
"Strong camp," said Farrell. "For a young player to face some quality velocity early in camp, because -- as we've talked about a couple of times -- you marvel at his ability to sit for two hours and get up and square up mid-90s-type velocity. His hands work really well as a hitter. He's developing as a first baseman on the defensive side. For the first year in a Major League camp, he's done everything that he possibly could to impress."
Outfielder Ryan LaMarre and right-hander Roman Mendez were also reassigned to Minor League camp.
With these moves, the Red Sox now have 39 players in big league camp, including 31 from the 40-man roster and eight non-roster invitees.
Boston will have to trim 12 more players from the roster before Opening Day, with Smith and lefty starter Eduardo Rodriguez set to open the season on the DL.
As for Elias, Ferrell said he would pitch again on Saturday -- giving him another chance to make a good impression.
"I felt good out there," Elias said. "I've been starting my whole life, but it felt good to be out there as a reliever and do what I could to help the team get the 'W.'"