Q&A: Barnes dreaming of a white Christmas
Red Sox reliever heading to Connecticut to be with family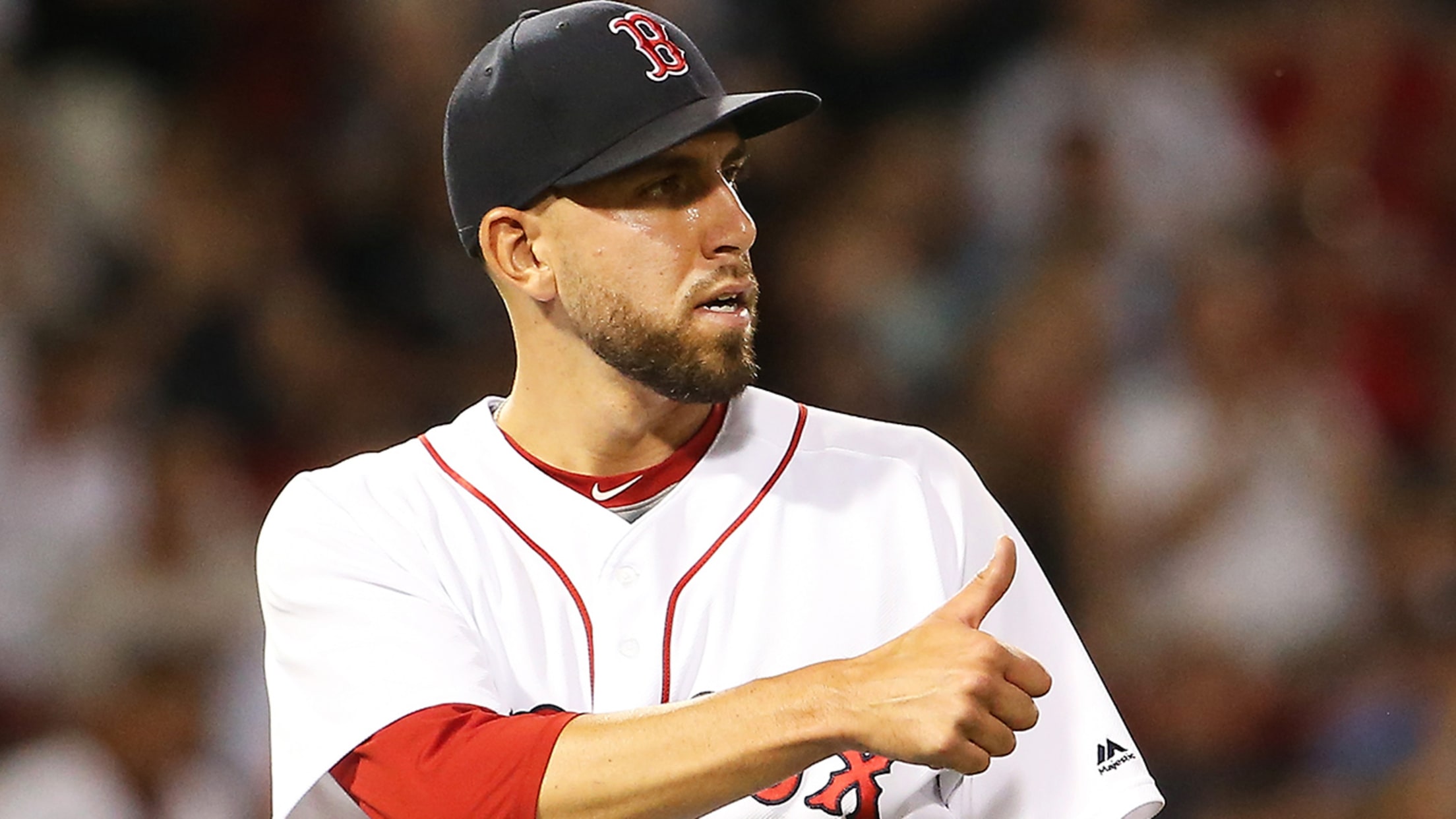 BOSTON -- Like a lot of players, Red Sox reliever Matt Barnes has a winter home in a warm-weather climate, living near the team's Spring Training base in Fort Myers, Fla.However, Barnes is proud of his Connecticut roots and would never even consider staying south for the Christmas season. In
BOSTON -- Like a lot of players, Red Sox reliever Matt Barnes has a winter home in a warm-weather climate, living near the team's Spring Training base in Fort Myers, Fla.
However, Barnes is proud of his Connecticut roots and would never even consider staying south for the Christmas season. In fact, Barnes bounces back and forth between Florida and New England for much of the offseason.
The power righty recently spoke to MLB.com about his enthusiasm for the holidays, and also shared some thoughts on the upcoming season.
MLB.com: I know you have an offseason home in Florida, but you also still spend a lot of time with your family and friends in Connecticut. Where will you spend Christmas this year?
Barnes: I'll be in Connecticut with my family. I'll never be anywhere else for Christmas. Christmas, to me, is six to seven inches of snow on the ground and it's 25 out and you have a fire going. That's Christmas, not 75 and palm trees. That doesn't feel like Christmas to me.
MLB.com: What are your best memories of Christmas growing up?
Barnes: Every year, we do Christmas Eve at my parents' house and Christmas morning there, too, and we drive up to my aunt's house -- that was my grandmother's house that my mom and her three sisters grew up in. And my aunt bought it from my grandmother. We go up to that house every Christmas Day and I've been doing it for 27 years.
MLB.com: How much do you like having those long-standing traditions?
Barnes: Oh, it's great. We get the whole family there and we do presents and dinner and it's awesome.
MLB.com: Flashing back to your childhood, can you remember a favorite gift that you were really excited about?
Barnes: There have been a lot. I've been very fortunate. Getting the first Xbox and the Halo when it came out was awesome. I remember when the Razor scooters came out and everybody wanted one and you weren't cool if you didn't have one. I remember our grandma and grandpa wound up buying a Razor scooter for every grandkid, so that was cool.
MLB.com: Are you much of a Christmas shopper?
Barnes: I am. I try to think of some fun stuff for everybody. I procrastinate a little, but I always get it done. I kind of do some shopping at the stores, but if I can avoid the crowds, I will gladly avoid the crowds and do some online shopping. But sometimes you just have to go to the store and do it. I kind of dabble between both of them.
MLB.com: What is your favorite Christmas movie?
Barnes: Probably Elf. How could you not love Elf? Christmas Vacation is great also.
MLB.com: How about New Year's? Do you have a tradition for that, or something you like to do every year?
Barnes: We kind of come up with a plan and do it. I've been all over the place for New Year's. The last four or five years, I've probably done Vegas, New York City, Florida; we're going back to New York this year. We bounce around all over the place. We kind of see what our friends want to do, what we want to do, but we don't really have a tradition for that, really.
MLB.com: Once you get past New Year's, is that when you really start to get the itch for baseball?
Barnes: It is. Once it comes, I'm like, "Let's go," and I'm psyched. Even though Spring Training is still a month and a half after that, it feels like it takes two days.
MLB.com: Looking ahead to the baseball season a little, how much are you looking forward to playing for your new manager, Alex Cora, and have you been able to talk to him yet?
Barnes: We talked recently on the phone and he was just saying how excited he is, that we have a great team, that we're going to have a lot of fun going into this year, and he's very excited to meet me and get with the team. He seems awesome, he really does. I talked to [George] Springer about him because he was their bench coach for the Astros this year and Springer raves about him, said he's an awesome guy and he's fantastic and we're going to love him. I'm really excited. I'm excited to meet him, I'm excited to get with him and the team and the guys and get back out there.
MLB.com: Speaking of Springer, you guys go back a long way, growing up together and living together at UConn. What was this postseason like first seeing your team get knocked out by the Astros, and then seeing George win the World Series MVP?
Barnes: Overall, it was awesome seeing what he did. Unfortunately they were the ones who knocked us out. But we'll be back and we'll get them. It was awesome though because we played together for years and years and we're still really good friends, so watching him do that, I'm happy for him. It was a lot of fun to watch.
MLB.com: How hungry does it make you to get to that level with your team and get beyond the Division Series?
Barnes: That's what you live for. That's why we play the game. You play the game to get to October and get to the World Series and pitch in the highest stage and the most important games in the world. That's kind of how we're bred and what we want to do.