Spinners fall in NYPL finals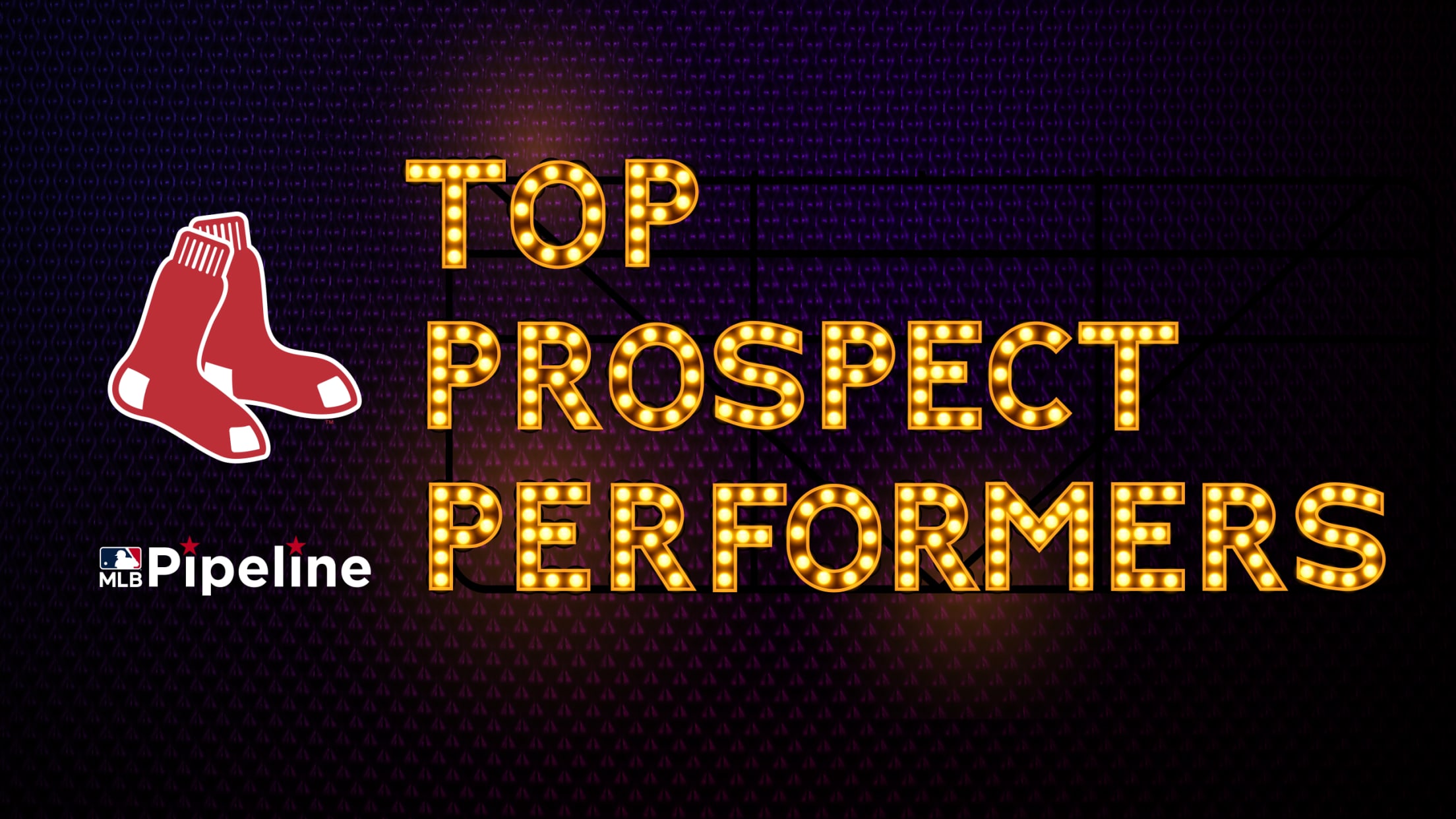 Here's a look at the top performances of the past week by Red Sox prospects in the Minor Leagues:
Here's a look at the top performances of the past week by Red Sox prospects in the Minor Leagues:
AL East
BAL, BOS, NYY, TB, TOR
AL Central
CLE, CWS, DET, KC, MIN
AL West
HOU, LAA, OAK, SEA, TEX
NL East
ATL, MIA, NYM, PHI, WSH
NL Central
CHC, CIN, MIL, PIT, STL
NL West
ARI, COL, LAD, SD, SF
Top prospect performers
Top 30 Prospects | Complete prospect stats | Draft stats
Tuesday, Sept. 10: Lowell comes up short in postseason
The Lowell Spinners came up short in their quest to win a Class A Short-Season New York-Penn League title as they fell to Brooklyn, 4-3, on Tuesday in a winner-take-all Game 3.
After allowing a pair of runs in the second inning, first baseman Joe Davis delivered an RBI single in the third inning to put the Spinners on the board, and an errant throw by the Cyclones on the back end of the play allowed the tying run to score. The two teams remained tied until the seventh, when Lowell designated hitter Marino Campana connected on a leadoff homer to left field, though the Spinners would give up two runs in the bottom of the frame before dropping the contest.
Nick Northcut, the Red Sox's No. 19 prospect, went 2-for-4 and was the Spinners' only player to tally multiple knocks, though both Cameron Cannon (No. 14) and Nick Decker (No. 11) reached base twice and scored a run in the loss.
Starting pitcher Jay Groome (No. 6), Boston's first-round pick from the 2016 Draft, tossed 2 2/3 innings of two-run ball. He allowed four hits, issued one walk and fanned three batters while throwing 31 of 48 pitches for strikes. Tuesday's prospect stats »
Monday, Sept. 9: Lowell rallies, forces Game 3
After dropping Game 1 of the New York-Penn League finals, Class A Short-Season Lowell bounced back to defeat Brooklyn, 3-1, and force a winner-take-all Game 3. The Spinners jumped out to a three-run lead in the second inning, thanks to a two-run single by Red Sox No. 7 prospect Gilberto Jimenez. The 19-year-old switch-hitter finished the game 1-for-5 from the leadoff spot, following a 2-for-11 showing for Lowell in the NYPL semifinals. He led the circuit in batting (.359) during the regular season, while totaling 17 extra-base hits and 14 steals in 59 games.
No. 15 prospect Noah Song, Boston's fourth-round pick from this year's Draft, started for Lowell and delivered three innings of one-run ball. The Navy product threw 33 of 45 pitches for strikes, mixing four hits with one walk and three strikeouts in the outing. Chris Murphy, a 2019 sixth-round pick, was dominant in relief of Song, striking out six over four scoreless innings in which he allowed two hits and one walk. Monday's prospect stats »
In a must-win Game 2 of the New York-Penn League Finals, Gilberto Jimenez helped get the @LowellSpinners off to a fast start with a two-run single in the third inning.

Here's Jimenez on the #RedSox Top 30 Prospects list: https://t.co/MJmopKoiI1 pic.twitter.com/y4OiIonsFU

— MLB Pipeline (@MLBPipeline) September 9, 2019
Sunday, Sept. 8: Spinners lose Game 1 of NYPL championship
Class A Short-Season Lowell dropped the opening game of its New York-Penn League championship series on Sunday, 2-1, to Brooklyn. The Spinners were held to just two hits in the game, an RBI single by No. 19 prospect Nicholas Northcutt and a single by DH Joe Davis, as they couldn't solve the Brooklyn pitching. Lowell's pitching effort opened with strong efforts from Brock Bell, who threw two scoreless innings, and Jorge Rodriguez, who followed Bell with five innings of shutout ball, striking out five. Lowell faces a must-win in Game 2 of the three-game series, which goes on Monday in Brooklyn. Sunday's prospect stats »
Saturday, Sept. 7: Casas collects pair of hits in Salem loss
The Class A Advanced Salem Red Sox came back with three runs in the ninth inning to force extras on Saturday, but lost on a walkoff single, 5-4, to Wilmington in the 10th inning. This draws the two sides even at two games apiece in the Carolina League semifinals. No. 1 prospect Tristan Casas (No. 86 in MLB) went 2-for-5 with a pair of singles and Jhonathan Diaz got things started with six innings of shutout ball, but the Red Sox couldn't do more with their 13 hits due to 13 strikeouts and zero walks as a team. Saturday's prospect stats »
Friday, Sept. 6: Spinners headed to first NYPL finals
Class A Short-Season Lowell is headed to the New York-Penn League championship series for the first time in their 24 years of existence after a 4-3, 10-inning walk-off victory over Batavia on Friday night. Alex Erro opened the bottom of the 10th with a double, moved to third on a sacrifice bunt by Red Sox No. 7 prospect Gilberto Jimenez and -- after a pair of intentional walks -- scored the winning run when Batavia shortstop Dalvy Rosario made a throwing error on a Joe Davis ground ball. The Spinners will host Game 1 of the Best of 3 championship series against the Brooklyn Cyclones (Mets) on Sunday. Friday's prospect stats »
HEADING TO THE NEW YORK-PENN LEAGUE FINALS!!! SEE YOU ON SUNDAY AT 1:05 PM! pic.twitter.com/4AYd1AjWZz

— Lowell Spinners (@LowellSpinners) September 7, 2019
Thursday, Sept. 5: Ward leads Salem to win
Thad Ward's quality start for Class A Advanced Salem helped the Red Sox edge Wilmington, 5-2, and improve to 2-0 in the best-of-five Carolina League semifinals. The Red Sox No. 8 prospect was stingy, allowing just one run on three hits while striking out seven, but he also issued four walks and threw just 49 of 90 pitches for strikes. The 22-year-old righty had a breakout regular-season campaign, posting a 2.14 ERA with 157 strikeouts and a .198 BAA in 126 1/3 innings (25 starts) across two levels.
Thad Ward tossed a quality start tonight to help @salemredsox move ahead 2-0 in their Carolina League semifinals series.

Here's the #RedSox's No. 8 prospect striking out #Royals prospect Nick Pratto on three pitches to pick up his 6th K of the night: https://t.co/MJmopK6HQt pic.twitter.com/NIFOcDjL9E

— MLB Pipeline (@MLBPipeline) September 6, 2019