It's been a long road back for Riggleman
Reds' bench coach would like a chance to manage again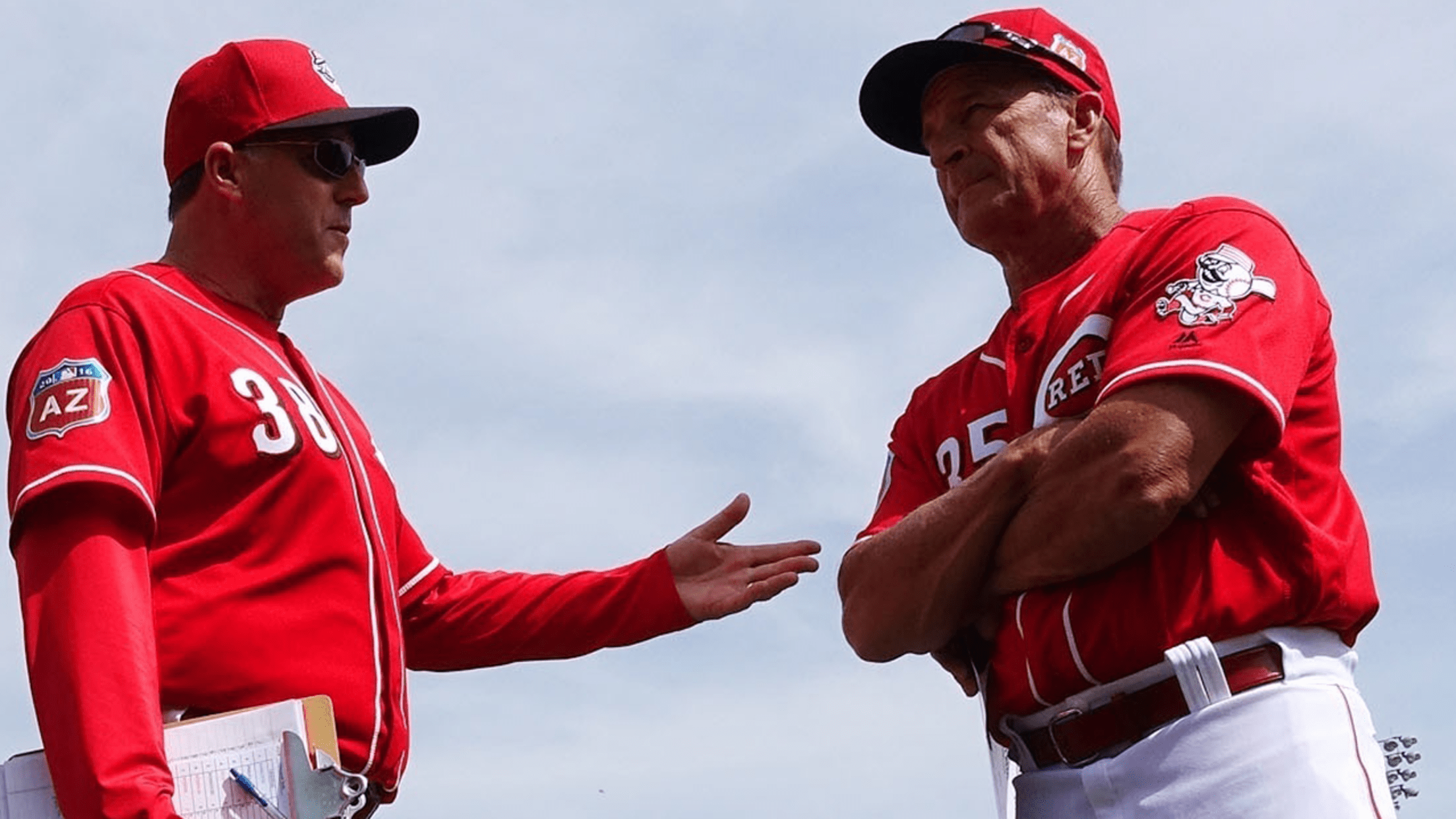 Reds bench coach Jim Riggleman, right, still has his sights set on managing in the Majors again. (AP) (AP)
GOODYEAR, Ariz. -- As the Reds' bench coach this season, Jim Riggleman isn't far away from what he does best: managing in the Major Leagues.He hasn't had that job since 2011, when he walked away from the Nationals 75 games into the season because of a contract dispute with general
GOODYEAR, Ariz. -- As the Reds' bench coach this season, Jim Riggleman isn't far away from what he does best: managing in the Major Leagues.
He hasn't had that job since 2011, when he walked away from the Nationals 75 games into the season because of a contract dispute with general manager Mike Rizzo.
It's been a long road back from scout in the Giants organization to managing for the Reds at Double-A and Triple-A, then returning to the big leagues last year as a third-base coach under manager Bryan Price.
While he says he's intent on helping Price and the Reds through this obvious transitional rebuilding phase, even at 63 years old, his eyes have never left the prize.
"I never did not want to manage," Riggleman told MLB.com on Friday morning before the Reds played the Rockies in a Cactus League game at Goodyear Ballpark. "From the day I left Washington, I was looking to manage again. I don't think anybody thought I didn't want to manage, otherwise I wouldn't have gone back to the Minors to do it. I love managing."
He's a good one, a baseball lifer who has managed the Padres, Cubs, Mariners and Nationals to a total of 662 wins over 12 seasons. In Washington, he left with a 38-37 record and the club on a three-game winning streak when Rizzo declined to even discuss picking up Riggleman's club option for the 2012 season.
"I'm too old to be disrespected," said Riggleman, 58 at the time, when Rizzo declined to even sit down with him and discuss the matter over lunch.
The Nationals, with Dusty Baker at the helm, are on their fourth manager since then.
Older and wiser and with the luxury of 20-20 hindsight, here's what Riggleman said about that decision on Friday:
"I felt like it was the right thing to do. It wasn't the smart thing to do. That's the way I sum it up," Riggleman said. "Sometimes the right thing and the smart thing are not the same thing. It's a decision I made."
So was it a learning experience, something he might not do again or was it just circumstances?
"I think it was more circumstances, you know?" he said. "It was just one of those things, as I said, that wasn't real smart. But if the same situation comes up again, who knows? It's been five years and I probably thought about it a lot that first year after I left. But now my total focus has been right here with the Reds. And just being back in the dugout. That's a blessing. I love it."
Baseball is certainly the sum of its parts. In a lot of ways, it's the people you meet and the relationships that grow with the passing of so much time.
Riggleman spent the early stages of his career at the Minor League level of the Cardinals organization, but could never quite crack it with the big club. Following a major turnover in Padres ownership, Riggleman was hired to replace Greg Riddoch as manager near the end of the 1992 season.
In one of his first moves the next season, he brought Bruce Bochy up from the Minors and made him his third-base coach. When Riggleman left for the Cubs in 1995, Bochy replaced him as Padres manager. And the rest is history.
"If I didn't put [Bochy] on our staff, he would've been on somebody else's staff," Riggleman said.
Bochy went on to be the most successful manager in San Diego history, winning four National League West titles and losing the 1998 World Series in a sweep to the Yankees. The Padres haven't been back to the playoffs since he left. Since joining the Giants in 2007, Bochy has led them to three World Series titles.
Arguably, Bochy's on his way to the Hall of Fame, Riggleman believes. But even more so, it was Bochy who extended an olive branch to his old mentor only months after Riggleman walked away from the Nationals. It was in those months when the word was out in baseball that no one was going to touch Riggleman.
"I would be remiss if I didn't thank Bruce Bochy and Brian Sabean over there with the Giants," said Riggleman, referring to the manager and now executive vice president of baseball operations. "They gave me the opportunity to go right back to work. And you know what? Boch and I have always been real close. I have great respect for him."
About Bochy's prospects of eventually being elected to the Hall, Riggleman added: "I don't think there's any question he's going to go in. It's not something he probably wants to talk about, I'm sure."
Scouting was a lonely time for Riggleman, who loves the camaraderie of working with players and fellow coaches in the dugout and on the back fields. He felt isolated. And then Walt Jocketty, now the Reds president of baseball operations, gave Riggleman another chance.
He's made the most of it. He's back on the bench in the big leagues.
"I'm really happy with that," Riggleman said. "I've always been very much into game strategies and situations. I've always been into the details of the game. I really enjoy it. To work hand-in-hand with the manager and talk about that kind of stuff before the game, during and after the game.
"It's a little transition time here with the Reds. A lot of new faces. A nice mixture of veterans along with it. It's my fifth year in this organization and everything is very familiar."