Reds honor Stowe with youth field dedication
Late clubhouse manager worked for Cincinnati for 67 years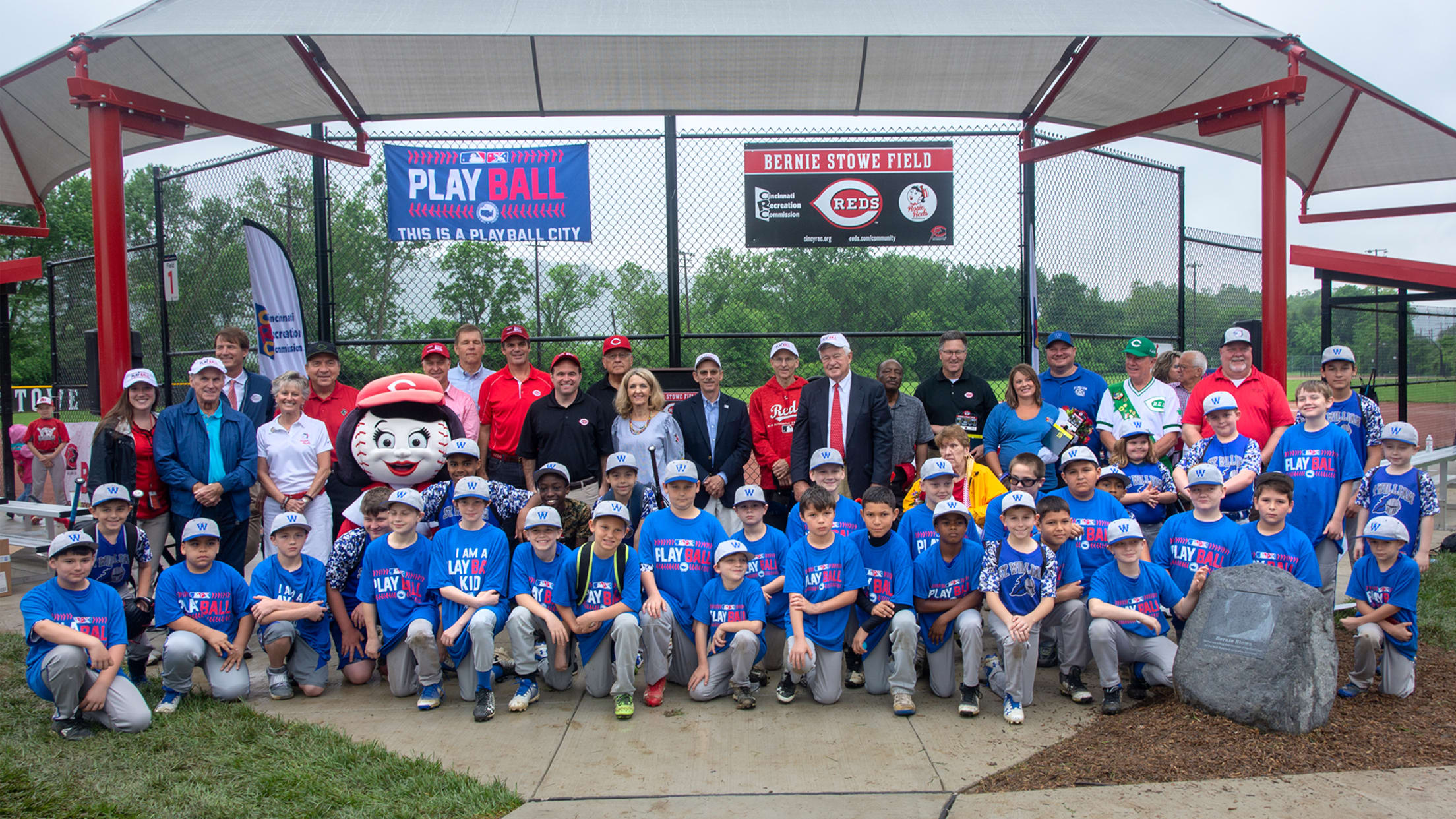 CINCINNATI -- The Reds and the Reds Community Fund honored the memory of a cherished member of the franchise's history on Saturday, hosting a ribbon-cutting ceremony for a renovated baseball field at Gilday Riverside Park on Cincinnati's West Side.Bernie Stowe Field was dedicated in honor of the longtime Reds clubhouse
CINCINNATI -- The Reds and the Reds Community Fund honored the memory of a cherished member of the franchise's history on Saturday, hosting a ribbon-cutting ceremony for a renovated baseball field at Gilday Riverside Park on Cincinnati's West Side.
Bernie Stowe Field was dedicated in honor of the longtime Reds clubhouse manager who worked for the team for 67 years, starting in 1953 at Crosley Field. Stowe was a ballboy for the '53 All-Star Game, and he eventually became the senior clubhouse and equipment manager. He retired in '13 and passed away in '16 at 80 years old. In '08, Stowe was given the Reds Hall of Fame's Powell Crosley Jr. Award, which honors staff members' extraordinary service and dedication.
"It was just an incredible moment," said Charlie Frank, executive director of Reds Community Fund. "It was fantastic to be with the Stowe family and be able to celebrate Bernie's legacy."
Over 20 members of the Stowe family were on hand for the ceremony.
The threefold complex received numerous upgrades and additions, including new dugouts, a scoreboard with Stowe's likeness on it, a covered seating area, fencing, a concession building and a mural boasting some of the highlights of Stowe's career.
The complex is home to the St. William Athletic Association and Holy Family Catholic School, where Stowe attended elementary school.
The Reds and the Reds Community Fund this morning honored long-time clubhouse manager Bernie Stowe by dedicating a newly renovated field in his name at Gilday Riverside Park. Bernie's sons, Rick and Mark, were joined by Joe Morgan and Johnny Bench for the festivities. #PlayBall pic.twitter.com/nlnd1MhsG6

— Cincinnati Reds (@Reds) May 19, 2018
"This project was really an enjoyable and fascinating experience," Frank said. "It speaks to how much people care about the Stowe family and was the culmination of a really exciting eight to 10 month process."
A host of Reds greats and front-office members were in attendance, including home clubhouse manager Rick Stowe and his brother and visiting clubhouse manager Mark Stowe, Hall of Famers Joe Morgan and Johnny Bench, CEO Bob Castellini, chief operating officer Phil Castellini and broadcaster Marty Brennaman. Mayor John Cranley was also in attendance.
"You hear stories of what Bernie meant to the 1975, 1976 and 1990 Reds. He was just the glue when the team was at home. You can certainly see that through the way Rick and Mark carry themselves," Frank said.
The dedication was held in conjunction with Reds Play Ball weekend as part of Major League Baseball's initiative that celebrates youth baseball and softball in all its forms.
A couple of local youth teams who will use the field were present to check out their new confines.
"I think the kids were in awe," Frank said. "To have all of these amenities, like a working scoreboard and a dugout that has ball racks, bat racks and helmet racks, the kids were running around with a tremendous amount of excitement. They are going to be able to use this field for many years to come."
Brian Rippee is a reporter for MLB.com based in Cincinnati.