Second annual Home Base program a success
Reds Community Fund hosts 49 student athletes for weeklong camp
For the second consecutive year, the Reds Community Fund rolled out the Home Base program for local high school students. In conjunction with Major League Baseball, the MLB Players Association and the MLB Youth Development Foundation, the initiative for high school sophomores, juniors and seniors launched in 2018. Home Base
For the second consecutive year, the Reds Community Fund rolled out the Home Base program for local high school students.
In conjunction with Major League Baseball, the MLB Players Association and the MLB Youth Development Foundation, the initiative for high school sophomores, juniors and seniors launched in 2018. Home Base is a competitive, weeklong camp for baseball and softball players that combines individualized athletic training with academic test preparation and life skills development.
Forty-nine student athletes spent days at the P&G MLB Cincinnati Reds Youth Academy and stayed overnight at the University of Cincinnati from Sunday, June 2 through Friday, June 7. A banquet at Great American Ball Park on June 7 concluded the program.
Of the 49, 26 were baseball players and 23 softball, with roughly half having been participants in last year's program.
Each day was packed full of events -- and the schedules were not limited to baseball and softball training. Additional opportunities ranged from ACT test preparation and a communication seminar to life skills such as etiquette classes and instruction on how to change a tire and maintain a vehicle.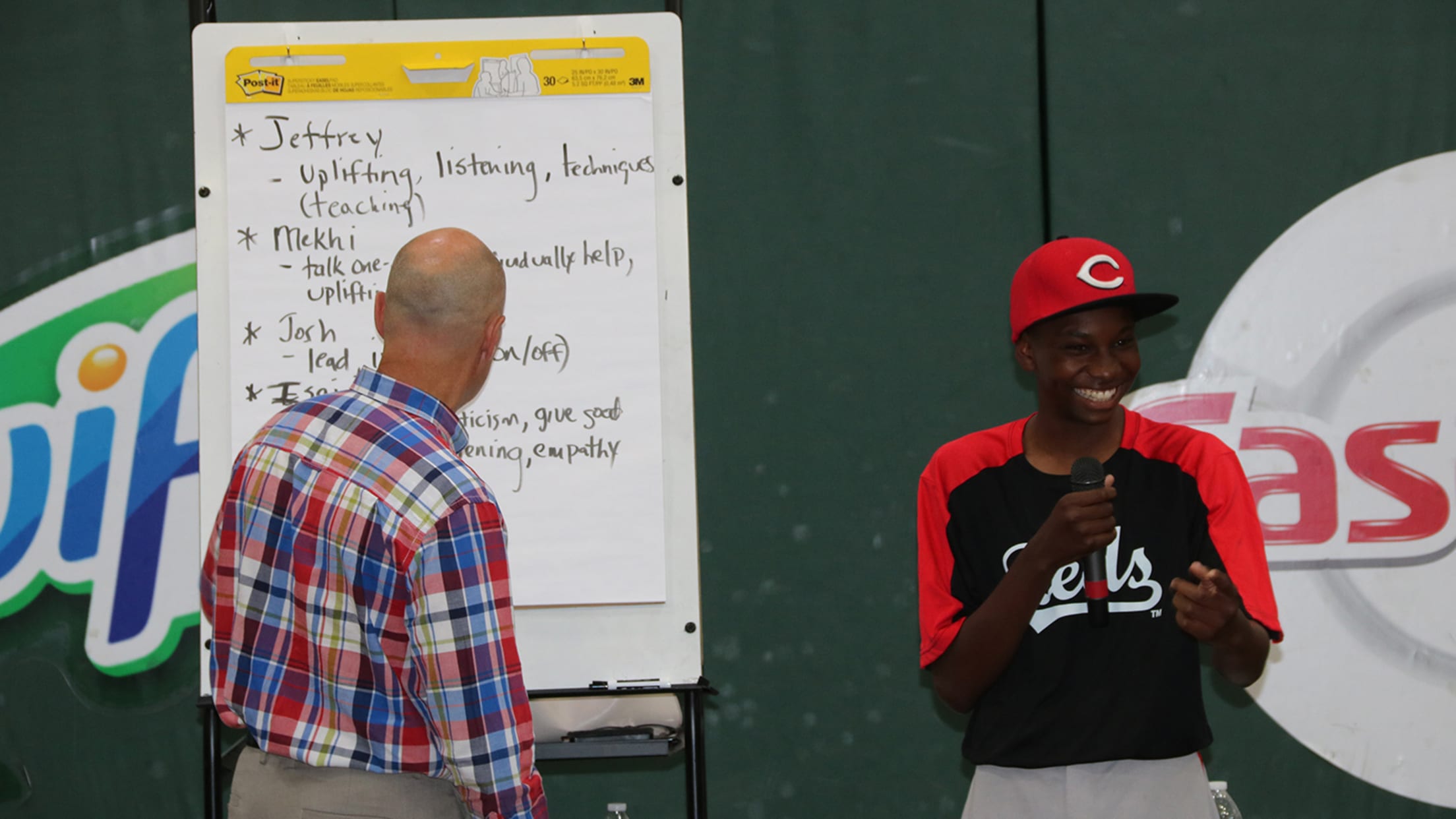 One of the keys to the program's effectiveness is that the mentors volunteer their time throughout the week. These mentors receive training through Junior Achievement, which allows them to serve as career guides for the students.
Taylor Brown has been involved with Reds youth programming for over 10 years. An RBI coach saw her pitching at her church and had her playing fall league for RBI later that year -- an 18U league when she was just 12. Over the next 10 years, Brown remained involved in RBI, first as a player and then as a coach.
This year, the Miami (Ohio) University graduate volunteered as a mentor for Home Base for the second time, and she is also an intern with the Reds Youth Academy, where she helped with some of the behind-the-scenes preparation for this year's program.
"I think the mission of RBI really coincides with Home Base, and I think this program itself, structure-wise, is really transferable to football, basketball or anything else," Brown said. "It's much larger than just Reviving Baseball in Inner Cities. With Home Base, it's the life prep and character-building-type skills. They learn so many things that they otherwise wouldn't have access to, so I think it really helps as a way to prepare for the next step as a high school student transitioning to adult life."
Home Base mentors come from a diverse set of backgrounds and professional experiences, and they offer a variety of different skills and wisdom to share. With Brown being in the students' shoes not too long ago, her connection with the students is unique.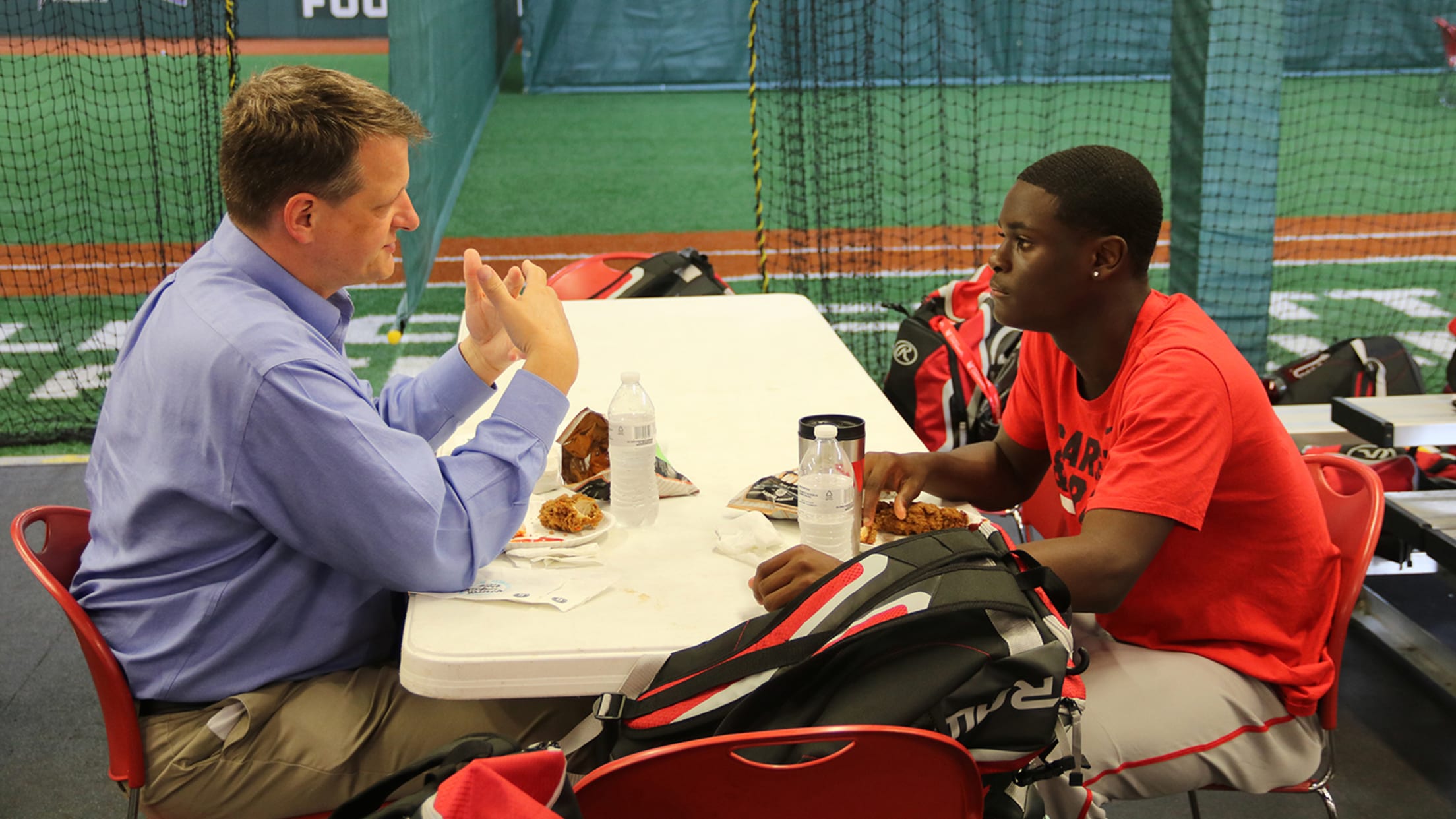 "I am much closer in age to these mentees than a lot of the mentors are. A lot of them are already years into their professional careers while I'm kind of just getting started with mine, so it's a whole different perspective. I feel like the mentees connect on a different level with me and feel a little more comfortable. I can't shed as much experience or advice on what a professional career might look like, but I can relate to them in terms of growing through the program and experiencing the same things that they are going through on a home and sports level, because I recently went through the process of playing college sports and I just graduated college this spring.
"It's definitely a booster for them to see that if you work hard you can end up being something, because I think a lot of them get told daily that they can't."
Brown's mentee in 2018 was Molly Perry, a second-time participant. The 17-year-old Clark Montessori senior was selected to be in the program last year, and she was asked to write an essay. This year, students had to apply on their own and produce a more in-depth essay about what Home Base would mean to them and how baseball or softball has impacted their lives, among other things. Perry didn't hesitate to apply, and she credits Brown as one of the primary reasons why she was eager to participate again.
"We would talk about personal things and then go straight to the field," Perry said. "And she never brought anything from our conversations to the field and wouldn't bash me for anything that I've said. She respected me and helped me. I could miss a ball and she would say, 'OK, we'll fix this, this is what you're doing wrong. Let's try again until we get it.' She's really, really supportive."
Perry's goal is to graduate from high school and then move on to the University of Cincinnati. Her mentor this year was a nurse, and Perry has found herself drawn to that as a potential career path. For her, this year's experience has been just as rewarding as the first.
"My favorite part was learning something new about somebody else each day," Perry said. "Throughout the program, it was really fun and there were a lot of supportive people. If you felt bad about a play that you did or weren't sure about a question on the ACT, they support you and help you through that process. It's starting me off for the real world, because you're learning things that schools don't teach."
To learn more about Home Base and for details about next year's program when they become available, visit reds.com/homebase.