Lorenzen progressing, nearing rehab stint
Right-hander is yet to play in 2016 due to elbow strain and mononucleosis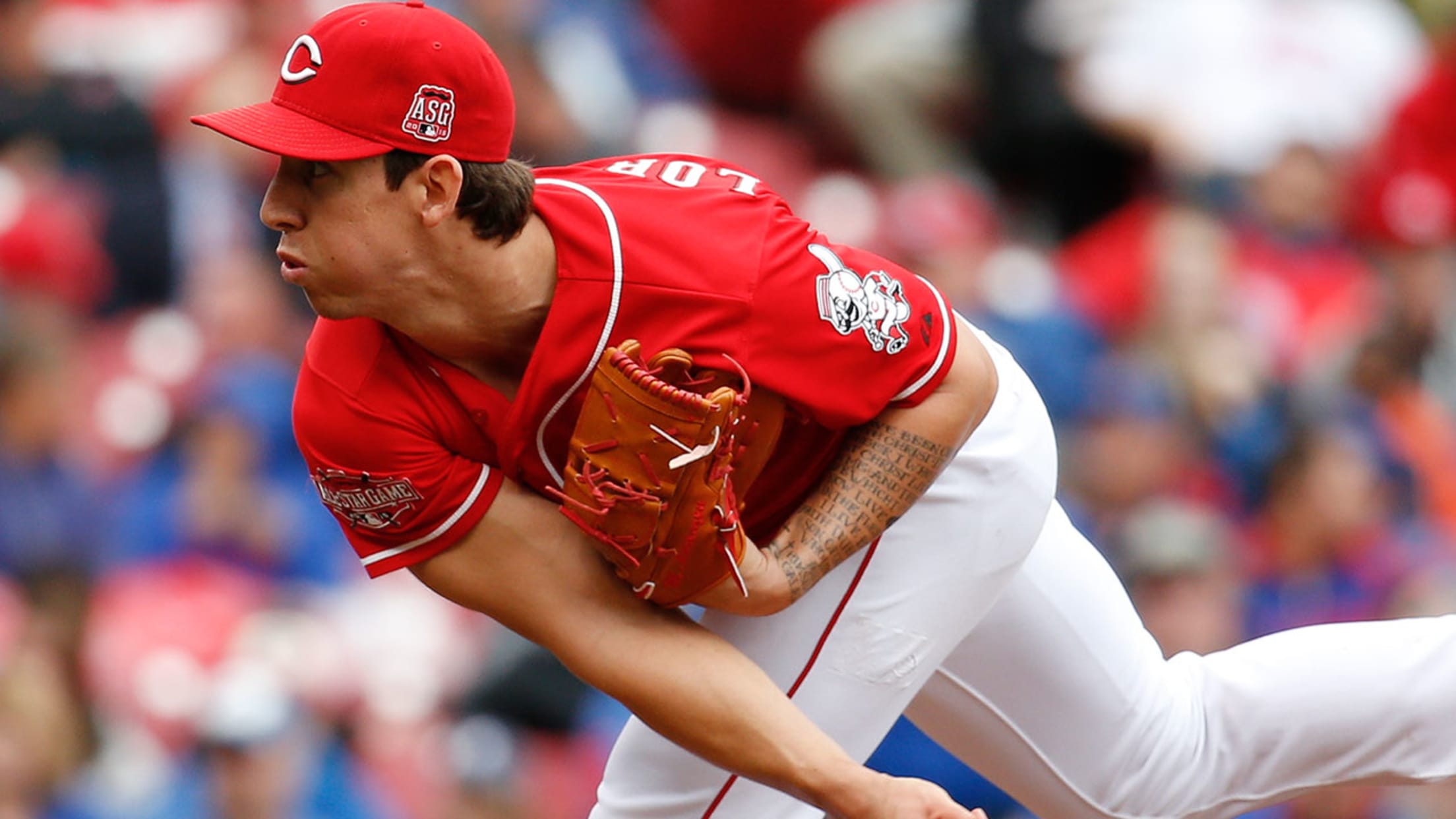 Michael Lorenzen is nearing his first action of 2016 after dealing with a right elbow strain and a bout with mononucleosis. (AP)
CINCINNATI -- Reds right-hander Michael Lorenzen keeps edging closer to making his 2016 Major League debut after suffering a right elbow strain and a bout with mononucleosis during Spring Training. At least on Friday he got to work out at Great American Ball Park for the first time this season.Lorenzen threw
CINCINNATI -- Reds right-hander Michael Lorenzen keeps edging closer to making his 2016 Major League debut after suffering a right elbow strain and a bout with mononucleosis during Spring Training. At least on Friday he got to work out at Great American Ball Park for the first time this season.
Lorenzen threw a bullpen session and also got his normal running and lifting routine done prior to Friday night's interleague game against Oakland. The right-hander, who has been working out at the club's player development complex in Goodyear, Ariz., as part of extended spring training, is expected to join Triple-A Louisville in the next few days for his first rehab assignment.
"It's been difficult. No one wants to rehab. The Reds pay me to play, not rehab," Lorenzen said. "But it's been an amazing learning experience just going through it. It's not all sunshine and rainbows all of the time, and when you're learning the most about yourself, it's not going to be sunshine and rainbows. It's going to be from adversities."
Lorenzen, who was listed as 217 pounds in the team's media guide, said he lost 20 pounds from the mononucleosis, but he has been regained that weight plus a little extra.
"The way he's performing and exercising and competing and throwing the baseball, there doesn't seem to be any concerns about his physical health," manager Bryan Price said.
Lorenzen appeared in 27 games as a rookie for the Reds last season, including 21 starts. He went 4-9 with a 5.40 ERA in 113 1/3 innings. When he does return to the Reds, Price has said he will work out of the bullpen.
"If they want me to come out of the bullpen, I'm ready," Lorenzen said. "From the shoulders on up, I'm ready. That's the most important thing."
HAMILTON TO DL
Center fielder Billy Hamilton was placed on the 7-day concussion disabled list Friday, making room for the activation of right-hander Anthony DeSclafani (oblique) from the 60-day DL. DeSclafani started for the first time this season Friday night against the A's.
Hamilton was injured Wednesday night against St. Louis while attempting to steal third base. He did not play in Thursday's 3-2 loss to the Cardinals. Tyler Holt has replaced Hamilton in the starting lineup on Thursday and Friday.
SIMON TO BULLPEN?
On Thursday, Price said right-hander Alfredo Simon would be remaining in the starting rotation "until we make the decision to do something else."
That decision has seemingly been made. Simon's next turn in the rotation was to be on Monday when the Reds begin a four-game series in Atlanta, but on Friday, Price said that spot is now up in the air.
"It's a [to be determined] at this time," Price said. "I'll probably have a better idea [Saturday] of who that's going to be. Most likely an internal option here, that's already here [in the Major Leagues]."
Simon is 2-6 with an ERA of 9.11 in 12 appearances this season, including 11 starts. He gave up six runs on seven hits in five innings against the Cardinals on Wednesday. Simon has lasted longer than five innings in just three of his 11 starts.
Among the candidates to replace Simon from the current roster are right-handers Josh Smith and Daniel Wright. Smith was 3-4 with a 3.86 ERA in eight starts for Louisville before being called up to the Reds on May 22. He made four straight scoreless appearances with the Reds before allowing two runs in 1 2/3 innings against St. Louis on Wednesday.
Wright made his MLB debut on May 24 as a replacement starter for Tim Adelman, allowing four runs on seven hits over 5 1/3 innings in an 8-2 loss to the Dodgers. His last two appearances have been out of the bullpen and have seen him throw 4 2/3 innings.
Kevin Goheen is a contributor to MLB.com based in Cincinnati.