Romano's strong spring gives Reds dilemma
Reds' No. 9 prospect has not pitched above Double-A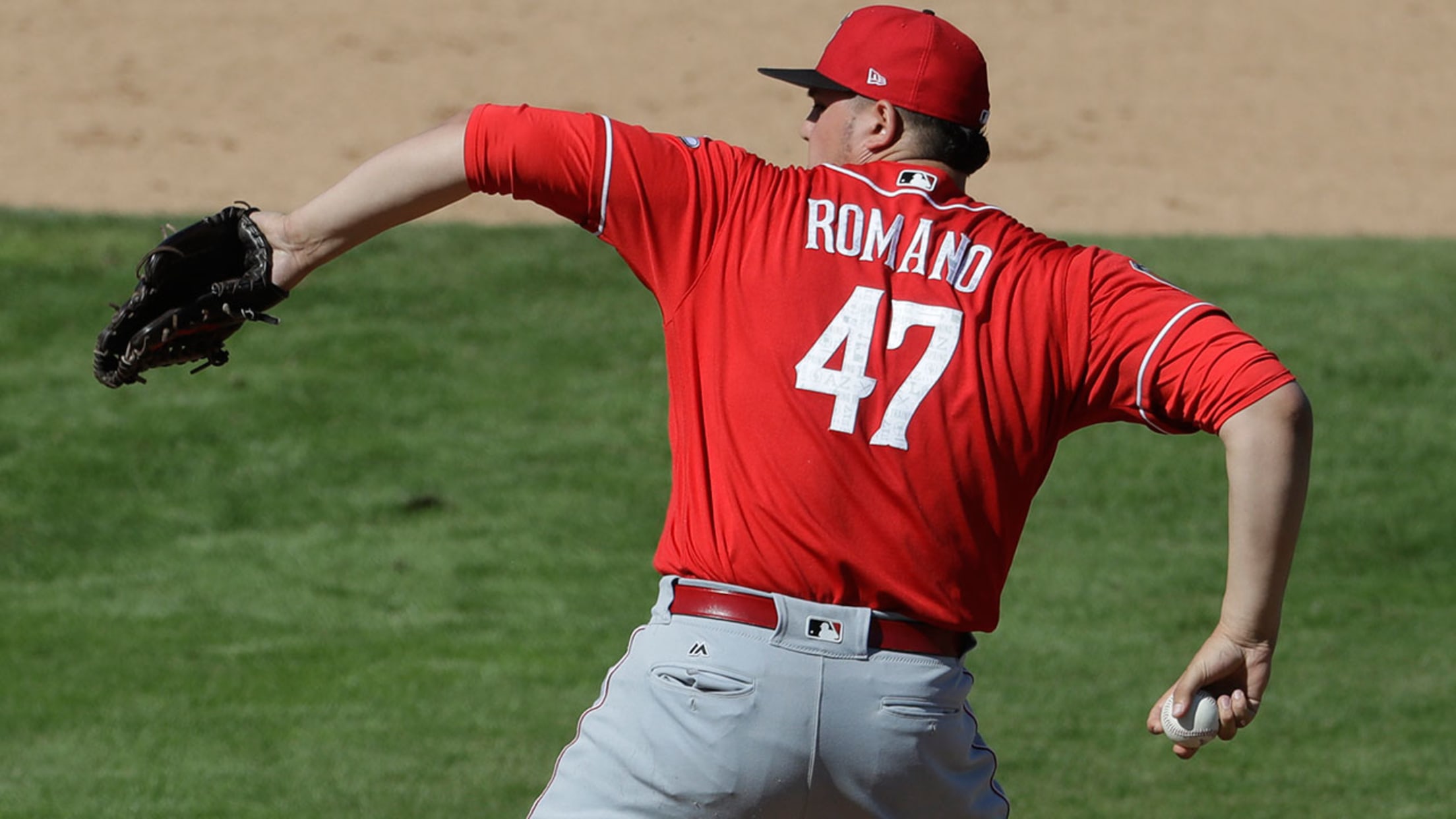 Right-hander Sal Romano has a 1.17 ERA through five Cactus League appearances this spring. (AP)
GOODYEAR, Ariz. -- Reds right-hander Sal Romano wasn't considered a frontrunner for a big league rotation spot entering camp. But Romano had no intention of giving the club's decision makers an easy job."I promised everybody back home, and my family, that I was going to give everything I've got knowing
GOODYEAR, Ariz. -- Reds right-hander Sal Romano wasn't considered a frontrunner for a big league rotation spot entering camp. But Romano had no intention of giving the club's decision makers an easy job.
"I promised everybody back home, and my family, that I was going to give everything I've got knowing the opportunity was there this camp," Romano said on Sunday. "I left Connecticut telling myself I would do everything I can to win one of those spots. So far, so good."
Romano, the Reds' No. 9 prospect according to MLBPipeline.com, has a 1.17 ERA and 0.91 WHIP in his five Cactus League appearances, including one start. Over his 15 1/3 innings, he has allowed 11 hits and three walks and struck out 19. During Saturday's 3-3 tie vs. the Rangers, the right-hander threw 4 2/3 inning of relief, giving up an unearned run and three hits while striking out three.
• Reds Spring Training: Schedule | Information | Gear
There are three rotation openings available for seven pitchers. In Romano, Reds manager Bryan Price and the front office are faced with a situation not unlike Cody Reed's at this time last year. Reed had an impressive spring camp but had never pitched above Double-A Pensacola.
"The parallels are very similar," Price acknowledged. "Sal had a lot of second-half success in Double-A, which was very important for Cody in 2015. Then again, it's the challenge of saying, 'Is this guy ready to come up, and are we doing him and our team a service or disservice by having him make the club?' From a maturity standpoint, a competitive standpoint, I don't think there's anything that's standing in his way."
The decision last year was ultimately to send Reed to Triple-A Louisville for more preparation -- and also to not start the clock too soon on his service time toward arbitration. But when he did come up to the Majors, the left-hander was 0-7 with a 7.36 ERA in 10 starts.
"It's an unanswerable question. It really gets down to calculated guessing at this point," Price said. "My optimism says if they have the mound presence, maturity and throw strikes that they're going to come up here and do just fine. I've never been 100 percent right. I thought Cody would do better than he did, and it was a rough year for him."
Romano was 6-11 with a 3.52 ERA and 1.22 WHIP in 27 starts for Double-A Pensacola in 2016. In his final 11 starts, he was 5-1 with a 1.93 ERA. He used three pitches in Saturday's game, but the Reds would like to see further development of his changeup. Romano threw a couple of them against Texas.
Also competing for rotation spots are Tim Adleman, Bronson Arroyo, Rookie Davis, Amir Garrett, Reed and Robert Stephenson.
With camp set to break in 10 days, Romano will just keep pitching while waiting to learn what the Reds decide.
"It's not really up to me. It's what they want to do," Romano said. "I feel really confident that I can help them up there. Hopefully I'm in the talks to win one of the spots. I'll be very fortunate, obviously, if I do."