Wednesday's best: Siri homers twice, extends streak to 31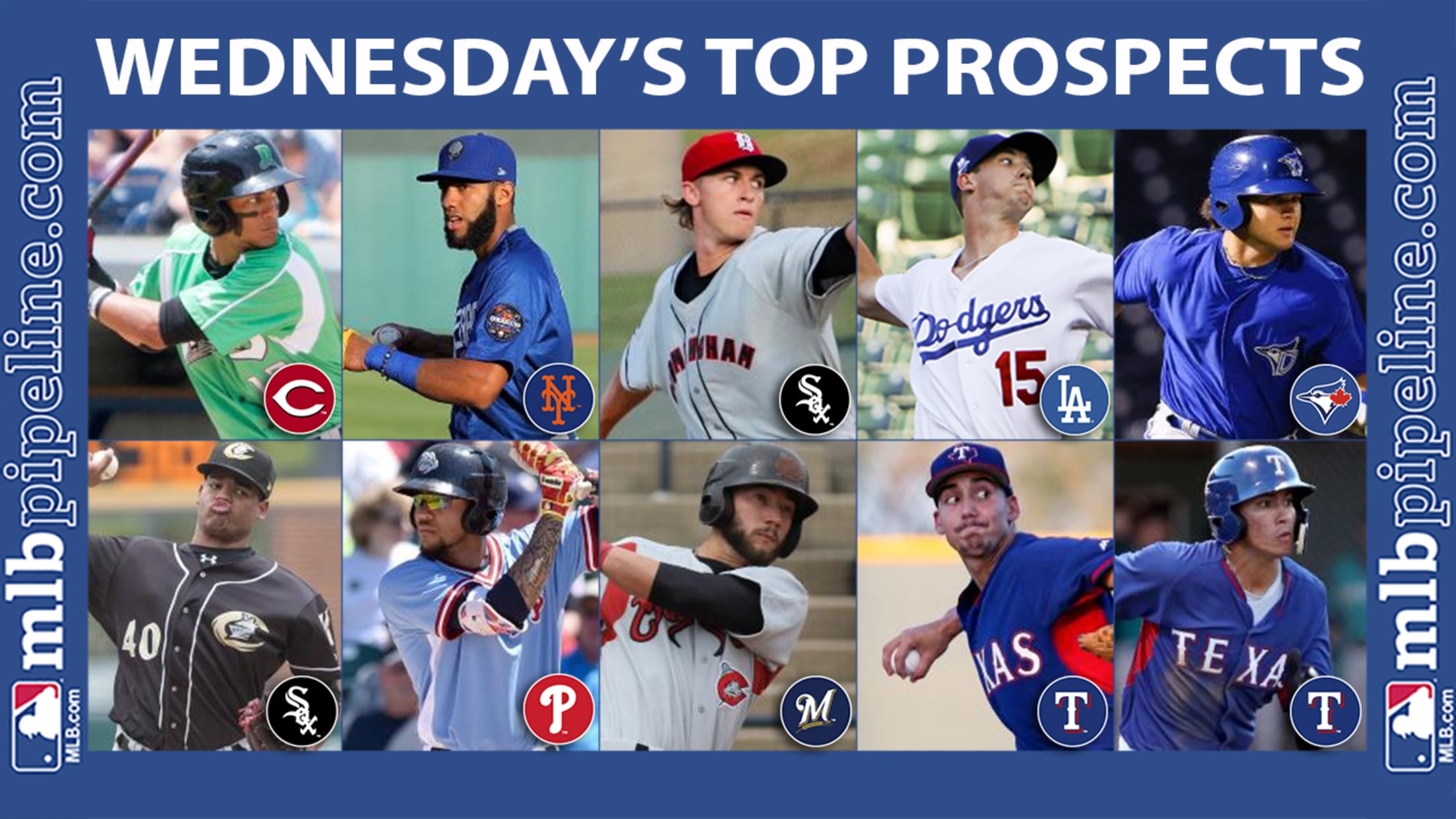 Jose Siri extended his hitting streak to 31 games, the longest in the Minor Leagues this season, on Wednesday, and he did so in style, hitting a pair of home runs and going 3-for-4 with four RBIs for Class A Dayton.Siri, the Reds' No. 24 prospect, extended his streak on
Jose Siri extended his hitting streak to 31 games, the longest in the Minor Leagues this season, on Wednesday, and he did so in style, hitting a pair of home runs and going 3-for-4 with four RBIs for Class A Dayton.
Siri, the Reds' No. 24 prospect, extended his streak on the game's first pitch, turning on a fastball to left field for a leadoff home run. He added three-run shot in the seventh inning, as well as a double in the ninth, though it wasn't enough to keep the Dragons from dropping the contest to Lansing, 11-7.
Siri is batting .360 with 12 home runs since beginning his streak on June 22. He's also scored 25 runs and driven in 28 during that stretch, all while improving his season slash line from .260/.320/.422 to .298/.343/.539.
In addition to owning the Minors' longest hitting streak this season, Siri is one of just three players in Midwest League history to go at least 30 straight games with a hit. He could soon move up that list, too, as he'll tie Robert Fick (West Michigan, 1997) for second if Siri can extend his streak one more game, which also would leave him three games shy of tying the league's all-time mark of 35, set by Waterloo's Tony Toups in 1977.
What's more, Siri is the only Minor Leaguer this season with at least 18 home runs and 29 stolen bases.
The rest of the best performances from top prospects Wednesday
• No. 2 overall prospectAmed Rosario (Mets' No. 1) went 4-for-5 with two runs scored and an RBI, though it wasn't enough to keep Triple-A Las Vegas from falling to Nashville, 8-7. With the four-hit performance, the 21-year-old shortstop improved his season average to .334.
MILB Video - Title: Rosario's fourth hit - Url: http://www.milb.com/r/video?content_id=1656014183
• No. 12 overall prospect Michael Kopech (White Sox No. 3) set a career-high with 12 strikeouts en route to his third straight win for Double-A Birmingham. Working six innings, the 21-year-old right-hander allowed one earned run on two hits and two walks while finding the strike zone with 70 of his season-high 107 pitches. Kopech leads the Southern League in strikeouts with 126, a total he's accrued in just 98 1/3 innings (11.5 K/9).
• No. 13 overall prospect Walker Buehler (Dodgers' No. 1) allowed a triple to the first batter he faced as well as a first-inning run before settling in to retire 13 of the final 14 batters faced in a dominant five-inning start for Triple-A Oklahoma City. The hit was the only one allowed in the outing by the 22-year-old right-hander, as he struck out nine and walked two while throwing 56 of his 79 pitches for strikes. Suffice it to say it was a better performance after he allowed four earned runs and failed to record an out in his Triple-A debut.
MILB Video - Title: Buehler's ninth strikeout - Url: http://www.milb.com/r/video?content_id=1656112983
• No. 30 overall prospect Bo Bichette (Blue Jays' No. 2) extended his hitting streak to nine games for Class A Advanced Dunedin with a 3-for-6 performance that included two doubles. He also plated a pair of runs, scored twice and walked. The 19-year-old shortstop hasn't skipped a beat with the move up to the Florida State League, where he's slashing .387/.435/.500 with 24 hits in his first 15 games.
• No. 59 overall prospect Reynaldo Lopez (White Sox No. 6) struck out 10 over five innings in a no-decision for Triple-A Charlotte. He allowed two earned runs on four hits and two walks in the outing, throwing 63 of his 95 pitches for strikes. It was the 23-year-old right-hander's third performance with double-digit strikeouts in his past six starts, during which he's recorded a 1.96 ERA with 49 strikeouts in 36 2/3 frames.
• No. 63 overall prospect J.P. Crawford (Phillies' No. 4) hit an inside-the-park grand slam -- yes, you read that correctly -- for Triple-A Lehigh Valley. The 22-year-old shortstop should have been out by a mile at the plate, but he duped the catcher with a late, feet-first slide to sneak underneath the unsuspecting catcher's glove. Rhys Hoskins (No. 73 overall, Phillies' No. 6) also homered for the IronPigs, and he left no doubt about his. The 24-year-old first baseman leads the International League with 24 home runs.
MILB Video - Title: Crawford's grand slam - Url: http://www.milb.com/r/video?content_id=1654801383
• Brewers' No. 10 prospect Lucas Erceg connected on a third-inning grand slam before finishing 3-for-5 with five RBIs in Class A Advanced Carolina's win against Myrtle Beach. The 22-year-old third baseman has now hit 10 home runs this season, a new career high, while the five-RBI performance gives him 60 through 96 games.
MILB Video - Title: Erceg hits grand slam - Url: http://www.milb.com/r/video?content_id=1655366783
• Marlins' No. 18 prospect Trevor Richards was sharp once again for Double-A Jacksonville, tossing seven scoreless innings for the second time in four starts to record the win against Mississippi. Scattering five hits and walking one in the outing, he struck out six and generated another eight outs on the ground. Signed out of the Independent Frontier League in July 2016, Richards, a 24-year-old right-hander, has blossomed in his first full Minor League season, posting a 2.60 ERA and a 114-to-20 strikeout-to-walk ration in 104 innings across two levels.
• Rangers' No. 7 prospect Chris Seise connected on his first professional home run, a two-run shot, for the Rangers' Rookie-level Arizona League affiliate. He finished the game 1-for-3 with a walk, giving the 2017 first-rounder a .320 average and 22 RBIs in his first 23 career games. Hans Crouse (Rangers' No. 6), the club's second-round pick this year, allowed a solo home run while striking out four in two innings. He's struck out 13 in nine innings to begin his career.