Secret weapon? Rhys recruiting FAs for Phillies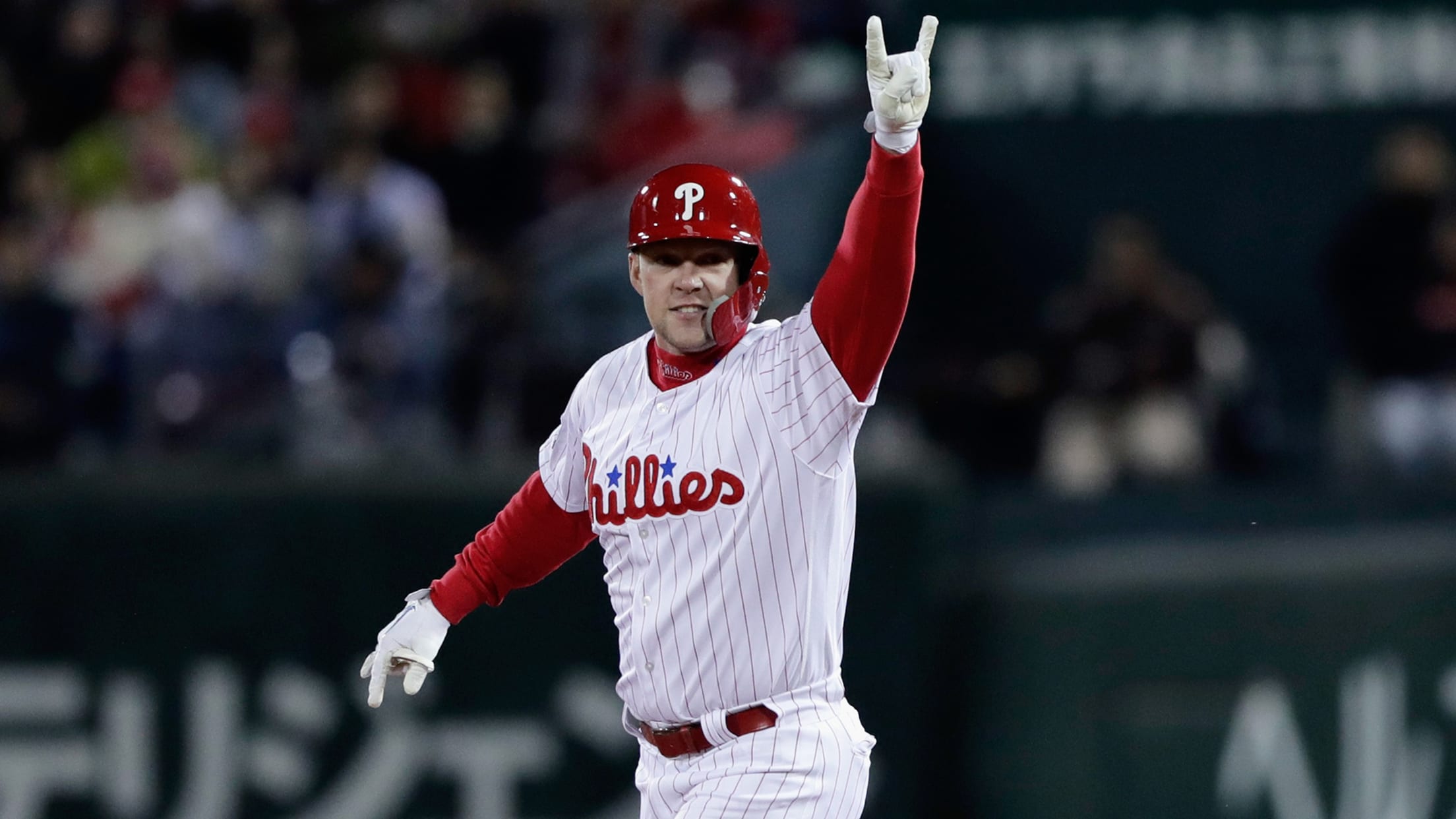 HIROSHIMA, JAPAN - NOVEMBER 13: Designated hitter Rhys Hoskins #17 of the Philadelphia Phillies celebrates hitting a solo homer to make it 1-0 in the bottom of 2nd inning during the game four between Japan and MLB All Stars at Mazda Zoom Zoom Stadium Hiroshima on November 13, 2018 in Hiroshima, Japan. (Photo by Kiyoshi Ota/Getty Images) (Kiyoshi Ota/Getty Images)
PHILADELPHIA -- Rhys Hoskins is the face of the Phillies, even with a few notable offseason acquisitions over the past few weeks.Only somebody like Bryce Harper or Manny Machado could knock him from that perch.But Hoskins is happy to oblige as the Phillies pursue Harper, Machado and other free agents
PHILADELPHIA -- Rhys Hoskins is the face of the Phillies, even with a few notable offseason acquisitions over the past few weeks.
Only somebody like Bryce Harper or Manny Machado could knock him from that perch.
But Hoskins is happy to oblige as the Phillies pursue Harper, Machado and other free agents in the coming weeks and months. Hoskins said after Andrew McCutchen's introductory press conference on Tuesday afternoon at Citizens Bank Park that he will help the Phillies make their pitch to players interested in Philadelphia.
• McCutchen thrilled to be with Phillies
"I've talked to guys, yeah," Hoskins said. "But nothing too extensive. Just trying to offer a helping hand if I can, give a player's perspective of what this organization is, what the city is, too. I think a big thing is the families of some of these guys, right, just having a resource for them. If they want to speak to me they can, if they want to speak to my fiancée they can. So just kind of having that perspective available to guys I think is helpful. And I look forward to hopefully having more conversations with guys in the future."
Hoskins' agent is Scott Boras. Harper's agent is Boras. Yes, Hoskins has spoken with Harper.
"Again, it's just more of me offering any look at to what this city is like, what the organization is like, what the clubhouse is like, what [manager Gabe Kapler] is like," Hoskins said. "It's not me offering information to him. If he wants it, and I've expressed this to him, that I am here for a chat if he wants it and it'd help."
Hoskins would not say if Harper or Machado would be a better fit in Philadelphia. Why would he? Either would be a massive upgrade for a team that hopes to win at least 10 more games last season after finishing 80-82.
"Both are really good at what they do," Hoskins said.
Just stoked I get to go to battle with @TheCUTCH22!!! Welcome to Philly!! pic.twitter.com/eRHri5joZ9

— Rhys Hoskins (@rhyshoskins) December 12, 2018
Hoskins has already been affected by this offseason's moves. When the Phillies traded Carlos Santana and J.P. Crawford to the Mariners for shortstop Jean Segura and relief pitchers Juan Nicasio and James Pazos, it returned him to first base after playing last season in left field. McCutchen could take Hoskins' place in left.
More moves are expected. The Phillies could sign a left-handed reliever at some point. Zach Britton is a Boras client, too.
"If we are done making moves, I think we've made some pretty good moves," Hoskins said. "We're better as a baseball team. And that's very, very exciting for us players, I think."