Manfred among Robinson Foundation honorees
Yearlong centennial celebration to include NY museum opening
NEW YORK -- The Jackie Robinson Foundation hosted its annual ROBIE Awards Dinner on Monday evening in Manhattan, the latest event in a yearlong centennial celebration in honor of the 100th anniversary of Robinson's birth -- a Foundation effort supported by Major League Baseball. The Awards Dinner pays tribute to
NEW YORK -- The Jackie Robinson Foundation hosted its annual ROBIE Awards Dinner on Monday evening in Manhattan, the latest event in a yearlong centennial celebration in honor of the 100th anniversary of Robinson's birth -- a Foundation effort supported by Major League Baseball.
The Awards Dinner pays tribute to individuals who embody the humanitarian ideals of Robinson, who broke MLB's color barrier in 1947 when he debuted with the Brooklyn Dodgers. This year, MLB Commissioner Rob Manfred was one of the Awards Dinner honorees, receiving the Foundation's ROBIE Achievement in Industry Award "for his extraordinary contributions to baseball and his commitment to preserving the legacy of Jackie Robinson."
"I think of this award as recognition for baseball's support of and relationship with the Jackie Robinson Foundation over a really long period of time," Manfred said. "I think that it's really important, and we go to great lengths to try to make sure that everyone who's involved with the game understands the legacy of Jackie Robinson."
Robinson's widow, Rachel, was in attendance Monday -- now 96 years old, she was introduced to a standing ovation -- as were their children, Sharon and David. Sharon Robinson introduced Manfred as he received his award.
"It's tremendous that Major League Baseball has joined the Jackie Robinson Foundation and the Robinson family to celebrate the centennial," said Sharon Robinson. "They've jumped right in, and it means so much to us. So tonight, to be able to also honor Commissioner Manfred for all of his work that he's done with the league so far, in addition to what he's done with the Jackie Robinson Foundation, is quite special."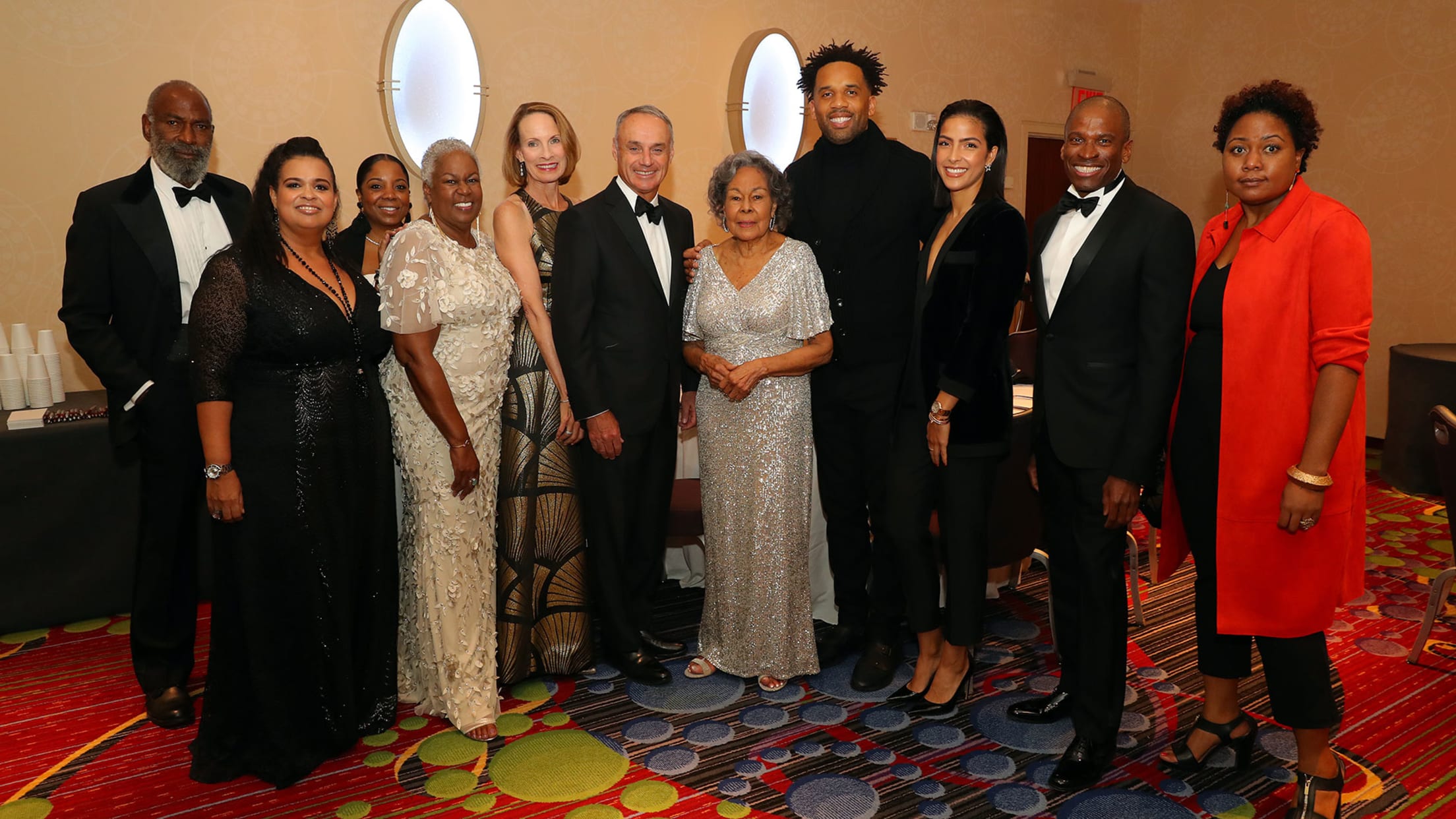 MLB's partnership with the Jackie Robinson Foundation is one of the league's most important initiatives, and the centennial celebration of Robinson's birth in 1919 has helped take it to new heights. The slate of events began on Jan. 31, Robinson's birthday, and will culminate toward the end of 2019 with the opening of the Jackie Robinson Museum in Lower Manhattan.
Manfred said he's most looking forward to Jackie Robinson Day itself, which MLB and its 30 teams have celebrated every April 15 -- the date of Robinson's Major League debut -- since 2004, and the event will include additional special elements this year in honor of the centennial. Those will be announced as Jackie Robinson Day draws closer.
As usual, all Major Leaguers will wear Robinson's universally retired No. 42 in their games that day, and there will be on-field tributes at ballparks around the league. Robinson's family will join the Dodgers in Los Angeles for the day.
"You know, I think Jackie Robinson Day this year is going to be really special," Manfred said. "I think that the 100th will be meaningful for our current players. I think it's an educational experience for our players. And I'm really looking forward to it."
After Jackie Robinson Day, it will be a countdown to December, when the museum's scheduled to open on the ground floor of the Foundation's headquarters at 75 Varick Street.
"The idea of having the museum dedicated to Jackie's memory in New York, I think is a really important thing for the sport," Manfred said. "It's a massive undertaking for the Foundation, building it up, curating it. It's really something."
Monday's Awards Dinner featured an exhibit previewing the museum, including a model of its layout and a selection of items that will be on display. Among them: Robinson's 1949 National League MVP Award; Dodgers team-autographed baseballs from 1949, '55 and '56; a '55 World Series-champion Dodgers bat; Robinson's UCLA All-America sweater; a '60s civil rights rally flyer featuring Robinson; and an open letter from Robinson to John F. Kennedy, published in the Amsterdam News, urging the president to consider racial injustice issues.
The Jackie Robinson Museum will showcase six aspects of Robinson's life -- his role as an activist, an athlete, a patriot, a family man, an entrepreneur, and a visionary and leader -- as well as a seventh section devoted to his continuing legacy. The artifacts at Monday's exhibit previewed those different sections of the museum.
"I think we'll be most proud when we open up the museum in December," Robinson said. "That's something we've all worked very hard for, so that's our ultimate goal."