Frustrated Gray out about two weeks with abdominal strain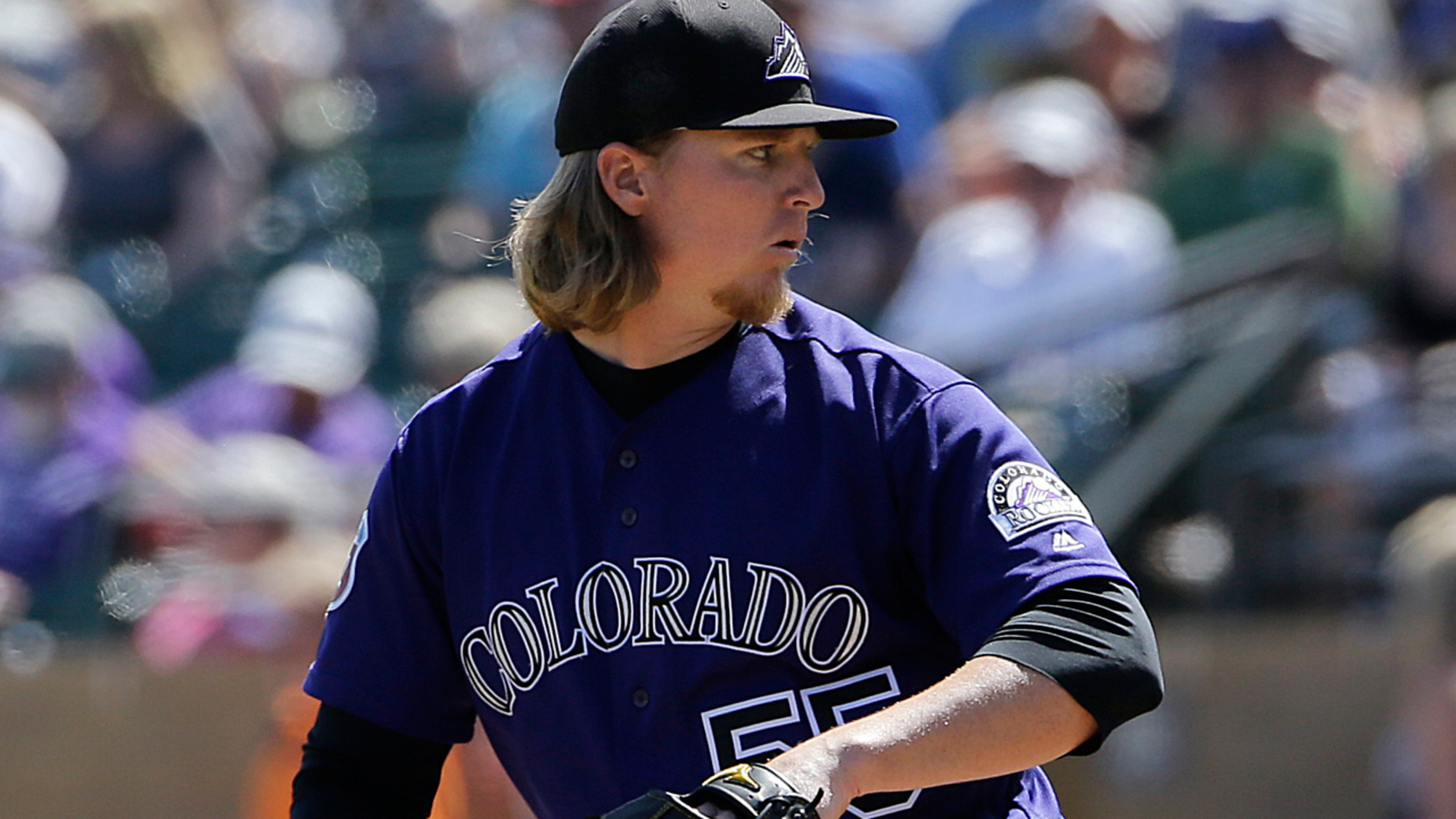 Jon Gray will likely not be ready to start the season in the Rockies' rotation due to an abdominal strain. (AP) (AP)
SCOTTSDALE, Ariz. -- Rockies right-hander Jon Gray believes it will be a couple of weeks before his strained abdominal muscle will allow him to return to game action. While he found the injury frustrating, it's not as bad as he feared.Gray, the Rockies' top pitching prospect according to MLBPipeline.com, suffered
SCOTTSDALE, Ariz. -- Rockies right-hander Jon Gray believes it will be a couple of weeks before his strained abdominal muscle will allow him to return to game action. While he found the injury frustrating, it's not as bad as he feared.
Gray, the Rockies' top pitching prospect according to MLBPipeline.com, suffered the injury during the first inning of a start on Tuesday against the Brewers. The injury came on the heels of four scoreless innings in his previous appearance, against the Angels on March 17. He left the game after the injury created an errant throw to second base on a fielding play, but the issue was bothering him when he threw his changeup and curveball because the muscle contractions are different from what they would be with the fastball.
"My arm will be fine, I'm not going to lose anything there," Gray said Thursday. "But it will be a while before I'm 100 percent on the mound. It will be at least a week or two.
• Spring:Tickets | Ballpark | 40-man roster | NRIs
"It's frustrating. It's really frustrating, because I have so many things to work on. I have reps I don't need to miss out on. It could be a lot worse. I'm happy that it's not bad. [But] I needed these last couple of weeks to get my reps in for the season."
Rockies manager Walt Weiss said it is doubtful he will be ready to be in the rotation when the season starts, but he won't rule him out.
"Right now, if it's a little less than two weeks, we're crunched for time," Weiss said.
The Rockies have two idle days in the first 12 of the regular season, so it's possible they can begin the season with four in the rotation.
They also could go with righty long reliever Christian Bergman, who has been given starter's innings in Spring Training. Bergman replaced Gray and threw four one-hit innings against the Brewers. Also, righty David Hale has shaken off a right hamstring injury from early in camp; he gave up one run and three hits with a strikeout and a walk in 1 2/3 innings against the Rangers on Monday in his first Cactus League appearance.
Lefty Chris Rusin, who suffered left middle finger inflammation at the start of the Cactus schedule, has faced hitters twice, but not appeared in a game. Another option is non-roster lefty Yohan Flande, who has struck out 14 over 10 innings this spring; however, Flande may be more of a relief option, since his innings would have to be increased quickly.