Lyles takes blame for tough loss in extras
Rockies reliever botches ground ball back to mound as O's secure walk-off win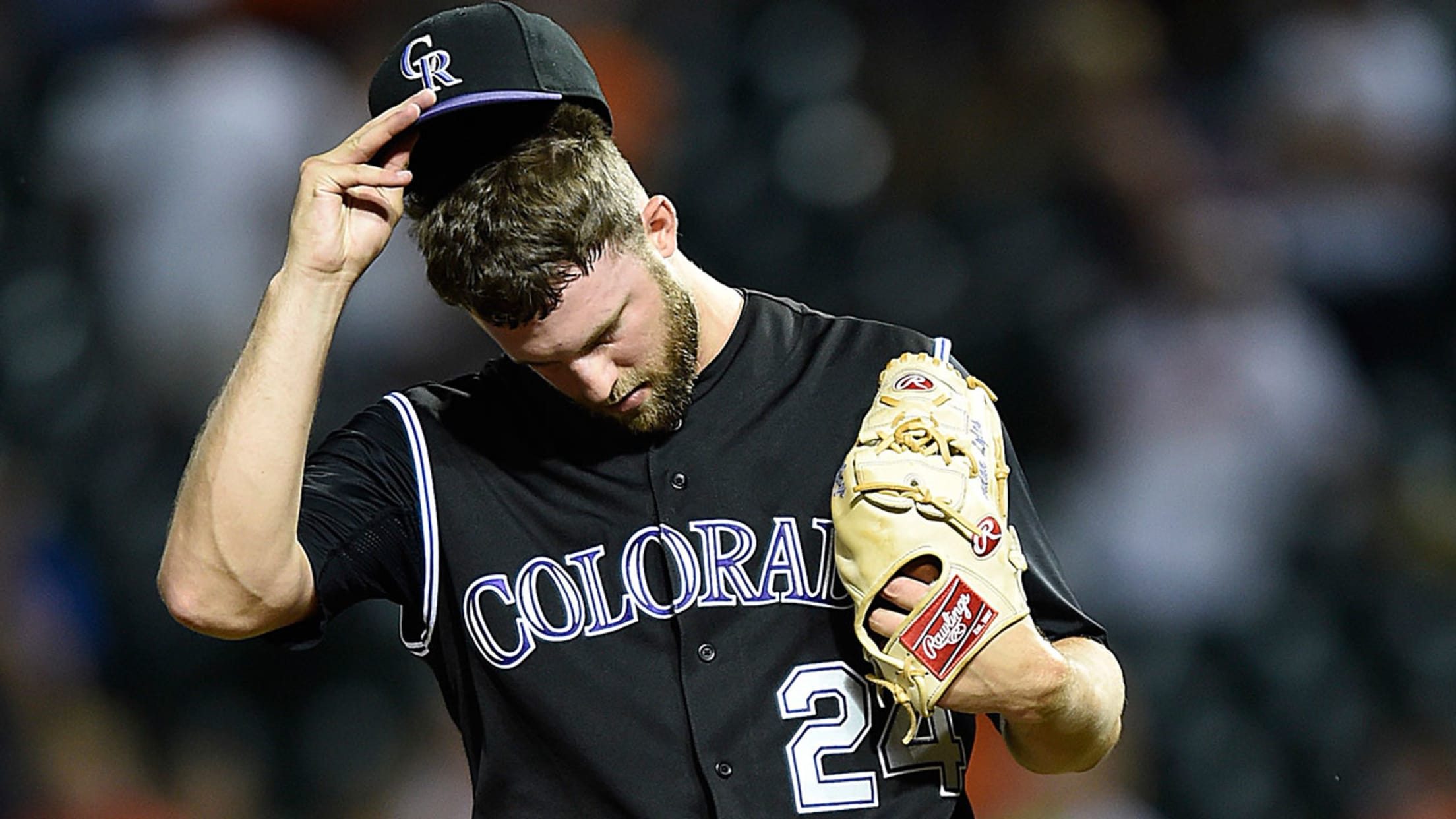 "I've got to field my position better next time," Jordan Lyles said. (AP)
BALTIMORE -- Reliever Jordan Lyles didn't mince words after his error allowed Adam Jones to score the winning run in the Orioles' 3-2 victory over the Rockies in 10 innings Monday night."We lost because of me," he said after Colorado saw its four-game winning streak snapped in walk-off fashion. "I've
BALTIMORE -- Reliever Jordan Lyles didn't mince words after his error allowed Adam Jones to score the winning run in the Orioles' 3-2 victory over the Rockies in 10 innings Monday night.
"We lost because of me," he said after Colorado saw its four-game winning streak snapped in walk-off fashion. "I've got to field my position better next time."
With one out and runners on the corners, the Rockies were hoping to induce Manny Machado into a ground ball and a potential inning-ending double play.
Machado connected on the first pitch he saw with a sharp comebacker at Lyles, but with Jones running on contact from third base, Lyles bobbled the baseball and hurried a throw to catcher Nick Hundley. When Hundley couldn't corral the ball, Jones scored.
"It was probably the best-case scenario with the comebacker there with Machado up," manager Walt Weiss said, "but [Lyles] didn't handle it cleanly and then it went downhill from there.
"Ideally you want to end it right there. You turn the double play and you're out of the inning. But once he didn't field it cleanly, it became a tough play."
While Hundley didn't cleanly handle Lyles' hurried throw at the plate, neither Weiss nor Lyles were convinced that it would have made a difference. Ultimately Lyles insists that his mistake, which was officially scored an error, cost his team the chance to keep playing.
"I made a good pitch to Machado to get a ground ball, I caught it, I looked up and decided what to do next and it fell out of my glove," he said. "Just a dumb play that I should have made. … I've got to field my position better. That's a tough way to lose a game -- because I didn't field my position."
The loss spoiled what was another impressive showing from the bullpen with Adam Ottavino, Boone Logan and Jason Motte combining for 2 2/3 scoreless innings without allowing a hit. Colorado dropped to 0-3 on the season in extra innings.
Ben Raby is a contributor to MLB.com based in Baltimore.