Friday's best: Red-hot Patterson hits two more homers for Albuquerque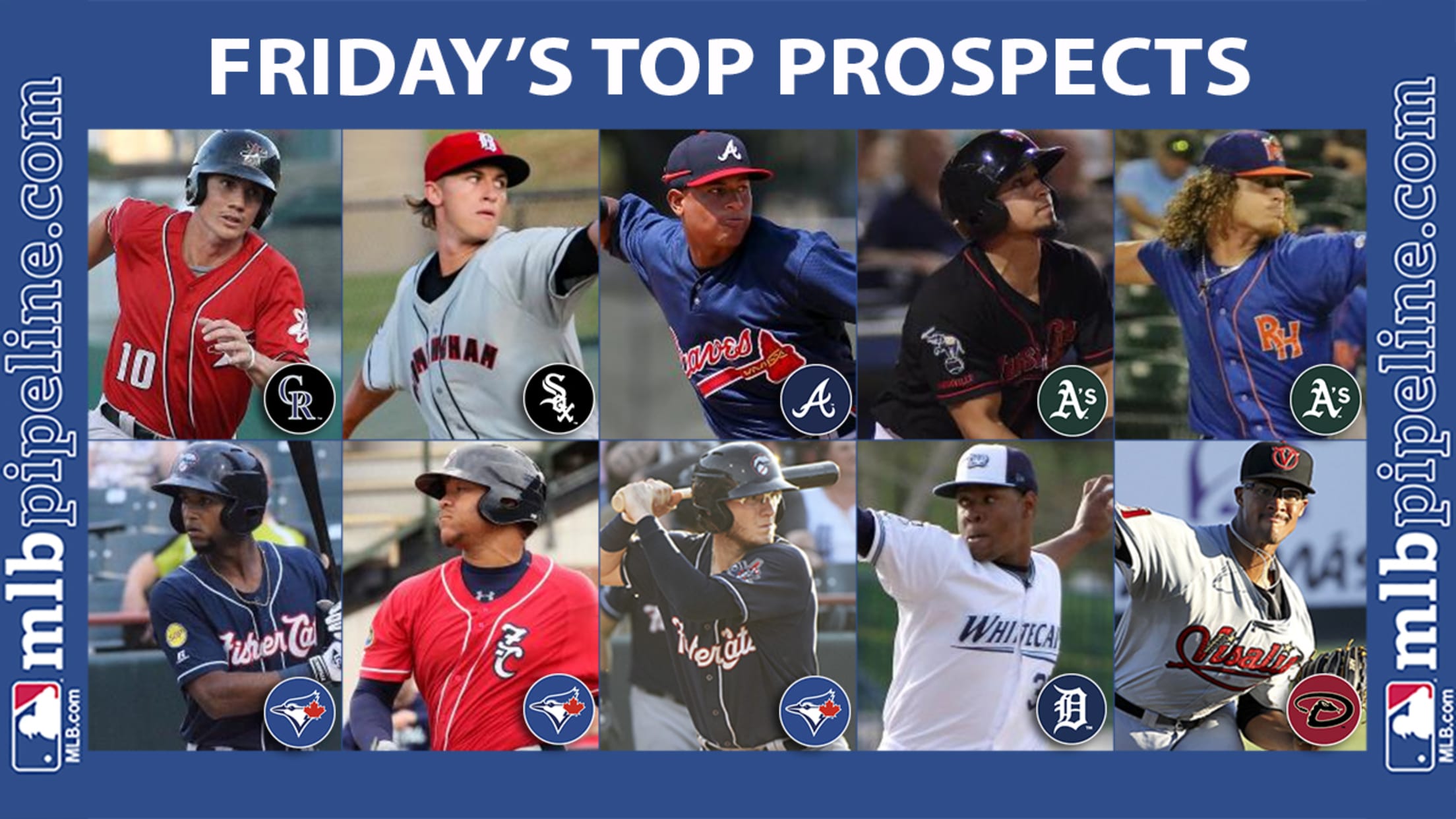 The ball has been flying out of the park lately for Jordan Patterson -- a trend that continued on Friday as he connected on a pair of home runs for a second straight game to lead Triple-A Albuquerque past Las Vegas, 7-2.The Rockies' No. 15 prospect homered in his first
The ball has been flying out of the park lately for Jordan Patterson -- a trend that continued on Friday as he connected on a pair of home runs for a second straight game to lead Triple-A Albuquerque past Las Vegas, 7-2.
The Rockies' No. 15 prospect homered in his first two at-bats, hitting solo shots to lead off the second and fourth innings, respectively, before tallying a pair of singles to finish the game 4-for-5 with three RBIs.
MILB Video - Title: Watch: Patterson's second homer - Url: http://www.milb.com/r/video?content_id=1607706683
Patterson's back-to-back two-homer performances gives him five home runs in his past three games, during which he's batting .714 (10-for-14) with 10 RBIs. It also has helped the 25-year-old first baseman-outfielder establish a new career-high home run total, as he's now gone deep 18 times in 83 games to surpass his previous high-water mark of 17, which he achieved over 125 games in 2015.
With a .288 average, a .913 OPS and 42 extra-base hits in his second tour of the Pacific Coast League, Patterson is making a strong case for a return to the Major Leagues later this season. He batted .444 (8-for-18) in 10 games with the Rockies last season as a September call-up.
The rest of the best performances from top prospects Friday
• No. 11 overall prospectMichael Kopech (White Sox No. 2) turned in a quality start en route to his fifth win for Double-A Birmingham. Pitching for the first time since Sunday, when he struck out a pair while lighting up the radar gun during a dominant one-inning showing in the SiriusXM All-Stars Futures Game, the 21-year-old righty allowed one earned run on four hits in six innings. He walked a pair and also hit two batters while striking out five and generating another seven outs on the ground. Kopech lowered his ERA to 3.84 with the performance, and he's now fanned 106 batters in 84 1/3 innings (11.3 K/9).
• No. 24 overall prospect Kevin Maitan (Braves' No. 2) went 3-for-5 with a double and two runs scored in the Rookie Gulf Coast League. It was the first career three-hit game for the switch-hitting 17-year-old shortstop, who's now collected multiple hits in five of eight games to begin his career. He also swiped a bag in Friday's contest -- another career first.
• No. 42 overall prospectFranklin Barreto (A's No. 1) connected on his first home run for Triple-A Nashville since returning from his stint in the big leagues. The homer, a third-inning solo shot, was his ninth this season in 71 Triple-A games, and he's batting .279 with a .754 OPS after finishing Thursday's contest 1-for-4.
MILB Video - Title: Barreto parks one - Url: http://www.milb.com/r/video?content_id=1606291783
• No. 72 overall prospectGrant Holmes (A's No. 3) held a loaded Corpus Christi offense in check as he allowed one earned run on three hits over seven innings for Midland in a 7-1 victory. The 21-year-old righty threw 84 pitches, 52 strikes, in the performance, recording five strikeouts and three walks.
• No. 79 overall prospectRichard Urena (Blue Jays' No. 4), Harold Ramirez (No. 14) and Danny Jansen (No. 21) combined to go 8-for-13 with nine runs scored in Double-A New Hampshire's win over Portland. Each of them scored three times and tallied a double in the contest, with Urena (3-for-6) and Jansen (3-for-4) both collecting three hits and Ramirez (2-for-3) pacing the offense with four RBIs.
• Orioles No. 7 prospect Austin Hays went deep in a 2-for-5 performance for Double-A Bowie, giving the 22-year-old outfielder 20 home runs in 84 games across two levels in his full-season debut. He's also raking at an impressive .328/.361/.578 clip with 57 RBIs and 52 runs scored.
• D-backs No. 8 prospect Jon Duplantier allowed one earned run on three hits over seven innings in his longest start since joining Class A Advanced Visalia. He struck out seven while inducing eight ground-ball outs and throwing 65 of his 94 pitches for strikes. The 23-year-old righty has been stellar in his first full season, pitching to a 1.34 ERA with a 95-to-23 strikeout-to-walk ratio in 87 1/3 innings between two levels.
• Yankees No. 20 prospectZack Littell pitched well in a no-decision for Double-A Trenton, giving up one earned run on six hits in seven innings. The 21-year-old righty compiled seven strikeouts without issuing a walk, with 68 of his 102 pitches going for strikes in the outing. He's registered a 1.59 ERA and a 39-to-4 strikeout-to-walk ratio in 34 innings across five Double-A starts.
• Rangers No. 20 prospect Michael Matuella tossed five scoreless innings for Class A Hickory, allowing three hits and striking out four en route to his first professional win. It marked a career-long outing for the 23-year-old right-hander, who continues to work his way back from Tommy John surgery.
• Tigers No. 29 prospect Gregory Soto posted double-digit strikeouts for the second time this season in a dominant outing for Class A West Michigan. Working six scoreless innings, the 22-year-old southpaw allowed three hits while striking out 11 and walking one to pace the Whitecaps in a shutout of Cedar Rapids. Soto is 8-1 with 2.44 ERA in 15 starts this season, during which he's piled up 94 strikeouts in 81 innings while holding hitters to a .208 clip and just three home runs.
MILB Video - Title: Soto racks up 11th strikeout - Url: http://www.milb.com/r/video?content_id=1606081583
• Padres No. 29 prospect Reggie Lawson dazzled for Class A Fort Wayne in one of his better career performances, allowing one earned run on three hits over a career-high seven innings. The 19-year-old righty recorded seven strikeouts as well as nine ground-ball outs while throwing 65 of his 91 pitches for strikes. More significantly, he did not issue a walk for the first time in nine starts this season.