Top 10 comical moments in Rockies history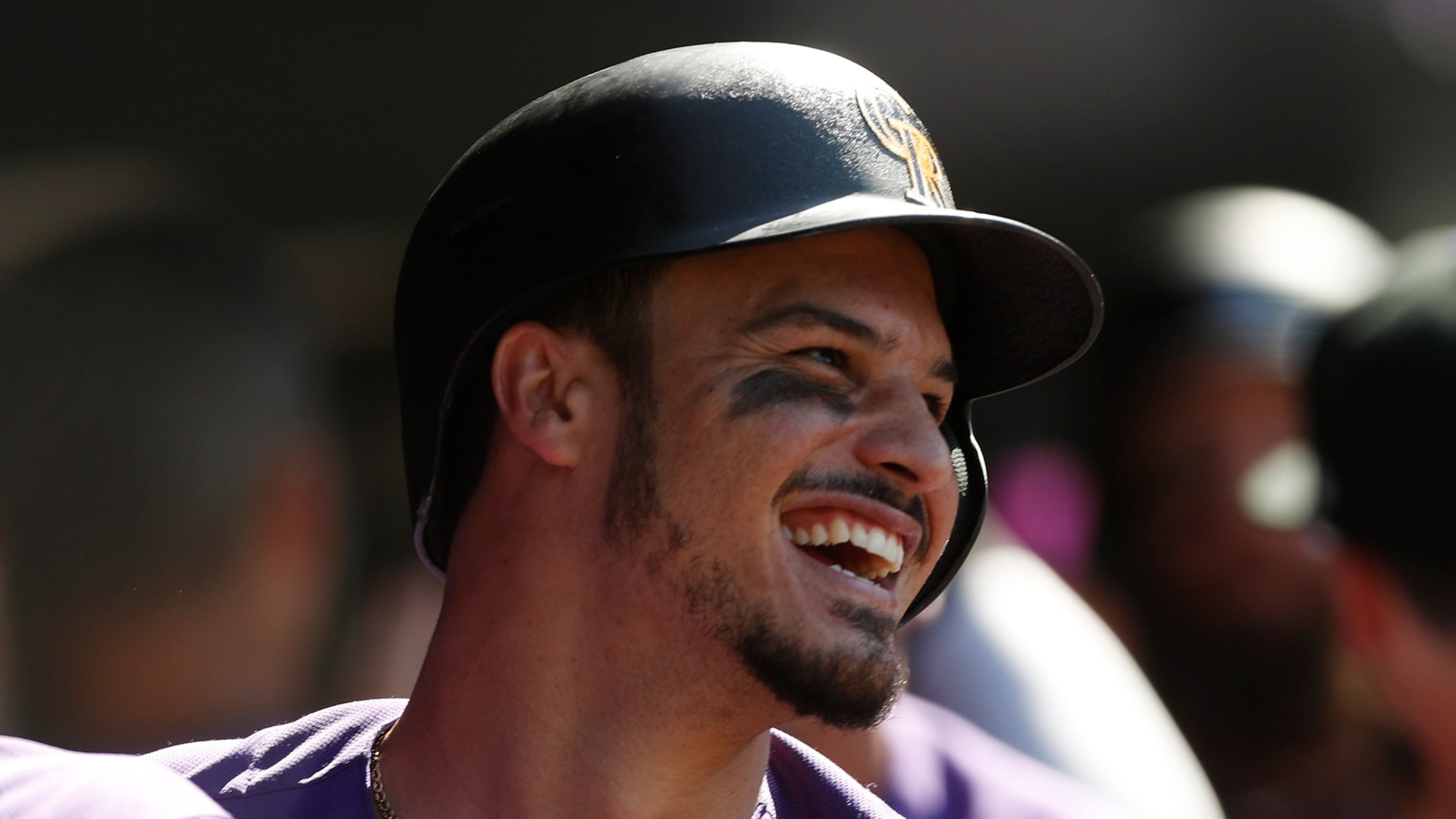 DENVER -- Some of the best players in Rockies history have provided some of the biggest laughs. And the special climate also has provided some levity. Let's look at the moments: 1. "Why exactly am I pitching right now?" July 30, 2011 The crawler at the bottom of all the
DENVER -- Some of the best players in Rockies history have provided some of the biggest laughs. And the special climate also has provided some levity.
Let's look at the moments:
1. "Why exactly am I pitching right now?"
July 30, 2011
The crawler at the bottom of all the television screens in the visiting clubhouse at Petco Park told the world that Rockies' pitcher Ubaldo Jiménez had been traded to the Indians. Problem with that was Jiménez was supposed to start against the Padres that day and no one told him different. In fact, Jiménez pitched the first inning. Four runs and two walks later, Jiménez entered the dugout at the end of the frame and was informed that the trade was complete. Colorado won the game, 10-6.
2. Kidney stones don't break Olivo
April 26-27, 2010
This is not comical in a "ha-ha" kind of way. It's more of an "I-don't-believe-he-did-that" funny. Olivo passed a kidney stone in the eighth inning of an April 26 loss to the D-backs, then he finished the game.
Then he said, "Let's pass two."
Olivo passed another stone the following night during a 12-1 win in which he singled to push his hit streak to five games.
3. Walker turns things around
July 8, 1997
During the 1997 All-Star Game, Larry Walker faced his one-time Expos teammate and southpaw Randy Johnson, then representing the D-backs. Johnson's first pitch buzzed by the left-handed-hitting Walker's head and pounded the backstop. So Walker turned his helmet backward and climbed into the right-handed batter's box for the next pitch. Walker eventually returned to the left and drew a walk. Walker survived, and the AL went on to win the game, 3-1.
4. Mayne does it all
Aug. 22, 2000
By the 12th inning, the Rockies had used 10 pitchers. The ninth, lefty Brian Bohanon, had started the previous day and talked his way into the game. The 10th, righty John Wasdin, was ejected after an altercation with one-time Rockies starter Andres Galarraga, whom Wasdin hit with a pitch. Colorado manager Buddy Bell was also ejected.
Brent Mayne was normally a catcher, but he had hurt his left hand tumbling into the Shea Stadium dugout chasing a foul ball. His arm was OK, so he walked into Bell's office and told him he could pitch. Mayne went to the batting cage to warm up, then went out and faced two Hall of Famers: pitcher Tom Glavine, an emergency pinch-hitter, and Chipper Jones. Mayne also faced three All-Stars: Walt Weiss, the eventual Rockies' manager, Rafael Furcal and Andruw Jones. After giving up a two-out hit to Furcal and walking Jones, Mayne got Jones to bounce out to third.
And Adam Melhuse's game-winning RBI in the bottom of the 12th gave Colorado a 7-6 win and made Mayne the first position player to earn a victory since Rocky Colavito 32 years prior.
5. Hidden-ball Helton
Sept. 19, 2013
Rockies star first baseman Todd Helton and veteran pitcher Roy Oswalt pulled a fast one on Matt Carpenter, then a young Cardinals star. After Oswalt attempted to pick off Carpenter at first, Helton faked the return throw. Oswalt added to the acting job by slapping his mitt to make it sound like he had just caught the ball. Not having looked to make sure, Carpenter wandered off the bag and began to dust off his hands after the head-first slide. Helton tagged him. Colorado won the game, 7-6, in 15 innings.
6. Tag him out, hug it out
Oct. 2, 2018
The game was tied at 1 in the 11th inning of a tense 2018 National League Wild Card Game at Wrigley Field when Rockies star third baseman Nolan Arenado fielded a grounder as the Cubs' Javier Báez headed toward third base. With nothing to do but accept the out, Báez did what, well, no one but he would do. He gave Arenado a big ol' warm, friendly, awkward embrace. Colorado won, 2-1, in the 13th inning to advance to the NL Division Series.
7. Chasing foul balls makes Parra hungry
Aug. 16, 2017
Outfielder Gerardo Parra -- whose quirks became legendary when he adopted the children's video "Baby Shark" as his walkup with the Nationals in 2019 -- needed a little snack while playing for the Rockies during their 17-2 win over the Braves at Coors Field.
Parra and third baseman Nolan Arenado chased a sixth-inning foul ball toward the stands but didn't get there in time. Parra, evidently building up an appetite during a 3-for-4 performance, reached into a fan's bag of sunflower seeds, popped a few into his mouth and backpedaled away -- giving a thumbs-up.
Parra shared snacks as well. During a game in May that season, Parra was playing right field. He had bullpen catcher Aaron Muñoz hand him gum through the wire fence in front of the bullpen. Parra relayed that gum to fans in the seats beneath the out-of-town scoreboard.
8. Rodney finds a shady spot
Aug. 5, 2015
On this particularly hot day, Mariners reliever Fernando Rodney was in search of shade, and he left the bullpen in right-center for the mini forest to try to stay a little cool.
Unfortunately for Rodney, things got hot when he entered the game. He allowed two runs on two hits and two walks in 1/3 of an inning and was charged with a blown save. Colorado went on to win, 7-5, in 11 innings.
9. Blown away
July 8, 2007
Just before the seventh inning of an 8-4 loss to the Phillies, a sudden, ferocious storm produced a moment that one member of the Coors Field grounds crew could laugh about ... much later.
As workers tried to roll the tarp onto the field, one member was flung some 10 feet into the air and was swallowed in the tarp as he landed on the third-base line. Three other members of the crew also were trapped.
Phillies players who had not yet returned to the clubhouse rushed in to help. Everyone escaped uninjured, and the field was protected enough for the game to continue after the delay.
10. Grab a shovel, no matter who you are
April 16, 2013
The teams arrived to find a snow-covered Coors and temperatures around the freezing point. What was the response?
Let's play two!
The only way to get a doubleheader going was to get the field together, quickly. So anyone who could shovel, did, including Rockies owner Dick Monfort and Mets general manager Sandy Alderson. It all led to a twin bill that began in 39-degree weather
The Rockies warmed themselves with an 8-4, 9-8 sweep of New York.