Helton Q&A: Opening Day sets the tone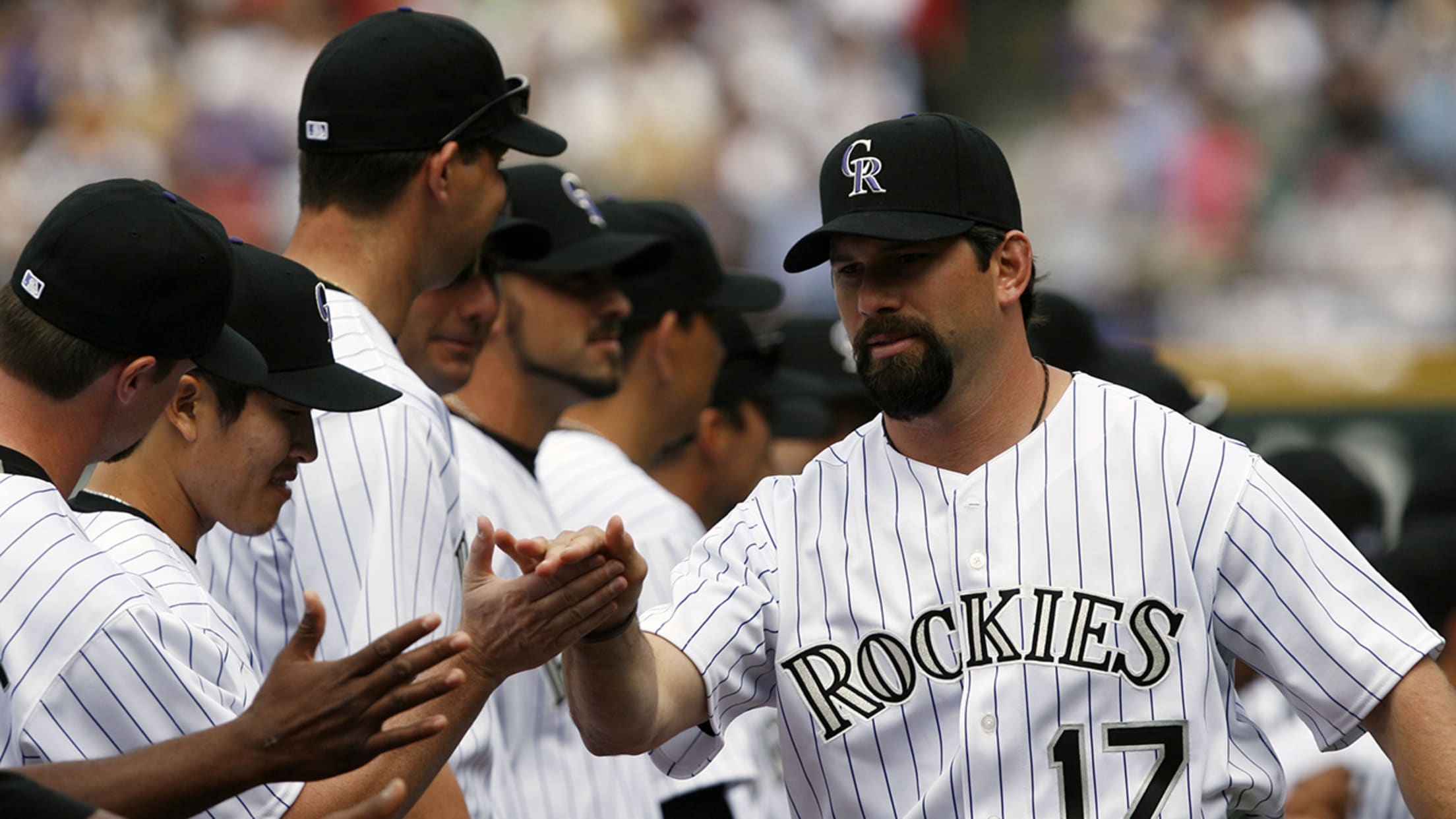 Todd Helton is greeted by teammates on Opening Day 2007. (AP) (David Zalubowski/AP)
Todd Helton never missed an Opening Day in his big league career. Called up in August 1997, Helton played 16 seasons -- all with the Rockies -- and he was the Opening Day starting first baseman for Colorado in all 16 games.Helton holds the National League record for Opening Day
Todd Helton never missed an Opening Day in his big league career. Called up in August 1997, Helton played 16 seasons -- all with the Rockies -- and he was the Opening Day starting first baseman for Colorado in all 16 games.
Helton holds the National League record for Opening Day starts at first base, one shy of the Major League record held by Joe Judge with the Washington Senators, who started at first base 17 consecutive seasons from 1916-32.
With the fourth Opening Day since his retirement on the horizon, Helton is the subject of this week's Q&A.
MLB.com: With the season set to begin, do you put any significance on the fact you started an NL record for a first baseman by making 16 consecutive Opening Day starts during your career?
Helton: Seriously? Wow, yeah, it means something. It means a lot to me. When I was playing, you used to ask me all the time, "Is this important to you?" You would say, "You had 100 extra-base hits two years in a row." I'm like, "I don't know, I don't care. Maybe when I retire." Well, I've retired, and now those things do mean a lot to me. Saying I started 16 years in a row at first base, and I did it with one team, means a lot. It means that I have some longevity, and it means I've put a lot of work into being able to do that. Even in the years that we weren't considered good, it's not like I worked any less hard. I didn't know that, but it's a pretty neat deal.
MLB.com: Just being healthy on 16 consecutive Opening Days would seem a challenge.
Helton: Yeah, to me, it shows that the Cal Ripken thing is just totally crazy. It's totally impossible, a record that will never be broken. They say that, "God puts an angel on everybody's shoulder." God put a thousand angels around me for all the stupid stuff I did and to be able to go out and play the next year.
MLB.com: Are there particular Opening Days that stick out?
Helton: The first one, of course, at Arizona in 1998. Opening up that ballpark, being there for Arizona's first game, was special. First at-bat [in the second inning], I doubled home a run and we won the game. And there was 2004 [at Arizona]. Randy Johnson opened it up. I went 4-for-4 that game and got three hits off Randy. Now that was a good Opening Day. I wasn't historically a fast starter, so that felt real good.
MLB.com: You knew going into that last year, it was your last year. Was there any special significance to that last one?
Helton: No, I couldn't even tell you where we opened up. I tell you what: Opening Day is not Opening Day until you open it at your own ballpark, for me. I could give a crap if I opened up in Milwaukee, but when you come back to Denver and it's 60-something degrees outside, sun shining and you're about to play baseball in front of your fans for the first time that year, there's a special feeling. It's like a Tennessee football game outside of the stadium.
You wake up and you hop out of bed really quick that morning. You say that it's just one game. You only say that when you lose. I think that game sets the tone for at least a little bit. I don't think it makes or breaks a season, but it sure is nice to win that first one at home.
MLB.com: It's the fans that make the difference?
Helton: Right. And there are some places that are special. Cardinals' Opening Day, big deal, right? You got Ozzie Smith coming by in that parade around the field. You're like, "Holy crap, that's Ozzie Smith." It's the Cardinals, you know? I mean, it's a big deal.
MLB.com: Growing up in Knoxville, were the Cardinals your team?
Helton: Cardinals fan? No chance. I was a Braves fan. They were on TV when we finally got cable. Knoxville is 3 1/2 hours from Atlanta. They were terrible when I was growing up, but I didn't care. I remember being at an All-Star Game and Dale Murphy was there. I sat right beside him the whole time and picked his brain. What a nice guy. He is such a good person. The game could use more people like him.
MLB.com: What from a personal standpoint do you regret?
Helton: I'll tell you one that I wish I would have had was a really long hitting streak. I never did just because I mentally beat myself into the ground. Something that I did that is my favorite would be doubles (592, 18th on the all-time list). I considered myself a doubles hitter. They say, "Well you only hit [369] homers." I'm like, "I couldn't care less, because I was a doubles hitter." I wanted to drive the ball through the gap and use my speed to get to second.
MLB.com: Reflecting on your career, that 2007 season and the trip to the World Series would seem big with that surge in the final three weeks. You had that walk-off home run against Takashi Saito of the Dodgers that seemed to spark that season-ending surge of 14 victories in the final 15 games to claim the Wild Card.
Helton: That, and my last home run at Coors Field in my last game at home. Those two stick out the most. I put so much pressure on myself that last game at home. I had so many people in town that I was feeling, "I've got no chance." You know I wanted to do something good. I said a little prayer, and it all worked out.
Tracy Ringolsby is a columnist for MLB.com.