Rodriguez in mix for Tigers' utility spot
25-year-old with unique batting stance had breakout offensive year in '17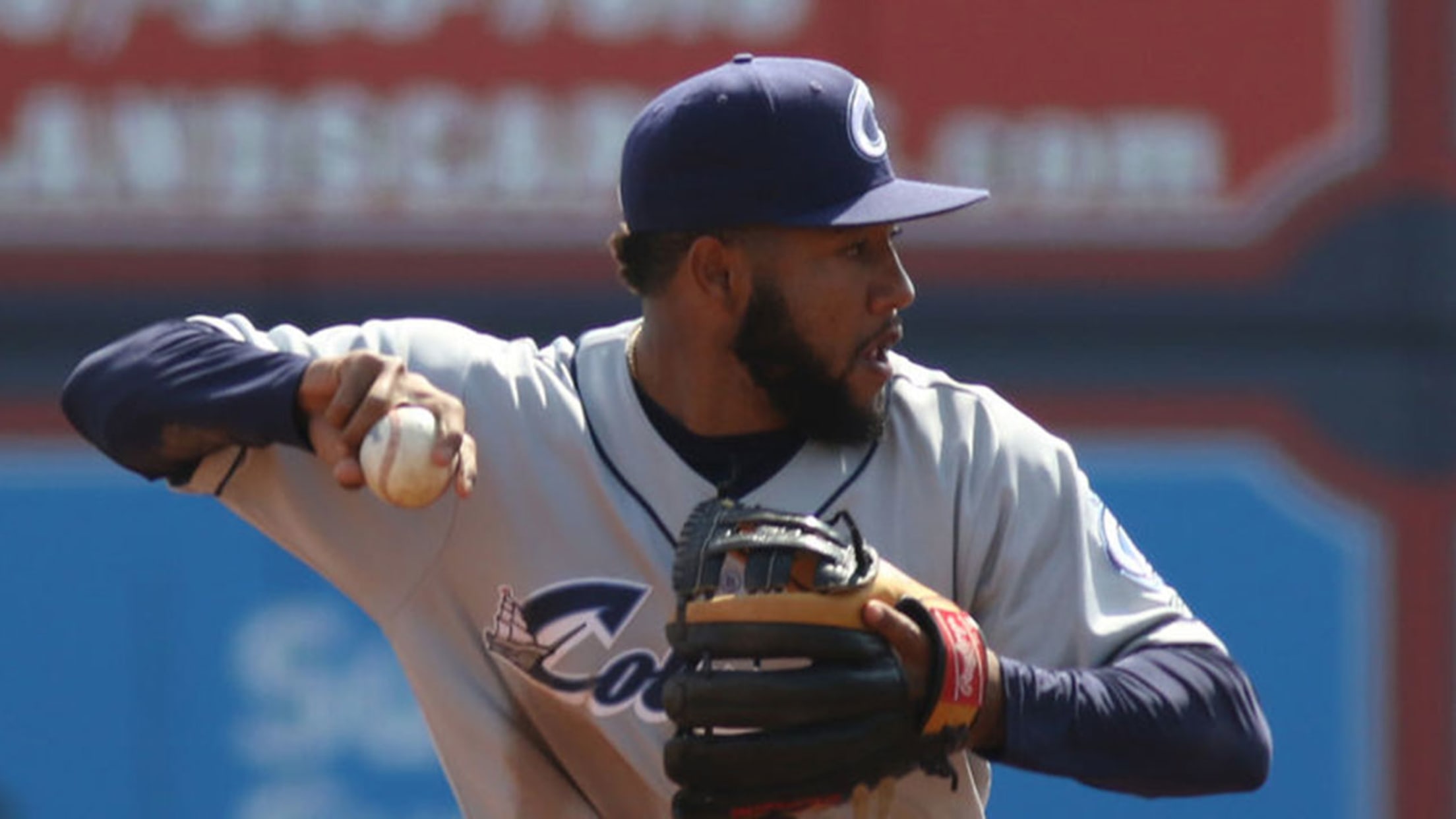 SARASOTA, Fla. -- The first thing that comes to mind when watching Ronny Rodriguez take batting practice in Tigers camp is another former Indians utility player who once jumped to the Tigers.Like Mike Aviles, Rodriguez brings his bat high over his head in his stance, waving it a little bit
SARASOTA, Fla. -- The first thing that comes to mind when watching Ronny Rodriguez take batting practice in Tigers camp is another former Indians utility player who once jumped to the Tigers.
Like Mike Aviles, Rodriguez brings his bat high over his head in his stance, waving it a little bit as he readies for the pitch. But no, Rodriguez said, he wasn't trying to be like Mike when he started doing it.
"This is a habit I've been doing for the last five years, hitting like that," Rodriguez said. "It's how I feel comfortable. I always say, 'Be yourself.' That's part of me. I've been doing it, and I take advantage of it."
:: Spring Training coverage presented by Camping World ::
Also, Rodriguez hits the ball harder than Aviles. It's that combination of positional versatility and offensive punch that drew the Tigers to Rodriguez when he became a Minor League free agent over the offseason. And it was the potential for a big league role, after years of being blocked on the Indians' depth chart, that led Rodriguez to Detroit.
"I know a lot of players in this organization," Rodriguez said, "and I saw a chance and an opportunity here. We made the decision, myself and my agent, to be part of this great organization."
Rodriguez did not have to play the field Monday, instead serving as the designated hitter against the Orioles in the Tigers' 8-6 win. He hit a double into the left-field corner, turning on a Mychal Givens offering.
Though Rodriguez's bat waving isn't quite as extreme as what Aviles did, it serves a purpose. He was struggling to make consistent contact, searching for a timing mechanism to get his bat and hands in position to swing, when he tried it.
"That makes me get into my hitting position," Rodriguez said. "Before, I missed a lot of pitches when I used to have my hands down. So I tried to bring my hands up to get on top of the ball. It works. I've been doing it for a long time, and I've been doing great, and I feel comfortable."
Rodriguez's hitting truly came together last year, producing a .291 average (130-for-447), 17 home runs, 64 RBIs and a .778 OPS at Triple-A Columbus. He hit .305 (67-for-220) with 11 homers and 38 RBIs from July 1 until the season's end.
Rodriguez played everywhere but left field and catcher last year as the Indians tried to groom him for a potential utility role. With Erik Gonzalez and Giovanny Urshela filling the role in Cleveland, however, the call never came. The Tigers, meanwhile, have utility jobs open after waiving Andrew Romine and promoting Dixon Machado to second base.
With Rodriguez still young, turning 26 in April, the Tigers hope to take advantage.
Candelario day to day after collision
The Tigers narrowly avoided serious injury after Jeimer Candelario and Orioles pitcher Kevin Gausman collided behind home plate in the first inning on Monday. Candelario is day to day with a bruised left knee, according to manager Ron Gardenhire.
"He came in and got checked out here," Gardenhire said. "Preliminary reports are [that it's] just a bruise, and everything looks fine. He says he's fine."
The Tigers rapped out three RBI singles off Gausman. The last of them, a Leonys Martin liner into center, set up the play in question. Gausman went to back up a play at the plate as Candelario, who was on deck, stepped up to tell Jason Krizan to slide wide to avoid a potential tag. Krizan's slide brought Candelario and Gausman together.
"His knee went in [Gausman's] stomach," Gardenhire said.
Gausman immediately left the game and was carted back to the Orioles' clubhouse when the inning ended. Candelario stayed in to bat and drew a walk, but was hobbling to second on James McCann's ensuing single and left the game for pinch-runner Alexi Amarista.
"That's a scary thing. We don't want to lose him," Gardenhire said. "Who knows, he might come in a little sore tomorrow, but it's kind of a day-to-day thing."
Fiers, Norris slotted into Tigers' spring rotation
Mike Fiers and Daniel Norris missed the first turn through the Tigers' rotation, but they'll make their debuts over the next couple of days. Fiers will start Tuesday against the Phillies in Clearwater, followed by Norris starting against the Yankees on Wednesday in Tampa.
The Tigers have treaded carefully with both of them as they ramp up for the season. Norris visited a specialist last week for a checkup exam on his groin injury from last summer.
Up next
Fiers will make his Tigers debut on Tuesday as their Grapefruit League road trip continues with a 1:05 p.m. ET game against the Phillies in Clearwater, Fla. Fiers signed in December after spending last season with the World champion Astros. Alex Wilson, who started the Tigers' Spring Training opener last Thursday, will follow Fiers in long relief. Catch the game live on MLB Network and MLB.TV.