Every rookie on a 2020 postseason roster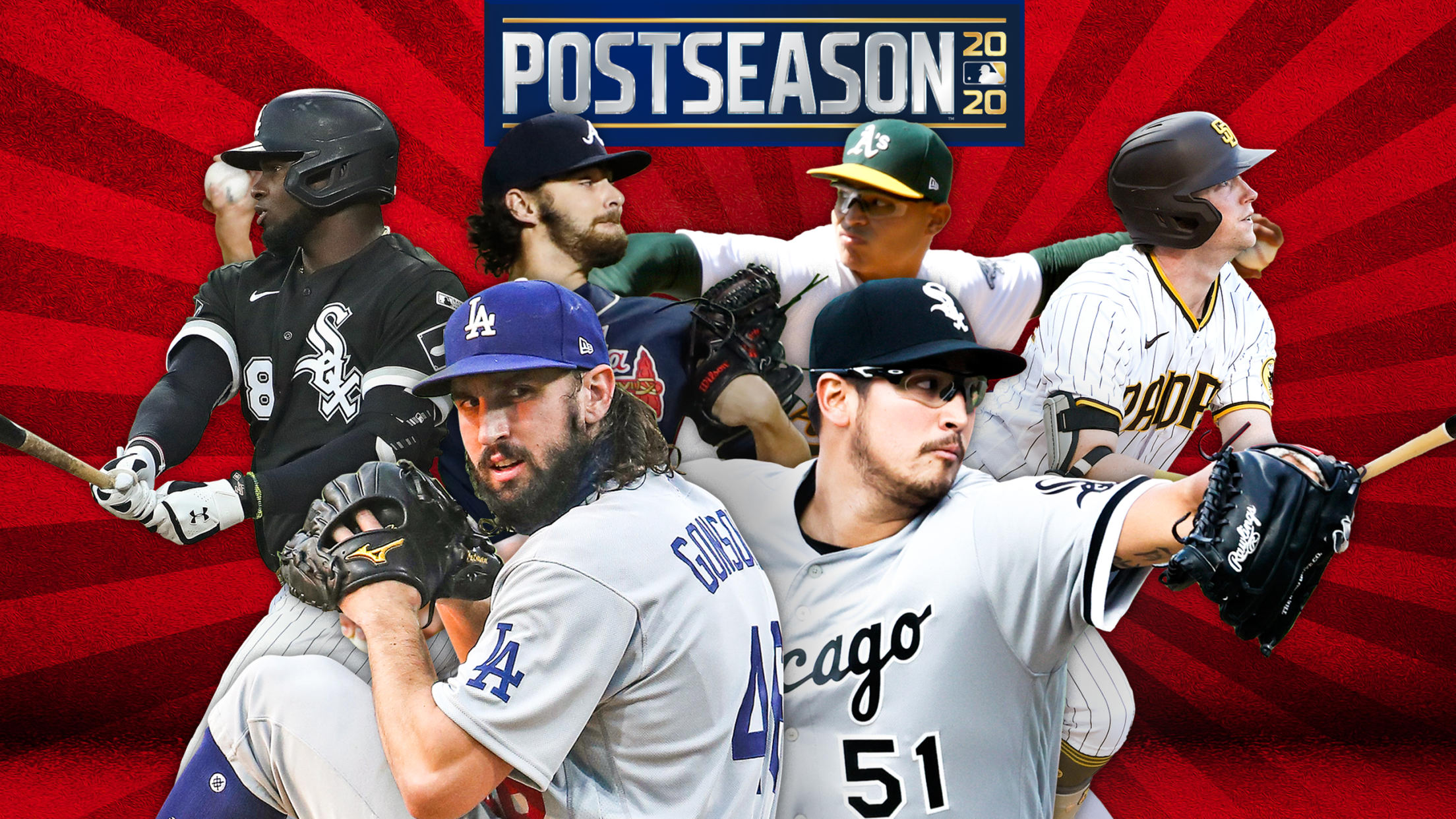 Baseball's young stars took over the game in 2020 -- and why would they stop now in the postseason? The playoffs are set to showcase MLB's most electric rookies, from White Sox phenom Luis Robert to A's lefty Jesús Luzardo to Blue Jays flamethrower Nate Pearson. This year, some top
Baseball's young stars took over the game in 2020 -- and why would they stop now in the postseason?
The playoffs are set to showcase MLB's most electric rookies, from White Sox phenom Luis Robert to A's lefty Jesús Luzardo to Blue Jays flamethrower Nate Pearson. This year, some top prospects might even make their big league debuts in the postseason -- a rarity in MLB history.
And there are so many more rookies -- including 15 Top 100 prospects and 31 on Top 30s -- who are about to take the field in the postseason. Here are all the MLB rookies on playoff rosters for the Wild Card Series.
AMERICAN LEAGUE
1. Rays
OF Randy Arozarena (Rays No. 19), RHP John Curtiss, RHP Pete Fairbanks, LHP Shane McClanahan (Rays No. 6, MLB No. 99), RHP Aaron Slegers, RHP Ryan Thompson, OF/DH Yoshi Tsutsugo
Arozarena hit seven home runs in just 23 games with the Rays this season before he went deep in Tampa Bay's Game 1 win. Fairbanks earned the save in Game 1 even though he didn't record a single save for the Rays during the regular season. Curtiss notched a pair of regular-season saves and also served as the team's Opener on three occasions. McClanahan, whom the Rays selected with the No. 31 overall pick in the 2018 Draft, will be making his Major League debut when he takes the mound in the postseason. Right-handers Slegers and Thompson, both 28, are two of the older rookies in this year's postseason. The same goes for the 28-year-old Tsutsugo, who's appearing in the postseason for the first time after playing 10 seasons in Japan's NPB.
2. Athletics
C Jonah Heim (A's No. 9), LHP Jesús Luzardo, 3B Vimael Machín, C Sean Murphy, INF Nate Orf
Luzardo was the starter (and loser) in Game 1 of the Wild Card Series against the White Sox. Murphy, his batterymate, should see most of the time behind the plate, with Heim serving as his backup. Machín, who can play all four infield spots, and Orf, who saw time at shortstop and second base over the last two weeks of the regular season, provide bench support in utility roles.
3. Twins
RHP Randy Dobnak, C Ryan Jeffers (Twins No. 6), OF Alex Kirilloff (Twins No. 2, MLB No. 27), RHP Cody Stashak
Kirilloff was a bit of a surprise last-minute addition to the Twins' roster, with injuries providing an opening for his left-handed bat, which will most likely be used off the bench. Jeffers became the regular catcher when Mitch Garver was out and impressed enough to get the start in Game 1 of the Wild Card Series against the Astros. He should continue to get playing time behind the plate. Dobnak, who started the Wild Card Game for the Twins in 2019, is not slated to start in the opening series, but could be called upon in a relief role against the Astros and, with the packed playoff schedule, could land a start should Minnesota advance. The Twins are carrying 13 pitchers, with Stashak, who pitched well down the stretch in a setup-type role, adding bullpen depth.
4. Indians
RHP Cam Hill, RHP James Karinchak, RHP Triston McKenzie (Indians No. 3, MLB No. 97)
McKenzie was a revelation as a starter after missing two months in 2018 and all of 2019, but he'll work out of the bullpen in the Wild Card Series. Karinchak has dominated in a setup role, while Hill is well down the bullpen depth chart.
5. Yankees
RHP Deivi García (Yankees No. 3, MLB No. 87), RHP Nick Nelson
Though García recorded three quality starts in six tries, manager Aaron Boone said he's leaning toward J.A. Happ for a potential Game 3 start in the Wild Card Series. Nelson pitched in low-leverage situations during the season and can work multiple innings if needed.
6. Astros
RHP Cristian Javier, INF Jack Mayfield, OF Chas McCormick (Astros No. 24), RHP Enoli Paredes, LHP Brooks Raley, RHP Andre Scrubb, RHP Cy Sneed, C Garrett Stubbs, LHP Blake Taylor, 3B Abraham Toro, RHP Jose Urquidy
Houston's rotation behind Zack Greinke is a question, but it appears that Urquidy will get a start in the Wild Card Series while Javier will shift to the bullpen in the first round. Paredes, Raley, Scrubb and Taylor are key relievers and Sneed will play a lesser bullpen role. Mayfield, McCormick (who'd be making his big league debut in the postseason), Stubbs and Toro don't figure to see much action of the bench.
7. White Sox
C/DH Zack Collins, LHP Garrett Crochet (White Sox No. 4, MLB No. 89), RHP Dane Dunning (White Sox No. 5, MLB No. 98), RHP Matt Foster, RHP Codi Heuer, 2B Nick Madrigal (White Sox No. 3, MLB No. 36), CF Luis Robert
Robert and Madrigal were two of the best rookies in baseball, contributing heavily toward the American League's second-highest-scoring offense. Dunning hadn't pitched since 2018, but was steady in his first big league action and may have earned a Game 3 start. The first player to go from the Draft to the Majors since Mike Leake in 2009-10, Crochet dazzled with his 100-mph fastball at season's end and could get used in tight spots. Foster and Heuer already have earned that trust. Collins is Chicago's third catcher if needed.
8. Blue Jays
OF Jonathan Davis, SS Santiago Espinal, RHP Thomas Hatch, LHP Anthony Kay, C Alejandro Kirk (Blue Jays No. 6), C Reese McGuire, RHP Nate Pearson (Blue Jays No. 1, MLB No. 6)
Pearson returned from an elbow injury to light up the radar gun in his only relief appearance of the year and could become a late-inning weapon for Toronto in the postseason. Kirk, 21, handled designated hitter duties for the Blue Jays in their Game 1 loss against Tampa Bay after making the jump from Class A Advanced Dunedin to the Major Leagues in September. Hatch and Kay, acquired in separate 2019 Trade Deadline deals, were bullpen staples for the club in 2020 and can work multiple innings if needed. Davis, Espinal and McGuire are all solid defensive players and provide Toronto's playoff roster with extra depth.
NATIONAL LEAGUE
1. Dodgers
RHP Tony Gonsolin, LHP Victor González, RHP Brusdar Graterol, RHP Dustin May, INF Edwin Ríos, C Keibert Ruiz (Dodgers No. 2, MLB No. 68)
If the Wild Card Series goes the distance, the Dodgers could use Gonsolin as a traditional starter or Graterol as an opener in Game 3. May tied for the team lead with 10 starts but two of his last outings came in relief of an opener, a role he cold find himself in again in Game 3. González is the most trusted left-hander in the bullpen. Ríos is a right-handed power bat off the bench, while Ruiz is the third catcher in case one is needed.
2. Braves
RHP Ian Anderson (Braves No. 3, MLB No. 34), C William Contreras (Braves No. 7), OF Cristian Pache (Braves No. 1, MLB No. 10), RHP Kyle Wright
The Braves will rely on a pair of their young right-handed pitching prospects to propel them beyond the Wild Card Series against the Reds. Anderson, who was dominant in his six starts this season (1.95 ERA, .172 BAA and 1.08 WHIP), and Wright, who may have turned a corner with three strong September starts, will start Games 2 and 3 of the series, if necessary. The Braves decided to carry three catchers, with Contreras giving them some extra flexibility off the bench with Travis d'Arnaud and Tyler Flowers serving as the starter and primary backup. Pache was added while veteran Ender Inciarte was kept off the roster, and the Braves' top prospect could help out as a defensive replacement or pinch-runner late in games.
3. Cubs
RHP Adbert Alzolay (Cubs No. 6), SS Nico Hoerner
Hoerner split the second-base job with Jason Kipnis during the regular season, but the rookie slumped in September and will have the platoon disadvantage against all three Marlins starters, so the veteran will get most of the at-bats in the Wild Card Series. Alzolay earned a postseason roster spot by pitching well during the final week and will serve in long relief during the first round.
4. Padres
C Luis Campusano (Padres No. 4, MLB No. 46), SS/2B Jake Cronenworth, SS Jorge Mateo, LHP Adrian Morejon, RHP Luis Patiño
Patiño, 20, struggled with his control in his first taste of the big leagues but possesses the type of electric stuff that could make him a force coming out of the Padres' postseason bullpen. The same goes for Morejon, who's capable of working multiple innings if needed. Cronenworth, an NL Rookie of the Year candidate, has provided the Padres with consistency and stability on both sides of the ball. Campusano, the 2019 California League's Co-MVP, hit a home run and scored two runs in his big league debut before a hamstring injury sent him to the Injured List. He provides the Padres with some right-handed pop off the bench, while Mateo's game-changing speed could help him make an impact as a pinch-runner.
5. Cardinals
LHP Génesis Cabrera, OF Dylan Carlson (Cardinals No. 1, MLB No. 14), LHP Kwang Hyun Kim, C Andrew Knizner, RHP Johan Oviedo (Cardinals No. 12), 1B Rangel Ravelo, RHP Kodi Whitley (Cardinals No. 14)
Kim gets the ball in Game 1 against the Padres after the 32-year-old left-hander went 3-0 with a 1.62 ERA in 39 regular-season innings (8 appearances/7 starts). Cabrera had a breakout campaign for Cardinals, posting a 2.42 ERA, .132 BAA and 12.4 K/9 over 19 appearances, and gives the club a second bat-missing left-hander in the bullpen, where he'll be joined by right-handers Oviedo and Whitley. Carlson had a challenging rookie campaign but was hot down the stretch, batting .286 with seven extra-base hits and 11 RBIs over his final 11 regular-season contents. Ravelo and Knizner are both high-contact right-handed hitters who could come off the bench for St. Louis in the postseason.
6. Marlins
SS Jazz Chisholm (Marlins No. 4, MLB No. 61), 1B Lewin Diaz (Marlins No. 8), LHP Braxton Garrett (Marlins No. 7), OF Monte Harrison (Marlins No. 10), RHP Nick Neidert (Marlins No. 11), LHP Trevor Rogers (Marlins No. 9), RHP Sixto Sánchez (Marlins No. 1, MLB No. 19)
Miami's playoff roster includes seven of the top 11 prospects on Marlins Top 30 list. The most vital is Sánchez, who had four quality starts in his first five outings before faltering in his last two. He'll start Game Two against the Cubs. Chisholm, Diaz, Harrison struggled to make consistent contact in the big leagues, so they'll play bench roles. Garrett, Neidert and Rogers are starters moved to the bullpen for now and are capable of eating innings in middle relief.
7. Reds
OF Shogo Akiyama, RHP Tejay Antone, SS Jose Garcia (Reds No. 6)
Antone made four starts and nine relief appearances during the regular season and will serve in the latter role in the postseason after posting a 1.89 ERA, .097 BAA and 12.8 K/9 rate coming out of the bullpen. Garcia didn't hit well during his big league debut season, but got a lot of starts at shortstop because of his defensive acumen. That could still occur in the postseason and he'll certainly be a defensive replacement when Kyle Farmer gets the start.
8. Brewers
C Jacob Nottingham, RHP Drew Rasmussen, OF Tyrone Taylor (Brewers No. 22), RHP Justin Topa, RHP Eric Yardley
The Brewers will have a pair of flame-throwing right-handers in their postseason bullpen in Rasmussen and Topa, whose fastballs averaged 97.6 mph and 97.5 mph, respectively, during the regular season. Yardley posted a 32.6 percent whiff rate and .095 BAA with his curveball en route to a regular-season ERA of 1.54 ERA. Taylor is an excellent athlete who can play all three outfield positions and offers some sneaky pop from the right side of the plate. Nottingham's power comes at the cost of a respectable contact rate, but gives the Brewers a potential impact bat off the bench.