Here are the Royals' 2019 Top 30 Prospects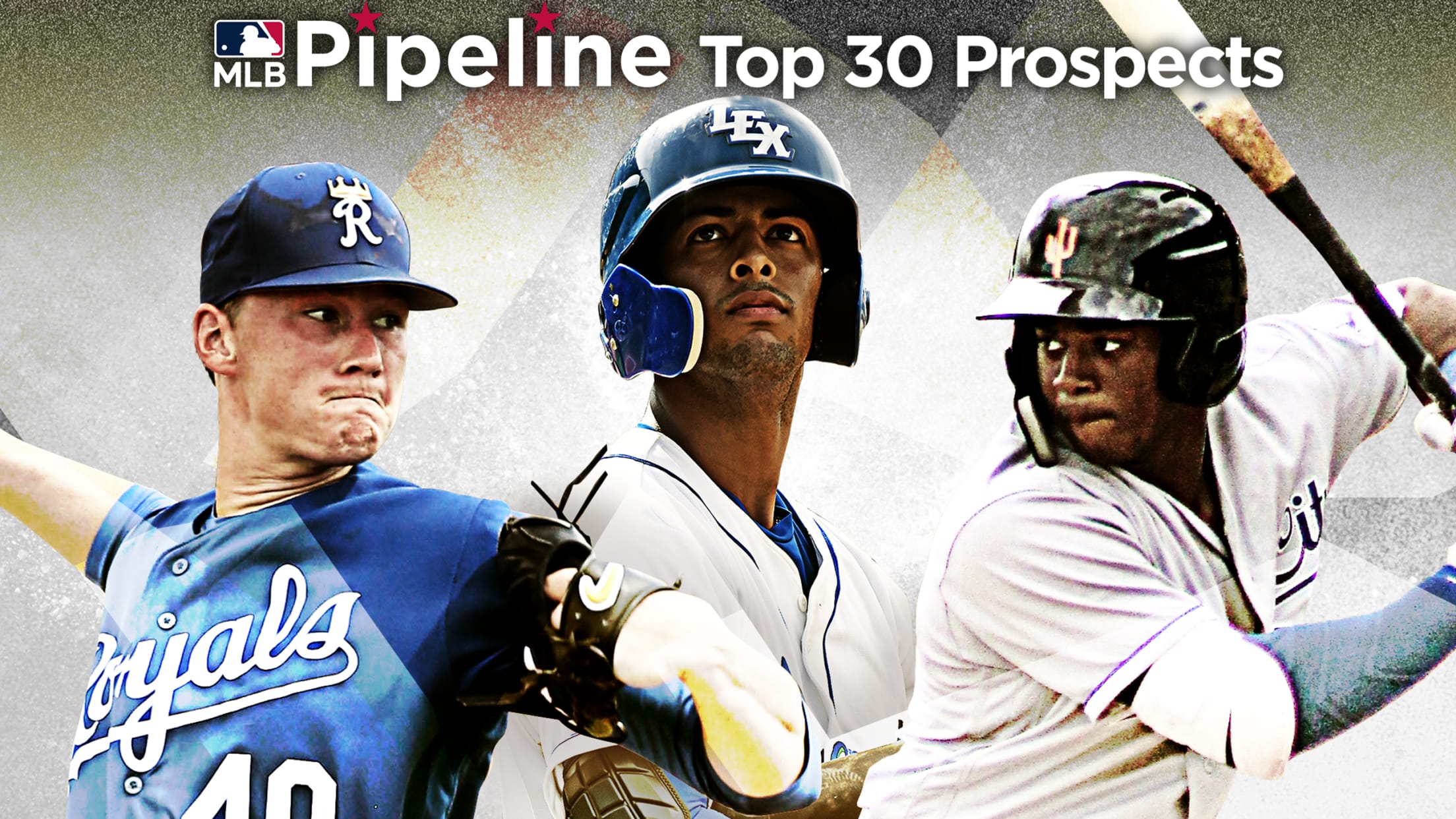 Several years ago, the Royals had the best farm system in baseball. We all know what happened since: Several from that system made it to the big leagues, others were traded for Major League help and the end result was a World Series title in 2015. A natural byproduct of
Several years ago, the Royals had the best farm system in baseball. We all know what happened since: Several from that system made it to the big leagues, others were traded for Major League help and the end result was a World Series title in 2015.
A natural byproduct of that was a greatly weakened farm system. The Royals knew that by going all in to win, their prospect coffers would be left barren. They're now in the process of restocking and while there's still plenty of work to be done before they're back where they were in their glory years, they've taken a very large step in the right direction.
Top 30 Prospects lists
| | |
| --- | --- |
| AL East | BAL, BOS, NYY, TB, TOR |
| NL East | ATL, MIA, NYM, PHI, WSH |
| AL Central | CLE, CWS, DET, KC, MIN |
| NL Central | CHC, CIN, MIL, PIT, STL |
| AL West | HOU, LAA, OAK, SEA, TEX |
| NL West | ARI, COL, LAD, SD, SF |
| Division | Team |
Much of that was because of a bumper crop of players, mostly college pitchers, from the 2018 Draft. Kansas City went aggressively after advanced pitching, taking five college arms with their first five selections, all in the top two rounds. Four of them are now in the Top 10, starting with No. 1 prospect Brady Singer. All could move fairly quickly up the ladder.
Combining those arms with some exciting offensive talent at the lower levels, hitters with upside like catcher MJ Melendez, outfielder Seuly Matias and first baseman Nick Pratto should give Royals fans hope that the prospect pipeline is getting back to where it needs to be to help the big league club get back to the top of the AL Central standings.
Here's a look at the Royals' top prospects:
1)Brady Singer, RHP
2) Khalil Lee, OF
3) MJ Melendez, C
4) Daniel Lynch, LHP
5) Nick Pratto, 1B
Biggest jump/fall
Here are the players whose ranks changed the most from the 2018 preseason list to the 2019 preseason list.
Jump: Yefri Del Rosario, RHP (2018: 28| 2019: 16) -- Del Rosario made a very smooth transition to full-season ball in 2018 in his first year with the Royals.
Fall:Foster Griffin, LHP (2018: 10 | 2019: NR) -- Griffin regressed in his second year in Double-A, finishing with an ERA over 5.00.
Best tools
Players are graded on a 20-80 scouting scale for future tools -- 20-30 is well below average, 40 is below average, 50 is average, 60 is above average and 70-80 is well above average. Players in parentheses have the same grade.
Hit: 55 -- Nick Pratto (Nicky Lopez, Kyle Isbel, Michael Gigliotti, Emmanuel Rivera)
Power: 60 -- Seuly Matias
Run: 65 -- Brewer Hicklen (Michael Gigliotti)
Arm: 70 -- Seuly Matias
Defense: 65 -- Blake Perkins
Fastball: 70 -- Josh Staumont
Curveball: 60 -- Josh Staumont
Slider: 60 -- Brady Singer
Changeup: 60 -- Jackson Kowar (Kris Bubic)
Control: 55 - Daniel Lynch (Brady Singer)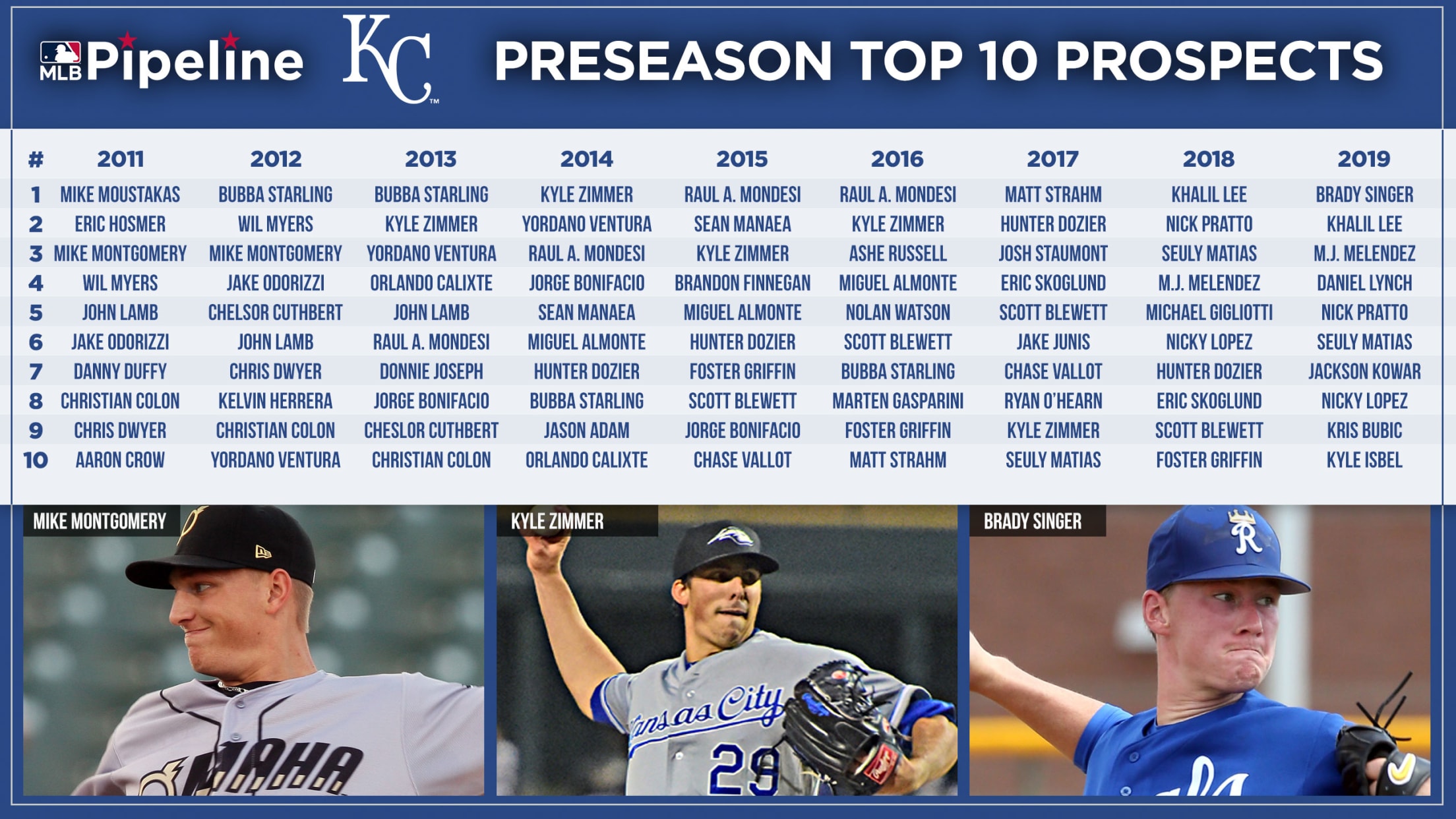 .
How they were built
Draft: 18 | International: 7 | Trade: 3 | Free agent: 1 | Rule 5: 1
Breakdown by ETA
2019: 7 | 2020: 8 | 2021: 14 | 2022: 1
Breakdown by position
C: 3 | 1B: 1 | 2B: 0 | 3B: 2 | SS: 2 | OF: 6 | RHP: 11 | LHP: 5