Teammates leading All-Star campaign for Dozier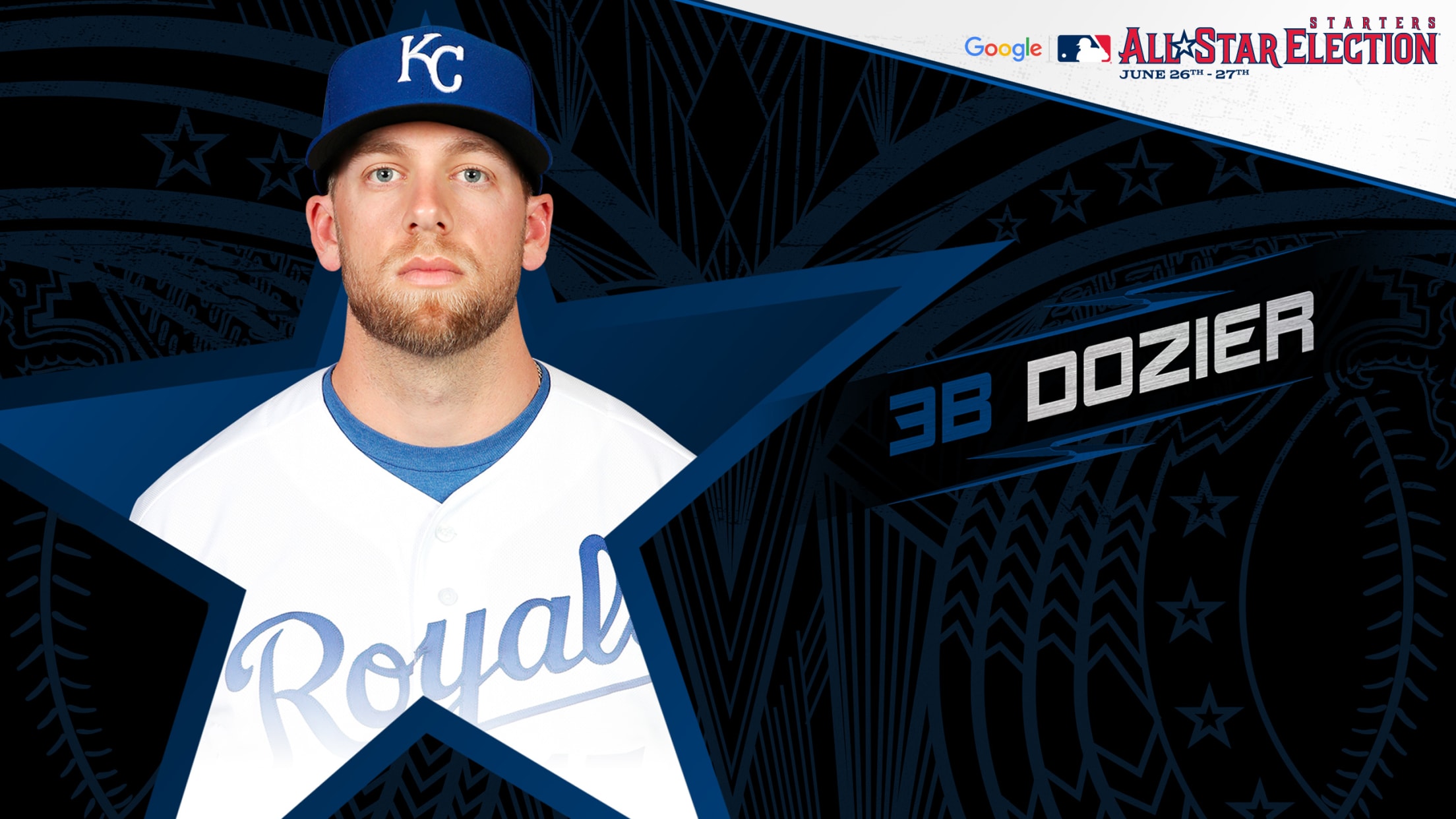 VOTE NOW! The All-Star Starters Election ballot is open until Thursday at 3 p.m. CT. Questions? Our complete guide to voting will fill you in on everything you need to know. CLEVELAND -- Hunter Dozier's teammates and the Royals' social media department didn't waste any time Wednesday continuing their campaign
VOTE NOW! The All-Star Starters Election ballot is open until Thursday at 3 p.m. CT. Questions? Our complete guide to voting will fill you in on everything you need to know.
CLEVELAND -- Hunter Dozier's teammates and the Royals' social media department didn't waste any time Wednesday continuing their campaign to get the third baseman elected to start the 2019 All-Star Game.
The Starters Election portion of the Google MLB All-Star Ballot is open through Thursday at 3 p.m. CT, and the "Vote Dozier" T-shirts were proudly worn in the clubhouse.
• VOTE NOW: Google MLB All-Star Starters Election
Dozier, one of three finalists for the voting, certainly has done his part lately, including a go-ahead grand slam in the ninth inning of Tuesday's 8-6 win over the Indians.
#VoteDoz! He's one of the best guys around, father of 2, Texas boy, and an avid, yet average golfer. He deserves your vote! pic.twitter.com/HUjWR0gfuX

— Whit Merrifield (@WhitMerrifield) June 26, 2019
"It's just been enjoyable to watch his development," manager Ned Yost said. "You look at his at-bat [Tuesday] night -- he didn't elevate the importance of it. He just treated it like any other at-bat and went up there and put a good swing on it."
The #DailyDoz ahead of polls opening at the top of the hour. @hdozier_17 leads the Majors with six game-tying or go-ahead RBI in the 8th inning or later. #VoteDozier // https://t.co/Pj9GIE7v24 pic.twitter.com/dPSRzSp0TL

— #VoteDozier (@Royals) June 26, 2019
Here are the other finalists at third base:
Alex Bregman (HOU): 1-time All-Star (0 starts)
In just two full seasons in the Majors entering 2019, Bregman had already established himself as a consistent performer on a strong offensive team. His slugging percentage and on-base percentage are both very close to what they were last year, when he finished fifth in American League MVP Award voting and was an All-Star for the first time. No Astros player has ever started an All-Star Game at third base.
Gio Urshela (NYY): Has not been named to an All-Star team
Urshela has gotten the chance to play more frequently than ever before with the Yankees' early-season injury situation. He's embraced it, and he's having the best year of his career. Urshela is on pace for career highs in batting average, slugging percentage and on-base percentage. He's come up clutch for the Yankees on numerous occasions and has helped them remain among the top teams in the AL East.
The 2019 All-Star Game presented by Mastercard will be played on Tuesday, July 9, at Progressive Field in Cleveland. It will be televised nationally by FOX Sports; in Canada by Rogers Sportsnet and RDS; and worldwide by partners in more than 180 countries. FOX Deportes will provide Spanish-language coverage in the United States, while ESPN Radio and ESPN Radio Deportes will provide exclusive national radio coverage. MLB Network, MLB.com and SiriusXM also will provide comprehensive All-Star Week coverage. During the game, fans may visit MLB.com and the 30 club sites to submit their choices for the Ted Williams Most Valuable Player Award presented by Chevrolet. For more information about MLB All-Star Week and to purchase tickets, please visit AllStarGame.com and follow @MLB and @AllStarGame on social media.
Royals DFA Boxberger
As expected, the Royals reinstated left-hander Eric Skoglund from the suspended list on Wednesday and optioned him to Triple-A Omaha.
In a corresponding 40-man roster move, the club designated right-hander Brad Boxberger for assignment. The Royals then recalled left-hander Tim Hill.
Boxberger had been signed to a one-year deal in the offseason, but never seemed to get on track, putting up a 5.40 ERA in 29 outings.
When a player's contract is designated for assignment -- often abbreviated "DFA" -- that player is immediately removed from his club's 40-man roster, and 25-man roster if he was on that as well. Within seven days of the transaction (it was previously 10 days), the player must either be traded, released or placed on irrevocable outright waivers.