Inbox: How many position players will KC carry?
Beat reporter Jeffrey Flanagan answers questions from Royals fans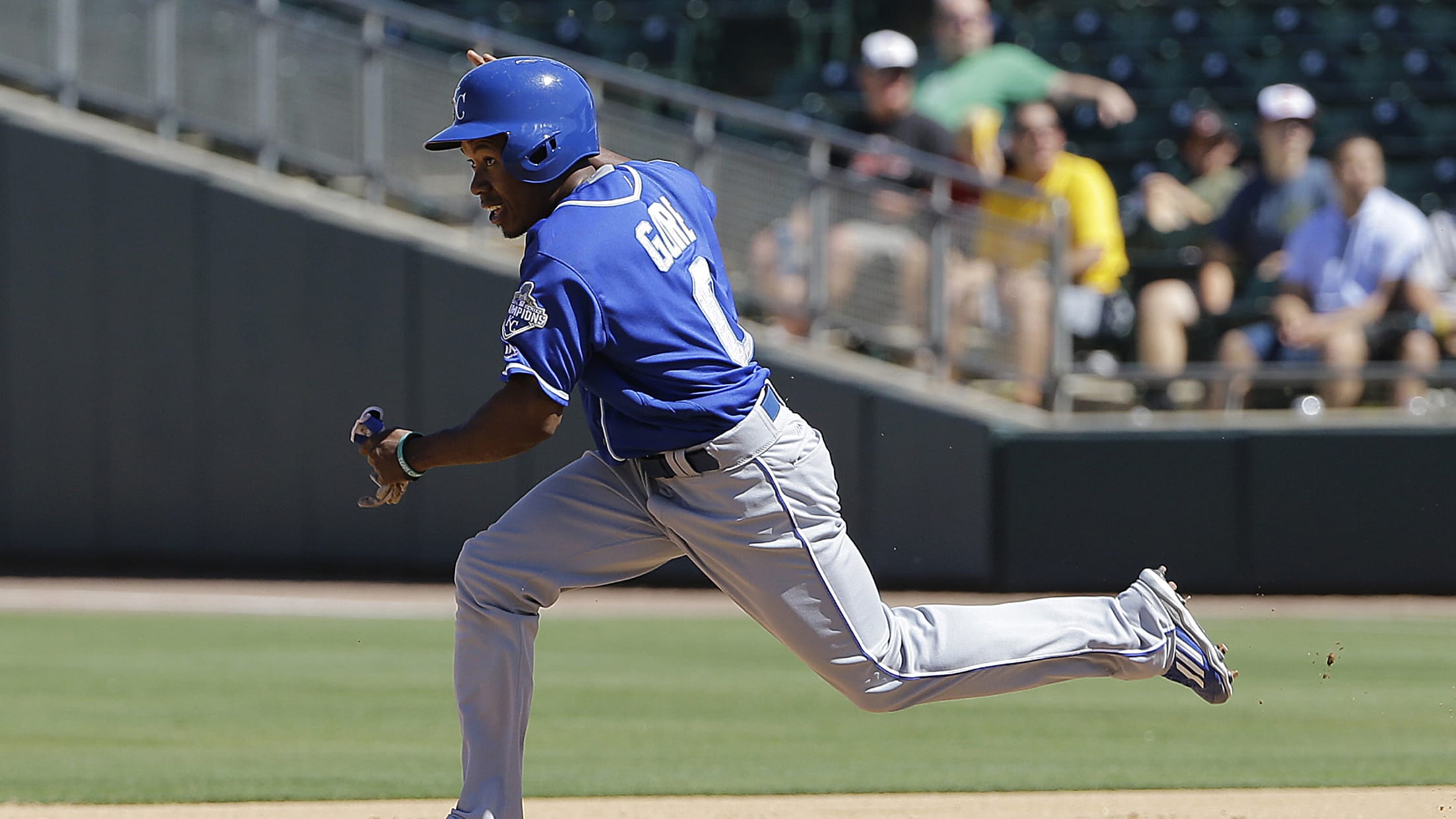 Kansas City Royals' Terrance Gore runs to second base after a throwing error by Oakland Athletics pitcher Kendall Graveman during the fourth inning of a spring training baseball game against the Oakland Athletics in Mesa, Ariz., Sunday, March 27, 2016. (AP Photo/Jeff Chiu) (Jeff Chiu/AP)
KANSAS CITY -- This could be an exciting camp for the Royals as they inch closer to pitchers and catchers reporting for Spring Training on Feb. 12.There will be obvious battles at the back end of the rotation, all over the bullpen and certainly for the right-field job (and outfield
KANSAS CITY -- This could be an exciting camp for the Royals as they inch closer to pitchers and catchers reporting for Spring Training on Feb. 12.
There will be obvious battles at the back end of the rotation, all over the bullpen and certainly for the right-field job (and outfield backups).
:: Submit a question to the Royals Inbox ::
With that in mind, let's get right to your questions in this week's Royals Inbox:
What're the chances that the Royals choose to start Opening Day with just 11 position players on the roster? Cam Gallagher and Chris Owings on the bench. Whit and Owings in super utility roles, rotating DH. There's a ton of pitchers that could use big league innings.

— Alex Duvall (@duvy_013) January 15, 2019
I hate to use the tired "anything is possible" line, but of course, that's true. However, I don't see a scenario for that to happen because with Terrance Gore among the 11 already -- they signed him with the plan he would be a late-inning pinch-running weapon -- that would mean releasing someone like Brian Goodwin. That seems unlikely. While Jorge Bonifacio and Brett Phillips have options, there's still a chance one of those could crack the 25-man roster and get a decent amount of playing time to justify not sending them to Triple-A Omaha. The other factor is, while having Whit Merrifield and Chris Owings gives manager Ned Yost plenty of lineup versatility, if the Royals pinch-run Gore as often as they project, they'll need that extra guy on the bench if they stretch games to extra innings. Gore would be a candidate to pinch-run for Alex Gordon, Salvador Perez, Ryan O'Hearn and possibly Jorge Soler, Goodwin and Bonifacio (if he makes the team). They might even go with 13 position players.
How do you see the outfield shaking out? Several options for this season...Gordon, Hamilton, Bonifacio, Goodwin, Soler, Phillips, Gore...

— Shawn Long (@burgmuleman) January 16, 2019
This will be a hot topic in camp. Obviously, Gordon and Billy Hamilton have two spots in the outfield. Who will be in right field? Soler, Phillips, Goodwin and Bonifacio all will be candidates. As mentioned, Phillips and Bonifacio have options, but I wouldn't be surprised if one of them makes the 25-man roster and gets enough playing time to warrant the decision. Soler, if healthy, is going to get most of the at-bats in any right field/designated hitter rotation. That's a fact. I could still see them carrying one more outfielder beyond Goodwin, though he could be a guy that is dealt at some point as the Royals begin to look toward the future with No. 2 prospect Khalil Lee and others.
Do you see Duffy and/or Kennedy moving to the bullpen?

— BH (@RoyalsGo) January 16, 2019
Yes, I have written about this several times this offseason. Moving either Danny Duffy or Ian Kennedy to the bullpen would be something that would play out in Spring Training and the early season. The Royals don't have any preconceived notions of making such a move, but they are open to it. I still think Kennedy, because of his command, could make sense as a late-inning guy.
• Duffy focused on reviving velocity, career
Of all the players invited to spring training who has a chance of making team? Like Jason Adams?

— Edward Halpin (@mredbaseball) January 16, 2019
Jason Adam has a big league fastball, no doubt. He needs to be able to command a breaking ball to get back to the bigs. He's not on the 40-man roster anymore, so he'll have to wow Yost and his staff in camp.
Do you think we will make a Chris Young/Chien-Ming Wang type of deal this spring training? Sign a veteran and end up shocking everyone?

— zach hilker (@ZACHilker) January 16, 2019
Count on it. They've already found one in right-hander Michael Ynoa, once a top prospect in the A's organization.
will we see Khalil Lee in the majors before a September call-up ?

— Dave Hamilton (@davehamiltonpbw) January 15, 2019
I think they'll show some patience with Lee, who was just elevated to Double-A Northwest Arkansas last year. He's not on the 40-man roster yet, but hey, if he comes out on fire in the Minors, he could force the Royals' hand.
Will this be Ned Yosts final season

— ǝsoo⅁ (@SpruceGoose_) January 15, 2019
Yost reiterated at the Winter Meetings what he said at the end of the season: The skipper, who enters his 10th season in Kansas City, could definitely see himself coming back in 2020. He has a lot of energy for this rebuild and wants to see it through.
Can we expect big tjings from Keller or sophomore slump?

— Bryan Larson (@jbryanlarson) January 15, 2019
Actually, if anything, I think Brad Keller has a chance to get even better. We don't know what his ceiling is by any stretch. He began to get more swings and misses as the season went on. Opposing hitters have told me he is a very "uncomfortable at-bat."
Royals? I forgot about them...lol. (j/k)

Will we see Kowar or Singer some time this year? Or do you think it'll be next year?

— Jennifer (@gingerylocks) January 15, 2019
Jackson Kowar and Brady Singer probably start out at Class A Advanced Wilmington, and there's no need to rush them to the Majors. Let them matriculate (hat tip Hank Stram in honor of the Chiefs' AFC Championship Game this Sunday) through the system.