Inbox: Will Royals reunite with Moustakas?
Beat reporter Jeffrey Flanagan answers questions from KC fans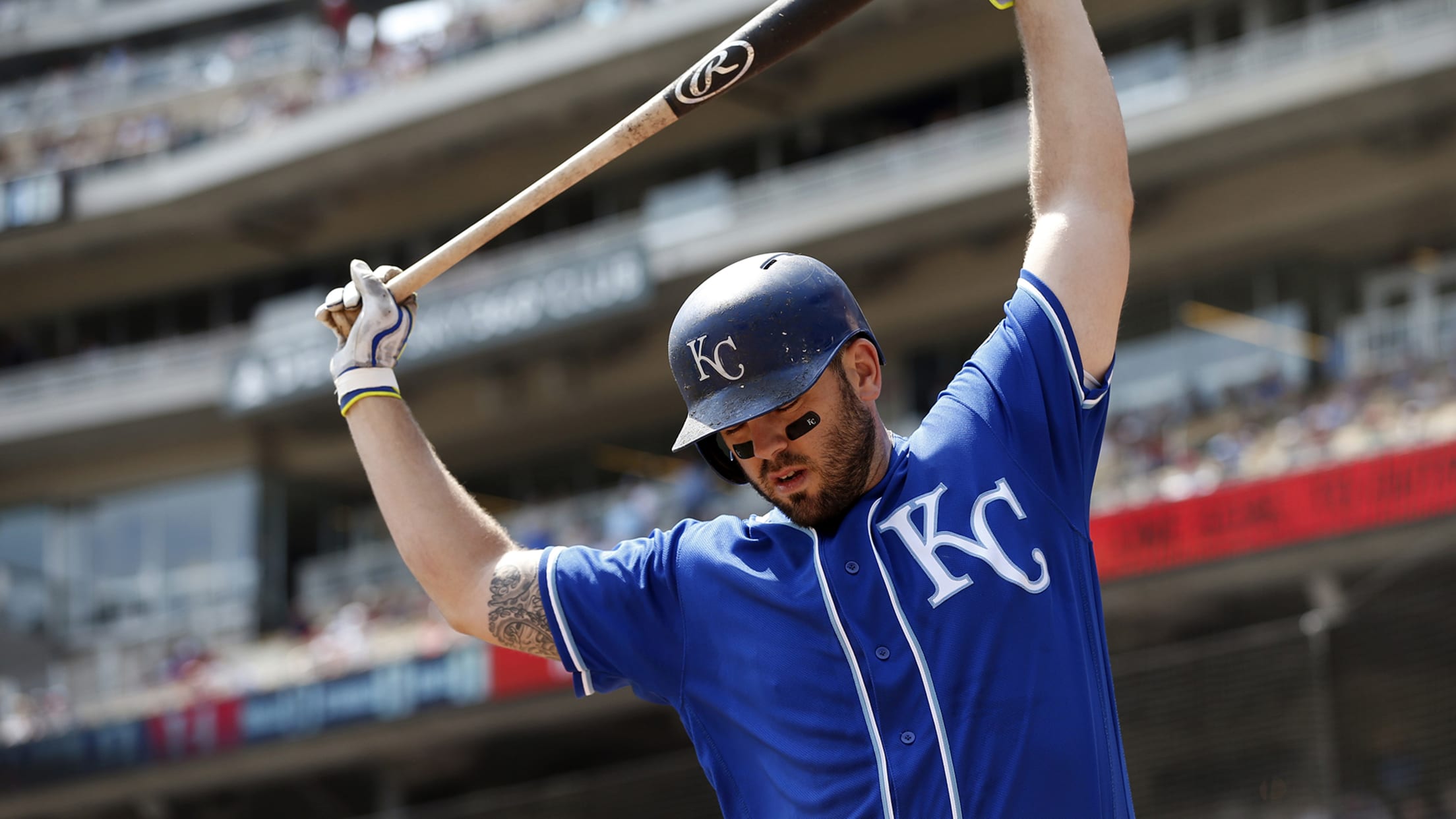 Kansas City Royals' Mike Moustakas stretches before batting against the Minnesota Twins in a baseball game Wednesday, July 11, 2018, in Minneapolis. (AP Photo/Jim Mone) (Jim Mone/AP)
KANSAS CITY -- The signs of spring are approaching. The Royals' annual FanFest starts Friday, and in less than three weeks, pitchers and catchers will conduct their first workout.So let's get straight to your questions for this week's Royals Inbox:
KANSAS CITY -- The signs of spring are approaching. The Royals' annual FanFest starts Friday, and in less than three weeks, pitchers and catchers will conduct their first workout.
So let's get straight to your questions for this week's Royals Inbox:
Has the been any interest in Moustakas around the league? If not is there a chance the Royals resign and flip him again?

— Jason Cassity (@JasonCassity) January 23, 2019
Last year at this time, the Royals were fairly adamant they were moving on from free agent Mike Moustakas. Then when the market collapsed, they got Moustakas on a bargain and were able to flip him at the non-waiver Trade Deadline for Brett Phillips and Jorge Lopez -- a sweet deal for the Royals. I don't see that scenario happening again, mainly because I don't think Moose and his agent, Scott Boras, want another short-term deal just to have him flipped again. And this time, the Royals really need to find out what they have with Hunter Dozier at third base. Then again, as general manager Dayton Moore always points out, baseball is unpredictable.
:: Submit a question to the Royals Inbox ::
Will Lopez crack the starting rotation?

— Mike Taylor (@85royal) January 23, 2019
As Royals fans know, I'm bullish on Lopez. The 25-year-old right-hander has dynamite stuff, and even if he doesn't make the rotation (I think he will), he'll be a big force as a late-inning guy.
With Perez' size, how long do you think it'll be until we see him at DH and first base more often? Could he possibly be our first baseman of the future?

— Ivan D Thompson (@IvanDThompson18) January 22, 2019
Yes, eventually age will catch up with Salvador Perez and he'll probably transition into more of a catcher/designated hitter role, especially with catching prospect (No. 5 on Royals' Top 30 list) MJ Melendez shooting through the system. I think Perez will see some time at first base in the future, but the Royals certainly hope that sixth-ranked prospect Nick Pratto will eventually claim that first-base spot for years to come. Pratto is a serious talent.
Hearing what lousy hitters some of the speedy guys are. Do the Royals plan make bunt & contact hitters out of them (like Whitey did with Willie Wilson)?

— Paul VanArsdale (@outpattern) January 22, 2019
Not sure anyone can claim that speed guys like Whit Merrifield and Raul Mondesi are "lousy hitters." Billy Hamilton isn't exactly Rod Carew, so maybe that's who some are referencing. I think the Royals would be thrilled if Hamilton could have an on-base percentage a little over .300 -- that's a modest goal, but with his speed that would translate into more than 50 steals. Not sure what kind of bunter Hamilton is -- we'll find out in the upcoming weeks in Surprise, Ariz. Terrance Gore isn't a great hitter, either, but that won't be his role. Gore will be a late-inning pinch-running specialist, and you will see him used extensively in that role.
Arnaldo Hernandez or Scott Blewitt. Any chance either cracks the rotation? Blewitt impressed in AZ tho his minor league stats haven't been good. They must like Hernandez given his quick advancement thru the system.

— Gallis Polse (@Kerry_Flanagan) January 23, 2019
Both Arnaldo Hernandez and Scott Blewett will get long looks in Spring Training. A Royals official described Hernandez as one of those guys that gets more impressive to the eye each time you see him pitch. The Royals plopped Hernandez on the 40-man roster last fall, and they are very high on the 22-year-old righty. Blewett has been a pleasant surprise to Royals officials, posting a 2.59 ERA over his last six starts at Double-A Northwest Arkansas, and then wowing everyone with a terrific stint in the Arizona Fall League (2.49 ERA over six starts). Blewett is 6-foot-6 with good downward action on his fastball and a plus curveball. The 22-year-old right-hander should have a bright future.
Last year it was Brad Keller. Who this year has the best chance of being the surprise star rookie for the Royals? Nicky Lopez? One of the Rule 5 picks? Staumont or Zimmer?

— Matthew Green (@Matthew11_) January 23, 2019
I don't think Nicky Lopez will be that surprise guy this year because he doesn't have to go on the 40-man roster until next fall. Club officials also do not want to elevate Lopez to the big leagues until he has a starting job secured. As for Josh Staumont and Kyle Zimmer, absolutely they could be the big surprises. Both are on the 40-man roster now and will get long looks in camp. The Royals, like all small-market teams, need pleasant surprises like Staumont or Zimmer or both to grab roster spots.
Since Skoglund is on the restricted list, what is the plan for his roster spot?

— Don'tTradeWhit&Salvy (@jediliz) January 22, 2019
I just talked to Moore about that roster spot, and the Royals are in no hurry to fill it prior to Spring Training.
Mr. @FlannyMLB this was one I asked last week. In your years covering the Royals, what has been the biggest "You got to be kidding me!?!??" Royals moment? The good and the bad? Example: Gordo tying it up in G1WS and Ken Harvey getting stuck behind the tarp.

— Kurtis Russell (@KurtisRussell) January 22, 2019
There are almost too many to narrow down, but I'll try. Naturally, the Perez game winner in the 2014 American League Wild Card Game is up there, as is the Alex Gordon homer in the ninth inning of Game 1 of the '15 World Series. And the eighth-inning rally in Game 4 of the '15 AL Division Series was incredible. I had already begun crafting my lede for that game story, which was basically an obit for the season that was about to end in disappointment.
But I think at the top of the list is the night of Sept. 30, 1992, when George Brett got four hits, the last of which was his 3,000th. I remember there was a lot of doubt whether or not Brett would get his 3,000th hit that season. We were in Anaheim, Calif., and Brett was battling a painful right shoulder injury. I remember that manager Hal McRae made out two lineups that night -- one with Brett in it and one without him in it. Earlier that day, I had followed Brett to San Diego because he was going to be examined to see if he could play again that season with just a few games left. It was a big story at the time. I believe he got a cortisone shot while in San Diego, and when we got back to Anaheim that night, he took about 40 or 50 practice swings off a tee and decided he could make a go of it. Brett collected two singles and a double when he came up in the seventh inning and rifled a wicked one-hopper that nearly took the second baseman's head off for hit No. 3,000. I also remember the brutal West Coast deadline that night as I was in my second full season on the Royals beat for The Kansas City Star then.
As for the worst moments, pick any in the early 2000s: Chip Ambres dropping a routine fly ball that would have been the final out in the midst of a 19-game losing streak, Kerry Robinson climbing the wall to catch a fly ball that actually dropped on the warning track, Ken Harvey taking one off the coconut with his back turned on a relay throw, etc. And most recently, anything Norichika Aoki did, like getting hit in the you-know-what while trying to catch a foul fly ball.
Thought you had a pretty solid HOF ballot. You said you hated leaving McGriff off, but did you consider strategically keeping a guy like Rivera off (who will get in regardless) to get Fred in on his last ballot?

— Max Rieper (@maxrieper) January 22, 2019
No chance I would have left Mariano Rivera off and become a national story as "that one writer who didn't vote for Mariano Rivera."