Wednesday's top prospect performers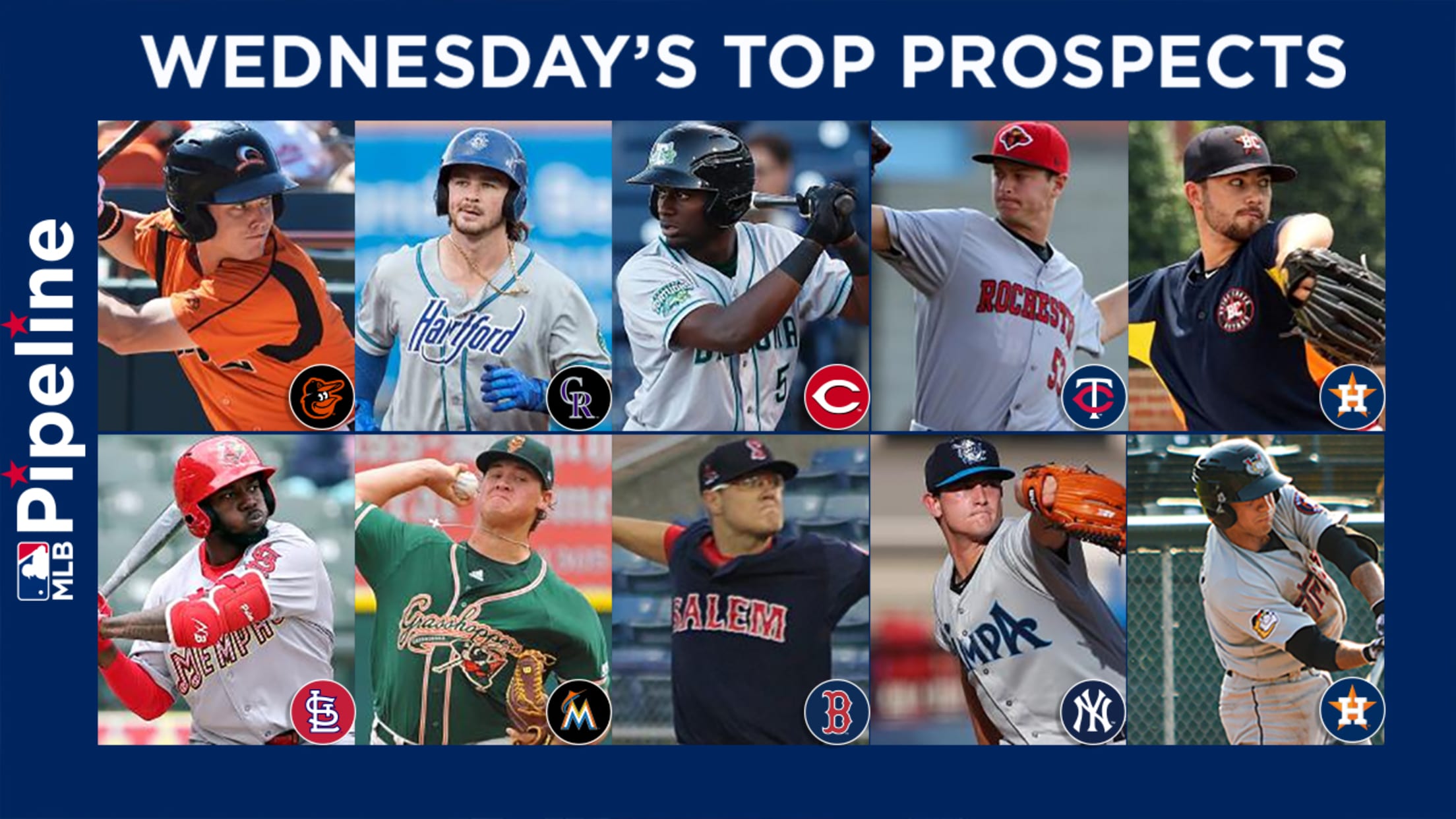 Here's MLB Pipeline's roundup of the top prospect performances in the Minor Leagues on Wednesday.Very few hitters are hotter than Ryan Mountcastle right now and the Orioles' top prospect continued to rake in Double-A Bowie's 5-3 loss to Altoona.:: Complete prospect coverage ::Mountcastle, the No. 79 overall prospect, has a
Here's MLB Pipeline's roundup of the top prospect performances in the Minor Leagues on Wednesday.
Very few hitters are hotter than Ryan Mountcastle right now and the Orioles' top prospect continued to rake in Double-A Bowie's 5-3 loss to Altoona.
:: Complete prospect coverage ::
Mountcastle, the No. 79 overall prospect, has a hit in 16 of his past 17 games after going 2-for-4 with a homer. Mountcastle has also homered in back-to-back games and is 5-for-13 (.385) in the three games since Sunday's Futures Game.
The 21-year-old has certainly played well lately, but the truth is he's pretty much hit all year, although his season got off to a bit of a late start because of a fractured hand. Mountcastle hit .278 in May, then bumped that up to .324 in June and has a ridiculous .357 average through 13 games in July.
While Mountcastle's calling card has always been his ability to hit, it's important to note that he's hitting well this year while also learning to play a new position. After coming up as a shortstop, the 2015 first-round pick was shifted to third late in 2017. After playing 37 games at the corner last year (as well as in the Arizona Fall League), Mountcastle has played third base exclusively in 2018.
MILB Video - Title: Mountcastle goes yard - Url: http://www.milb.com/r/video?content_id=2283462783
Overall Mountcastle is hitting .318/.366/.528 with 10 homers and 40 RBIs through 62 games.
Other top prospect performances from Wednesday's action:
• No. 6 overall prospect Brendan Rodgers (Rockies' No. 1) came up clutch with a pair of walk-off hits as Double-A Hartford swept a doubleheader against Reading. Rodgers went 2-for-3 with a walk-off single in Game 1 and then won the second game, which he finished 1-for-3, with a two-run double.
MILB Video - Title: Rodgers hits a walk-off - Url: http://www.milb.com/r/video?content_id=2283463183
• No. 34 overall prospect Taylor Trammell (Reds' No. 3) went 2-for-4 with a double and his first homer since late May for Class A Advanced Daytona. Trammell, who won the Futures Game MVP on Sunday, is 4-for-12 in three games back with Daytona. Jose Siri (Reds' No. 7) also had a big night at the plate, hitting a pair of homers and finishing 3-for-5 with four RBIs for Double-A Pensacola.
• No. 72 overall prospect Stephen Gonsalves (Twins' No. 4) was dominant once again. The lefty, who has struggled with command this season, walked five, but still threw six scoreless frames for Triple-A Rochester. Gonsalves has given up one earned run or less in six straight starts and has a 3.34 ERA through 14 starts with Rochester this season.
MILB Video - Title: Gonsalves finishes strong - Url: http://www.milb.com/r/video?content_id=2283515083
• Astros No. 29 prospect Brandon Bailey was unhittable as he extended his scoreless streak for Class A Advanced Buies Creek. Bailey, who hasn't given up a run over his past three starts (16 innings), cruised through five hitless innings. The right-hander issued a pair of walks and struck out five while throwing 34 of his 55 pitches for strikes.
• Cardinals No. 7 prospect Randy Arozarena was perfect at the plate in the first two-homer game of his career. Playing for Double-A Springfield, Arozarena went 4-for-4 with two homers, a double, four RBIs and four runs scored. The 23-year-old hit a solo homer in the fifth and then, needing a triple for the cycle, went deep again -- this time a two-run shot -- in the seventh.
MILB Video - Title: Watch: Arozarena goes yard - Url: http://www.milb.com/r/video?content_id=2283516383
• Marlins No. 27 prospect Tyler Kolek and Osiris Johnson, the club's second-round pick from the 2018 Draft turned in strong performances in the Rookie-level GCL. Kolek, making his first appearance since August 2017, gave up one hit in a scoreless inning. Offensively, Johnson put together the best game of his young pro career, going 4-for-6. The 17-year-old, doubled, hit his first homer, drove in three runs, scored three runs and stole a base.
• Red Sox No. 3 prospect Tanner Houck spun his second scoreless start of the season for Class A Advanced Salem, yielding five hits over six innings. The outing was a nice bounceback start for Houck after he had given up five runs over six innings in his last start. The right-hander also showed strong command in the outing as he struck out seven and issued just one walk. Red Sox No. 9 prospect Mike Shawaryn also had a good day on the mound, firing six innings of one-run ball in a win for Double-A Portland.
• Yankees No. 26 prospect Garrett Whitlock has been lights out this season and that continued in his debut with Double-A Trenton. The right-hander posted a 1.55 ERA through 87 1/3 innings with Class A Charleston and Class A Advanced Tampa before being promoted to the Thunder where he spun five scoreless frames. Whitlock struggled with his command as he walked five and didn't record a strikeout, but only gave up three hits and kept himself out of trouble.
• Astros fourth-round pick Alex McKenna hit his first two homers for Class A Short Season Tri-City. The 20-year-old, who finished 2-for-4 with four RBIs, has hits in nine of his past 10 games and is slashing .288/.386/.475 through the first 16 games of his professional career.
MILB Video - Title: Watch: McKenna launches 2nd homer of game - Url: http://www.milb.com/r/video?content_id=2284651383
• Kevin Woodall, the Cardinals' 10th-round pick from the 2018 Draft, hit a trio of homers as he finished 3-for-3 for Rookie-level Johnson City. Woodall, who also drew two walks, hit a two-run homer in the first, a solo shot in the fifth and capped his night with another two-run blast in the seventh.