Healy homers off good buddy from Team Italy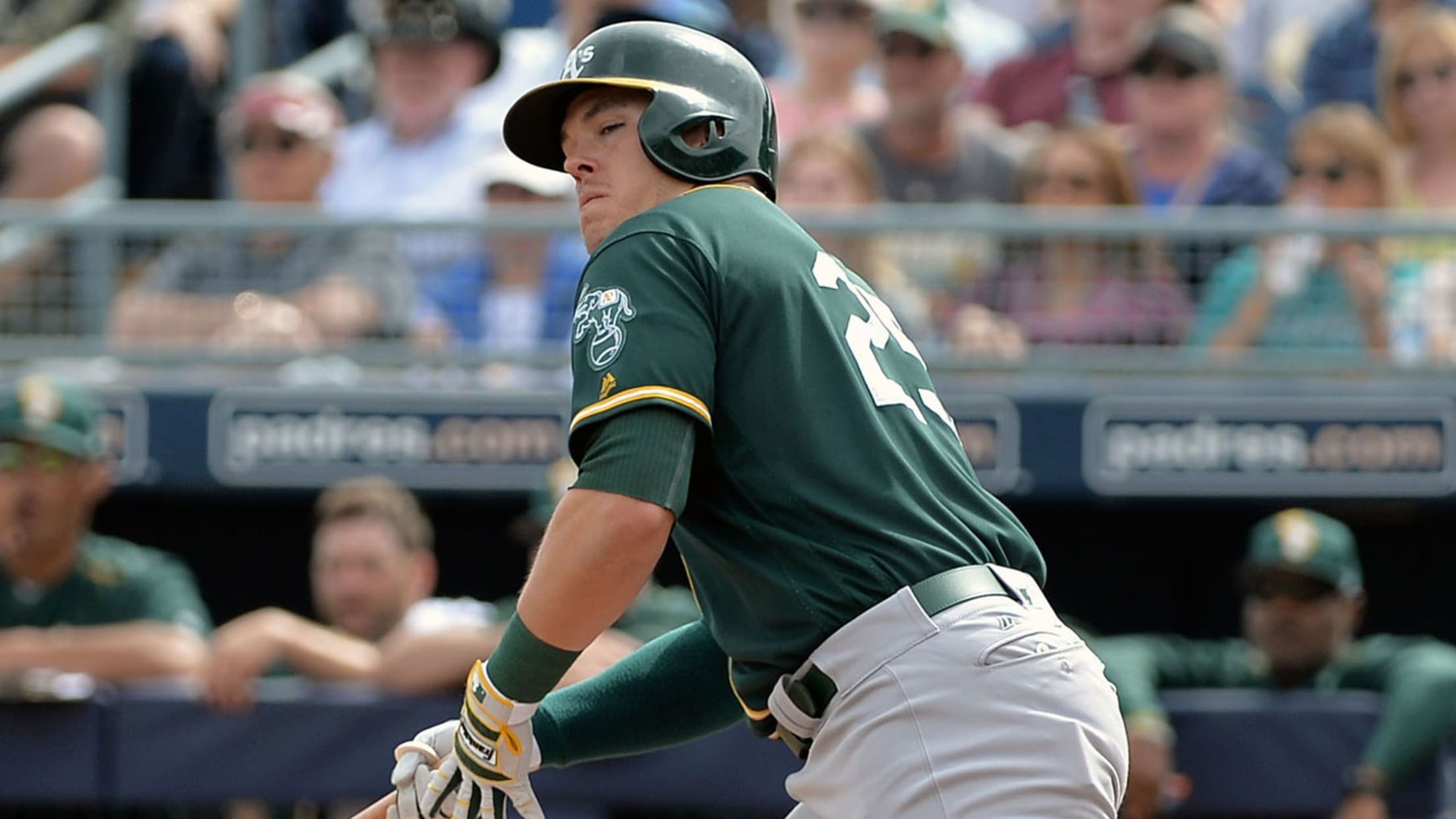 Ryon Healy connected for his second spring homer against teammate Zach Neal, who was pitching for Team Italy. (AP)
MESA, Ariz. -- The A's got a look at Team Italy on Wednesday -- and a peek at some of their own players wearing the Italia blue.In need of some extra pitchers, Italy borrowed a handful from Oakland, including right-hander Zach Neal, who took the mound in opposition of his
MESA, Ariz. -- The A's got a look at Team Italy on Wednesday -- and a peek at some of their own players wearing the Italia blue.
In need of some extra pitchers, Italy borrowed a handful from Oakland, including right-hander Zach Neal, who took the mound in opposition of his teammates in the fifth inning and offered up a homer to one: Ryon Healy, who sent a towering shot to left field for his second spring home run as the A's rolled to a 7-0 win in the exhibition contest.
"It's the same disappointment, but it's your friend," Neal said. "I'd rather strike him out, but he got me. That's what happens when you throw him a 1-0 fastball, I guess. He's a good hitter, and it's weird facing him, especially being with him all last year."
• Doolittle close to first Cactus League action
At least there's this: Healy's homer won't be included among official Cactus League stats since it came against a World Baseball Clasic participant.
"I told him that, too," Healy said. "I tried to not look him in the eyes so I could smile. Tried to keep it professional.
"Him and I kind of shared a look in the dugout, but I haven't really talked much since, so we'll see if he does talk to me."
Neal's catcher? A's Minor Leaguer Santiago Chavez.
"It was a little odd," A's manager Bob Melvin said.
Neal, who gets to keep his game-worn Italy hat, is a Texan who has no affiliation with the country he played for on Wednesday, "besides a trip this fall I'm planning."
"We were giving them a hard time in here because they were trying on the Italy jersey," Healy said.
A's non-roster pitcher Tyler Sturdevant also appeared in the game for Team Italy, and it happened to be his spring debut, after being slowed by injury.
"It's weird," Neal said. "I tried to treat it like a normal game, but it's weird facing all your teammates, that's for sure. They needed guys, and I needed to get so many pitches in, so it worked out well."
Worth noting
• Right-hander Kendall Graveman breezed through his third spring outing, allowing one hit and one walk with three strikeouts in three scoreless innings.
Fifth-starter candidate Jesse Hahn also pitched in the game, working around two hits and a walk to toss three shutout innings. He fanned four and showcased a nice assortment of pitches, flashing his changeup and slider more than he's typically prone to do.
"We were kind of working some combos and I felt really good about it," Hahn said. "I thought I executed pretty well. It's all stuff I throw, and now it's about executing it, throwing it off my fastball and being able to set up my fastball better, and that's what we did today."
Jane Lee has covered the A's for MLB.com since 2010.