Sanchez, J FORCE and ACE give back
Over 300 student come out for relay races and a chance to talk to Blue Jays pitcher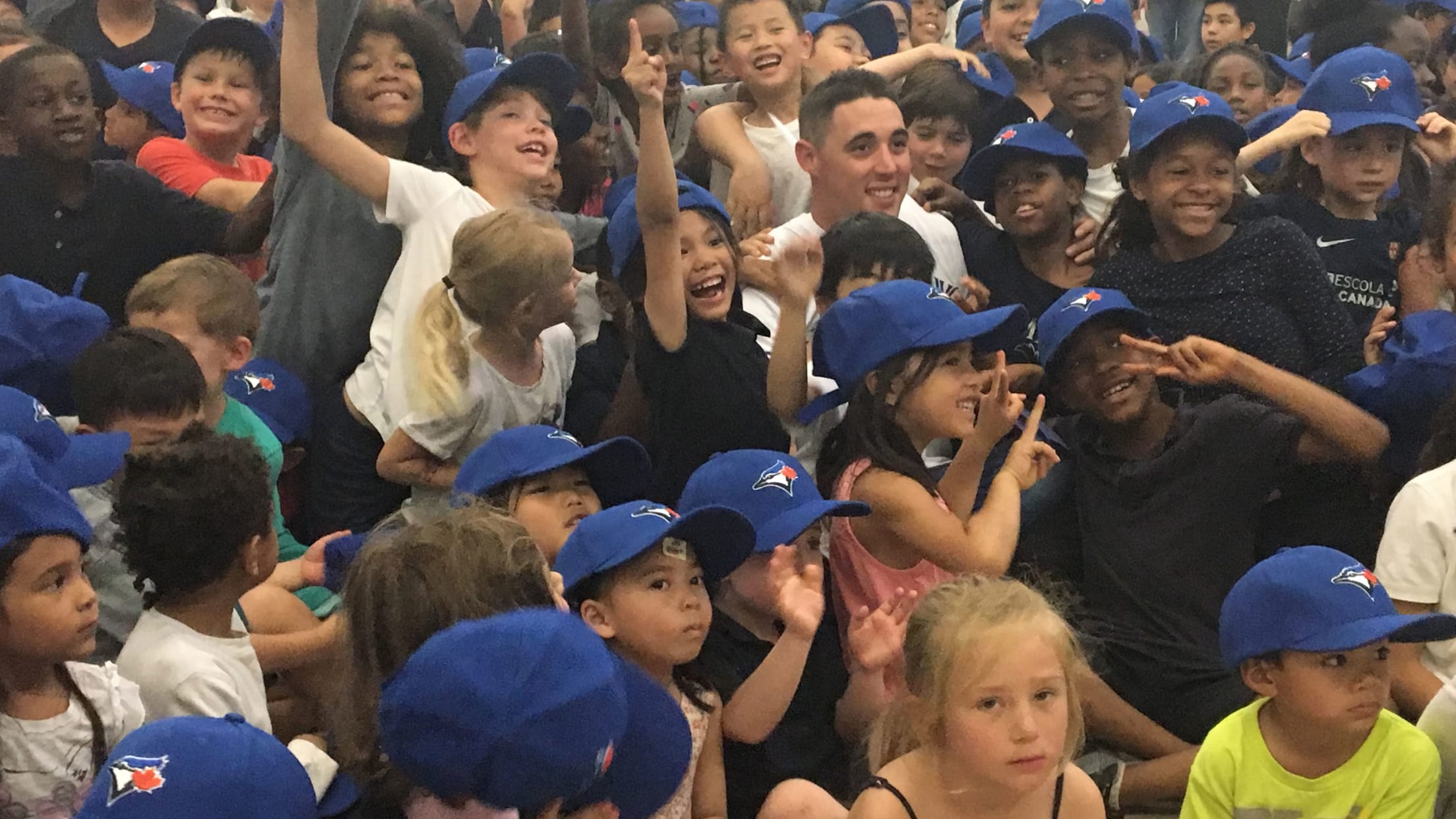 TORONTO -- Students at St. Mary Catholic School in Toronto got a big surprise on Friday afternoon when Blue Jays pitcher Aaron Sanchez stopped by for a visit.Sanchez, along with members of Toronto's J FORCE and ACE, the team's mascot, hosted a pep rally for over 300 students that included
TORONTO -- Students at St. Mary Catholic School in Toronto got a big surprise on Friday afternoon when Blue Jays pitcher Aaron Sanchez stopped by for a visit.
Sanchez, along with members of Toronto's J FORCE and ACE, the team's mascot, hosted a pep rally for over 300 students that included a relay race and an opportunity to ask Sanchez questions about his life on and off the field.
"Always have fun," Sanchez said. "Try to learn something new about yourself, the game, or about anything in life each day. If you can do that, you'll become a better person, a better player, and all of the above. I think the biggest thing I tell them is just never let anybody tell you that you can't do something you want. Dream big, because a lot of things are possible."

As part of the event, the Jays Care Foundation donated Rawlings equipment to the school, including baseball gloves, foam bats, batting tees, Wiffle balls, foam training balls and soft rubber baseballs. This donation is part of $6.2 million that will be invested by Jays Care in 2017 that will go to directly impact the lives of 65,000 young Canadians in all 10 provinces and the Yukon Territory.
Sanchez was swarmed by his young fans when he entering the gymnasium. Coming off back-to-back ALCS appearances with soaring attendance at Rogers Centre, the 24-year-old California native has seen interest in the game spike in Canada over his short time with the Blue Jays.
"Being with Jays Care's Rookie League, obviously I've seen that growth rapidly within the last few years," Sanchez said. "Just to be a part of that and kind of be an ambassador for those kids, getting them out there and getting them out of the house, bringing them back to what we did when we grew up. It means a lot. It gives them a chance and an understanding that anything is possible. It doesn't matter where you come from."
As the students of St. Mary Catholic School peppered Sanchez with questions, they learned that he would be a firefighter or athletic trainer if he weren't playing baseball, and his favorite pre-game snack is a peanut butter and jelly sandwich. And yes, even the 2016 American League ERA leader gets nervous before every game.
Sanchez encouraged the students to exercise daily and eat well, be pro-active about overcoming their obstacles, and to focus on the positives when they lose a game. Along with his own teachers, Sanchez credited his parents for helping him reach the position he's in today.
"I wouldn't be here in this position if it weren't for them. They sacrificed everything to get me here," said Sanchez, who also reminded the students to stay focused on their studies away from the ball field. "I took school very seriously. I made sure that I was a student first, athlete second."