Reid-Foley, Giolito among top prospect performers Tuesday
Blue Jays' No. 3 prospect strikes out 10 in 6 one-hit frames, Nats' No. 1 wins Triple-A debut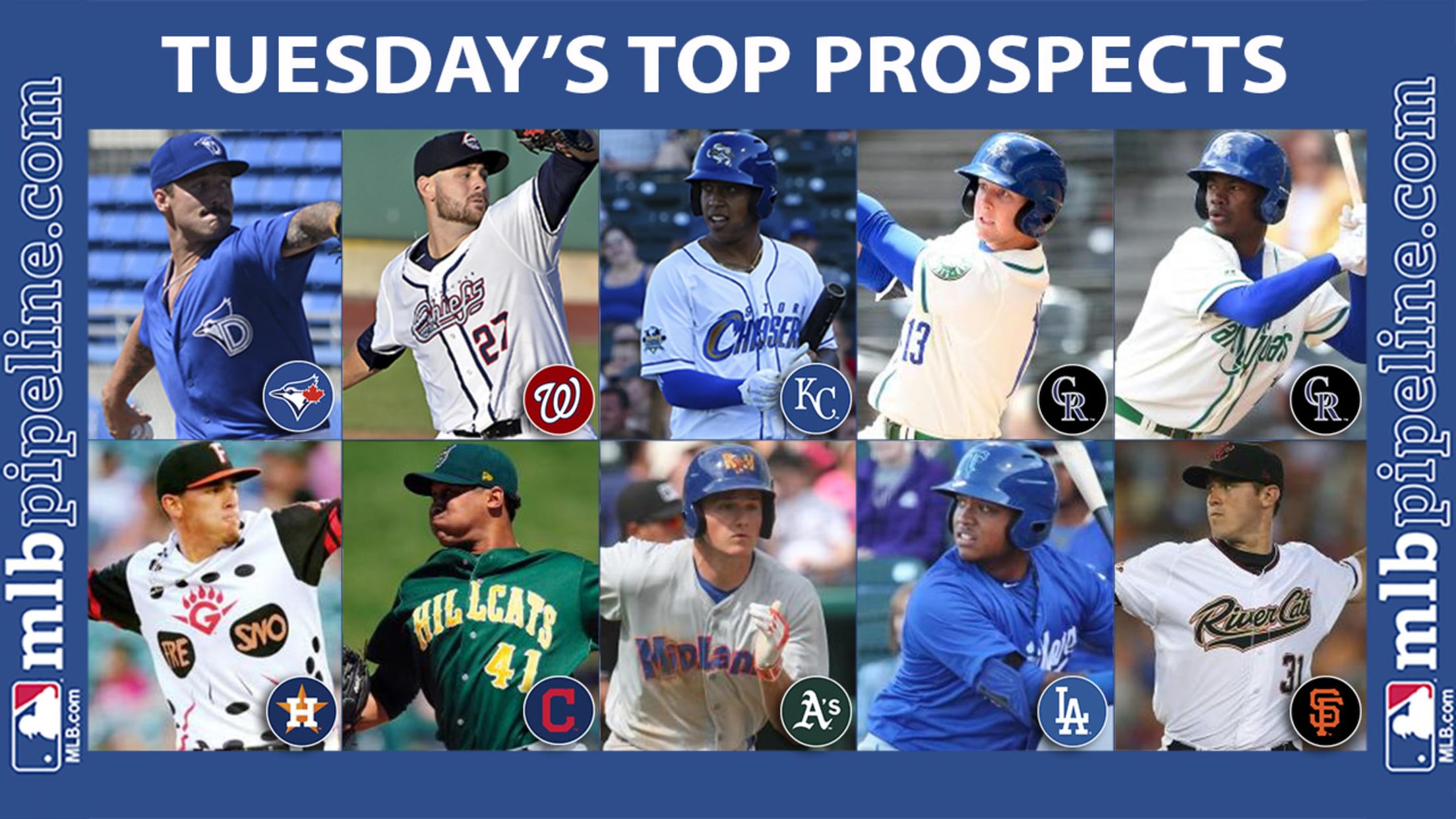 (Paul Sancya/AP)
After he gave up a season-worst six earned runs in his last start, Sean Reid-Foley returned to form Tuesday as he fired six innings of one-hit ball to lead Class A Advanced Dunedin in a 2-0 shutout over Charlotte.Reid-Foley, the Blue Jays' No. 3 prospect, struck out the side in
After he gave up a season-worst six earned runs in his last start, Sean Reid-Foley returned to form Tuesday as he fired six innings of one-hit ball to lead Class A Advanced Dunedin in a 2-0 shutout over Charlotte.
Reid-Foley, the Blue Jays' No. 3 prospect, struck out the side in his first and last innings of work and fanned 10 of the 21 hitters he faced, marking his third start this season in which he's recorded double-digit strikeouts. He recorded five ground-ball outs and walked a pair, while throwing 57 of his 90 pitches for strikes.
The fact that Reid-Foley, 20, has gone 5-0 with a 1.88 ERA in seven starts for Dunedin, despite struggling in his stint for the squad last year (5.23 ERA in eight starts), speaks to how he's improved. The right-hander owns a 0.77 WHIP and a 54-9 strikeout-to-walk ratio through 43 innings, during which he's yielded just two home runs while holding opposing hitters to a .159 average.
Reid-Foley was promoted to the Florida State League in mid-June after a strong showing at Class A Lansing, where he logged a 2.95 ERA with 59 strikeouts across 58 innings (11 starts).
Improved control and command have defined Reid-Foley's breakout campaign, as he's issued just 31 free passes in 101 innings after walking 67 hitters over 96 frames during his 2015 full-season debut. The 2014 second-rounder is 9-3 with a 2.50 ERA, a 0.97 WHIP and 113 strikeouts in 18 starts between the two levels.
The rest of the best performances from top prospects Tuesday
• Making his first Triple-A start, No. 1 overall prospectLucas Giolito picked up the win for Syracuse as he allowed one unearned run on seven hits over 6 2/3 innings against Gwinnett. The Nationals' No. 1 prospect recorded seven strikeouts against two walks and generated nine ground-ball outs, throwing 70 of his 104 pitches for strikes.
MILB Video - Title: Giolito notches first Triple-A K - Url: http://www.milb.com/r/video?content_id=946457783
• No. 32 overall prospectAdalberto Mondesi (Royals' No. 1) Mondesi fell a single short of the cycle on Tuesday afternoon, finishing 3-for-5 with three RBIs in Triple-A Omaha's win. The home run was his first in nine games since being promoted from Double-A Northwest Arkansas, and he also stole his first base at the Triple-A level.
MILB Video - Title: Mondesi hits first Triple-A homer - Url: http://www.milb.com/r/video?content_id=946184583
• Both No. 41 overall prospect Ryan McMahon (Rockies' No. 3) and Raimel Tapia (Rockies' No. 6) went 4-for-5 at the plate with two extra base hits and two RBIs as Double-A Hartford hammered Altoona, 10-2. McMahon slugged his seventh homer, a solo shot in the second inning, and later added a double, while Tapia hit a pair of doubles in his third four-hit performance of the season.
• No. 92 overall prospect Justus Sheffield (Indians' No. 5) fired 6 2/3 scoreless innings for Class A Advanced Lynchburg, matching his season high, in a win versus Wilmington to lower his ERA to 3.53. The 20-year-old lefty scattered four hits and punched out eight, giving him 87 strikeouts in 89 1/3 innings (18 starts) for the season.
• No. 94 overall prospect Matt Chapman (A's No. 3) went 4-for-5 with a career-best three doubles and four RBIs to power Double-A Midland in a 14-2 rout of Corpus Christi. The 23-year-old third baseman has struggled of late, going 2-for-24 over his last six games before erupting for four hits.
MILB Video - Title: Chapman cracks his third double - Url: http://www.milb.com/r/video?content_id=946667983
• No. 97 overall prospectJoe Musgrove yielded six hits over seven scoreless innings in his finest start as a member of Triple-A Fresno. With a season-high nine strikeouts and zero walks, the Astros' No. 7 prospect improved his strikeout-to-walk ratio to 71-9 through 71 1/3 innings between the Double-A and Triple-A levels.
MILB Video - Title: Musgrove records 9th strikeout - Url: http://www.milb.com/r/video?content_id=946536083
• Dodgers No. 15 prospect Willie Calhoun has showcased his power in his first full pro season, and that's never been more true than it was in Double-A Tulsa's 7-1 win over Northwest Arkansas, as he went 2-for-4 with a pair of home runs. The 2015 fourth-rounder has 19 homers in 88 games this season, during which he's hit .259/.322/.482 with 61 RBIs.
MILB Video - Title: Calhoun drills his second homer - Url: http://www.milb.com/r/video?content_id=946724783
• Giants No. 21 prospectTy Blach pitched brilliantly for Sacramento, tossing six one-hit innings in a 1-0 shutout of New Orleans. The 25-year-old left-hander did not issue a walk, struck out three and induced nine ground-ball outs (including one double play) en route to facing 19 hitters -- one over the minimum. Blach has logged 30 innings during his four-start winning streak for the River Cats, striking out 22 and walking one in that span.
MILB Video - Title: Blach finishes sixth frame - Url: http://www.milb.com/r/video?content_id=946220683
• It was a special day for a pair of Nationals prospects, as Andrew Stevenson (No. 8) and Drew Ward (No. 14) hit their first Double-A homers in Harrisburg's 5-2 win over Erie. It was just the second home run of the season for Stevenson, while Ward went deep for the 12th time.
MILB Video - Title: Stevenson hits first Double-A homer - Url: http://www.milb.com/r/video?content_id=946193683
• Padres No. 28 prospect Luis Urias extended his hitting streak to 13 games and connected on his fifth home run for Class A Advanced Lake Elsinore. It was the second straight three-hit game for the 19-year-old second baseman, who finished 3-for-4 with a double and a walk and scored three runs. Urias is raking at a .336 clip for the Storm this season.