One bold second-half prediction for every team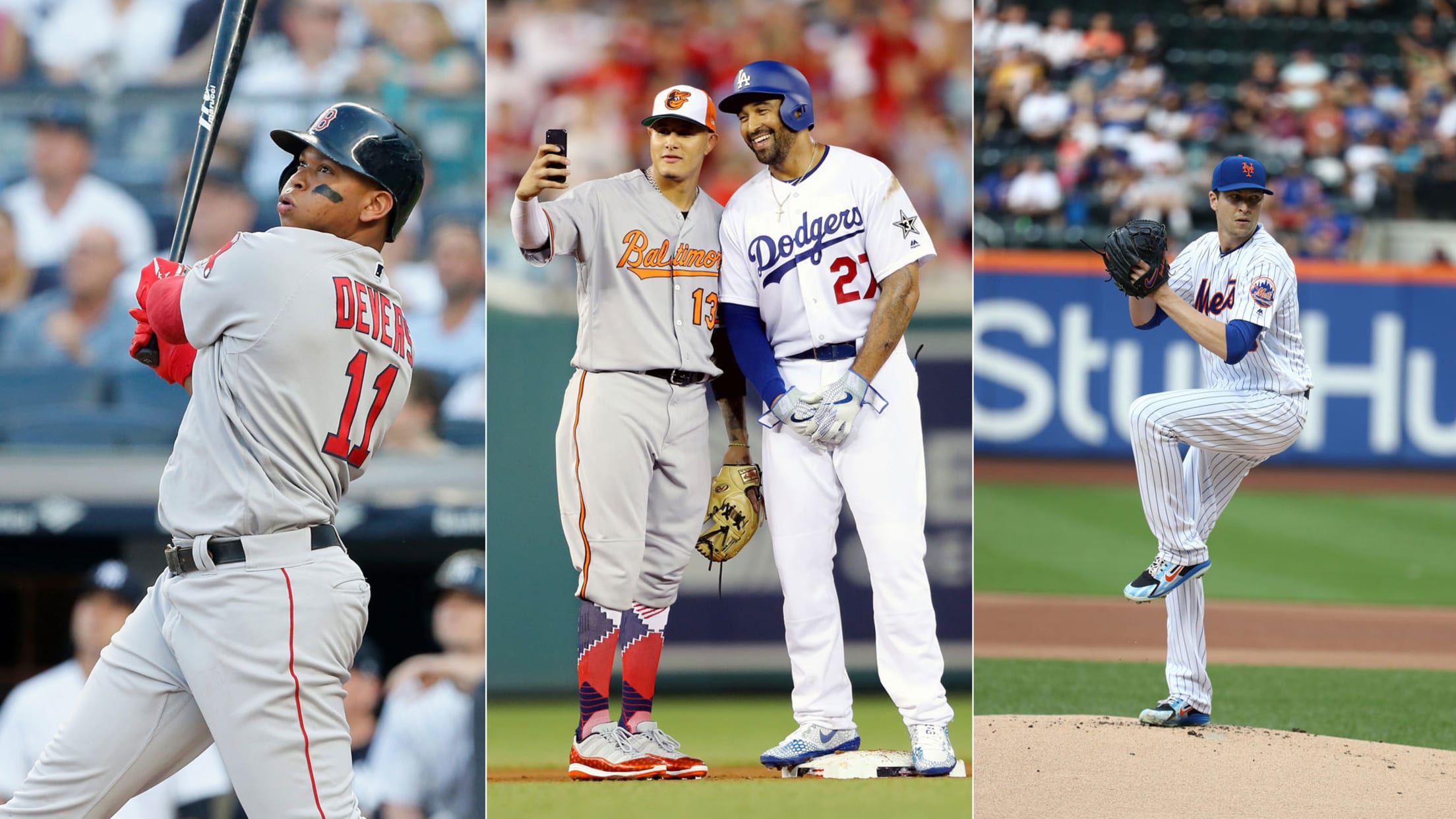 The All-Star festivities are a welcome break, but don't get too comfortable: It's going to start getting real serious real quick now that this little week-long celebration is over. Every Major League Baseball team has a lot of decisions to make in the next two weeks leading up to the
The All-Star festivities are a welcome break, but don't get too comfortable: It's going to start getting real serious real quick now that this little week-long celebration is over. Every Major League Baseball team has a lot of decisions to make in the next two weeks leading up to the July 31 non-waiver Trade Deadline; decisions that will affect not only the rest of this season, but seasons in the future.
It's an exciting, unsettling time for a fan, but worry not: The Thirty is here to help. Here is one second-half prediction for each MLB team. Some involved on-field performance; some guesstimate about trades; some are just goofy. But you have questions about the second half. We have some probably wrong, but hopefully entertaining answers.
AMERICAN LEAGUE EAST
Blue Jays
Josh Donaldson not only won't be traded, but you'll start hearing rumblings about his re-signing with the Blue Jays.
Donaldson is still rehabbing his strained left calf muscle, and he is expected to return before the Trade Deadline passes. That's probably still too soon for him to be traded in time, and even though he could theoretically pass through waivers and be traded in August, here's betting that he spends the final month of the season slowly working himself back into shape and floating the idea of a one-year pillow contract to rebuild his free-agent case after the 2019 season. Heck, one season of Donaldson and Vladimir Guerrero Jr. as teammates wouldn't be all bad, would it?
Orioles
The Manny Machado haul will be better than you think, but still not enough.
The minuscule return the Tigers got for J.D. Martinez last year had many worrying that the Orioles won't get much for Machado. But even though they waited a year (or two!) too long to trade Machado, and though they only got one Top 100 prospect, they still did better than Detroit did. Unfortunately, it's still but a tiny drop in the bucket of their rebuild, which is going to take much longer than one suspects anyone in Baltimore is prepared for.
Rays
The Rays will win enough games to win the Wild Card … last year.
Tampa Bay is better than you think, and it could easily surpass the 85 wins Minnesota notched to grab the second AL Wild Card spot last year. But 85 wins isn't going to cut it this time.
Red Sox
The Red Sox will trade for a third baseman, but Rafael Devers will end up being better in September anyway.
Like last year, the Sox are heavily mentioned in trade talks for a third baseman, particularly with Devers' first half struggles. But he's still a massive talent, and he's only 21 years old: He's on the disabled list right now with left shoulder inflammation, but when he gets back, look for the kid to hit his way back into the job before getting hot in the playoffs and make the idea of anyone else playing third base other than him look ridiculous.
Yankees
The Yankees will trade for a top-tier starter … and they'll still finish second.
The Yanks need a second starter behind Luis Severino, and they'll get one. But it might not matter, because they still won't catch the Red Sox and will thus, depending on what happens in the AL Wild Card Game, perhaps only have the need for one postseason starter anyway.
AL CENTRAL
Indians
The Indians will get hot in August and make everyone forget they were ever doubted.
The Tribe has been treading water all season and is still 7 1/2 games up. Wait until the Indians finally figure it out. They might not win 22 games in a row this time, but August is going to be a fun month to be a Cleveland fan again.
Royals
Mike Moustakas will be traded, which will lead to the Royals averaging about two runs a game in the second half.
Seriously, imagine pitching to this Royals lineup without Moustakas in it.
Tigers
Christin Stewart will be their low-rent Rhys Hoskins in September.
Stewart is on the Minor League DL right now, but the Tigers will call him up in September and let the slugging outfielder loose. He'll go nuts, getting Detroit fans probably a little bit too excited.
Twins
Byron Buxton will return, finish the season on one of his hot streaks and the hype train will begin again.
Buxton will then start next season slowly and we'll go through all this again.
White Sox
You'll get to see Eloy Jimenez, at least briefly.
Have you noticed a theme in the AL Central? It's all about excitement for players who aren't on the active roster.
AL WEST
Angels
The strangest, most upsetting streak in MLB will continue.
Michael Trout, who will win his third AL MVP Award (and theoretically could have six at this point), will remain winless in the postseason for his career. Seriously, this factoid is so upsetting.
Astros
The Astros, who totally don't need the help, will end up getting one of the top players available at the Trade Deadline, just because they can.
I'm thinking Brad Hand.
Athletics
The A's will continue their tradition of having quietly fun teams that are a blast to watch and cheer for, that nevertheless fall short of the ultimate prize.
Being an Oakland fan seems exhausting.
Mariners
The Mariners will end their playoff drought!
That's the good news! The bad news is that they'll only get one playoff game, they'll be on the road, they'll lose it and Felix Hernandez won't even get to pitch in it. SAD EMOJI.
Rangers
Bartolo Colon will start the last game of the regular season, and he'll get a standing ovation because everyone will think it's his last game.
(Narrator: It wasn't.)
NATIONAL LEAGUE EAST
Braves
Ronald Acuna Jr.'s gonna get hot.
The Braves rookie has been fine, not spectacular, since finally getting called up this spring. But the explosion is coming. And it might come just in time for an Atlanta team that is undoubtedly one of the most exciting in baseball right now.
Marlins
Someone will give up very little in a trade for Justin Bour and be happy they did.
Bour is a classically underappreciated power-hitting first baseman who any contending team would be ecstatic to have on their bench in October. If he's traded, you watch: He'll have a big postseason moment.
Mets
The Mets won't trade Jacob deGrom.
Not because they shouldn't -- they should, as my colleague Mike Petriello pointed out -- but because with Sandy Alderson ill and out of commission, there probably just isn't the organizational fortitude right now for such a major trade. It's a shame, too: This could be a transformative moment for the Mets.
Nationals
The Nationals will make the playoffs.
This is probably a fool's bet, but it still just seems insane that this Nats team, this particular season, will fall short. Here's betting they have one last push in them. Heck, knowing them, this will be the year they make it to the NL Championship Series.
Phillies
Playoffs or not, Gabe Kapler's going to do a victory lap.
Even with their recent run, the Phillies are the team of the three NL East contenders I feel might end up falling short of the playoffs this year, but that's still an unquestioned victory considering where this franchise was just one year ago. No one's making coconut oil jokes anymore.
NL CENTRAL
Brewers
The Brewers will get one of the best players at the Trade Deadline.
This is the year the Brew Crew has been working toward, and it feels like a Carsten Sabathia-esque trade would serve them perfect in their breakthrough year.
Cardinals
The Cardinals are not coming around.
This has been the most frustrating Cardinals season, both on and off the field, in more than two decades, leading to widespread speculation that major changes could be in order. Some Cards supporters are hopeful that the team has one run left in them, a finishing kick that could save everything (and everyone). They are kidding themselves.
Cubs
Yu Darvish will come back, but only briefly.
Get used to the phrase "lost season" being used a lot at the Cubs' Spring Training camp next March.
Pirates
Austin Meadows will finish the season hitting above .300.
It took Meadows a little longer to arrive than he and the Pirates might have been hoping, but he's here now. This is only going to get better.
Reds
The Reds aren't going to finish in last place.
Cincinnati has looked like a different team entirely since Jim Riggleman took over, and now the Reds are motivated to keep it going in the second half. They'll pass somebody … will it be the Pirates, or even the Cardinals?
NL WEST
D-backs
The D-backs will trade for one, maybe two, starting pitchers.
Arizona doesn't need an ace right now so much as it needs some volume innings. There are plenty of those guys on the market; Lance Lynn might look pretty nice in a D-backs jersey, actually.
Dodgers
The Dodgers are making the playoffs.
You didn't really think they were dead back in May, did you? The way baseball works, heck, this will be the Dodgers team that wins the World Series.
Giants
The Giants aren't gonna give up the ghost.
You have to admire the Giants and their total lack of interest in planning for the future. Maybe they have info about the end of the world that we don't? San Francisco will probably sit tight at the Trade Deadline and try to ride this out, hoping the club can catch lightning in a bottle this fall. For what it's worth, this has worked for the Giants before.
Padres
You're not seeing Fernando Tatis Jr. this year.
Sorry. Be patient.
Rockies
The Rockies will finish under .500.
Coloado has hung in all right, and you understand the Rockies going for it after making the playoffs last year, but the NL is a little too packed this year. And those Nolan Arenado questions are looming: Remember, he's a free agent after next season.
Will Leitch is a columnist for MLB.com.