Cards unveil finalists for club's Hall of Fame
Carlton, Hernandez, Isringhausen, McCarver, McGwire, Renteria, Rolen nominated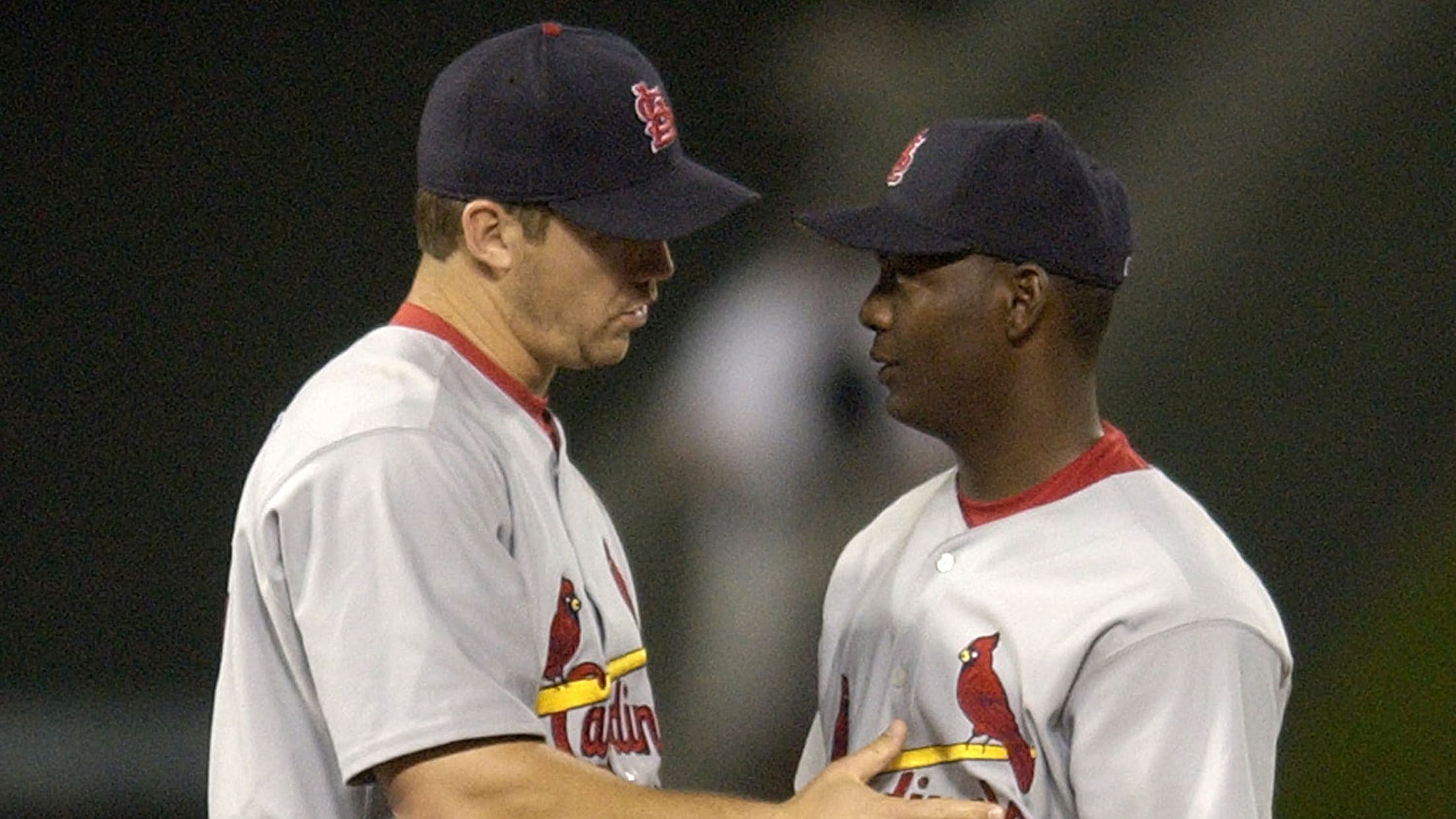 Scott Rolen (left) and Edgar Renteria are among the seven former players up for the Cards' Hall. (AP) (ED ZURGA/AP)
WEST PALM BEACH, Fla. -- Seven players -- including a former National League MVP, the franchise's all-time saves leader and the man who broke Roger Maris' home run mark -- have been selected as finalists for the Cardinals' 2017 Hall of Fame class.On Friday, the Cardinals unveiled their modern ballot
WEST PALM BEACH, Fla. -- Seven players -- including a former National League MVP, the franchise's all-time saves leader and the man who broke Roger Maris' home run mark -- have been selected as finalists for the Cardinals' 2017 Hall of Fame class.
On Friday, the Cardinals unveiled their modern ballot nominees, all of whom were chosen by a committee of baseball experts earlier this year. The candidates for induction are Steve Carlton, Keith Hernandez, Jason Isringhausen, Tim McCarver, Mark McGwire, Edgar Renteria and Scott Rolen.
The two players who receive the most support in a fan vote will be included in this year's Hall of Fame class. The induction ceremony will be held Aug. 26 and could include as many as four inductees. Along with the two modern candidates selected, the Cardinals will enshrine a veteran candidate chosen by the Red Ribbon committee. The organization can also choose to induct an individual who was an important figure in Cardinals history.
Fans can begin casting their votes for the modern candidates at cardinals.com/HOF. Voting will continue through April 14. The team will formally announce its Hall of Fame class during a pregame ceremony April 28.
To be eligible for consideration on the modern ballot, a player must have played for the Cardinals for at least three seasons and be retired from Major League Baseball for at least three years. If a player retired more than 40 years ago, he is considered a veteran candidate.
Here is a quick look at the Cardinals' career of these seven modern candidates:
• Steve Carlton (1965-71): 77-62, 3.10 ERA, 1.28 WHIP
Carlton had 66 complete games, made three NL All-Star teams and posted a 20-win season in seven years with the Cardinals. He was a member of the 1967 World Series championship team.
• Keith Hernandez (1974-83): .299/.385/.448, 265 doubles, 81 homers, 595 RBIs
Hernandez won six straight Gold Glove Awards as a first baseman for the Cardinals and was named the NL co-MVP in 1979. He was a member of the 1982 World Series championship team.
• Jason Isringhausen (2002-08): 217 saves, 2.98 ERA, 1.19 WHIP
Isringhusen holds the record for most saves in franchise history and ranks sixth with 401 appearances. He was on four NL Central-winning clubs and was a member of the 2006 World Series championship team.
• Tim McCarver (1959-61, 1963-69, 1973-74): .272/.329/.388, 66 homers, 453 RBIs
McCarver was a catcher on three World Series clubs, two of which won titles, and finished second in the 1967 NL MVP voting. He ranks second in hits (23), third in RBIs (11) and fifth in batting average (.311) in franchise World Series play.
• Mark McGwire (1997-2001): .270/.427/.683, 220 homers, 473 RBIs, 1.111 OPS
McGwire surpassed Maris' single-season home run mark when he hit 70 in 1998. His 220 homers ranks sixth in franchise history, and McGwire led the Majors in home runs in two of his five seasons with the Cardinals.
• Edgar Renteria (1999-2004): .290/.347/.420, 207 doubles, 451 RBIs, 148 stolen bases
Renteria won two Gold Glove Awards and was named an NL All-Star three times while in St. Louis. In 2003, he established franchise records for batting average (.330) and doubles (47) by a shortstop.
• Scott Rolen (2002-07): .286/.370/.510, 173 doubles, 111 homers, 453 RBIs
Rolen won four Gold Glove Awards with the Cardinals and was named to the All-Star team four times. He finished fourth in the 2004 NL MVP voting and was a member of the 2006 World Series championship team.