Greene likely front-runner for final rotation job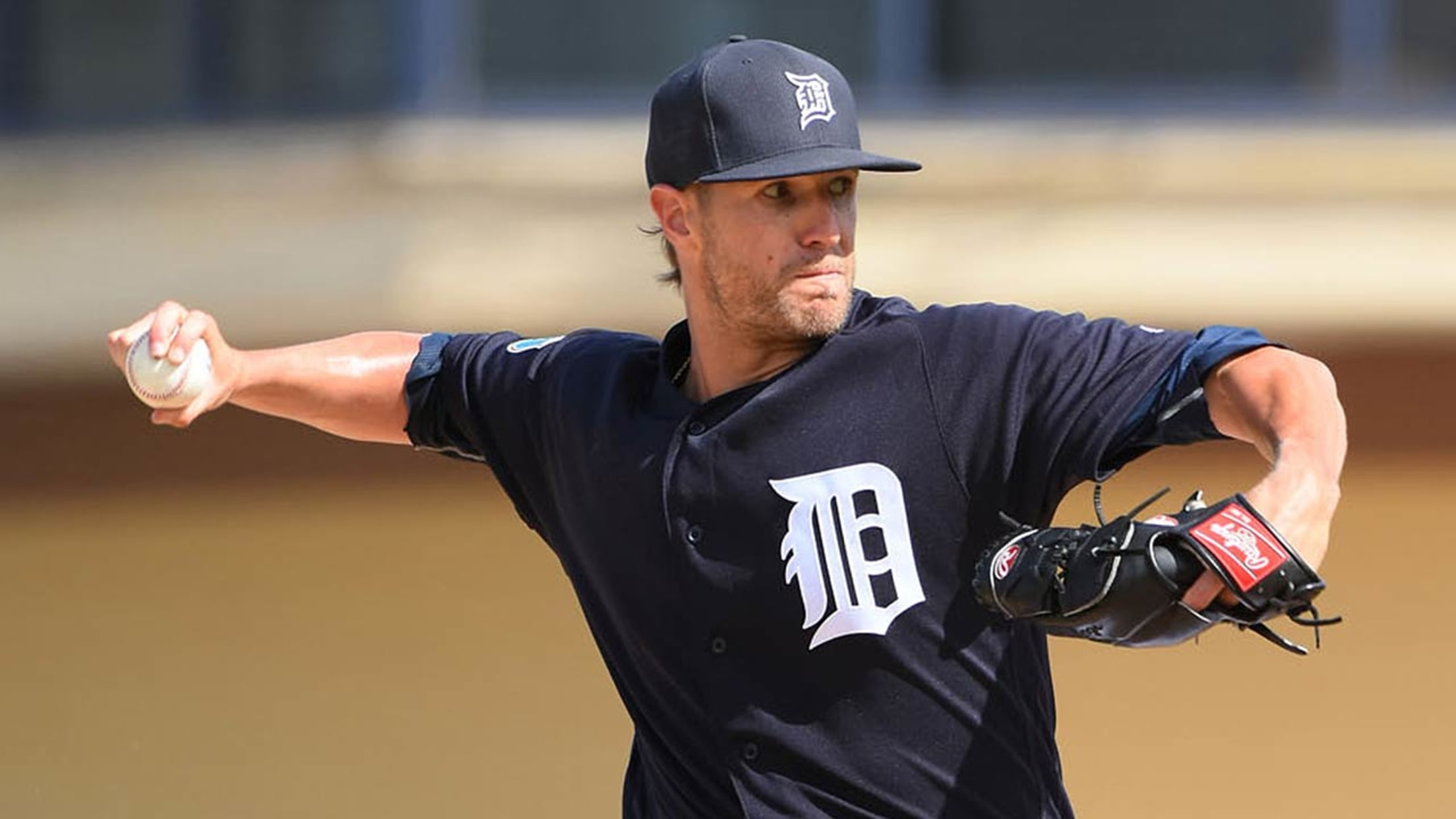 Shane Greene is 1-0 with a 2.63 ERA in four Grapefruit League appearances. (AP)
LAKELAND, Fla. -- The rain was picking up at Joker Marchant Stadium as Shane Greene jogged out to the mound for the start of the fifth inning Friday. After a two-run homer from Hector Olivera in the fourth, Greene was ready to finish strong and continue his case for the
LAKELAND, Fla. -- The rain was picking up at Joker Marchant Stadium as Shane Greene jogged out to the mound for the start of the fifth inning Friday. After a two-run homer from Hector Olivera in the fourth, Greene was ready to finish strong and continue his case for the Tigers' rotation opening.
Once Greene looked around, he saw he was the only one on the field. The umpiring crew had called for the tarp, washing out the Tigers' matchup with the Braves before it could become official.
For evaluation purposes, it matters. As manager Brad Ausmus talked with general manager Al Avila in the Tigers' office once the game had been canceled, they were surely discussing that game like any other.
• Spring Training: Tickets | Schedule | More
As Greene -- now seemingly a front-runner in the fifth-starter competition -- discussed how he felt on the mound, he wasn't ignoring Friday, either. With a fastball that topped out at 97 mph and another slew of ground balls, he felt good, despite three runs scored and some high counts.
A year ago at this point, Greene was set up for a dominant April, but an aneurysm in his shoulder ensured that didn't carry into May. Asked how he feels going into this season compared to last, he was resolute.
"I feel pretty much the same," Greene said. "Honestly, I feel like my fastball's coming out better and my slider's coming out a little bit better than it was at the beginning of last season. I still just have to work on my command and not overthrow."
Greene battled his command for much of Friday's outing, though his first run came on an 0-2 pitch. He had Ender Inciarte fouling off cutters to stay alive as the game began, then threw an offspeed offering that Inciarte pulled and kept just fair down the first-base line.
The subsequent roll down the line and into the right-field corner allowed Inciarte to go for third. Second baseman Ian Kinsler took J.D. Martinez's throw from right field and fired to third, but the ball skipped past Nick Castellanos. Greene wasn't in position to back up the play, and Inciarte scored while the ball rolled to the tarp beside the third-base dugout.
A triple play pulled Greene out of a bases-loaded, no-out jam in a 21-pitch second inning, and he escaped a pair of full counts to retire the Braves in order in the third. Yet Adonis Garcia's single off a 2-0 pitch with one out in the fourth created one more threat. Greene struggled to finish off Blake Lalli before getting a full-count grounder to second, and he couldn't get Olivera to offer on back-to-back pitches following an 0-2 count with two outs.
Greene tried to bury Olivera with a slider. Instead, it was one of the few pitches he left up all day.
"The home run was a slider I overthrew," Greene said. "[I] tried to do too much with it and left if over the plate. Paid for it. But I felt like I was commanding both sides of the plate pretty well."
Greene threw 71 pitches, 45 for strikes. He'll likely have one more outing next week to make his case. With injuries littering the Tigers' pitching ranks, Greene would seem in safe position to make the team as a reliever even if he somehow didn't win the rotation job. But he isn't thinking that far.
"I just want to pitch," Greene said.