Choo sets example on and off field
Veteran star pledged $1,000 to Rangers' 191 Minor Leaguers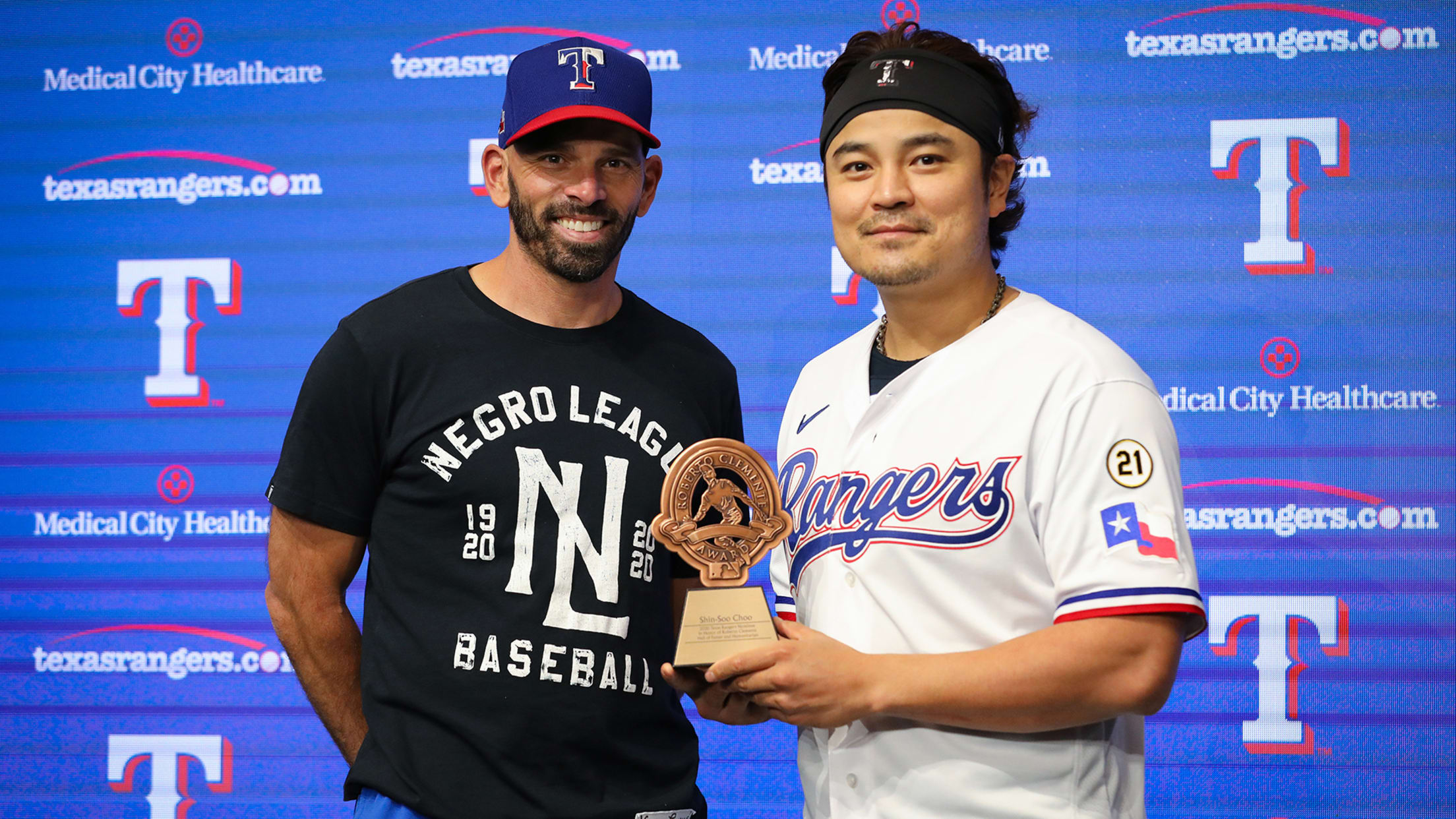 ARLINGTON -- The national emergency created by the COVID-19 pandemic forced Major League Baseball to shut down during Spring Training, sending hundreds of Minor Leaguers back to their homes facing uncertain financial futures. The Rangers continued to pay their players a $400-per-week stipend, but outfielder Shin-Soo Choo wanted to do
ARLINGTON -- The national emergency created by the COVID-19 pandemic forced Major League Baseball to shut down during Spring Training, sending hundreds of Minor Leaguers back to their homes facing uncertain financial futures.
The Rangers continued to pay their players a $400-per-week stipend, but outfielder Shin-Soo Choo wanted to do more. So he pledged $1,000 to each of the organization's 191 Minor League players to help them get through the crisis.
"When I got back for the second Spring Training I was able to talk to him and tell him how much that meant to me," outfielder Eli White said. "Just going back home and not knowing if I was going to get paid or anything. It was a big deal and I was very thankful for that. It was a really cool gesture from an awesome guy."
Choo was 18 when he signed with the Mariners on Aug. 13, 2000 and spent 4 1/2 years in the Minor Leagues before making his big league debut. He understands how hard it is in the Minor Leagues, knowing that most of those players did not receive lucrative signing bonuses.
"It hit my mind, I don't know why, but I thought about Minor League players," Choo said. "I worried about if the team or MLB would take care of these players. I didn't want these guys to worry about money and just stick to baseball."
The gesture reaffirms why Choo is the Rangers 2020 nominee for the Roberto Clemente Award. In his seventh season with the organization, Choo has maintained a steadfast commitment to helping his teammates, organization and North Texas community.
"It means a lot to me, the Texas Rangers, and also my country, too," Choo said. "I [don't] really look for the Roberto Clemente Award, but I always think about, as I grow up, about my cultures, and I worry about the people, always caring about them and helping them. It's an honor [to be nominated] for the Roberto Clemente Award."
The Roberto Clemente Award is the annual recognition of a Major League player who best represents the game of baseball through extraordinary character, community involvement, philanthropy and positive contributions, both on and off the field.
• Vote now for Roberto Clemente Award
Choo, at age 38. continues to perform at a high level, and that's why manager Chris Woodward wants him in the lineup even though the Rangers are trying to evaluate their younger players. Choo's veteran leadership has been critical for a young team going through a disappointing season and difficult circumstances throughout the industry.
"Yes, very tough," Choo said. "I can't excuse that, because everyone is in the same situation, it's very difficult to play baseball in a hotel, home, ballpark. No social life. You have to sacrifice something. It's very challenging. It's a weird year for everybody in the whole world, even my country in Korea. Hopefully we can find the solution."
Choo's off-field endeavors goes back to 2011, when he and his wife Won Mi Ha established the CHOO Foundation with a personal donation of $875,000. That has allowed him to support the Community Chest of Korea to aid in COVID-19 relief efforts in South Korea, the Korea Disaster Relief Association and ChildFund International.
His donations to the Texas Rangers Baseball Foundation have totaled $750,000. He also supported the Jay Bruce Foundation for disaster relief efforts in South Texas, the Michael Young Family Foundation and the WakWay Foundation, headed by bench coach Don Wakamatsu, which is devoted to childhood hunger.
Choo and his wife have set up scholarships for Arlington ISD and local Korean students, hosted baseball camps for the Miracle League and been involved in a number of North Texas projects that support his Korean heritage.
"That's personal," Choo said. "How you treat people and how you care about people -- I think that means everything. That's always [what] my dad told me when I was young. Animals die, losing life, all the animal is going to leave is skin. Humans always die leaving a name.
"It meant a lot to me growing up. I'm really expected to do something like work, that's how my parents treat me and taught me that way. All you think about is the people first before you're doing it. That's my culture, my family and that's how I grew up."