Dominant Singer fans 12 to give Gators CWS finals Game 1 win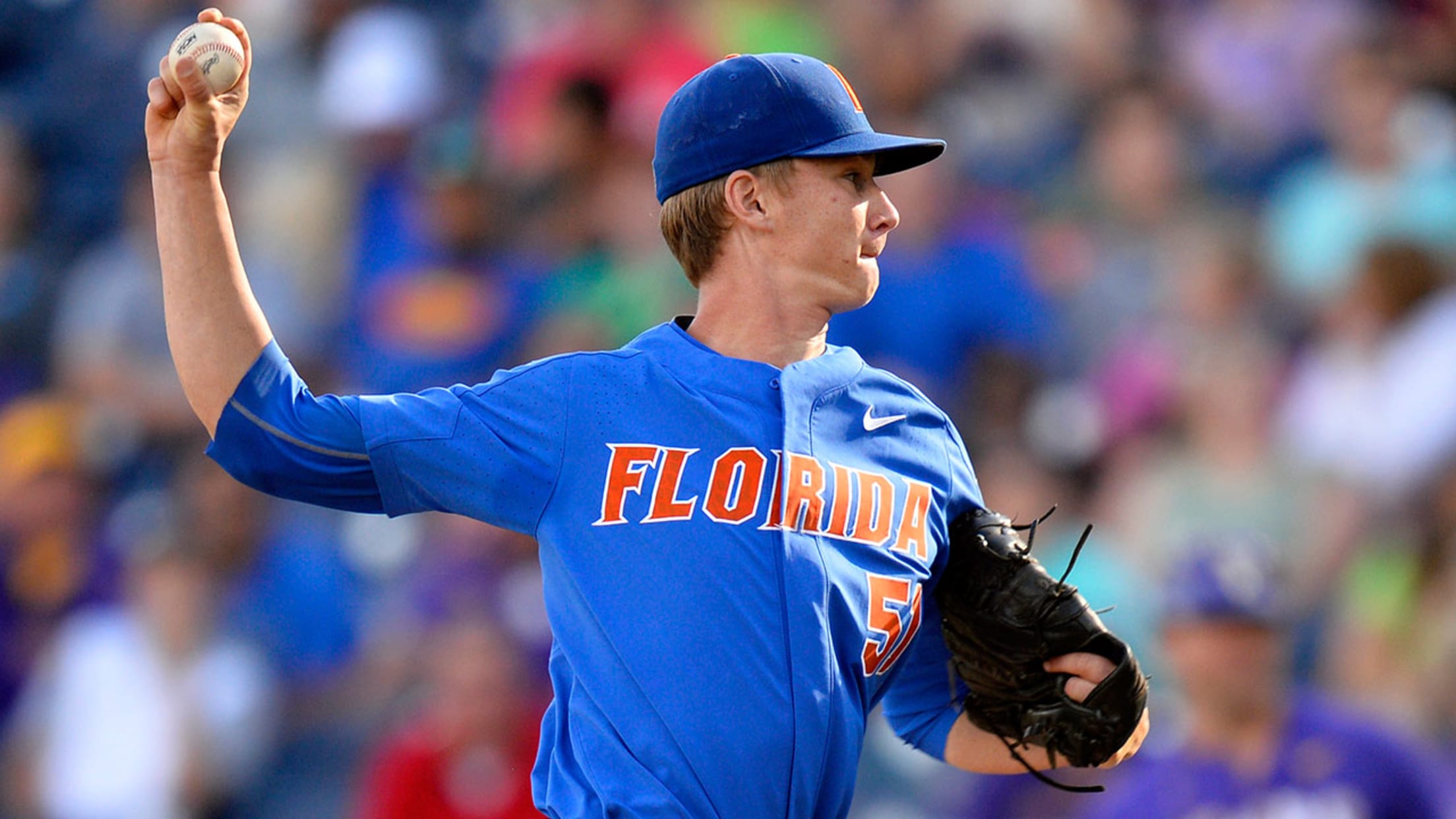 Brady Singer struck out a record 12 batters in Game 1 of the NCAA College World Series baseball finals against LSU. (AP)
OMAHA, Neb. -- Brady Singer is the top college prospect and a leading candidate to go No. 1 overall in the 2018 Draft. He showed exactly why in the biggest game of his life Monday night.Singer won for the second time in two College World Series starts, striking out 12
OMAHA, Neb. -- Brady Singer is the top college prospect and a leading candidate to go No. 1 overall in the 2018 Draft. He showed exactly why in the biggest game of his life Monday night.
Singer won for the second time in two College World Series starts, striking out 12 in seven innings as Florida defeated Louisiana State 4-3 in the opener of the best-of-three championship series. If the Gators can beat their Southeastern Conference rivals once more either Tuesday or Wednesday, they'll lose their status as the best college baseball program never to have won a national title.
A sophomore right-hander whom the Blue Jays took in the second round of the 2015 Draft out of Eustis (Fla.) High, Singer maintained a 92-94 mph fastball with nasty running action throughout the game. He also masterfully manipulated the speed and depth on his slider.
"We went up against who I believe to be maybe the best pitcher I've seen in the SEC for an opponent since I've been the coach at LSU," said Paul Mainieri, who led the Tigers to the most recent of their six CWS championships in 2009. "He reminds me so much of [former LSU great] Aaron Nola, it's scary ... I think the guy will be the first pick in the Draft next year."
Singer's 12 strikeouts set a record for a CWS championship-series game since the event switched to a best-of-three finals in 2003 (LSU's Brett Laxton holds the all-time championship-game mark with 16 in 1993). Singer also broke Florida's CWS whiff record of 11 -- which had been set three times this June, twice by Detroit Tigers first-round pick Alex Faedo and once by projected 2018 first-rounder Jackson Kowar.
RECORD BREAKING!!

Brady Singer's 12 strikeouts tonight are the most ever by a single pitcher in the #CWS Finals! pic.twitter.com/gvlplaY5dL

— NCAA Baseball (@NCAACWS) June 27, 2017
Singer recorded seven of his strikeouts on sliders, and he turned to the pitch when he faced his biggest jam. The Gators had taken a 3-0 lead in the top of the fourth inning on a sacrifice fly from freshman left fielder Austin Langworthy and a two-run double by sophomore third baseman Jonathan India, but LSU responded with consecutive singles to open the bottom half. Singer then struck out freshman center fielder Josh Watson (who leads the CWS in hitting at .364) on three straight sliders, and whiffed freshman third baseman Josh Smith and junior DH Beau Jordan on sliders as well.
"I felt like I was landing the slider a lot more for strikes than I usually do," Singer said. "The slider did feel good. I also was able to throw my fastball to both sides of the plate."
Though Singer missed a lot of bats, one of college baseball's deepest lineups was able to solve him for eight hits and three runs. Sophomore left fielder Anthony Duplantis homered in the sixth inning, the Tigers' eighth of the CWS, the most by a team since the event moved to TD Ameritrade Park in 2011. Jordan added an RBI single in the same frame and junior right fielder Greg Deichmann (an Athletics second-rounder) chased Singer with a leadoff double in the eighth.
💣 Antoine Duplantis 💣

IT'S OUT OF HERE!! A solo shot pulls the Tigers within 2 here in the 6th! #CWS pic.twitter.com/ax0haNgHpk

— NCAA Baseball (@NCAACWS) June 27, 2017
"Brady is a great pitcher," Duplantis said. "He had some really great stuff. We had to go up there and just look for one pitch, and it you missed that one pitch, it's probably going to be a rough at-bat for you."
The Gators' formula for winning has been to ride college baseball's best starting rotation, scratch out a few runs and turn the game over to the national saves leader. They followed that blueprint to their 19th one-run victory of the year, the most in NCAA Division I.
After going scoreless in the first three innings against fifth-year senior right-hander Russell Reynolds, who had the highest ERA (8.59) and fewest starts (zero) and innings (14 2/3) of any CWS finals starter since the current format began in 2003, the Gators knocked him out with three straight walks that they parlayed into three runs. Langworthy scored an important insurance run in the seventh after stroking a leadoff double. Sophomore right-hander Michael Byrne earned his third save in Omaha and school-record 19th of the year by allowing one hit over the final two innings.
To stave off elimination, No. 4 national seed LSU (52-19) will start senior left-hander Jared Poche (12-3, 3.33 ERA), its all-time wins leader with 39. A ninth-round selection by the Athletics, he already has two victories in Omaha this year. Freshman right-hander Zack Hess, who matches Byrne with three CWS saves, is well rested after getting Monday off.
No. 3 national seed Florida (51-19) will counter with freshman right-hander Tyler Dyson (3-0, 3.55), who lasted just 1 2/3 innings against Florida State in his lone start of the spring in mid-April. He has shown a mid-90s fastball out of the bullpen, however, and he did work five scoreless innings to beat a strong-hitting Wake Forest club in the decisive game of the Gainesville Super Regional on June 12.
Monday's game
Florida 4, Louisiana State 3
Tuesday's game
Louisiana State at Florida, 8 p.m. ET
Wednesday's game
Florida at Louisiana State, 8 p.m. ET (if necessary)