Teens soak up softball experience from Olympians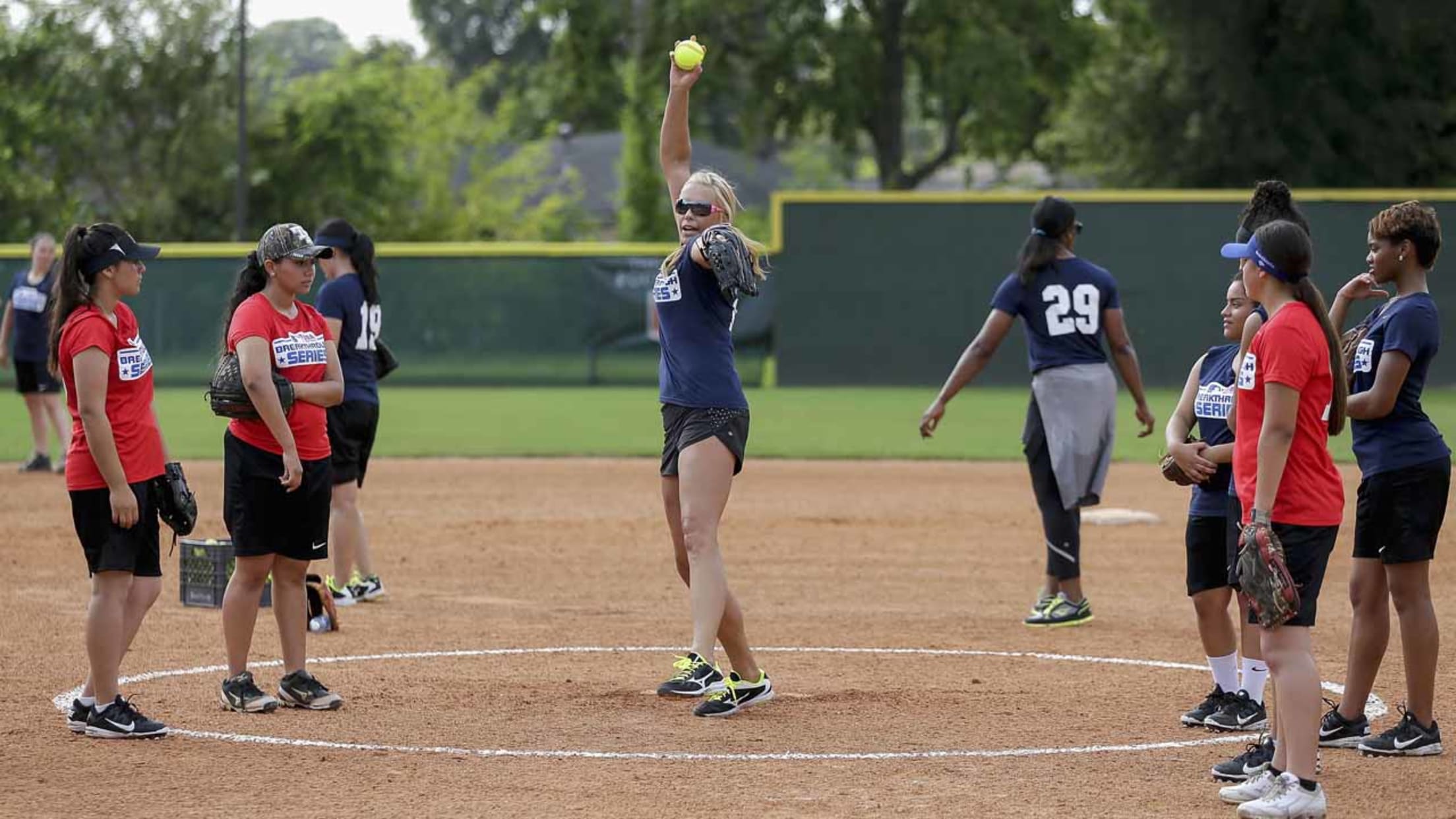 Jennie Finch demonstrates Olympic pitching form to participants in the inaugural Softball Breakthrough Series in Houston on Tuesday. (Photo courtesy of Bob Levey)
HOUSTON -- When softball Olympians Jennie Finch and Natasha Watley are giving their time as well as expertise on the field, it's something that players soak up.Especially 50 high school players from around the country who are participating this week in the inaugural Softball Breakthrough Series at the Houston Astros'
HOUSTON -- When softball Olympians Jennie Finch and Natasha Watley are giving their time as well as expertise on the field, it's something that players soak up.
Especially 50 high school players from around the country who are participating this week in the inaugural Softball Breakthrough Series at the Houston Astros' Urban Youth Academy.
"I look up to Natasha Watley. I did a report on her in school," said 16-year-old Edwenia Foster, one of the representatives from the New Orleans youth academy. "It's very nice that they came out here to help us."
Foster and the rest of the high school players are participating in an invitation-only showcase event that promotes softball as a collegiate option for youth from communities that may be underrepresented within scouting circles.
Finch, Watley and other instructors that include two-time Olympian Lovie Jung and Venus Taylor taught two separate on-field sessions Tuesday. The instructors have also been giving seminars this week on preparing for college life.
Jayme Marbury, 16, from the Montgomery, Ala., youth academy, said the best part of the experience is "seeing the pros, like being this close to them. Jennie Finch. Yes."
Added Destiny Reyes 16, a third baseman from the Los Angeles academy: "It's fun, like Jennie Finch is coaching us, she's been checking us. It's inspirational."
While the high school players are not old enough to know that Finch won an NCAA championship at Arizona and helped pitch the USA to a gold medal at the 2004 Summer Olympics, and that Watley is a four-time first-team All-America infielder from UCLA and the first African-American to play on a USA Softball team in the Olympics, the teens know they are receiving great instruction.
"I haven't really watched softball, I don't know my history of softball, I just love to play," said Chan'yl Herring, 18, from the Tampa youth academy. "But I understand these people are really dedicating their time to us and actually teaching us things, so I'm listening and hopefully I can pick something up, too."
Marbury, a second baseman and pitcher, has already noticed an improvement in her fielding and appreciates the advice.
"It means a lot to me," she said. "I plan on furthering my softball skills in going to college, and all the athletes, they are giving me tips, they are really helping me. Like, I started dropping my shoulders, my elbows, and now I'm going straight to the ball."
The 50 girls were selected from MLB youth academies -- Los Angeles, Compton, Calif., Jersey City, Miami, New Orleans, Philadelphia, Cleveland, Tampa, Cincinnati, Montgomery, Ala., and Houston.
The Softball Breakthrough Series is operated by Major League Baseball and USA Softball.
"I feel really blessed to be here because we have superstars out here teaching us," said left fielder Gabriela Johnson, 16, from Montgomery. "I shouldn't take this for granted because the best of the best are out here teaching us to get better at the sport that we love."
One of the missions of the week is for the staff to talk to the players about NCAA compliance and the things needed to be eligible to play softball in college. Johnson said the seminars were beneficial to her as well as the on-field instruction.
As grateful as the players are for the opportunity to showcase their skills and to receive instruction from superstar softball players, the coaching staff also had high praise for the players' demeanor and their talent.
"It's awesome to see the girls come out," said Jung, who played in the 2004 and '08 Olympics. "They're all athletic, they're all out here because they are passionate about the game, they love practicing and hitting balls. They just want this sport to grow, and they're so great, just understanding the game of softball. It's great to see the younger girls being passionate about our sport that is growing throughout the country and how popular it is now on TV."
On Wednesday, the players will play in two exhibition games -- morning and night -- in hopes of attracting the attention of college recruiters.
"Hopefully, it helps me get seen by coaches, because I really want to go to college and play softball," Foster said. "It's been my dream ever since I was small. I look up to the girls that play. I would really like to play on that level."
The softball event in Houston is an extension of the Baseball Breakthrough Series that was established in 2008. Since its inception, it has developed into an instructional setting where top baseball prospects showcase their skills in front of scouts and college recruiters while attending seminars run by former players and MLB executives.
Instructors have included Jerry Manuel, Eric Davis, Dmitri Young, Homer Bush, Scott Erickson, Darren Oliver and Tom Gordon with Hall of Fame guest speakers Frank Robinson and Dave Winfield. It combines on-field instruction and life-skills seminars to encourage personal and character development.
More than 115 former participants of the Baseball Breakthrough Series have been selected in the MLB Draft, including more than 90 combined from the 2012-15 drafts.
Prospects participating in the 2016 Breakthrough Series are recommended by Major League Baseball, USA Baseball, MLB Urban Youth Academies, the Reviving Baseball in Inner Cities (RBI) program, the MLB Scouting Bureau and Major League clubs.