A's Gray touched for six runs vs. Reds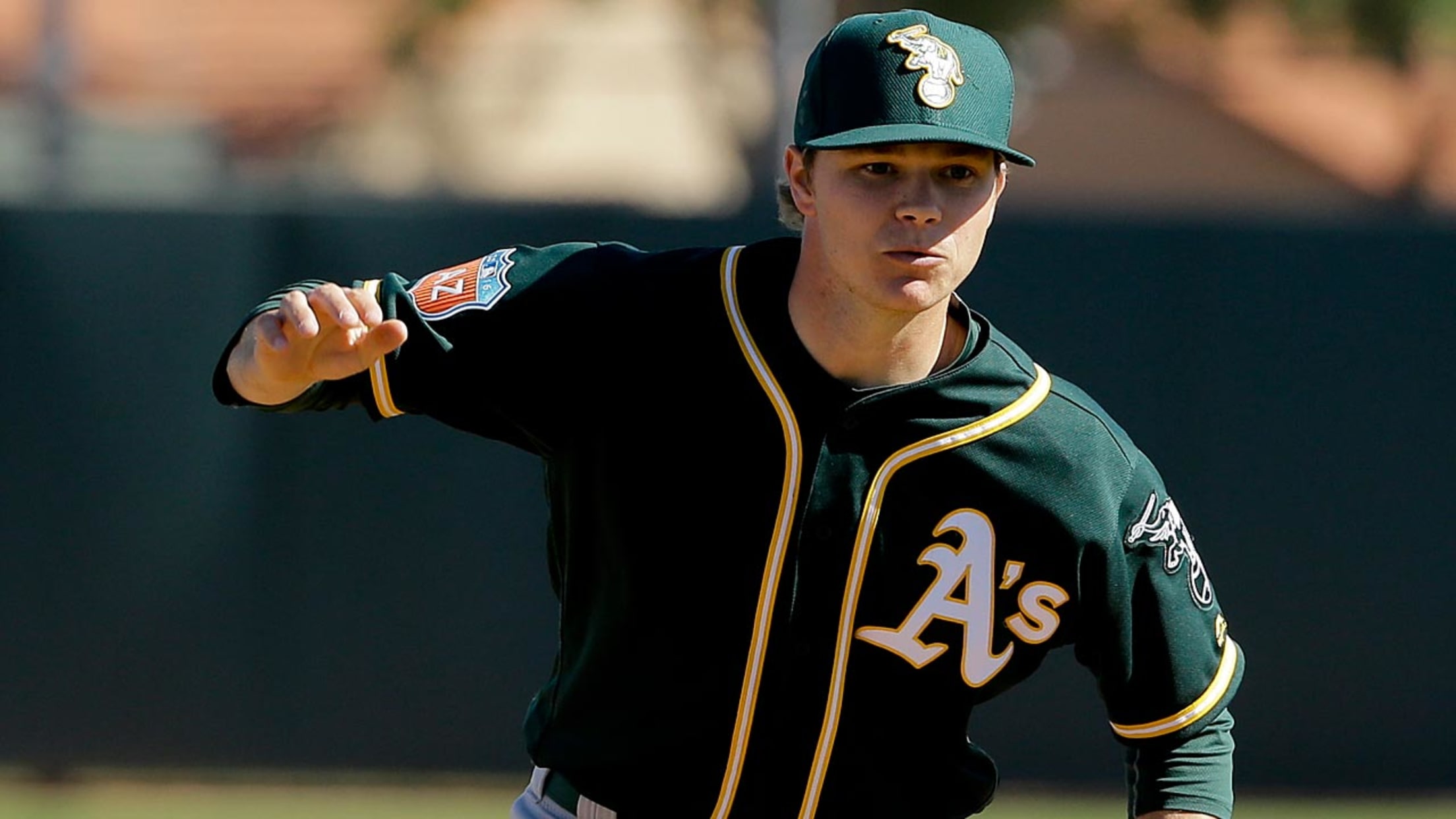 Sonny Gray gave up eight hits and a walk with no strikeouts in five-plus innings. (AP)
MESA, Ariz. -- The Reds jumped on A's ace Sonny Gray for six runs (five earned) at Hohokam Stadium on Saturday, getting a pair of hits from second baseman Brandon Phillips before Oakland rallied in the ninth for a 7-6 victory.Shortstop Jose Peraza contributed a two-run single in a three-run
MESA, Ariz. -- The Reds jumped on A's ace Sonny Gray for six runs (five earned) at Hohokam Stadium on Saturday, getting a pair of hits from second baseman Brandon Phillips before Oakland rallied in the ninth for a 7-6 victory.
Shortstop Jose Peraza contributed a two-run single in a three-run fifth inning against Gray. The right-hander allowed eight hits total in five-plus innings, walking one with no strikeouts in his third Cactus League start, and he committed one of Oakland's three errors on the day.
"I felt good, just a little bit tired there at the end," Gray said by text, after he left to attend to his family.
A's third baseman Danny Valencia finished with two hits, including a two-run home run in the third off Reds right-hander Tim Melville to give him a team-leading four for the spring. He also doubled in the fifth.
• Butler homers as split-squad A's get to Bumgarner
Reds righty Raisel Iglesias went two innings in his second spring start, after beginning camp slightly behind other pitchers while he completed an offseason shoulder flexibility program.
Iglesias, who allowed two unearned runs and one hit with two walks and one strikeout, feels like he's still on track for the regular season.
"I feel really happy. I'm doing really well," Iglesias said through translator Tomas Vera. "I continue to say how I'm really pleased with how things are going with me, how the medical staff has been working with me. I feel that every time I go out there and in between outings and every side and everything I do, I feel stronger, I feel more prepared, I feel that everything is going well."
The A's scored a run in the eighth, then got a J. P. Sportman RBI double to tie it in the ninth before Sportman scored on Blake Wood's wild pitch for a walk-off victory.
Reds Up Next: Featuring what very well could be their starting eight position players on Opening Day, the Reds will host the D-backs on Sunday at 4:05 p.m. ET. Devin Mesoraco will be getting his second start behind the plate after returning from hip surgery while fellow recently returned players Billy Hamilton and Zack Cozart will also be in the lineup. Brandon Finnegan will be the starting pitcher as he tries to solidify his bid for the rotation.
A's Up Next: A's top pitching prospectSean Manaea gets another start Sunday in a 1:05 p.m. PT matchup with the visiting White Sox at Hohokam Stadium. The left-handed Manaea, who is expected to be in the big leagues at some point this year, has greatly impressed in camp, posting a 1.35 ERA in his first three spring appearances, two of them starts.