Turnbull secures Tigers' No. 3 rotation spot
Gardenhire announces Opening Day roster; Norris to start season in bullpen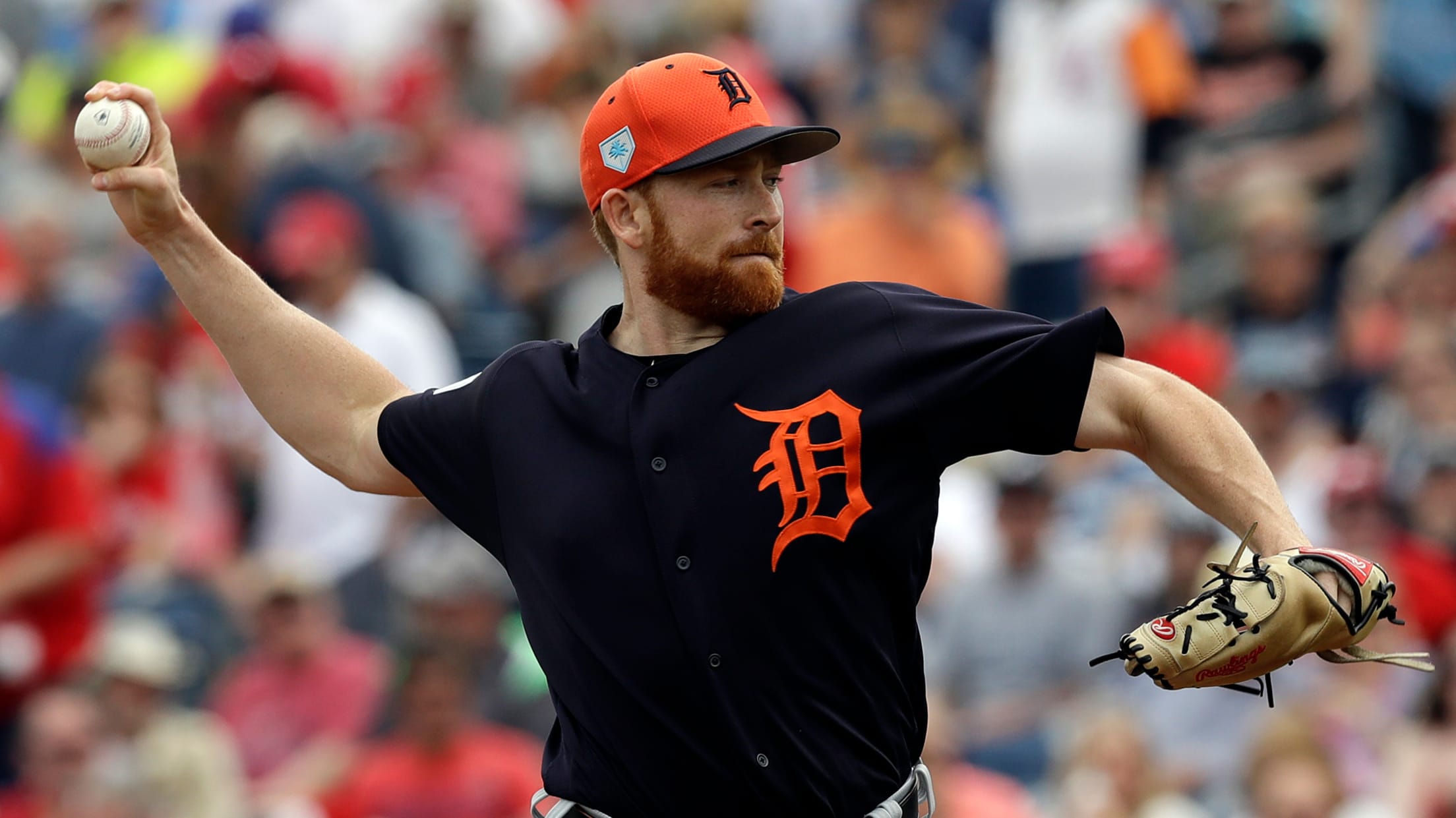 LAKELAND, Fla. -- The dwindling numbers in the clubhouse all but guaranteed that Spencer Turnbull was on the Tigers' staff. But the young right-hander didn't want to make assumptions. He wanted to hear it. And Turnbull got his wish after finishing five scoreless innings on Monday in the Tigers' 9-1
LAKELAND, Fla. -- The dwindling numbers in the clubhouse all but guaranteed that Spencer Turnbull was on the Tigers' staff. But the young right-hander didn't want to make assumptions. He wanted to hear it.
And Turnbull got his wish after finishing five scoreless innings on Monday in the Tigers' 9-1 win over a group of other Detroit prospects, some of whom were his teammates last year.
"[Tigers manager Ron Gardenhire] just came up to me after I was done," Turnbull said. "He shook my hand and said, 'Congratulations, you made the team.' It was a pretty cool moment."
If Turnbull likes that, he'll love the idea of taking the mound at Comerica Park for the unofficial holiday that is the Tigers' home opener. It's not set, but it could happen.
While Gardenhire doesn't have his rotation order set in stone, he confirmed Turnbull is "absolutely" in it along with Jordan Zimmermann, Matthew Boyd, Matt Moore and Tyson Ross. Zimmermann is scheduled to pitch on Opening Day in Toronto on Thursday, followed by Boyd on Friday.
If the starters stay in their current order, Turnbull will follow Zimmermann and Boyd and pitch Saturday in Toronto. And barring postponements, Turnbull would then be on turn for the home opener on April 4.
Gardenhire couldn't confirm that, but he also said that he wouldn't worry if it happens.
"I hope so," Gardenhire said, "because I don't mind winning pitchers. I don't have a problem with him pitching Opening Day [in Detroit], if that's where it falls. I think the young man can handle it."
Turnbull allowed three runs on 13 hits over 15 innings, walking two batters and striking out 15, not counting his work in the Tigers' Spring Training exhibition opener against Southeastern University. But Gardenhire was impressed well before that, dating back to his three starts last September.
Even before Michael Fulmer's season-ending right elbow injury, Gardenhire was looking for ways to bring Turnbull north.
"I already had said, 'I want him in my rotation. Somehow or another, we have to figure out how this guy goes north with us,'" Gardenhire said. "I think he's got some of the best stuff on the staff. I know a six-man rotation wouldn't have been [popular], but I told [the front office] I'll do it just to keep him in the rotation, because I like him that much.
"I think he has above-average stuff with great pitchability. I like him. A lot. I think he can dominate good-hitting teams with his stuff, the way it moves."
Here's a look at how Detroit's 25-man roster shakes out:
Catcher (2): Grayson Greiner, John Hicks
What changed? Nothing. Greiner might have his growing pains in his first extensive Major League work, but the Tigers want to see what he can do. He made progress defensively as Spring Training wore on. Detroit considered carrying a third catcher at one point, but the team decided against it as Hicks settled into a backup role.
First base (2): Miguel Cabrera, Niko Goodrum
What changed? Goodrum appears likely to get the bulk of the starts when Cabrera is at designated hitter, but Cabrera's late flourish in camp showed he's ready for the season.
Second base (1): Josh Harrison
What changed? As expected, Harrison solidified the role with his all-around work ethic and instincts. He gives the Tigers a more natural leadoff hitter while providing another welcome veteran presence.
Third base (1): Jeimer Candelario
What changed? Nothing. Candelario looks more prepared for everyday duty at the hot corner after seemingly wearing down at the plate over the second half last year.
Shortstop (1): Jordy Mercer
What changed? Nothing. Willi Castro looks like he might be close to Major League ready, but the Tigers want Mercer locking down the everyday job.
Outfield (4): Nicholas Castellanos, Christin Stewart, Mikie Mahtook, Dustin Peterson
What changed? JaCoby Jones' left shoulder sprain forced him onto the 10-day injured list, opening a roster spot for Peterson. Mahtook and Goodrum are expected to split starts in center field until Jones returns, hopefully in a few weeks.
Utility (1): Gordon Beckham
What changed? Beckham, who came to camp competing at second base until the Tigers signed Harrison, won over the Tigers for the utility job with his professional approach and versatility. He beat out Ronny Rodriguez.
Starting pitchers (5): Zimmermann, Boyd, Turnbull, Moore, Ross
What changed? Fulmer's injury opened a spot for Turnbull or Daniel Norris. Turnbull won the job with a dominant Spring Training and an arsenal that impressed coaches and rival evaluators alike.
Relief pitchers (8): Shane Greene, Joe Jiménez, Daniel Stumpf, Victor Alcántara, Buck Farmer, Reed Garrett, Blaine Hardy, Norris
What changed? Drew VerHagen's right forearm strain opened a spot for the Tigers to carry Norris as a long reliever once the left-hander lost out to Turnbull for a rotation spot. Norris could go to Triple-A Toledo to stretch out as a starter if the Detroit has another rotation void, Gardenhire said, but for now the team wants him working against Major League hitters.