Tale of the fantasy tape: Yanks vs. Red Sox
Which American League East rival has superior fantasy assets?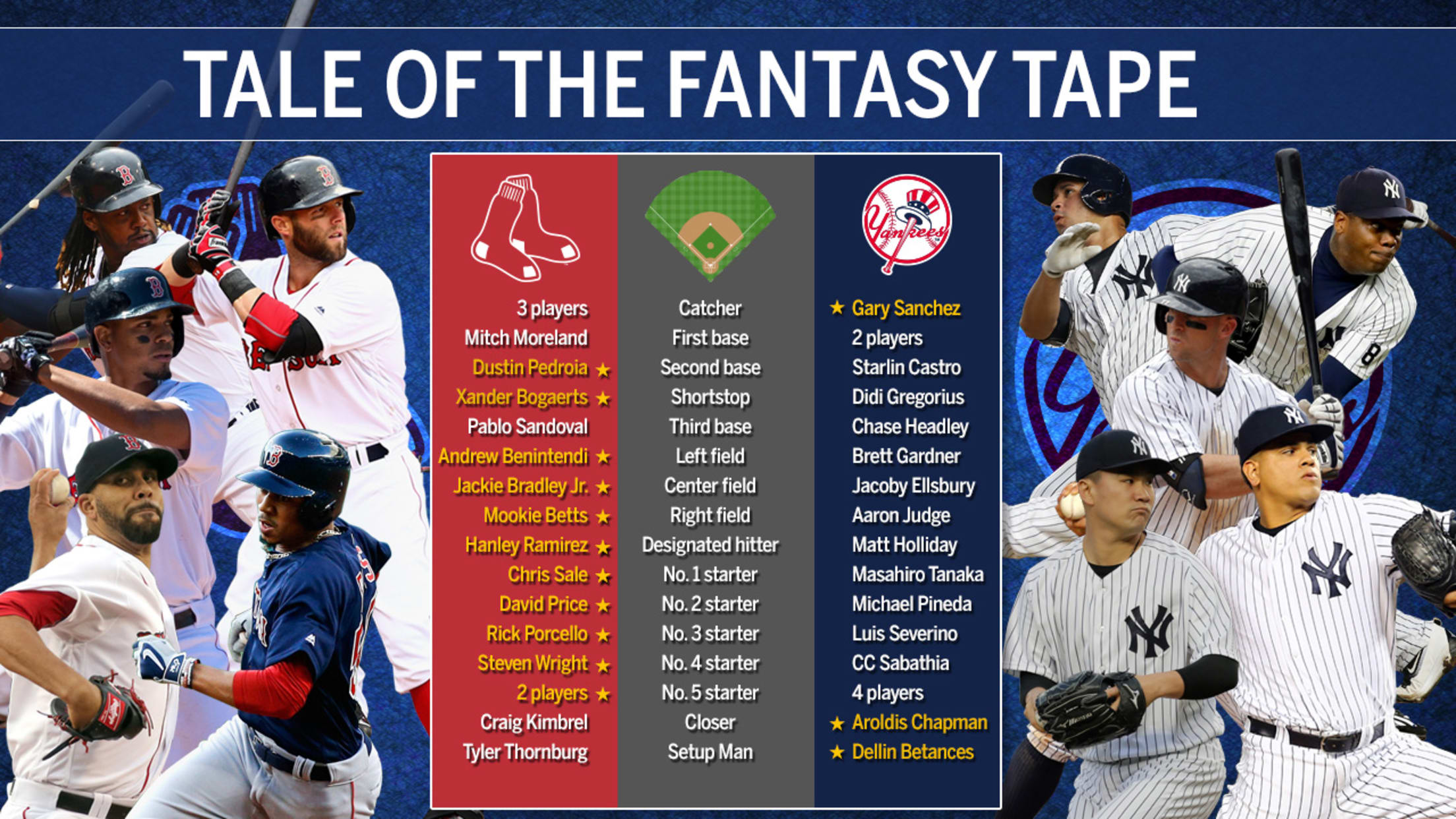 Few rivalries in baseball -- or any other sport, for that matter -- can match the history and intensity of the one between the New York Yankees and the Boston Red Sox. Before these storied franchises settle their 2017 competition on the field, we can get a head start on
Few rivalries in baseball -- or any other sport, for that matter -- can match the history and intensity of the one between the New York Yankees and the Boston Red Sox. Before these storied franchises settle their 2017 competition on the field, we can get a head start on assessing them by comparing the fantasy value of their key players for the upcoming campaign.
Will David Ortiz's retirement swing this rivalry in favor of the Yankees? Find out below.
• 2017 Fantasy Player Preview: Yankees | Red Sox | Full rankings
Catcher: Coming off a colossal rookie season in which he belted 20 homers over just 201 at-bats, Gary Sanchez should be regarded as a top 3 catcher for '17 drafts. With impressive power and a spot in the heart of the Yankees' order, the youngster gives New York a clear edge over Boston's trio of catcher candidates -- Sandy Leon, Christian Vazquez and Blake Swihart.
Winner: Yankees
First base: Both clubs will have fresh faces at first base this season, as Boston trots out offseason addition Mitch Moreland and New York goes with an expected tandem of Greg Bird and Chris Carter. Moreland gives owners in deep mixed leagues a measure of reliability, as he has belted 22 or 23 homers in three of the past four seasons. But Carter possesses terrific power (41 home runs in '16) and Bird has shown plenty of potential, too, recording a lifetime .282/.395/.483 slash line in the Minors and a .261/.343/.529 showing over 178 career plate appearances in the Majors.
Winner: Push
Second base:Dustin Pedroia continues to roll through his 30s, having hit .318 with 15 homers and 105 runs scored in '16. Showing no signs of an impending decline, the 33-year-old should outperform Starlin Castro in '17. The Yankees second baseman has 20-homer power, but he lacks the plate discipline and speed to make a notable impact in other categories.
Winner: Red Sox
Shortstop:Xander Bogaerts withstood a second-half slump to rank among the top shortstops in '16, hitting .294 with 21 homers, 89 RBIs, 115 runs scored and 13 stolen bases. He holds a major advantage over Didi Gregorius, who could regress from his '16 production -- a .276 average with 20 homers and 70 RBIs -- if he produces lowly Statcast™ marks in average exit velocity (86.5 mph) and fly-ball distance (298 feet) for a second straight year.
Winner: Red Sox
Third base: This position results in an uninspiring draw, as Chase Headley (.251/.327/.374 slash line across '14-16) and Pablo Sandoval (three games played in '16) should both open the campaign on waivers in mixed leagues.
Winner: Push
Left field: MLB Pipeline's No. 1 overall prospect heading into '17, Andrew Benintendi possesses an impressive lifetime .312/.392/.540 slash line in the Minors. The high-upside rookie is a preferred fantasy asset to Yankees veteran Brett Gardner, who produced just seven homers and 16 steals last season.
Winner: Red Sox
Center field: Once a first-round option, Jacoby Ellsbury struggled to stay in shallow-league lineups last season. Owners should favor Boston center fielder Jackie Bradley Jr. (26 homers, 87 RBIs, 94 runs scored in '16), considering Ellsbury can no longer be counted on for a game-changing stolen-base total (41 steals combined over '15-16).
Winner: Red Sox
Right field: Still looking to prove his viability as a Major League regular, prospect Aaron Judge lags well behind Mookie Betts. Boston's star right fielder -- who was arguably the top fantasy asset in '16 -- should be drafted within the first three overall picks this year.
Winner: Red Sox
Designated hitter:Hanley Ramirez was one of baseball's best bounceback performers in '16, rebounding from a trio of injury-plagued seasons to produce a career-best 111 RBIs and his first 30-homer effort since '08. Ramirez will be tabbed several rounds prior to veteran Matthew Holliday, who has fallen short of 25 home runs in four straight seasons and recorded a diminished OPS in each of the past three (career-low .782 in '16).
Winner: Red Sox
No. 1 starter: Boston's newest staff ace, Chris Sale, is a top 5 fantasy starter with the ability to produce sterling ratios (lifetime 3.00 ERA, 1.06 WHIP) and an American League-leading strikeout total (career 10.1 K/9 rate). Masahiro Tanaka may be able to match Sale's ERA and WHIP, but he ranks as a low-end No. 2 mixed-league starter due to his unspectacular strikeout skills (7.7 K/9 rate over '15-16) and longstanding durability problems.
Winner: Red Sox
No. 2 starter:David Price gives the pitching-rich Red Sox two starters with the potential to be mixed-league aces in '17. Price easily outranks inconsistent righty Michael Pineda, who can compile plenty of strikeouts (10.6 K/9 rate in '16) but owns a 4.60 ERA since the outset of '15.
Winner: Red Sox
No. 3 starter: Possessing elite control (1.3 BB/9 rate in '16) and the ability to post lofty average spin rates with his four-seam fastball, two-seam fastball and curveball (per Statcast™), Rick Porcello could produce an outstanding encore to his AL Cy Young Award-winning '16 season. Porcello holds a major edge over Yankees righty Luis Severino, who followed up a promising '15 rookie year by going 0-8 with an 8.50 ERA over 11 starts in '16.
Winner: Red Sox
No. 4 starter: Before struggling during an injury-shortened second half, Steven Wright was a viable mixed-league option -- winning 10 games and posting a 2.68 ERA prior to the '16 All-Star break. Even though he enters '17 amid durability concerns, Wright possesses enough upside to outrank Yankees veteran Carsten Sabathia (4.54 ERA since the outset of '13).
Winner: Red Sox
No. 5 starter: Whether Boston chooses Thomas Pomeranz or talented youngster Eduardo Rodriguez to fill out its rotation, the club should receive better production than the Yankees will from their fifth-starter options (Chad Green, Luis Cessa, Adam Warren, Bryan Mitchell). Like Wright, Pomeranz and Rodriguez also battled health woes and inconsistency in '16. But both southpaws have the potential to be major mixed-league assets.
Winner: Red Sox
Closer: Though both men are renowned for their dominant repertoires and ninth-inning success, Albertin Chapman will enter '17 with an edge over Craig Kimbrel. Boston's closer remained incredibly difficult to hit last season -- as evidenced by his 14.1 K/9 rate and .152 opponents' batting average -- but he dealt with a knee injury and control problems (5.1 BB/9 rate) en route to a career-high 3.40 ERA. Meanwhile, Chapman notched an ERA south of 1.70 for the second straight year.
Winner: Yankees
Setup Man: In Dellin Betances, the Yankees have one of the few setup men who warrant an active lineup spot in virtually every league. The sensational righty gives the Yankees an advantage over the Red Sox, whose setup crew is led by offseason acquisition Tyler Thornburg (2.15 ERA, 0.94 WHIP in '16). While Thornburg is out to prove he can maintain last year's 12.1 K/9 rate -- which was well above his 7.7 mark from '12-15 -- Betances has posted a 14.3 K/9 rate since the outset of '14. Said strikeout skills have contributed to a 1.93 ERA, a 0.96 WHIP and three All-Star appearances for Betances in that stretch.
Winner: Yankees
Final verdict: Based on fantasy value, the Red Sox are set to run away with this rivalry for a second straight season. Though the Yankees have some top prospects who could tilt future battles back toward the Bronx, Boston's big league roster dominates the '17 fantasy faceoff by a score of 11-3 (with two ties).
Fred Zinkie is the lead fantasy baseball writer for MLB.com. Follow him on Twitter at @FredZinkieMLB.