Williams placed on DL with right elbow soreness
Reliever calls move precautionary; Barnes recalled from Triple-A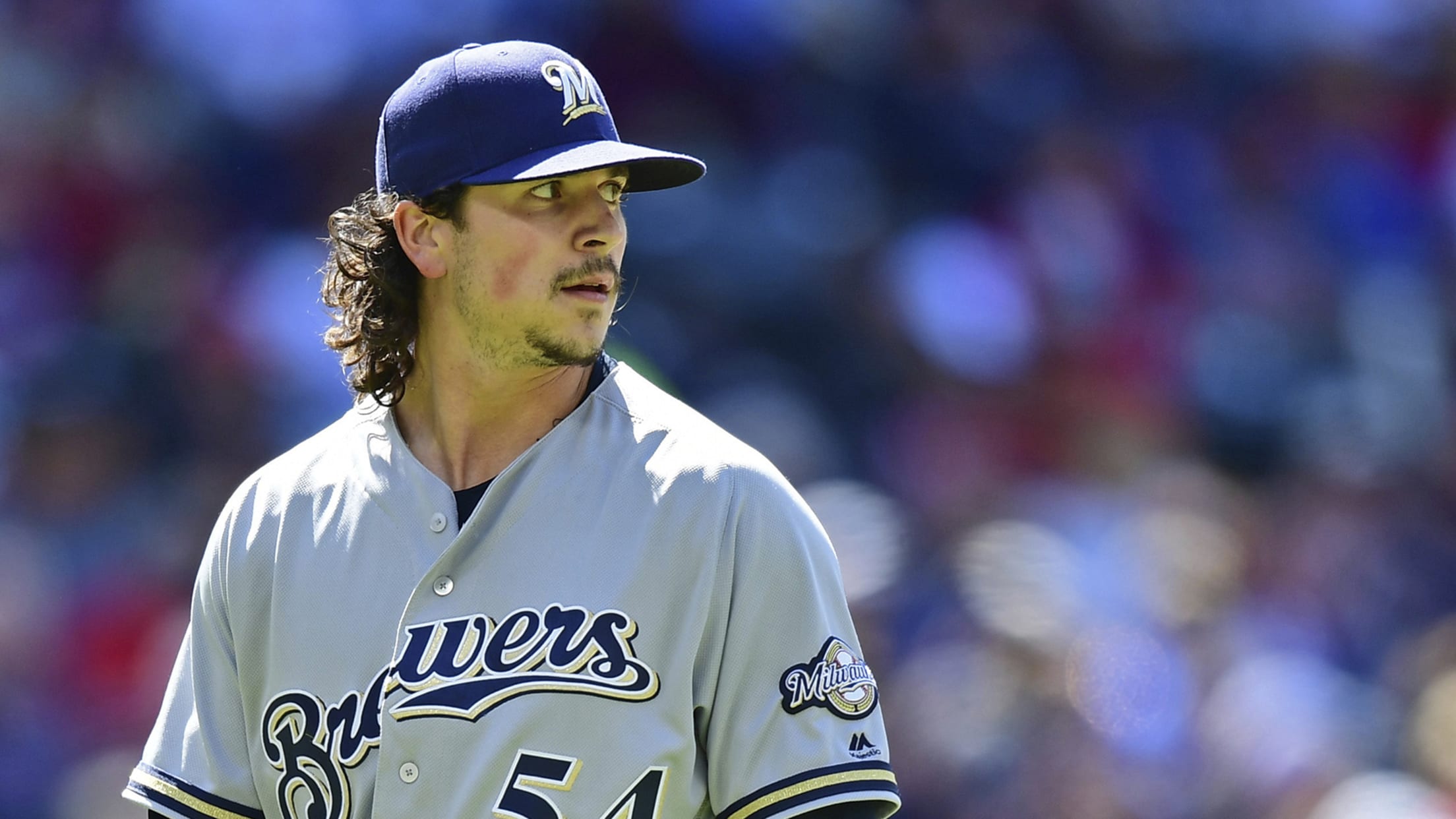 Milwaukee Brewers' Taylor Williams walks to the dugout after being relived in the seventh inning of a baseball game against the Cleveland Indians, Wednesday, June 6, 2018, in Cleveland. The Indians won 3-1. (AP Photo/David Dermer) (David Dermer/AP)
MILWAUKEE -- The Brewers put right-hander Taylor Williams on the 10-day disabled list for soreness in his right elbow before their game Saturday against the Rockies at Miller Park.Normally, elbow soreness is a red flag for a pitcher who has undergone Tommy John surgery, which Williams did three years ago
MILWAUKEE -- The Brewers put right-hander Taylor Williams on the 10-day disabled list for soreness in his right elbow before their game Saturday against the Rockies at Miller Park.
Normally, elbow soreness is a red flag for a pitcher who has undergone Tommy John surgery, which Williams did three years ago this month, but he was confident the injury had little -- if anything -- to do with the procedure, which sidelined him for the entire 2016 season.
"I've seen the doctor and it's not in that part of the elbow," Williams said. "Hopefully, it's just something that's precautionary and I can get right back to where I need to go."
One of the final cuts of Spring Training, Williams was called up to the Majors on April 8 and pitched well enough to establish himself as a reliable, late-inning/high-leverage option for manager Craig Counsell.
Williams appeared in 36 games during the first half, posting a 2.65 ERA with 44 strikeouts in 37 1/3 innings. Opponents batted just .180 against Williams during that stretch, and he didn't allow a run in 19 of his final 22 appearances leading into the All-Star break.
Since then, Williams has not looked the same. He has given up 11 runs (nine earned) in 5 1/3 innings for a 15.19 ERA in six appearances, with just five strikeouts.
After giving up five runs in a pair of home appearances against the Dodgers, Williams compiled three straight scoreless outings before giving up four more runs to the Dodgers in Thursday's 21-5 rout.
Following that game, Williams told the medical staff about his elbow, and the decision was made to give him some rest.
"He reported a little bit of soreness after the game Thursday night," Counsell said. "In looking at his log of usage -- and considering what he went through with his injury history and the innings he pitched last year -- we're going to put him on the DL and give him a little break. We'll get him some treatment and a little rest. We're not anticipating this to be anything significant, but we do think he needs a break from competition."
With Williams out, Milwaukee recalled right-hander Jacob Barnes from Triple-A Colorado Springs.
Barnes has appeared in 37 games for Milwaukee this season, going 0-1 with a 3.46 ERA and 1.513 WHIP in 39 innings. Milwaukee sent him down last Friday after the Brewers acquired Joakim Soria in a trade with the White Sox. Barnes has filled multiple roles out of the bullpen this season, and Counsell expects more of the same moving forward.
"He'll just fit in wherever we need him," Counsell said.
Andrew Wagner is a contributor to MLB.com based in Milwaukee.